Date: Sunday 11th May 2014, 3pm.
Live on Sky Sports 2

Venue: Anfield

Conditions: conclusive

Admission: £48

Programme: £3


Liverpool

Newcastle United

2 - 1

.

Teams
20mins United attacked down the left flank and Massadio Haidara pushed the ball through neatly for Yoan Gouffran to centre. Defender Martin Skrtel inadvertently kneed the ball into his own net at the Kop End for the 50th Premier League goal Liverpool have conceded this season. Unbelievably, the Slovakian scored four of them, also registered OGs against Hull, West Ham and Swansea 1-0

Half time: LFC 0 NUFC 1

63 mins Vurnon Anita fouled Raheem Sterling outside the Newcastle box under the nose of Phil Dowd and was booked. Steven Gerrard's free kick from the right was swung towards the six yard box, Daniel Agger hooking home at the back post for Liverpool's 100th Premier League goal 1-1

65 mins Cheick Tiote fouled Philippe Coutinho outside the Newcastle box under the nose of Phil Dowd and was booked. Steven Gerrard's free kick from the right was swung towards the six yard box, Daniel Sturridge steering home at the back post for Liverpool's 101st Premier League goal 1-2

Full time: LFC 2 NUFC 1
Alan Pardew spoke with his usual eloquence:

"We was terrific. If we'd got that second goal from Gouff I think it would have been a tough ask for Liverpool today, cos we was in good shape. But we know offensively we need to be stronger and this summer we need to put that right.

"We've got to give our fans a lift in the summer by recruiting well....our fans are brilliant fans - they are just frustrated. For the first half of the season we were very good, but in the second half we were not as strong as we should have been. We made errors, myself included."


On the first dismissal:

"I know Shola. He doesn't swear. I told the ref he doesn't swear so how angry can he possibly get? I don't actually know how angry you can get. He said: 'If you carry on I am going to send you off'.

"Whether it was sarcastically I don't know but Shola said: 'You are going to send me off?!' And he did.

That's the sort of explanation that Phil (Dowd) gave me. So I think he should have managed that far better than that.

"It was a shame. Liverpool then got two goals but with 10 men it was always going to be difficult.

"I thought our season in terms of performance was strong. We had a good game plan - the ref played a part in my view in the second half.

"He should have managed the game a lot better than he did. And we conceded two goals. He had a part in the first one by Vurnon. Then there was a foul from Agger on Shola.

"Liverpool have had a fantastic season and they showed their quality. If you give too many set plays away it will hurt you. Unfortunately we didn't quite do as well as we should have."

Saint Brendan:

"We would prefer to finish top, but we finished just behind them and that's a great mark of the progress we've made this season. We have just finished short, but we'll be back. The goal is to try to win the title next year.
"At half-time I said to the players 'listen, we can't finish the season like this'. Because it has been a remarkable campaign for us and it would be sad for us and the supporters if we just went out with a whimper. The players showed real character to pick themselves up again.

"My overriding feeling at the moment is one of sheer pride. We have finished the season winning 12 games out of 14, drew one and lost one. We have just finished short, but we'll be back. The goal is to try to win the title next year.

"We came second to an outstanding squad. Congratulations to Manchester City they won the league with an excellent manager and a group of world-class players so congratulations to them.

"We've taken them all the way to the very last game of the season. A team that finished seventh last year. And we know that we'll get better because we've got a lot of improvements to make in the squad and we'll continue to grow and improve."

United wore their fifth different strip of the campaign, debuting next season's all-grey change kit.


T
here was a bench spot for

development squad
defender Lubo Satka

, who wasn't called upon. Fellow reserves Rolando Aarons and Olivier Kemen also travelled with the side and joined the matchday 18 in warming up on the pitch before the game.
Final away game results - Premier League:
2013/14
:
lost 1-2 at Liverpool
2012/13
:
won 2-1 at QPR
2011/12
:
lost 1-3 at Everton
2010/11
:
drew 2-2 at Chelsea
2008/09
:
lost 0-1 at Aston Villa
2007/08
:
lost 1-3 at Everton
2006/07
:
drew 1-1 at Watford
2005/06
:
drew 0-0 at Birmingham
2004/05
:
lost 0-2 at Everton
2003/04
:
drew 1-1 at Liverpool
2002/03
:
drew 2-2 at West Bromwich Albion
2001/02
:
lost 1-3 at Southampton
2000/01
:
lost 0-3 at Liverpool
1999/00
:
drew 0-0 at Derby
1998/99
:
lost 0-2 at Leicester
1997/98
:
lost 0-1 at Blackburn
1996/97
:
drew 0-0 at Manchester United
1995/96
:
drew 1-1 at Forest
1994/95
:
lost 0-1 at Blackburn
1993/94
:
lost 0-2 at Sheffield United
Magpies @ Anfield: Premier League Years:
2013/14: Lost 1-2 OG
2012/13: Drew 1-1 Cabaye
2011/12: Lost 1-3 OG
2010/11: Lost 0-3
2008/09: Lost 0-3
2007/08: Lost 0-3
2006/07: Lost 0-2
2005/06: Lost 0-2
2004/05: Lost 1-3 Kluivert
2003/04: Drew 1-1 Ameobi
2003/04: Lost 1-2 Robert (FAC)
2002/03: Drew 2-2 Speed, Shearer
2001/02: Lost 0-3
2000/01: Lost 0-3
1999/00: Lost 1-2 Shearer
1998/99: Lost 2-4 Solano, Andersson
1997/98: Lost 0-1
1996/97: Lost 3-4 Gillespie, Asprilla, Barton
1995/96: Lost 3-4 Ferdinand, Ginola, Asprilla
1995/96: Won 1-0 Watson (LC)
1994/95: Lost 0-2
1993/94: Won 2-0 Lee, Cole
Full record against the Reds:
| | | | | | | |
| --- | --- | --- | --- | --- | --- | --- |
| | P | W | D | L | F | A |
| SJP | 78 | 31 | 24 | 23 | 115 | 99 |
| Anfield | 78 | 11 | 15 | 52 | 79 | 178 |
| League | 156 | 42 | 39 | 75 | 194 | 277 |
| SJP(FA) | 4 | 4 | 0 | 0 | 6 | 1 |
| Anf/W | 5 | 0 | 1 | 4 | 3 | 13 |
| SJP(LC) | 1 | 0 | 0 | 1 | 0 | 2 |
| Anf | 1 | 1 | 0 | 0 | 1 | 0 |
| Cup | 11 | 5 | 1 | 5 | 10 | 16 |
| Tot | 167 | 47 | 40 | 80 | 204 | 293 |
Another game against Liverpool and another red card for Newcastle - the fourth successive meeting when we've ended up at least a man short:

2012/13 Anfield: Fabricio Coloccini 84 mins
2012/13 SJP: Mathieu Debuchy 75 mins
2013/14 SJP: Mapou Yanga-Mbiwa 40mins
2013/14 Anfield: Shola Ameobi 66mins, Paul Dummett 87mins

Newcastle had more than one player sent off for the first time in a game since April 2005*, when red cards for Lee Bowyer, Kieron Dyer and Steven Taylor left us with just eight men on the field.

For Shola this was the third dismissal of his senior Magpies career, following on from one at Everton in May 2005 (PL) and at Brighton in January 2013 (FAC).

Ameobi and Paul Dummett became the fifth and sixth* Newcastle players to be sent off in the Premier League this season, after Steven Taylor (Manchester City a), Mapou Yanga-Mbiwa (Liverpool h), Mathieu Debuchy (West Bromwich Albion a) and Loic Remy (Norwich a).

(Fabricio Coloccini was also dismissed in pre-season)

* Dummett's red card was subsequently rescinded by the FA upon appeal.

NUFC away record:
22 points from 19 matches
(7 wins, 1 draw, 11 defeats, 20 goals scored)

NUFC PL goalscorers 2013/14:
Loic Remy 14
Yohan Cabaye 7
Yoan Gouffran 6
Hatem Ben Arfa 3
Moussa Sissoko 3
Shola Ameobi 2
Papiss Cisse 2
Vurnon Anita 1
Mathieu Debuchy 1
Paul Dummett 1
Steven Taylor 1
OG 2
Waffle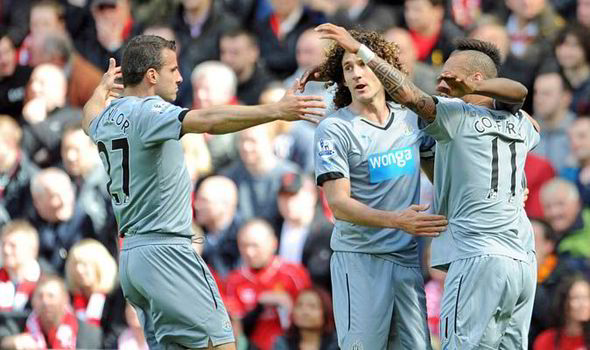 Newcastle concluded their season in fitting fashion at Anfield on Sunday, starting brightly only to then tail off badly as personnel issues overwhelmed them - a fitting metaphor for their previous 37 league games.

A decent and gutsy first half performance was followed by an incompetent and brainless collapse after half-time that saw Shola Ameobi and Paul Dummett sent off - and referee Phil Dowd under criticism for his decision-making.

United's fifth successive away defeat - coupled with Stoke's win at West Brom - meant Alan Pardew's side finished tenth in the table, secured the manager and his team their bonuses for finishing in the top half, but with little credit for a ragged and inept end to the campaign.

Ultimately the final scoreline meant little to either side, Manchester City seeing off West Ham to claim the title and make Liverpool's win relevant only in terms of confirming second place at the expense of Chelsea.



The home side started nervously and it was Shola, clad in United's new grey away kit, who had the first effort at goal as he headed wide when unmarked.
Making what was expected to be his final appearance for the club, our number 23 once again filled a hole, with Papiss Cisse en route for knee surgery and a quartet of Frenchmen absent (Loic Remy with an alleged knee injury and messrs Ben Arfa, Obertan and Marveaux all given official permission to start their vacances early).


Luis Suarez then cheekily took a quick free-kick that sailed over Tim Krul and into the net but Dowd never looked interested in allowing the goal and ordered a retake to the relief of the Newcastle custodian.
TV replays confirmed that the ball was still rolling - just - and that the referee had his back to the play when the "goal" was scored.

Within seconds United broke forward and when Yoan Gouffran cut in from the left flank, his cross was turned home by Martin Skrtel to register an OG in front of the Kop, cause an outbreak of joy and hilarity in the away end, and see betting slips across the globe discarded.
And the lead should have been doubled as Gouffran had two opportunities to find the net but squandered both, Simon Mignolet saving as Gouffran bore down on goal.

Liverpool's expected and inevitable comeback failed to materialise in the first period, Suarez shooting tamely at Krul before Daniel Sturridge somehow managed to head wide in front of a gaping goal.

With Manchester City in front at the Etihad Stadium, the mood around Anfield was sombre and incredibly quiet, apart from the noisy away end reminding Steven Gerrard of his crucial slip in the home game against Chelsea.

The home side made one change at the break with Jon Flanagan replaced by Aly Cissokho but the visitors looked fairly comfortable immediately after the restart.
Obviously unhappy that the game was deviating from the script, referee Dowd then made some crucial calls that had the desired effect - the visitors helpfully contributing some awful defending to assist Brendan Rodgers.

Failing to give United a free-kick for what looked a clear foul, he then penalised the Magpies seconds later. That allowed Gerrard to curl a kick to the far post for Daniel Agger to convert and level amid general relief.


Up until that point, our defensive back five had looked reasonably secure, with a central trio of seeing Steven Taylor partnering messrs Williamson and Coloccini, leaving Mapou Yanga-Mbiwa to warm up on the sidelines. At left back meanwhile, Massadio Haidara posted an encouraging performance to stake his claim for that shirt next season.

And
w

ithin minutes an almost identical dead ball kick from Gerrard had been forced home by Sturridge, which saw various Newcastle players confront the refere
e.


Leading the protests was Shola and after receiving one yellow card for dissent he sarcastically reacted by telling Dowd he may as well send him off - which he duly did by brandishing a second yellow before the game restarted.

Whatever the player or manager's version of events may be, it was a senseless dismissal that ended the contest, although City scoring a second had already ended the Scouser's title dreams - something that the Newcastle support helpfully - and loudly - conveyed to any home fans who remained unaware of the fact.

Luuk De Jong, Sammy Ameobi and Paul Dummett entered the fray as Steven Taylor, Gouffran and Cheick Tiote were withdrawn.
For Dummett it was the briefest of appearances as he

clumsily
took out Suarez on the halfway line and was shown a straight red as the Uruguayan rolled around

.


The remaining nine men of Newcastle did manage to force a late corner but an unlikely equaliser was never really on the cards, despite fit-again Sammy showing some nifty footwork on occasions.

Five minutes of added time failed to see any addition to the scoring and both sides were greeted by a mixture of applause and disappointment at the final whistle that gave the game and the season a decidedly odd ending.

For United there was at least a shred of dignity to be salvaged from the opening hour when the game was an 11 v 11 encounter, with effort levels far superior to the listless performances posted at Southampton and Stoke.

Which of the fourteen players will ever be seen again in a Newcastle shirt of any colour remains unclear, as does the identity of who will be picking the team next season.

To the disgust of those berating him today though, the likelihood is that the current incumbent will remain in post, and given the bare minimum in terms of transfer funds with which to carry out a much-needed squad overhaul.

On that basis, those who have withdrawn from actively supporting the club will presumably continue to boycott matches - joined by an unspecified number of fans who will find other things to do with their time and money, restricting themselves to periodic match attendance.

Battle lines are now well established, with the financial prudence appealing to some mindful of the disaster areas that Elland Road and Fratton Park became. Much of the blame from the terraces attached to Pardew is based on his own misadventures and posturing, but like Chris Hughton, his removal would merely result in the arrival of a new apologist for the sport shop owner.

At this time and even taking into account that depressing bigger picture, we'd actually favour a change, rather than watch another slow motion car crash start to a season and a jettisoning of the manager before Blackberry Week to leave us in limbo between transfer windows. There's a stale air around the club and the squad that another new kit didn't do anything to dispel.

Corny and laced with sentimentality they may be, but Liverpool have managed to harness their support as a positive force - even if they were quiet for long parts of this game and ultimately disproved that all you need is love.

The contrast to our toxic, hateful assembly is massive and seems unlikely to narrow in the near future, with the local newspaper ban meaning that it's open season on the club as we wash our dirty linen in public week after week. It's hard to expect players to show pride in the shirt, when that commodity is in short supply amongst the fanbase.



The
general

sense of relief that
the season is
over is tangible, frustration at our willful underachievement barely suppressed and the outlook anything but optimistic.

A once-great club, now irrelevant in football terms and withering on the vine as the 60th anniversary of our last domestic honour appears on the horizon. Tragic.


PS: It's that time again, when we acknowledge the contributions of a whole host of folks who allow us to do what we do - as ever, your efforts are appreciated. It's also an opportunity to think about those we lost during the course of the season, and recall them in happier times.


Biffa