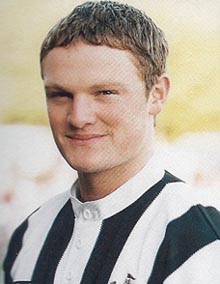 Chris Holland is a purposeful and courageous man.

When he strides across a room for an appointment, you half expect him to break into a run, nutmeg you and charge head-first through the door.

He looks sturdy and strong, and it is 13 years since he left Deepdale behind to find his fortune at Newcastle, when John Beck agreed a £100,000 deal with Kevin Keegan for Holland's sought-after signature.

Holland is 31 now, and it is surely testament to his unquenchable spirit that he is still playing professional football at all after almost being blinded in a nightclub attack.

"People sometimes avoid asking me about what happened, but that night is just as much a part of my life as playing for Preston and Newcastle," he said.

"I was 19, my life was on a high, you know. I made my Newcastle debut, and I was taking it all in, as you do at that age, I suppose.

"I had played for England Under-21s against Latvia at Turf Moor with Dean Gordon, Alan Thompson, Andy Booth – all up-and-coming talent – and England won 4-0.

"I had a great summer and I was beginning to get some attention in the Press.

"A couple of days before the start of pre-season training all the lads met up for a night out. It was a nice night. I had made a lot of friends there.

"Anyway, the evening finished at a club. Suddenly, an argument broke out between a group of lads, which had nothing to do with us.

"Without warning, I felt a painful stinging sensation in my right eye. A bloke had sprayed ammonia into the crowd."

Holland spent six weeks in a hospital intensive care unit and for many months it seemed his football career was over.

"It was like somebody had put cling film over my eyes," he said.

"I was transferred to a special hospital ward to avoid any infection. I was having vitamin C drops put in my eye every hour, and had a cornea graft, to take the cells from the good eye to the damaged eye.

"It was a devastating experience, and I only got 20 per cent of my vision back.

"Apparently, a couple of newspapers had contacted my parents and told them I was blinded.

"They didn't know what had happened. You can only imagine how they felt.

"My mate came up from Lancashire and he was waving his hands in front of my eyes. People thought I was blind."

No one doubted his courage and determination to get better.

Last month I watched Holland's debut for Southport in front of 1,200 fans at a fog-bound Haig Avenue and I wondered how hard it must have been.

"You would probably think there is not a day goes by when there isn't some soul -searching.

"Not at all – I'm not angry in any way about what happened.

"The one question that people ask me most of all is how far I could have gone in the game if my eye had not been damaged.

"Obviously, it is a question I cannot answer.

"Of course it was devastating. The doctor told me I was inches away from losing the sight in both eyes following the attack.

"But I never used it as an excuse in my football life after that, and I played for Newcastle, Birmingham, Huddersfield and Boston.

"I couldn't let people feel sorry for me. It happened. I've known lads retire through illness or injury at 23."

He talks about the long and arduous recovery process at Newcastle.

"Psychologically it was very hard at first. When I got back into training I wore a patch over me eye.

"Everything seemed a gamble on the pitch. Heading the ball, passing, tackling, and I couldn't get the angles of play right at first. It was a very weird situation.

"Slowly, but surely, though, I started to get my confidence back.
"It took a lot of mental strength – but I just had to forget about my eye.

"Suddenly, I wasn't thinking every little mistake I made on the pitch was down to my impaired vision. Now it doesn't even cross my mind. "Looking back, I thought I was playing my best football of my career at 24 and 25.

"But it was whether I could have been better with full vision. I'll never know that, will I?

"Even now, when the ball comes at an angle on my right side, I can't see it.

"Sometimes you just have to anticipate situations. I think I've done well to be a professional all this time."

His former Newcastle team-mate John Beresford recalls Holland's Premier League debut against Ipswich Town at St James' Park in March 1994.

"It was one of the best debut performances I've ever seen.

"Chris set up both goals for Andy Cole with two brilliant right-wing crosses and I thought he was sensational.

"He was incredibly fast, one of the quickest players I've ever worked with.

"I remember we had a bleep test and Chris got the record time.

"I'm sure he could have been an outstanding runner if he hadn't chosen football."

Holland remembers walking up the tunnel that cold March day.

"When I put Andy Cole in for the second goal, I raced over to the corner flag. I looked up to the crowd and my mum, dad and sister were there cheering and laughing with joy.

"It was incredible to see them at that moment, because I had no idea where they were in the stadium. At the end, John Wark came over, shook my hand and said, 'Well played son'.

"He added that it was the best midfield performance from a youngster he had seen for many years. I was just so proud.

"The newspapers dubbed me the new Paul Gascoigne.

"That was a bit to live up to, wasn't it?

"I was called up for the England shadow squad a few months before Euro '96.

"We had a practice match against the senior England team, and Gazza was playing.

"Gascoigne called me 'the new Gazza' throughout the game – he was great fun and it was all very surreal.

"We played together at Boston, and the day he signed he came over and said, 'How are you doing new Gazza?'. He is a lovely man and what a player he was.

"At Newcastle, though, I just remember a great spirit in the dressing room.

"I was a kid from Whalley playing with David Ginola, Ruel Fox, Peter Beardsley, Tino Asprilla and Les Ferdinand.

"They couldn't have made me feel more welcome.

"Ginola, the best footballer I ever saw, was in his prime.

"He wouldn't give the ball away for a week in training.

"He had unbelievable skill and awareness.

"But he'd come over and chat to me about my game, but also about life in general.

"He would talk about music, food, life in France. It was fascinating listening to him.

"It meant so much to a young lad and we became good friends.

"Peter Beardsley was awesome too. He was the best one-touch player I've ever seen.

"He always had three or four options in his head when he received the ball, and it was a total education to watch him.

"We were sat in the dressing room one day and Terry McDermott, the Newcastle assistant manager, was looking over at me. He said something to Peter Beardsley about how quiet I was on the pitch.

"Peter just smiled and replied, 'Listen mate, when you can pass a ball like that lad you don't need to talk'. I thought, 'Blimey, Peter Beardsley has said that about me'.

"I'd stand on the Riverside terrace at Blackburn as a kid and Scott Sellars was my hero. He was at Newcastle and I played alongside him at Birmingham and Huddersfield too.

"Andy Cole once said that Scott created 75 per cent of his goals. I never thought Scott got the recognition he deserved."

We talk about Holland's formative years, and it is clear his love for Deepdale remains undiminished.

"Walter Joyce signed me for the school of excellence and I was so happy at Preston. We'd train on two little plastic pitches behind the Town End, and that's where I learned my trade.

"I made my North End debut against Wigan at Springfield Park in October 1993.
"It was a 2-2 draw and I think Gareth Ainsworth and Mick Conroy got the goals.
"I had 25 pairs of boots to clean every day when I was an apprentice, but it made you disciplined in a work environment and it was part of the character-building process.

"The kids today don't have to do that, work behind the scenes – it is all done for them now and they miss out, I believe.

"I saw lads arrive at Boston, some released by Premier League clubs, and it was a big shock to a lot of them.

"You should have seen their faces when they realised what it was like on the other side of the fence.

"It is like, 'Welcome to the real world, lads'. But there is always a way back if you work hard enough. Look at Brett Ormerod. He must have been heartbroken when Blackburn let him go as a kid. But he stuck to his guns and never lost that iron belief in his own ability.

"He climbed back up the ladder again via Accrington, Blackpool and Southampton.

"He did it the hard way and next season he could be playing in the Premier League with Preston."

Holland has seen the game change beyond recognition.

"To the man who works nine-to-five, it must be very hard to understand some players earning £60,000 a week.

"I got a decent wage at Newcastle, but today's player makes 20 times as much a week than a decade ago.

"When you hear about a family having to pay £150 to watch a Premier League game, you wonder whether football has lost a bit of its soul. I suppose it is just a business now."

Southport is Holland's sixth club, and he admits he has found a new lease of life at Haig Avenue under Peter Davenport, the ex-Manchester United striker.

"I've fallen back in love with the game – joining Southport is like coming home for me.

"I live in Blackburn and I feel really content. It is a fresh challenge, trying to keep Southport in the Conference."

He added: "I went to have my photograph taken at Deepdale this week, and when I saw the old Pavilion Stand all those warm memories came flooding back.

"John Beck was very good to me and he tried everything to persuade me to stay.

"I loved it there, but under John's system of play, you couldn't pass to feet and it was a game of statistics.

"It was like everything I'd learned earlier in my life played backwards. "The night before I was due to sign for Newcastle, though, I got a telephone call at home.

"I thought it was one of my pals putting a Scouse accent on, because a couple of days before he'd contacted me pretending to be Kenny Dalglish and I'd fallen for it.

"The caller was going, 'Is that Chris Holland? It's Peter Reid here'.
"I'm going, 'Yeah, Yeah. Of course it is'. Eventually I realised it was Peter Reid.

"Anyway, I talked to my dad and I agreed to move to Manchester City the next day.

"However, I picked up the newspaper the following morning and Peter Reid had been sacked.

"That was the end of it and I signed for Newcastle. Looking back I've no regrets.

"I'm just grateful still to be playing and enjoying the great football life."