Date: Tuesday 22nd July 2014, 7.30pm.
Live on BT Sport

Venue:

Forsyth Barr Stadium, Dunedin, South Island, New Zealand.



Conditions: chilly:

8 degrees at kickoff.



Admission: $25 and upwards (£13)

Programme: $5 (£2.50)


Newcastle United

Sydney FC

4 - 0

.

Teams
18mins Sydney goalkeeper Ivan Necevski made an absolute hash of a clearance on the edge of his area. Emmanuel Riviere played the loose ball into the path of Siem De Jong and he registered his second pre-season goal, finding the back of the empty net from 18 yards. 1-0

26mins A spell of Newcastle pressure ended up with Yoan Gouffran laying the ball across the six yard box from the right hand side of the box for Emmanuel Riviere to force home. 2-0

That Riviere touch

33mins A speculative left footed effort from distance by Mapou Yanga-Mbiwa took a hefty deflection off the Sydney captain Saša Ognenovski and whizzed beyond Neceviski. 3-0

Half time: Magpies 3 Sydney 0

82mins Substitute Adam Campbell's first contribution was to play in Adam Armstrong, who sold his covering defender a dummy before beating Necevski at his near post. Two local lads combining for the goal was possibly the most fitting tribute of all in this game. 4-0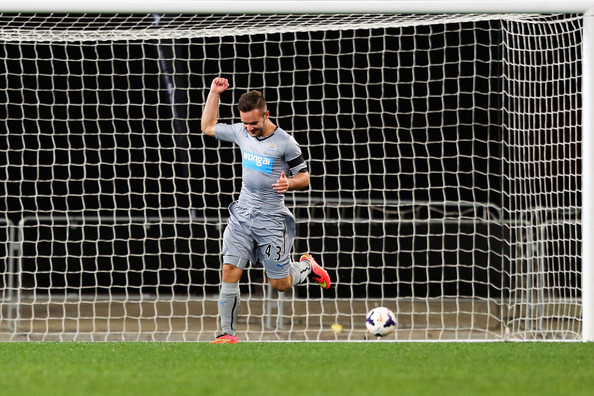 Full time: Magpies 4 Sydney 0
Alan Pardew
-
p
re-match:


"None of us would be sitting here without the fans.

"Owners and managers come and go, as do players, but the fans are always there, and these two guys in particular, to go to the lengths that they did to get out here, has brought home just how important supporters are to us.

"Sometimes when you lose lives in that manner, it puts into context what we do. This season we want to give their families something to remember them by, by having a successful season.

"A lot is made of the rivalry between the two cities, and of course that is there but I would like to thank all the Sunderland fans who have paid tribute and helped raise a staggering amount already.

"I am very proud of Sunderland Football Club for the way they have conducted themselves and I want to thank them.

"It's important we represent ourselves in the right manner, especially after losing John and Liam - our supporters who were travelling out here.

"We have to conduct ourselves well on and off the pitch and get some strong results. That is what they would have wanted and that is what we want, so in memory of those guys in particular, we want this to be a successful tour.

"We have to honour these guys in the right manner because it does mean a lot to us. Their tragic loss has hurt the group. On Tuesday, I will be playing a very strong side. That is only right and fair in light of what's happened."


Alan Pardew - post-match:

"It was a good night for us, really good, and it was great to play in a roofed stadium in front of a really good crowd. The scoreline might have flattered us slightly but we took most of our chances and it was a fairly satisfying performance so soon after arriving in New Zealand.

"We lacked offensive options last season, particularly in the second half, but we improved that tonight and I thought that was encouraging. We started with a very strong side, particularly in memory of Liam and John, which I thought was only right.
"It was important to pay our respects as Liam and John were not just ordinary fans, they were a little bit special in their support. They were coming all the way to New Zealand to watch us and we had to make sure that their memory was in this stadium.

"It was nice to see all the new boys contribute in a really positive way, it is obvious we've more offensive options now with the arrival of Siem (De Jong), (Emmanuel) Riviere and Ayoze (Perez). All three were terrific and Jack's (Colback) energy in midfield was great, that really got us playing on the front foot.

"It was a good night on the pitch and we can be proud of how we conducted ourselves off it too."



Sydney FC coach Graham Arnold:

"It was a great work out for us.

"To come up against a Premier League team who are just three weeks away from the start of their season and we are still 12 weeks away meant tonight was always going to be tough, and it was mainly our mistakes that gifted them the goals.
"There were a lot of positives that we took out of the game. I'd prefer to play teams of this quality at this stage of the season who will punish us and our mistakes. Playing against lesser opposition can often camouflage your mistakes but against a Premier League side of the calibre of Newcastle we didn't get away with it and we'll learn from that.
"We have got a lot better but there is a long way still to go. I'm asking the senior players to lead by example and they mostly did, while some of the younger players also enhanced their reputations against quality opposition. We got into some good areas but our final ball wasn't great."


Emmanuel Riviere made his debut for United, wearing number 29. The previous owner of that shirt, Haris Vuckic, appeared clad in the number 23 shirt now vacated by Shola Ameobi.


P
re-season pitch time (in minutes):
Aarons

63+68=

131
Abeid

90+22=

112
Alnwick

90
Ameobi

45+68=

113
Anita

54+90=

144
Armstrong

54+14=

68
Bigirimana 20
Campbell 9
Colback

90+68=

158
Coloccini 81
De Jong

63+45=

108
Elliot 90
Dummett

70+14=

84
Gouffran

45+76=

121
Haidara

27+76=

103
Perez

36+36=

72
Riviere 54
Satka

36+14=

50
Streete

27
Tiote 0
R.Taylor 0
S.Taylor

63+76=

139
Vuckic

27+45=

72
Williamson 0
Woodman 0
Yanga-Mbiwa

90+90=

180
Non-combatants:

Holiday: Cabella, Janmaat, Krul, Sissoko, Tiote
Fitness: Cisse, Good, Mbabu, Santon
Not selected: Kemen
Not considered: Ben Arfa, Gutierrez, Obertan
Played for U21s: Ferguson
Unused sub: Woodman

NUFC in New Zealand - previous visit:

25.05.1985 won 3-2 McDonald 2, Reilly (4,400 in Auckland)
22.05.1985 won 4-0 Reilly 2, Beardsley, Gascoigne (6,500 in Napier)
19.05.1985 drew 2-2 Beardsley 2 (4,000 in Wellington)
18.05.1985 won 2-1 Anderson, McDonald (5,000 in Christchurch)

(All games were against the New Zealand national team aka the All Whites)

Prompted by an email from Wallsend-born NUFC.com reader Michael Golding (exiled in Australia), we perused our old school atlas and like him, conclude that this is the most Southerly venue that Newcastle have ever played at - until the pre-season tour of the Falkland Islands anyway....


Waffle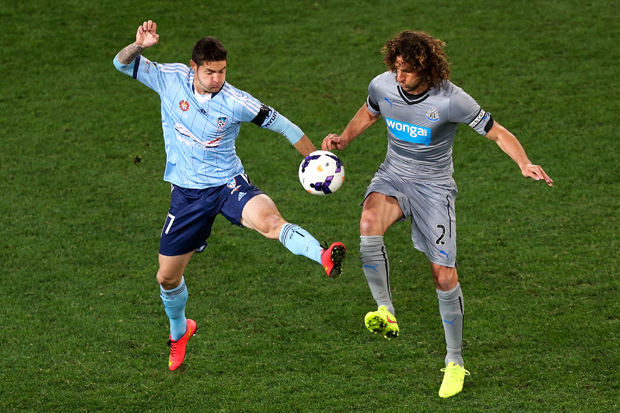 A week after kicking off their pre-season programme with a 1-2 defeat at Oldham, United travelled over 11,000 miles to face Australian A League side opposition on the South Island of New Zealand.

Our correspondent takes up the story:

News of the MH17 tragedy brought a new dimension to this eagerly-awaited game, which became even more of a pilgrimage for the many Toon fans in this part of the world. The Newcastle party gauged the mood well and were extremely approachable and very visible throughout Dunedin.

The extraordinary efforts of NZ Mag Kane Wintersgill drew manys to the Terrace bar, where matchday experiences of yesteryear were recounted by fans who hadn't seen the lads in the flesh for many years. For the debutants meanwhile, excitement levels climbed as the beers were poured.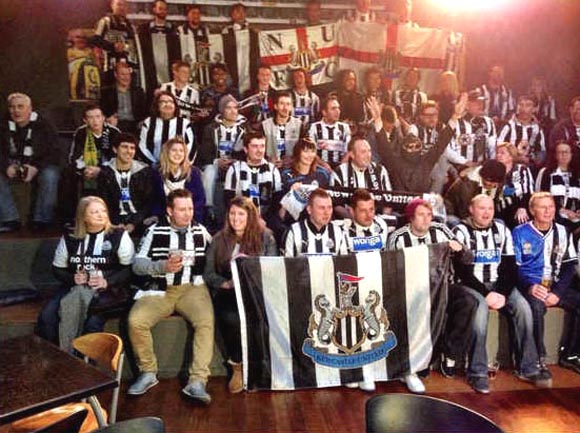 The Toon on the terrace, in the Terrace

Club shirts of many vintages and colours were on show, to the extent that when Bobby Moncur and the club entourage showed at the pub in the afternoon of the game, it was obvious who the club people were simply by looking at their attire - no blue stars or Greenalls logos on their tracksuits....

Assembling an hour before kick off for the walk - not quite of Bruges proportions - to the stadium, the lads were by now in full voice, with lumps in throats and tears in eyes.

Arriving at the stadium, everyone was funnelled into the Speights stand, and into the bright lights of what is a massive and magnificent indoor structure. The laying of the wreaths at Liam and John's seats was a heart-warming gesture, and they were surrounded by their fellow fans for the duration of the game as if they were there - it was clear that Colo was moved by the ceremony.

Just prior to kick off there was a commotion in the West Stand (aka The Zoo) where hundreds of local students had gathered with painted faces and mocked-up Newcastle gear.

They then started to pipe up with some songs clearly not from the Geordie songbook, much to the hilarity of the Toon section in the adjacent stand. To be fair though, it did give the atmosphere something extra, akin to a home following as there was barely a soul from Sydney at the game.

The game started at a pedestrian pace as Sydney started to spray the ball around and Newcastle sussed out their opponents, but it all changed very quickly when the goalkeeper Necevski served up a howler. Fluffing a simple kick straight to Riviere, the new boy passed up the opportunity to turn and shoot to tee up De Jong for the simplest of goals to set the fans on fire.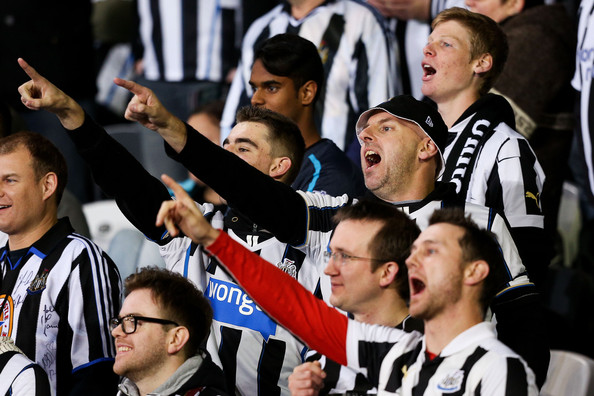 Memories of QPR away in 1994 came flooding back as a good rendition of 'Dodgy Keeper' was belted out and a second goal soon followed when Riviere marked his debut with a close range strike. That came shortly before a pre-arranged minute's applause from the Newcastle support in the stadium, acknowledging 28 year-old Liam Sweeney on 28 minutes.

By now Newcastle were in total control and Yanga Mbiwa's deflected third emphasised what was becoming a one-sided affair - men against boys you could say, with only Ibini and Carle showing anything for the Australians.

What was encouraging was the emphasis on wide play, to the fore in the pre-game Dunedin training sessions and youngster Rolando Aarons popping up on both wings to good effect. The extra edge of the classy Colback and the even classier De Jong also gave Newcastle frequent opportunities.

The second half was not as punctuated as some games by the substitutions, every Toon sub being greeted with a massive roar, none bigger than the one afforded to Steven Taylor, while Rob Elliot was cheered on by the Toon Army despite having very little to do.

A second minute of applause was then observed in memory of 63 year-old John Alder on 63 minutes - just about the time United goalkeeper Rob Elliot was called into action for the first time to palm away a bouncing effort from 18 yards by former Fulham reserve striker Corey Gameiro.



A well worked fourth goal by the lively Armstrong capped off a fine night's entertainment. Seeing Ayoze Perez jink down the line, the long legs of Sammy Ameobi cause chaos and Haris Vuckic look composed, caused much optimism and even some giddy chants of "We're gonna win the league." If that was the A League, then we may be in with a shout...

Aside from the "Willie McFaul's Black and White Army" chant that came up, this was surely one of the most ridiculous of the night, but all received in good humour.

Rumours of the players and staff heading out on the town afterwards prompted another big turnout at the Terrace bar after the game, but alas it was not to be.

Regardless of that though, this was potentially one of the best away days for many fans present - some positive PR coming from club representatives joining the fan gathering pre-game and the players happily shaking hands and posing for photos at the team hotel.

Those fans seeing their first Newcastle game and having their first matchday experience will definitely be back for more, and if this was simply a PR exercise, coming to Dunedin was a great idea. Roll on Saturday, when we get to do it all again in Wellington.

Thanks to our Aussie correspondent Paris Pete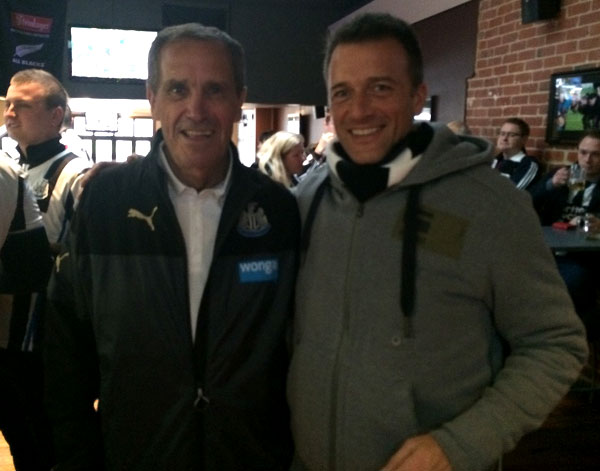 Bob Moncur and Pete Smith


RIP John and Liam - never forgotten