Date: Sunday 10th August 2014, 1.30pm.

Venue:

St.James' Park



Conditions: decidedly damp

Admission: £15 / £15 on the gate
Lower areas of the ground only open

Programme: £3


Newcastle United

Real Sociedad

1 - 0

.

Teams
Half time: Geordies 0 Basques 0

88mins Basques were undone as Gabriel Obertan advanced down the United right before cutting the ball back via the merest of touches from Ayoze Perez for Moussa Sissoko to pounce with a low right footed effort from the edge of the Gallowgate box. Looking very pleased with himself, the scorer dashed away to celebrate with the United bench. 1-0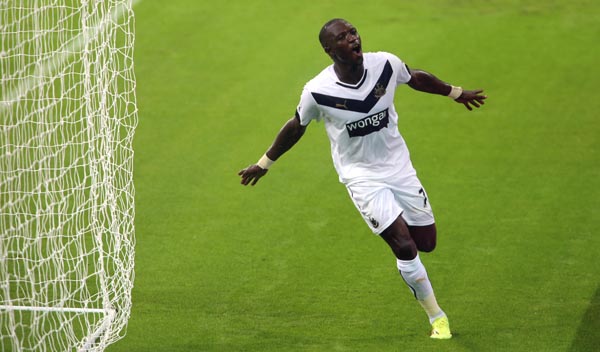 Full time: Geordies 1 Basques 0




Alan Pardew:



Nothing - unless you're a Sun, NUFC

TV or Sky Sports subscriber. United are currently allowing only their own journalists plus selected rights holders access to the manager before and after matches.



From NUFC TV:

"It's always good to win - we pushed second half. We was a bit kind of nervous first half, the new boys didn't know whether to step in or put pressure on but we sorted it out half time and wouldn't let them play. Everyone contributed.

"Fingers crossed Gouff's OK. If he is, then we've come through unscathed, which is more important than the result today. Everybody looks fit and well and we had some nice moments from our new players - to see that the fans we've got a different look to us."

On the absent duo Tiote and De Jong:

"They're both running at various stages. Siem's a lot further down the path than Cheick.

"They're both massive players. It would be idyllic if we could get them for Man City, but Cheik, for sure, I don't think is going to make it. Siem's got an outside chance of being involved."



Jagoba Arrasate:

"It's been one more game of pre-season, although their goal at the end was a shame. It was a game of two very different halves. In the first we had all the control and in the second, they were the more deserving side.

"We were looking to get two games against very competitive opponents, Newcastle and Chelsea, whilst also giving all our players the opportunity to get plenty of minutes. We stood up for ourselves well today, but on Tuesday we have another game (at Chelsea).


NUFC home pre-season friendlies - last decade:

2014/15 Real Sociedad won 1-0 19,199
2013/14 SC Braga drew 1-1 16,187
2011/12 Fiorentina drew 0-0 12,656*
2010/11 PSV Eindhoven drew 2-2 16,118
2009/10 Leeds United drew 0-0 16,945
2008/09 Valencia won 2-1 31,494
2008/09 PSV Eindhoven drew 2-2 13,477
2007/08 Sampdoria won 1-0 23,078
2007/08 Juventus won 2-0 34,016
2007/08 Celtic won 4-1 30,225
2006/07 Villarreal drew 2-2 20,144
2006/07 PSV Eindhoven lost 2-3 20,175
2005/06 Yeading won 5-0 6,151
2004/05 Rangers won 4-2 31,554
2004/05 Sporting Lisbon lost 0-1 23,446

*abandoned after 63 mins

31 players were used in pre-season (32 in 2013/14)

Pre-season pitch time (in minutes):

Yanga-Mbiwa 90+90+64+90+84+45+35+30=528
Colback 90+68+90+67+45+63+59=482
Aarons 63+68+45+45+68+35+45=469
Anita 54+90+90+45+23+74+60=436
Coloccini 81+78+74+45+90+60=428
Haidara 27+76+76+60+67+63+59=428
Abeid 90+22+45+90+74+45+27+30=423
Gouffran 45+76+85+45+58+55+=409
Elliot 90+90+90+90+45=405
Riviere 54+64+54+45+57+71+60=405
S.Taylor 63+76+90+90+27+30=376
Dummett 70+14+14+90+23+80+27+31=349
Perez 36+36+57+72+45+10+19+60=335
Obertan 90+45+74+35+31=275
Sissoko 45+45+90+90=270
Armstrong 54+14+26+84+45+22+7=252
Cabella 45+32+90+75=242
Krul 45+90+90=225
Williamson 16+74+63+60=213
Satka 36+14+26+45+6+45=172
Vuckic 27+45+12+30+16+16=146
De Jong 63+45+33=141
Janmaat 55+83=138
Ameobi 45+68=113
Ferreyra 33+55+15=103
Alnwick 90
Bigirimana 20+60=80
Streete 27+36+16=79
Tiote 60
Campbell 9+5+18+16=48
Gilliead 6

Non-combatants:

Fitness: Cisse, Good, Mbabu, Santon, R.Taylor
Omitted: Ben Arfa, Ferguson, Gutierrez
Unused sub: Quinn, Woodman

The side from San Sebastian bec

a

me the first Spaniards to appear at SJP since Valencia back in 2008 and

belatedly returned an invitation - having entertained United on home turf in 1924.

Magpies v La Liga sides - Premier League era:

Outside Spain:

1994/95 Atletico Bilbao won 3-2 (UEFA Cup) SJP
1997/98 Barcelona won 3-2 (Champions League) SJP
2001/02 Atletico Bilbao lost 0-1 (Friendly) SJP
2002/03 Barcelona lost 0-3 (Friendly) SJP
2002/03 Barcelona lost 0-2 (Champions League) SJP
2003/04 Real Mallorca won 4-1 (UEFA Cup) SJP
2005/06 Deportivo La Coruna lost 1-2 (Intertoto Cup) SJP
2006/07 Villarreal drew 2-2 (Friendly) SJP
2006/07 Celta Vigo won 2-1 (UEFA Cup) SJP
2008/09 Valencia won 2-1 (Friendly) SJP
2014/15 Malaga lost 1-3 (Friendly) Schalke
2014/15 Real Sociedad won 1-0 (Friendly) SJP

In Spain:

1994/95 Atletico Bilbao lost 0-1 (UEFA Cup)
1997/98 Barcelona lost 0-1 (Champions League)
2000/01 Espanyol lost 1-2 (Friendly)
2001/02 Recreativo Huelva lost 0-3 (Friendly)*
2002/03 Barcelona lost 1-3 (Champions League
2003/04 Real Mallorca won 3-0 (UEFA Cup)
2005/06 Malaga lost 0-2 (Friendly)
2005/06 Deportivo La Coruna lost 1-2 (Intertoto Cup)
2008/09 Real Mallorca lost 0-1 (Friendly)
2009/10 Deportivo La Coruna drew 0-0 (Friendly) (won on pens)

* strictly speaking not a first team game.

A year to the day that they'd debuted their black and white halved shirt against Braga at SJP, United wore an all-white strip with black details clearly inspired by a Magpies change kit from the 1920s - modelled here by Neil Harris.

This new kit goes on sale to members in December 2014.

It remains to be seen whether - like the halved one - this will be the only time it's ever worn by the first team in public.
Waffle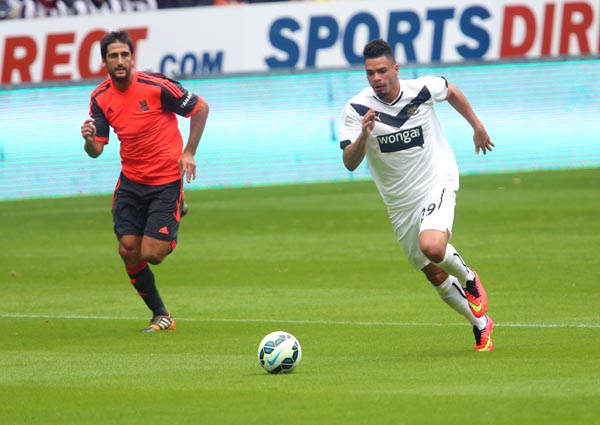 Moussa Sissoko grabbed a late winner against Real Sociedad as only one of Newcastle's eight warm-up games on home turf ended in victory at on a slight soggy Sunday afternoon.

With both Siem De Jong and Cheick Tiote due to fitness concerns, Alan Padrew selected ten of the starting XI that had drawn 2-2 at Huddersfield in midweek, Vurnon Anita returning to the midfield at the expense of striker Facundo Ferreyra.

A low-key first half was played in constant drizzle and saw neither goalkeeper seriously tested, one injury scare seeing Yoan Gouffran forced off after 13 minutes following a tackle outside the Sociedad box. However he soon returned after treatment at pitchside for a knee ailment.

Playing only his second game for the club, the impressive Daryl Janmaat made a fine intervention on 26 minutes before setting up Emmanuel Riviere in front of goal, only for the French forward to narrowly fail to connect with the ball in front of the Leazes End goal.

Looking for force a breakthrough, Remy Cabella popped up across the front line, switching flanks with Sissoko and also joining Emmanuel Riviere up front. However both he and Massadio Haidara failed to make the most of various opportunities they created to get accurate crosses into the box.

Rolando Aarons was introduced for the second half and did his best to try and force a goal, but once again it was the introduction of Gabriel Obertan down the right flank that was to prove pivotal to breaking the deadlock.

In a game of very few goalscoring opportunities, visiting goalkeeper Geronimo Rulli made an excellent save just before the hour mark, denying Mike Williamson after he met a Cabella corner with a firm header at the Gallowgate End.

With Tim Krul a virtual spectator as the rain began to fall more heavily, his colleagues belatedly fashioned a goal in the closing moments, Moussa Sissoko's finish ensuring that we'd found the net in all of eight of our warm-up fixtures - 14 goals coming from no less than different scorers.

Sociedad finished four league places higher last season than a Malaga side who tore us to shreds in Germany a week earlier, but arrived on Tyneside having sold their top scorer Antoine Griezmann to Atletico Madrid and lost new signing Alfred Finnbogason to injury against Aberdeen on Thursday.

Add in a friendly at Chelsea on Tuesday and the first leg of a Europa League tie against Russian opposition before their domestic season kicks off on August 24th, and it's fair to say this was Real's least vital August fixture. Guts weren't busted although there were some meaty challenges.

But this is about us not them, so what have we learned since July 15th?

A week before the real stuff recommences, it still remains to be seen whether hostilities resume between the manager and sections of the crowd. Has the player turnover of the last three months has been enough to calm people - or have the malcontents withdrawn their support and cash?

Certainly the sparse attendance here today and diminished attention span of some (who spent most of the 90 minutes idly wandering to and fro for no good reason) meant that no conclusions could be drawn by the fact Alan Pardew occupied his technical area without any howls of derision.

Pre-season is about working on styles, systems and players, with the chance for reputations to be enhanced - or in some cases, negative memories to be exorcised. Experience has shown that the actual results are meaningless and conclusions can only start to be truly arrived at once league games have got underway and the window has closed. Until then you don't know what you've got - and whether different is also better.

The reshaping of the squad means that this particular phoney war has been more engrossing than usual. Putting aside the valid concerns of only reinvesting the Cabaye and Debuchy fees and failing to touch the TV cash, the endless lists of targets provided by Alan Carr's dad have been acted upon this summer and our personnel has changed to a greater extent than most cynics thought possible.

(it's a moot point whether there's any moral obligation to blow that goggle box dosh on buying players that add entertainment to a team and therefore make the "BPL" product more saleable).

The traditionalist in us shuddered at appearance after appearance for the austerity horse blanket of a change kit in place of the black and white stripes. Never mind whatever arse first campaign Puma have cooked up, we should have been walking out in Gelsenkirchen etc. in the kit we are known for - we we actually interested in brand building. 109,000 saw Manchester United play Real Madrid in Michigan - red shirts versus white shirts, iconic and synonymous - even with stupid adverts.

Barely concealing our delight at not having to witness Shola being flogged across foreign fields as was the case in previous seasons, the early boost that came from seeing De Jong achieve more in the warm-up at Oldham than his brother managed in a dozen appearances for us last season was short-lived, as the former Ajax player no sooner got bedded in than was limping out.

The extended leave granted to messrs Debuchy, Cabella, Sissoko, Tiote, Krul and Janmaat meant that our usual issue of not being able to field an XI that remotely resembled one that would be selected in anger was still a factor. Given the number of new faces though, that did allow for the majority of players to get some decent pitch time in and a few to salvage their reputations.

Chief amongst those was Gabriel Obertan, who may well be playing to catch the eye of someone prepared to keep him in the style to which he's become accustomed, but showed both fitness and finesse out on the right. If only he wasn't such a gutless blighter when the real thing is in play.

Not mentioning Hatem Ben Arfa here will doubtless result in people assuming we're either with or against him depending on their own view. As succinctly as possible: he has been handled poorly by the manager with his "one size fits all" approach, but lacked the personal professionalism a sportsman needs to get himself fit last season - that's unrelated to a management dispute, if he'd worked as hard on his fitness as Ryan Taylor then this problem wouldn't have festered and grown.

The damage was done in July 2013 when he sat by a Portuguese pre-season pitchside in his flip flops and by the following January waddled off the bench at Carrow Road. The sale of Cabaye highlighted that fact and doubtless prompted the question from on high, just why are we still paying this bloke?

The issues with integrating Ben Arfa in the first team came as much from the dressing room as the manager's office though. No change of captain means that situation remains unaltered, while the comments of Hatem's agent about him out-lasting Pardew at SJP suggest that any successor would reinstate his client in the team. That's a long way from a given.

It's also worth restating that Ben Arfa is sufficiently known by reputation to deter many suitors and result in phantom transfer stories appearing. If he really was the full package then he wouldn't have ended up at SJP in 2010. And recalling how that initial move came about, the player downed tools at Marseille and sought sanctuary at a willing Newcastle. Fast forward four years though and there looks to be a lack of clubs offering a similar escape route.

The lag between the Debuchy/Janmaat changeover meant that Mapou Yanga-Mbiwa ended up playing more than anyone else, despite strong claims that he was set for a return to France. Whether Mapou has improved his reputation or the budget didn't extend to replacing him is unclear, but initial reports that Jamaal Lascelles was to join our squad this season may give a strong clue.

The offer Forest couldn't refuse for Karl Darlow and Lascelles was in some ways reminiscent of our moving in to take advantage of Leeds imploding and stealing away both Jonathan Woodgate and James Milner. And if nothing else it lends credence to the belief that there is actually some sort of strategy, rather than continually reacting to circumstance. For Remi Streete though, the curse of the Jackie Milburn trophy strikes again though while Jak Alnwick should start circulating his CV.

And in Rolando Aarons, there's a genuine starlet from within. Released by Bristol City in 2012 and debuting for United's U18s in April of that year, the winger embraced reserve team football when introduced the following February and has scored seven goals in 27 games (18 starts).

While he deservedly took much praise for some fearless running, a quietly efficient couple of cameos from Lubo Satka also gave rise to some optimism that he could make it - slotting in at right back seeing him more at ease than previous postings at centre half. If Janmaat takes the Premier League in his stride as he should though, then the vultures could descend very quickly indeed.....

Amid the heightened anticipation that the signings triggered, it's easy to forget that there were weak points in the squad before the departure of Yohan Cabaye and this wasn't simply a matter of getting Remy Cabella over that mythical line as his belated replacement.

More midfield options (although rumours of a departure persist) may allow us to pick teams that differ depending on occasion and opponent but aren't deemed to be weakened, and crucially give the competition for places singularly lacking last season.

Above all else though, we're still lacking a genuine striker and the assertion that the money was in place to fund a £15m talisman in this window remains unproven. In the absence of that crucial signing - at least until January - our plan B seems to be hoping that the scoring burden is shared around the side and that Papiss Cisse can plumb in to our new formation (Loic Remy and Cabaye scored 21 of our 43 goals last season - and one of them left halfway through the season).

While it may be overly-melodramatic to describe the current truce as a fragile peace, it's reasonable to say that the transgressions of last season have not been forgotten. Getting that elusive victory over City may not make our season, but a repeat of the 2013 opening night drubbing would put us firmly on the back foot - and give those excluded members of the media yet more ammunition.

Biffa