Date: Wednesday 24th September 2014, 8.00pm.

Venue:

Selhurst Park



Conditions: canny

Admission: £15

Programme: £2.50






Crystal Palace

Newcastle United

2 - 3

Teams
25mins There looked to be nothing malicious in a coming together between Wilfried Zaha and Daryl Janmaat deep in the United box but the referee thought otherwise and Dwight Gayle slipped his penalty past Rob Elliot 0-1

36mins Jack Colback worked the ball infield from the United right outside the Palace box to Adam Armstrong, whose low forward pass neatly bisected two approaching opponents. With his back to goal, Emmanuel Riviere let the ball run through his legs and onto his heel, bouncing into his path as he turned instantly.

Slipping as he tried to react, his marker Brede Hangeland inadvertently touched the ball forward for the French striker to register a first goal in 525 minutes of English football, whipping a neat left-foot shot from 18 yards beyond Wayne Hennessey and into the Holmesdale Road net. 1-1

Half time: Palace 1 United 1

48mins Sammy Ameobi strode into the left hand side of the Palace box and at about the same spot that Janmaat had been penalised earlier, forced his way into the gap that dallying duo Patrick McCarthy and Adrian Mariappa had left.
The former bundled Ameobi over and a spot kick award correctly followed. After some brief confusion when Mehdi Abeid grabbed the ball and appeared to be volunteering, Emmanuel Riviere placed it on the spot, sauntered up and dipped a right-footed effort over the crumpling 'keeper 2-1

90+2mins A throw in down the Palace right was propelled into the United area and weakly headed out by Gabriel Obertan. Gathering possession, Bannon skirted the edge of the box and when Ayoze Perez closed him down, knocked a short ball out to Mariappa lurking on the touchline.

Without further ado the ex Reading and Watford man pumped a cross towards the far post, the ball dropping beyond Paul Dummett and reaching Sullaiman Kaikai. The debutant pumped his first shot into the body of the diving Rob Elliot, but when the rebound reached him managed to squeeze it between the goalkeeper and his near post from the edge of the six yard box. 2-2

Full time: Palace 2 United 2

Half time of extra time: Palace 2 United 2

112 mins A skipping, twisting run from Massadio Haidara kept him away from a trio of home players and saw him reach a spot parallel with the left corner of the Eagles box before turning back and slipping the ball to Armstrong. He took a touch before picking out Paul Dummett, who notched his second goal for the club by getting ahead of Kaikai and netting with a brave diving header 3-2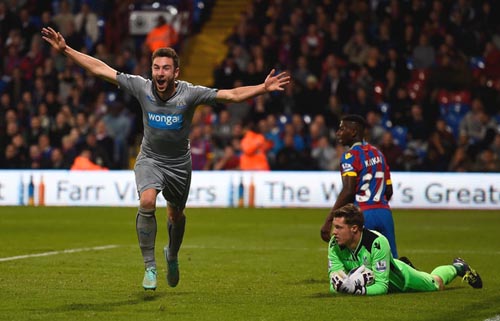 "When I was younger I used to dream of doing this for Newcastle United"
Full time of extra time: Palace 2 United 3
Alan Pardew:
"
Anyone who has seen us play this year will know the top of the pitch has been an issue for us. We've just not had that cutting edge. So perhaps the two goals on Saturday and two tonight is a big lift for the club. I'm so pleased for Manu, he's worked tirelessly this season, and he deserves those goals - that will give him a real lift.
"Paul (Dummett) is a local lad and he's having to prove to the Newcastle public that he's good enough, it's hard for players to come through the academy these days. Sadio (Haidara) gets a bit more glamour than Paul, but Paul does what it says on the tin.

He's a tough tackler, good in the air, getting better going forward - ow he's ended up in the middle of the goal at that time, I don't know.

"It's always lovely coming back here, but I thought our fans were terrific tonight and made a conscious effort to support the team. There wasn't too much going on about me or my position, and I thank them for that.

"The desire and the character were tremendous and the flag was carried by Fabricio Coloccini, who was by far and away the best player on the pitch."

On Adam Armstrong:

"He's going to be, we hope, a great talent for the club. He loves the football team and that shows, he gave everything and he could hardly move at the end. He's highly rated by England at U18 level and we see enough in training to know the potential of this player.
"I've seen it before with (Jonjo) Shelvey, who I had at Charlton, Mark Noble (at West Ham), and (Alex Oxlade) Chamberlain at Southampton, all at 17, and I put him in that category, but he's got to do what they did, they all progressed and he needs to.
"If we were in a situation where we're one-on-one and it was anyone at the football club, I'd like it to be him. That's how confident I am in his finishing. He's now got to get that game mentality - he will have learned a lot on Wednesday.
"I think he's kind of a player that can play in two roles. He can play at the top of the pitch and he can build the play because his touch is fantastic.
"For the first five minutes I'd give him zero out of ten because he was a bit nervous. but then he did one little bit of magic that gave him the confidence and he was terrific after that. He almost scored an unbelievable goal, which he's capable of."

On the mid-game PA announcement of the Fourth Round draw:

"I thought that was a really strange moment. They put it up on the screens, and I think that needs to be questioned to be honest.
"It's a tough draw. Manchester City's third team is pretty strong, so we'll have to give it a good go when we go there. But we'll look forward to the game."


Neil Warnock:

"I thought it was a cracking game and it shows the state the club is in when I can make 11 changes and we put in a performance like that. People thought I'd put out a weakened side, but they played with no fear and I was proud of them.
"There was no way I could play the players who played at Everton, not after all that hard work. Besides, it was a chance to have a look at some of the other players, and they gave a good account of themselves.

"So considering we made 11 changes we performed very well. I know people expected that would weaken us but the way the lads performed, I honestly don't think it did.
"So we've got a lot of players going well and now I've got problems with who I can leave out to be honest. Guys like Barry Bannan and Jonny Williams went well so that will make selection tough, and that's a great problem to have.
"Sullay (Kaikai) and Jake (Gray) deserved their chance are doing well in the U21s, and if the young players do well, they will get their chance.

"I thought the second disallowed goal was disappointing, if it had been anywhere else on the pitch I could have understood it, but Adlene [Guedioura] has barely touched the defender, and he's gone down looking for a free-kick, which the ref gave him.

"We could have had more from the fouls on Wilfried Zaha, which was also disappointing."

On the mid-game PA announcement of the Fourth Round draw:

"I'll be taking it further – I thought it was a disgrace.

"It had been announced and we had just equalised. You don't want to kill the crowd and I just felt it was a mistake on our behalf and I'll be finding out why we did it. I thought it was wrong to do that.
"I felt it was out of order....I think that's why they threw the last goal in - so they didn't go to Man City away..."

The Magpies
left Selhurst Park following a sixth successive victory over the Eagles in all competitions
at that venue.

Magpies v Eagles @ Selhurst - all time:

2014/15 won 3-2 (aet) Riviere 2, Dummett
2013/14 won 3-0 Cabaye, og(Gabbidon), Ben Arfa(pen)
2009/10 won 2-0 Nolan, Ryan Taylor
2004/05 won 2-0 Kluivert, Bellamy
1997/98 won 2-1 Tomasson, Ketsbaia
1994/95 won 1-0 Beardsley
1983/84 lost 1-3 Beardsley
1982/83 won 2-0 Waddle, Varadi
1981/82 won 2-1 Waddle, Mills
1978/79 lost 0-1
1972/73 lost 1-2 Tudor
1971/72 lost 0-2
1970/71 lost 0-1
1969/70 won 3-0 Davies, Dyson, Robson
1964/65 drew 1-1 Cummings

United's 135th League cup game was their 62nd victory, with 55 defeat and 18 draws. Conceding 186 goals, we've scored 216.

This was a first-ever League Cup meeting with Palace, coming after six FA cup meetings (all at SJP, Newcastle winning five and losing one). However this was the second time Selhurst Park has hosted a tie in this competition involving United, temporary tenants Wimbledon defeating us 1-2 in 1993.

NUFC League Cup results in London:

1962/63 Leyton Orient lost 2-4
1971/72 Arsenal lost 0-4
1974/75 Queens Park Rangers won 4-0
1975/76 Queens Park Rangers won 3-1
1975/76 Tottenham Hotspur lost 0-1
1975/76 Manchester City lost 1-2
1981/82 Fulham lost 0-2
1987/88 Wimbledon lost 1-2
1992/93 Chelsea lost 1-2
1993/94 Wimbledon lost 1-2
1995/96 Arsenal lost 0-2
2000/01 Leyton Orient drew 1-1
2001/02 Chelsea lost 0-1
2007/08 Arsenal lost 0-2
2010/11 Chelsea won 4-3
2014/15 Crystal Palace won 3-2

Full record v Palace:

P
W
D
L
F
A
SJP
15
9
4
2
22
10
SP
14
8
1
5
20
12
League
29
17
5
7
42
22
SJP(FA)
6
5
0
1
13
4
SP
0
0
0
0
0
0
SJP(LC)
0
0
0
0
0
0
SP
1
1
0
0
3
2
Cup
7
6
0
1
16
6
Tot
36
23
5
8
58
28
Waffle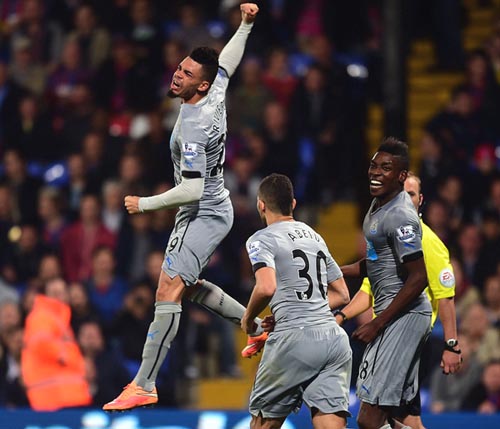 Big Riviere
Paul Dummett was the unlikely hero at Selhurst Park on Wednesday as ten-man Newcastle beat Palace in extra-time to set up a visit to current cup holders Manchester City in the next round.

As had been the case in the recent league meeting of the sides, Palace went ahead through Dwight Gayle, were pegged back and then deprived United of victory with an added time leveller.

Unlike the game at St.James' Park though, the Magpies had the benefit of an additional 30 minutes to atone for their defensive shortcomings and managed to do so, despite a numerical disadvantage for the final 20 minutes after a soft second yellow card saw Mehdi Abeid sent from the field.

The illness affecting Tim Krul, Papiss Cisse and Yoan Gouffran limited Alan Pardew's selection, Adam Armstrong given a first senior competitive start ahead of the lesser-spotted Facundo Ferreyra.

The 17 year-old England youth international forward was one of six changes to the side that drew with Hull City last Saturday and joined Sammy Ameobi, Paul Dummett, Jack Colback and Steven Taylor to make five Tyneside-raised members of the Newcastle starting lineup.

Keeping his place in the side though was Emmanuel Riviere and after failing to connect with Sammy Ameobi's 32nd minute centre, the former Monaco man did rather better with his next sight of goal, breaking his own personal duck but indulging in more of a team hug rather than a celebration.

The same player then confidently dispatched a penalty early in the second half and visibly unburden himself at that point, looking clearly relieved as he acknowledged good applause from the away end following his 80th minute replacement.

United looked to have seen off late Palace pressure with a disallowed Gayle effort and an Elliot save preserving the advantage but Kaikai fired home in the second minute of four added to prompt an additional 30 minutes of play.

And when Mehdi Abeid was harshly given a second yellow for a foul on Zaha, a penalty shootout looked be on the cards before Dummett managed to get himself into the box to great effect.

Rather less welcome though was the news (given out at the start of added time) that the winners of the tie would be rewarded with a trip to Manchester City, who also ended Newcastle's interest in this competition at the same stage last season.

That development slightly overshadowed what was on the surface a morale-boosting victory with various positives for the winners - not least of which was that they'd shown sufficient character to come from behind for the second time in five days.

As had been the case against Hull, Alan Pardew had the satisfaction of seeing his main striker bag a brace, while a performance from Alan Armstrong that belied his age was another plus - although the constant media hype that accompanies any sort of display from an English player is already evident.

It has to be stressed that this narrow victory came against an Eagles side showing 11 changes from that which won at Everton on Sunday, but who nonetheless managed to find some weaknesses in our allegedly strong defence and were denied a shootout only by a late Elliot block from Mariappa - Gayle having also come the width of a post away from getting his second of the game earlier on.

The loss of Daryl Janmaat to injury though (Dummett moving over to right back and becoming a third centre half as Palace inexplicably refused to push down their left and exploit his one footedness) may have instant ramifications in terms of selection for Monday's season-defining visit to Stoke.

It's in the context of our league season though when this result - and draw - starts to become a clear negative. Disregarding the spill over of form (and goals) into future games for a moment, the fact that we've added to our fixture burden surely won't please the manager's masters.

And looking closer at the schedule that now faces us makes grim reading indeed; the extra Etihad trip falling between a Sunday trip to Spurs and Liverpool's visit to Tyneside the following Saturday that will see us reach the ten game mark when significant decisions may well be made.

As was the case when he sailed very close to the wind in 2013 by his refusal to follow orders and exit the Europa League, he only thing that will unseat Pardew is risking our place in the top flight.
A week between those games to recover and prepare may make all the difference, but that's now not going to happen.

The twin worries of Spurs and Liverpool will logically result in the selection of a weaker team (and perhaps a debut for Ferreyra) that raises the prospect of a cricket score, City putting seven past Sheffield Wednesday without reply to set up that meeting with Newcastle.

Regardless of the common sense of that policy, the prospect of witnessing that sort of slaughter from behind the goal won't please the travelling supporters, who will target the regime's fall guy in the technical area.

This result and Saturday's point may have had the Newcastle manager whistling "I Will Survive", but from our own perspective the tune was more "Slip Sliding Away"....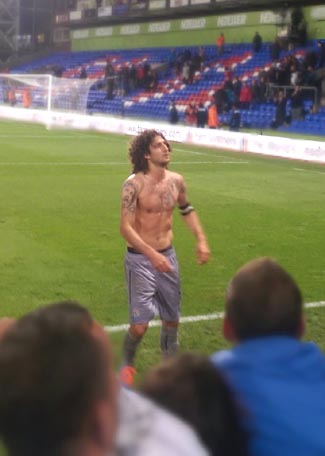 Photo courtesy of NUFC.com reader Andy Dent


Biffa