Date: Saturday 18th October 2014, 3pm 4pm.

Venue:

St. James' Park



Conditions: belatedly relieved.





Newcastle United

Leicester City

1 - 0

.

Teams
Half time: Magpies 0 Foxes 0

71 mins A shot by City's de Laet hit Jack Colback and fell for Papiss Cisse midway inside his own half. He played it to Gabriel Obertan who ran forward down the left channel from just over halfway, cutting across the edge of the box before hitting a right-footed shot back across Schmeichel into the Leazes net via a slight deflection off James. 1-0

Full time: Magpies 1 Foxes 0
Alan Pardew:

"When I came into the ground and looked up, the big TV in the corner looked a bit vulnerable - I thought 'how's that appeared?'
.
But give credit to Nigel Pearson and his Leicester staff, they didn't make a big deal of it, they were relaxed about the whole thing and I thank them for that.

"I know the word desperation is sometimes not the right vocabulary for a football manager, but we were desperate today and it was an important win for everybody.


"When you have been a manager as long as I have and experienced a team that's not functioning, you have to work doubly-hard and try to protect yourself from the pressures that are coming.
"I have had to take a lot of criticism and I have accepted that, you have to. But the most important thing is we can move on from this because this isn't going to be the be all and end all for us, beating Leicester.
"We need to beat some top teams and we need to improve as a team. It will help us this week in our work and instill some confidence in some players who I know can be better than they are showing.
"I tend to watch (Match of the Day) even when it's nasty and horrible (presumably he means when Robbie Savage is on). It's important for me to keep up to date with what's being said about your team and other teams. But certainly I will watch it with a smile tonight.
"We have been playing under huge pressure, we have been working under huge pressure - you can't get away from it in this city - and it's difficult.

"We showed great character and resolve. When you've not won for a while you lack confidence to see things out and it was pleasing to be able to do that this time.

"I hope the fans understand that we're not as great as we should be, but a win will help us.

On Gabriel Obertan:

"He's all about self-confidence. When he believes in himself he's unplayable. This will only boost his confidence. He's still young with such great potential and, if we can get that out of him every week, we'll be very fortunate. He's been terrific for us in the last couple of games and I had a feeling he could come and still be a great player for us. He's only young and still has a lot to offer."

On the owner's post-match dressing room visit:

"It was nice to see the owner come in the dressing room. I know it's a misconception that he doesn't care, that he doesn't love the club. Of course he does.

"It was a surprise - we didn't expect to see him. I teased him about the cheap telly and he took that in good spirits. We all had a bit of a laugh about it, but he spent about 10 minutes congratulating everyone.

"If anyone has ever doubted his commitment you saw it there. He was as happy as any fan at the win. That is the first time since I have been here that he has been in the dressing-room straight after the game. It shows what that result meant to him."

Match-winner Obertan said:

"I have always been confident in myself and my ability, so it might be a surprise for some people, but not for me. I have been grinding quite a while for this and it's just a great feeling at the moment.
"I just kept on working hard. I know the most important thing is working when people don't see you. It's easy to train when you have got the coaches patting you on the back, but these moments when you are by yourself are the moments when you really have to work hard and dig deep."

Old boy Nigel Pearson:

"I don't think it (the delay) had any effect on us. Both sets of players seemed very relaxed about it. There's a tendency to put added weight on circumstances like that, but once we knew the timescale we were working to that was fine, it was only another hour.

"Both sets of players and officials dealt with the situation well. There was no friction at all from our point of view. The biggest disappointment is that we were in the game enough to have got something out of it.

"The sucker punch was conceding a goal on the counter attack. It was a disappointing outcome for us but it's something we'll have to deal with.
"We felt at times we could have played with a bit more intensity in the first half but that happens from time to time. We managed the game relatively well in the first half, limited the chances they had and put them under a bit of pressure.

"Ultimately, when our attacking situations arose we weren't able to do quite enough with them. During games you get opportunities to score but also we need to defend in the right way as well.

"We had some very promising situations but what we didn't do is find enough quality to take advantage. We got into their box on a number of occasions late in the game and didn't produce enough clear quality to create chances - we need to get better at it."
United secured their first Premier League victory at the ninth attempt (eight this season), since Cardiff City were beaten 3-0 at SJP back in May. We'd lost four and drawn four before today.

On home soil this was a first victory in four attempts (one loss, two draws) this season and gives our miserable home form in 2014 a slight boost. Although we're unbeaten in three games at SJP, we've now taken 14 points from a possible 39 - more of a sandcastle than a fortress.


The win over Leicester also saw Newcastle score the opening goal in a Premier League match for the first time this season - a feat last accomplished at Anfield in the closing game of last season.

Steven Taylor played his 250th competitive senior game in all competitions for United (231 starts). He debuted against Real Mallorca in the UEFA Cup in March 2004.

Gabriel Obertan scored only the third senior goal of his SJP career and the second in the Premier League, following his effort in a victory at Blackburn Rovers in February 2012. His most recent strike had come at the Gallowgate End against Bruge in the Europa League back in October 2012.
Season-opening winless runs (PL only):
2014/15: won the eighth game
2013/14: won the third game
2012/13: won the first game
2011/12: won the second game
2010/11: won the second game
2008/09: won the second game
2007/08: won the first game
2006/07: won the first game
2005/06: won the sixth game
2004/05: won the fifth game
2003/04: won the seventh game
2002/03: won the first game
2001/02: won the third game
2000/01: won the second game
1999/00: won the eighth game
1998/99: won the fifth game
1997/98: won the first game
1996/97: won the second game
1995/96: won the first game
1994/95: won the first game
1993/94: won the fourth game

NUFC last seven PL seasons after eight games:
2014/15: 7 points, 18th (scored 8, conceded 14)
2013/14: 11 points, 10th (scored 11, conceded 14)
2012/13: 10 points, 11th (scored 9, conceded 12)
2011/12: 16 points, 4th (scored 11, conceded 6)
2010/11: 8 points, 13th (scored 12, conceded 12)
2008/09: 6 points, 19th (scored 9, conceded 15)
2007/08: 14 points, 9th (scored 13, conceded 10)
Foxes in Toon - last 20:
2014/15 won 1-0 Obertan
2009/10 Won 1-0 Guthrie
2003/04 Won 3-1 Ameobi, OG, Jenas
2001/02 Won 1-0 Solano
2000/01 Won 1-0 Cort
1999/00 Lost 0-2 No scorer
1998/99 Won 1-0 Glass
1997/98 Drew 3-3 Barnes, Tomasson, Beresford
1996/97 Won 4-3 Shearer 3, Elliott
1994/95 Won 3-1 Albert 2, Howey
1992/93 Won 7-1 Kelly 3, Cole 3, Lee
1991/92 Won 2-0 Hunt, Clark
1990/91 Won 2-1 McGhee, Sloan
1989/90 Won 5-4 McGhee 2, Quinn 2, Gallacher
1986/87 Won 2-0 Goddard, Wharton
1985/86 Won 2-1 Clarke, Beardsley
1984/85 Lost 1-4 Beardsley
1982/83 Drew 2-2 McDermott, Keegan
1981/82 Drew 0-0
1979/80 Won 3-2 Shoulder 2 (2 pens), Cartwright
Full record v Leicester:
P
W
D
L
F
A
SJP
55
37
11
7
106
63
FS/WS
54
10
14
30
69
108
League
109
47
25
37
175
171
SJP(FA)
4
2
2
0
9
4
FS
2
1
0
1
2
2
SJP(LC)
0
0
0
0
0
0
FS
0
0
0
0
0
0
Cup
6
3
2
1
11
6
Tot
115
50
27
38
186
177
Waffle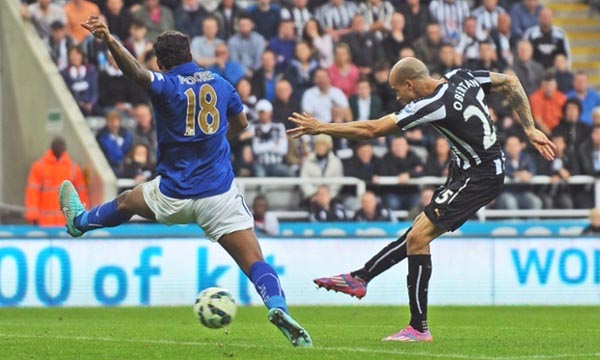 Another typically bonkers afternoon on Tyneside ended with United securing a first Premier League win of the season at the eighth attempt, thanks to a second half strike from the most unlikely source of Gabriel Obertan.

However the largest home crowd of the season almost didn't have a match at all, as some cowboy workmen succeeded where fan protest groups failed - emptying St.James' Park at kick-off time
.

The source of the 60 minute delay was a newly
-installed
scoreboard at the
Leazes End

that had to be made safe before the crowd could be allowed entry. B
y kick-off, Newcastle's starting XI had also altered

from that published at 2.30pm

, with Cheick Tiote
dropping
out of the squad

completely

Vurnon Anita stepp
ed
up from the bench

, while
the elusive Facundo Ferreyra taking his place among the substitutes

for the first time in the Premier League. Rather oddly, media reports filed at the time from those in the pressbox mentioned a head injury, but Alan Pardew subsequently spoke about Tiote having a tight calf after his international double header. However the manager's comments suggested the Ivorian was never considered for selection today, which plainly wasn't the case.

With Tim
Krul,
Daryl
Janmaat and
Paul
Dummett all recovering from injuries that kept them from international duty last week, the only other change from the lineup that drew with Swansea saw Steven Taylor come in for Mike Williamson

(later confirmed as carrying an injury, along with Sammy Ameobi and Emmanuel Riviere).


Starting back to back league games for the first time since January 2013, Gabriel Obertan's break upfield from a Leicester corner should have led to an eighth minute opener for Newcastle - only for Fabricio Coloccini to miss the target when perfectly placed to score from Moussa Sissoko's pass.


Defensive colleague Paul Dummett then won possession deep in City territory before trying his luck, his on-target effort from distance not troubling Kasper Schmeichel.
Within seconds though the Foxes counter-attacked and Matthew James could only direct a weak shot at Krul - a rare piece of forward play by Nigel Pearson's side.

Despite posing little threat though, City came closest to breaking the deadlock in the first half when Marc Albrighton's deep centre from the left spun off
Krul's left post before deflecting safely away.

At the other end meanwhile, a half chance for Papiss Cisse saw him get his shot away and it take a deflection that momentarily looked to be taking it into the goal before it passed wide of the target.

Sissoko had similar ill fortune via a rebound five minutes into the second half, before Cisse came still closer when latching on to a back pass and taking the ball round the goalkeeper. As the angle reduced though, his first time effort ended up only in the side netting.

Keeping the pressure on, Schmeichel clawed away Jack Colback's free kick before Taylor could do nothing but lift his first-time effort over the bar with an hour played.
At the other end, Leicester entertained thoughts of snatching a goal introducing strike duo David Nugent and Jamie Vardy as one or two dangerous crosses caused some noticeable discomfort in the home defence.

Then came the breakthrough, as Richie de Laet's fierce shot rebounded off Colback on the edge of the box and fell kindly for Cisse in acres of space. He crossed the halfway line before spraying a pass out towards Obertan on the left. C

ontinuing his forward run, the Frenchman cut across the edge of the area to elude two defenders before firing in a low shot for only his second-ever league goal
.


There were a few scares at either end in the remaining time played, with Krul pulling off one good block from Drinkwater
after a corner and Cisse planting a header into the ground from substitute Ayoze Perez's cross that Schmeichel reached

and tipped over
.

If Obertan ended the day as the matinee idol of the SJP crowd though, then the big screen hero was the engineer who turned out to secure the offending piece of board and allow the match to go ahead at all. As he celebrated victory with "a glass of wine" on Saturday in what was his 700th match as a manager, Alan Pardew might wish to raise a toast in his direction.


In the cold light of day though when relief subsides, reality has to intervene and this has to be seen for what it was: a hard-fought but rarely inspired victory that failed to lift us up the table and saw us struggle to see off moderate opposition who didn't simply didn't look to have a goal in them.

That's despite getting only positive reactions from a home crowd who kept faith with both team and manager despite their enforced wait - the only banner on show today was a wonga-sponsored club one that was ham-fistedly passed over the heads of those in the Gallowgate End before kickoff.

The pre-match managerial rabble-rousing had centred on two players who have done the most to try and breathe life into this ailing corpse, but Pardew's eulogising of both Obertan and Cisse has an a air of desperation, grabbing on to them in an effort to stay afloat like a lifebelt in the ocean.

The inability of club and agent to find anyone willing to take him on loan or a permanent basis left "the screaming skull" in situ, while only a knee injury prevented the striker's sale overseas (keen to leave, Cisse apparently preferred to remain in England).

That's not to underplay the effort that Obertan has put recently, more pointing out the "masterplan" didn't involve him, omitted from the New Zealand squad along fellow discard Hatem Ben Arfa and playing Queen of the South at the training ground when our glorious new era began against Sydney.

Favoured over Hatem for a better attitude in training (and for having been Pardew's favoured signing choice once upon a time), Obertan's resurgence began against the likes of Sheffield Wednesday but has only transferred through to the Premier League since the injury to rookie Rolando Aarons. Were the teenager still fulfilling his early promise, we'd doubtless be seeing the odd cameo sub role from a player who has been mostly "unplayable" in a different sense to that currently spoken of.....

While one Frenchman has upped his game though and there were also welcome signs of some increased effort and mobility from compatriot Sissoko, the demise of Yoan Gouffran from asset to liability now seems complete - today another of those games when it's hard to think of a single positive contribution he made in the opposition half of the field.

Pausing only to express our concern at the lack of defensive options that left Steven Taylor in the side, Mike Williamson out, Massadio Haidara covering on the bench and Mapou Yanga-Mbiwa juggling international football with Serie A/Champions League success, we'll press on.

In addition to renewed confidence and team spirit, our main hope appears to be that enough points can be collected for the team to stay in contention with the other strugglers until such time that the likes of Siem De Jong and Remy Cabella can contribute effectively to the team.

As to just how, why and when that will come about, god knows frankly - our answer would remain a different coach, or any coach at all. Like the scoreboard, a patched up running repair may have allowed the show to go on, but the inquest into what went wrong is both necessary and overdue.

Enjoy the three points, quite when we'll repeat that feat is open to considerable question.

Biffa
This report is dedicated to Bill Haigh, who died earlier this month after a long illness. Pictured above with son Gavin at the last game he attended in April 2008, Bill was an avid fan for 65 years and had accompanied Gavin to St.James' Park since October 1976. Our condolences go out to his family.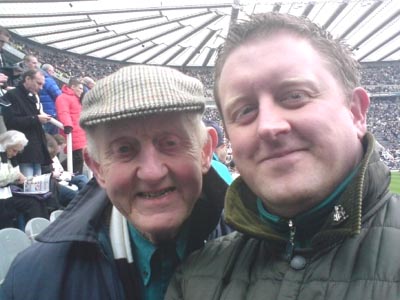 RIP Bill Haigh 1934-2014