Date: Saturday 22nd November 2014, 3.00pm.

Venue:

St. James' Park



Conditions: Stratospheric




Newcastle United

QPR

1 - 0

.

Teams
Half time: Magpies 0 Rs 0
78 mins A sequence of eleven passes involving seven home players began after Gouffran tracked the run of Yun-Suk Young down the R's left before dispossessing him. Daryl Janmaat, Yoan Gouffran, Jack Colback and Papiss Cisse were all involved before Moussa Sissoko took possession in his own half, pushing the ball forward to Sammy Ameobi, who then pushed it towards Massadio Haidara overlapping on the left flank.

And when he found Sissoko on the edge of the box, a neat layoff gave Ameobi the space he needed to arc a low pass into the box that coincided with Moussa's run. The pass looked to fall slightly behind him, but the Frenchman took it in his stride and fired an unstoppable 12 yard shot into the corner of the Gallowgate goal. 1-0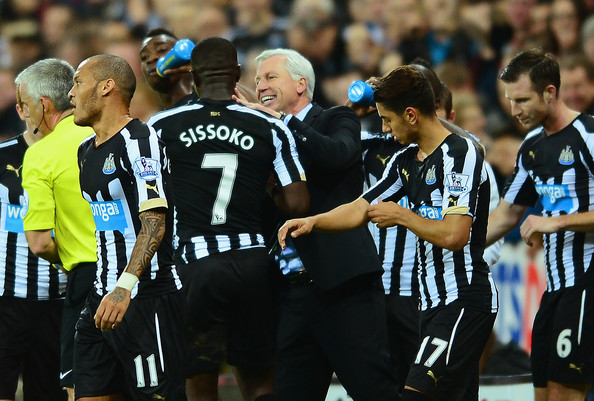 Full time: Magpies 1 Rs 0

Alan Pardew:

"When you see on the training ground you think OK, this could be something. And then you have a run of disappointments which we had - although playing quite well - and you start questioning your own eyes and your own management experience.

"But we felt that there was something here and suddenly we just hit the ground and got a win and got another one and just built on that and the spirit in the group is just fantastic.
"I thought we was excellent today. We had a lot of senior players missing so we had to reach deep into the squad and they performed terrifically and we had some nice performances.
"Sammy Ameobi and (Ayoze) Perez caught the eye I thought, offensively. I'm really really pleased - another clean sheet and that gives us a platform to win.
"We had Manchester City and Liverpool and Spurs and we sailed through that, so don't look at the fixtures andthink that there's anything that we can't deal with.
"It is a tough December, there's no doubt about that but the team is in such a good place today, we were so disciplined today.
"I think anybody who recognises Premier League football and watches it on a regular basis would see that as a really powerful performance from a young team, so that was really good for us.

"I felt we played very well - the attitude of the players was first class. Ryan (Taylor) was pulling the strings early on. We carried a threat. Sammy had his best game for us. Ayoze was terrific again and Moussa (Sissoko) was the best player on the pitch by some distance.

"What we have got is a real depth in the squad, which bodes well for the League Cup and bodes well for the Premier League.
"But I think if we were winning 2-0, 3-0 and really punishing teams when we are in possession a little bit more, I would be a bit more confident we could, so I think we are some way off that yet."
On Ryan Taylor:

"We are sweating with Ryan. Fortunately, his surgeon was here in the stands today, he had come to watch from America, so he's gone with him to hospital with our doctor, and we are just fingers-crossed on that scan.

"He feels uncomfortable with his knee, so the win is sort of tinged with sadness because he is a person and a personality who just not deserve the trauma he has had already, let alone another trauma, so we are just fingers-crossed that he is going to be okay.
"I'm sure all our fans and certainly all the squad and the staff are just thinking about him at the moment.

"I could see the players were upset when Ryan went off, so I deliberately didn't mention him at half time. "It was something we had to park.

"It certainly did effect our mentality for a few minutes after. You could see us lose momentum. It is testimony to the players that we came out and performed that little bit quicker, for the second half.

"He showed what an asset he can be on the pitch. I actually thought from that first half an hour if we were going to win Ryan would be at the heart of it. The two best chances early on fell to him."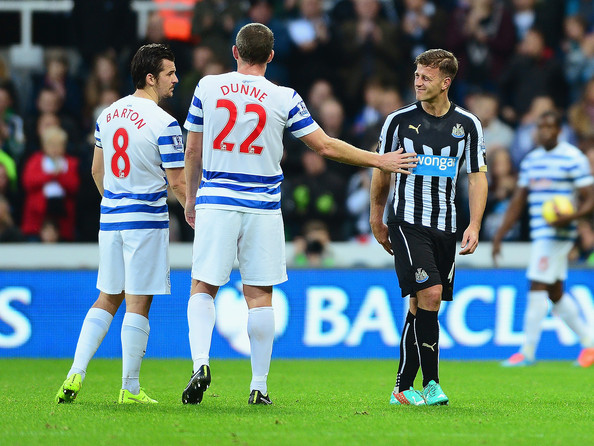 Having seen his first Premier League start since March 2012 curtailed by injury, Ryan Taylor delivered his own optimistic update on Saturday night via twitter:

"....just to let you know I have no major problem and I had to come off today just to be on the safe side, I was just gutted to come off that's why I got so emotional as I've worked so hard to get back."

Present at SJP was the un-named surgeon from the clinic Dr Richard Steadman, who operated on Taylor and previously performed career-saving procedures on both Alan Shearer and Craig Bellamy.

The surgeon reportedly accompanied Taylor to hospital for an MRI scan to determine the extent of the problem. That showed a slight strain to the knee ligament, with a five week rest the suggested recovery plan.


Renowned technophobe and all round triffic fellow 'arry Redknapp parped:

"I thought it was drifting away into a 0-0 draw, to be honest with you, that's how I saw the game going. I couldn't sit here and say I was on tenterhooks thinking they were going to score, they were battering us.

"We hadn't created enough either. We were solid enough without really being that creative, and I thought it was drifting on to a decent point. It's one of those leagues, there are seven or eight teams down there and they are all going to be battling it out at the end of the season.

"You look at Burnley, suddenly two wins on the spin and they jump out of the relegation zone. You just need to have a little run of a couple of games and it can all turn, as Nooocarsel have found out this year."


NUFC last seven PL seasons after twelve games:
2014/15: 19 points, 5th (scored 14, conceded 15)
2013/14: 20 points, 8th (scored 17, conceded 17)
2012/13: 14 points, 12th (scored 13, conceded 17)
2011/12: 25 points, 3rd (scored 18, conceded 11)
2010/11: 17 points, 5th (scored 21, conceded 16)
2008/09: 12 points, 18th (scored 15, conceded 20)
2007/08: 18 points, 10th (scored 19, conceded 18)
Newcastle secured
a sixth successive win in all competitions, which emulates the best run under Alan Pardew's managerial reign, achieved back in March and April 2012.

A patched-up home defence also recorded their fourth clean sheet in a row. Since Emmanuel Adebayor found the net at White Hart Lane, United have gone 432 minutes in all competitions without conceding a goal (342 minutes in the Premier League only
-
our best run since the 411 minutes that the team clocked up
in March and

April 2012
).


Moussa Sissoko scored his first Premier League goal of the season and his seventh for the club. That puts him one ahead of the likes of David Ginola, Jonas Gutierrez and Joey Barton and onto level pegging with Carl Cort, Stephen Glass and Mark Viduka.


R

's in Toon - all time:
2014/15 won 1-0 Sissoko
2012/13 won 1-0 Sh.Ameobi
2011/12 won 1-0 Best
2009/10 drew 1-1 Harewood
1995/96 won 2-1 Beardsley 2
1994/95 won 2-1 Kitson, Beardsley
1993/94 lost 1-2 Allen
1988/89 lost 1-2 Ranson
1987/88 drew 1-1 O'Neill
1986/87 lost 0-2
1985/86 won 3-1 Beardsley, Reilly, McDonald
1984/85 won 1-0 Reilly
1982/83 won 1-0 Keegan
1981/82 lost 0-4
1980/81 won 1-0 Waddle
1979/80 won 4-2 Shoulder, Withe 2, Cassidy
1977/78 lost 0-3
1976/77 won 2-0 Burns, Cannell
1975/76 lost 1-2 Gowling
1975/76 won 2-1 T.Craig, Gowling (FAC)
1974/75 drew 2-2 Tudor, Macdonald
1973/74 lost 2-3 Tudor 2
1968/69 won 3-2 Burton, Dyson, Gibb


Full record v QPR:
P

W

D

L

F

A

SJP

22

12

3

7

31

29

LR

21

8

4

9

27

36

League

43

20

7

16

58

65

SJP

(FA)

1

1

0

0

2

1

LR

1

0

1

0

0

0

SJP

(LC)

0

0

0

0

0

0

LR

2

2

0

0

7

1

Cup

4

3

1

0

9

2

Tot

47

23

8

16

67

67
20 year-old central defender Remie Streete was named on the bench after his loan spell at League One Port Vale was cut short. Streete was recalled as cover following injuries to Fabricio Coloccini and Steven Taylor and wore shirt number 34. He has been among the subs in the PL previously, making up the numbers at Arsenal back in December 2012.

Promoted to the squad as the so-called "19th man" (not on the bench but among the senior players to gain experience of the match day atmosphere) was 17 year-old winger Callum Roberts.
Waffle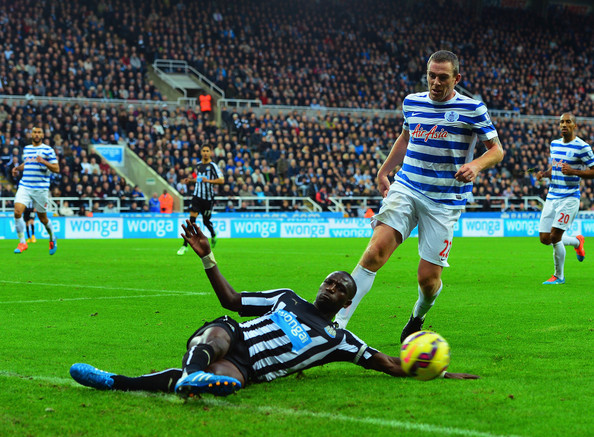 A first goal on home territory for almost a year from Moussa Sissoko was enough to see Newcastle record their sixth successive win in all competitions on Saturday afternoon, leaving poor old 'Arry Redknapp's side bottom of the table.

Donning the armband in place of the injured Fabricio Coloccini (and similarly indisposed vice captains Siem De Jong and Cheick Tiote), the French international netted to earn United their third 1-0 home victory over the R's in a row, completing a trio of single goal successes here in the last five weeks.

The three points temporarily raised the Magpies to a fourth position that was their highest placing since August 2012 - only for Manchester United's later success at Arsenal to drop them back down into a fifth place that is still simultaneously welcome, unexpected and deserved.

Only Lewis Hamilton has more momentum than Alan Pardew's side at present and although some concerns remain over having faced a succession of feckless and gutless opponents in recent weeks, those are the very sides we so often struggle against and contrive to give a veneer of credibility to. Fulham and Norwich last season spring to mind.

It wasn't all good news however, with the celebrations overshadowed by concerns over Ryan Taylor, whose first Premier League start since March 2012 ended before half time due to a knee injury.

Thankfully it wasn't as bad as first feared - when St.James' Park seemed to collectively take a sharp intake of breath as a tearful Taylor slumped down in tears. However it did add yet another name to the lengthy list of players that the manager must do without as the season ramps up a notch.

United's rejigged defence managed to keep a fourth clean sheet, but there were noteworthy displays all over the pitch as confidence visibly grows and team spirit keeps rising to maintain this remarkable run of results. The change in personnel is startling: messrs Obertan, Aarons, Abeid, Coloccini and Taylor all playing their part in this run, but currently sidelined with no obvious loss.

While many teams indulge in a pre-game huddle, the sight of what appears to be some instinctive group bonding after the full time whistle blows on another victory blows is less common but seems completely sincere. What is starting to resemble a party game when everyone dashes towards the dugout after a goal needs looking at though - one day, the opposition are going to kick off rather sharpish and disrupt what may by then have become a full-blown conga....

Before his departure, Taylor provided the closest efforts of the first half, with one snapshot from a corner tipped over by visiting custodian Robert Green. Taylor then curled effort into the 'keeper's arms when well placed inside the box after good work from Ayoze Perez and Remy Cabella.

But in the 34th minute Taylor's match was over when he went down with a knee injury and was replaced by Yoan Gouffran, leaving to an ovation but in obvious distress - comforted as he left the field by old boy Joey Barton.

That disrupted the momentum slightly but straight after the break United were soon on the attack and Sammy Ameobi and Sissoko linked up well with Daryl Janmaat and Massadio Haidara providing good width as the benefits of playing regularly see them start to become established in their roles.

Jack Colback marshalled the midfield and Cabella's fancy footwork was causing Rangers' back four some problems before Papiss Cisse replaced him. Up front, Ayoze Perez worked tirelessly again and his efforts were mirrored by the centre back pairing of Mike Williamson and Paul Dummett who handled Charlie Austin and Bobby Zamora with relative comfort.

Tim Krul had to be alert with headers from Richard Dunne and Zamora going close but one or two half chances for Austin were easily dealt with by the Dutch stopper. Perez looked to have missed a golden chance in the 58th minute when Sissoko played the Spaniard through on goal and although he checked inside, he managed to get off a shot away that Green just managed to smother.

With Cisse on for Cabella, United continued to press forward and gained their reward in the 78th minute, when Sissoko and Ameobi linked up in decisive fashion for the latter to hammer the ball past Green. Pursued by his nine outfield colleagues, the scorer made for the bench and celebrations - particularly with Vurnon Anita - were euphoric and replicated up in the stands.

Cisse should have sealed the victory at the end of the 90 minutes but after rounding Green his effort towards goal had no weight and Barton was able to clear. There were five added minutes, mainly due to an injury to Sandro, but there were few scares for the home supporters before full time.

Five straight league victories gives us 19 points from 12 games and a Champions League spot - something that was utterly unimaginable just five weeks ago but lapped up by another healthy and happy home crowd, grateful for being allowed to indulge themselves again in the uncomplicated pleasure of supporting and enjoying their team - even putting a spring in the step of cynics like us.

Quite simply, this team look as if they're trying, they look as if they're bothered. That'll do for me.

It's time to acknowledge that a debt has been paid by the team in the form of the six wins - some form of atonement for the effort-free dross that thousands endured in near-silence in the final three months of last season. The pleasure gained from this run cancels out the toxicity generated by those in black and white back then, whose lack of commitment and backbone did as much to disgrace the shirt as the objectionable wonga logo continues to. This team were just unlovable.

If a lifetime of rejoicing and recoiling from this lot has taught us one thing though, it's that enjoying the fleeting pleasures of a run like this is essential before reality intervenes - most likely in the form of some magic carpet/snake oil salesmen masquerading as football agents in early 2015.

On the day that Newcastle was voted the UK's best city by chin-stroking broadsheet devotees, our post-match pint and blather would have been rounded off nicely by the reappearance of a rather less high-brow newspaper, namely The Pink. "It's lift off United" would surely be the headline.


Biffa