Date: Saturday 6th December 2014, 12.45pm.
Live on BT Sports

Venue:

St. James' Park



Conditions: epic




Newcastle United

Chelsea

2 - 1

.

Teams
Half time: Magpies 0 Blues 0
57 mins Papiss Cisse laid the ball back to Moussa Sissoko on the halfway line and the midfielder drove forward towards the box before laying the ball out to Sammy Ameobi on the left.

His cross should have been cut out by Gary Cahill at the near post but the ball ended up at Cisse's feet three yards from goal and he gleefully thumped it into the Gallowgate goal for a strike very reminiscent of the one in midweek at Burnley, albeit coming from the opposite flank 1-0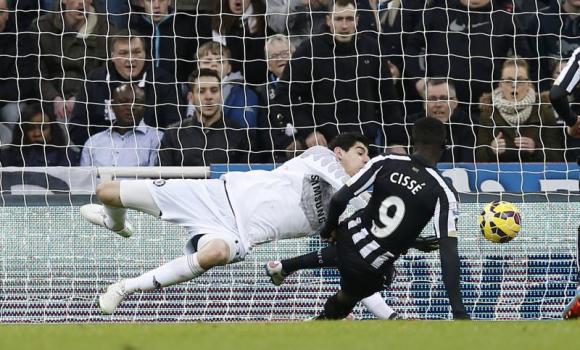 78 mins Jack Colback made a great tackle in midfield and Cisse, Sissoko and Ayoze Perez swapped passes before the Spaniard was upended. Referee Martin Atkinson played a great advantage and let Colback pick up the loose ball and stride forward before the perfect pass to Sissoko. The ball got slightly stuck under his feet as Thibaut Courtois came out, but Sissoko dug out a pass to Cisse who only had to guide the ball past the man on the line which he did with ease. 2-0
83 mins The free-kick which saw Taylor red carded was clipped into the box by Cesc Fabregas and Didier Drogba just had to make contact to guide the ball past Jak Alnwick with his head at the Leazes End. 2-1
Full time: Magpies 2 Blues 1

Alan Pardew
(whose first game in charge was a 3-1 home win over Liverpool on Dec 11th 2010):

"That was about character and discipline against the best team in probably Europe at the moment.

"At the start of the game I felt we stood off them a little bit and (Eden) Hazard was getting a lot of joy but we stuck at it and we were always a threat on the break.
"We're absolutely delighted for our fans, delighted that we've given a little gee up to the Barclays Premier League because it now makes it a lot more interesting for everyone else.

"I'm sure Jose (Mourinho) won't agree with that, but it's been a great day for the Premier League.
"Jak (Alnwick) came to see me before Tim got injured and said that he was really disappointed in my management of him, that the club had let him down because we hadn't loaned him out - but we couldn't because he was our third-choice, so we couldn't put ourselves at risk.
"His contract was up at the end of the year and he felt he hadn't really been given an opportunity, and he has been proven right, so fair play to him.
"I said to Andy Woodman, our goalkeeping coach, you have to admire him because he isn't really in a position to bang the door down on me at this stage – I think we'd won four games on the trot. But fair play to him.

"Jak is in a contract situation with us - he hasn't played. I don't know whether he is good enough or not if I am honest. So what are we going to do?"
"Rob's been struggling for three games but we have had to play him - we thought we'd get through it. We knew if there was going to be a doubt or he wasn't going to play at Arsenal or Chelsea, Jak was poised. We have got him mentally ready and you have to pay credit to the guy, he was so cool.
"I know Jose has had a little moan-up about the ballboys and stuff like that. I think that is a bit harsh. The ballboys, there is no strategic comment to them and, if the ball goes into the stand at Newcastle with six minutes to go, it ain't coming back.
"There was a bit of confusion about a ball coming on and we are kicking it away but come on, but I don't think that is really where we are today.
"It was an unbelievable performance and an extra special victory. I saw them against Spurs and they gave them a bit of a hard time. We wouldn't let that happen and we got our reward.

"If someone had told me we were going to beat Chelsea and have six minutes of added time, they would have Drogba, Diego Costa and all of them on the pitch and we would be down to 10 men, I wouldn't have believed them."


Jose Mourinho: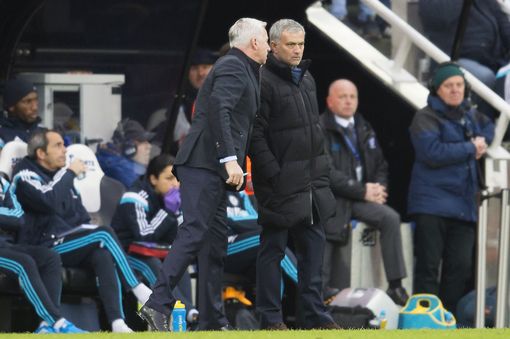 17 minutes gone and the Chelsea boss is informed why home fans
are clapping - seconds later both managers joined in the applause

"You need one ball. Sometimes we had no balls and other times we had two balls. I don't like to lose because of bad decisions from the referee - but the referee was very good today; I don't like to lose and blame my players.

"But that wasn't the case today. We were just unlucky. They scored only the only two times they crossed the halfway line and scored two strange goals because of rebounds.

"But I am not going to criticise the way Newcastle played. We changed our strategy and played direct and we almost got the point we deserved. We were unlucky, but one day we will be lucky.

"The best team lost. The team which tried to win lost. We were unlucky. But that's football.

"You may as well put a cow in the middle of the pitch. And then stop the game because there was a cow. You cannot do just anything in football. You have to defend with your 10 men, put the 10 men on the goal line, park the bus, but football needs a ball. Not two or zero. Do what you can to win but not everything.

(This from the man who said, "time wasting, what is that?" after his side were criticised for their spoiling tactics when winning at Anfield in April 2014.)
"Sometimes there were zero balls and that cuts the dynamic of the team who is trying to win the game."
"(We have been playing) better than anyone else. And of course I will back them to bounce back. We are top of the league. For people like me who have been in football for so long you have to accept this anomaly. To come here and be better than our opponents and lose, that is football.
"Nobody has done better than us. Everyone would like to be in our position. So we are more than fine. We are better than anybody else. I don't say my team is the best, I say my team is top of the league and at this moment nobody has the same points we have.
"Because of that at the moment we're the best team in the Premier League."




Newcastle won their fourth successive home game in the Premier League (1-0 Leicester, 1-0 Liverpool, 1-0 QPR, 2-1 Chelsea) for the first time since February-April 2013. All of the goals in this current run came in the second half.

The not inconsiderable feat of beating Chelsea for the third successive time at home was enough to end an unbeaten run for the Blues that stood at 23 games in all competitions since defeat to Atletico Madrid back in April. This season's total was 21 games, including 11 PL wins and 3 draws.



This was Jose Mourinho's fifth unsuccessful attempt to win a Premier League fixture at Gallowgate. However he has twice seen his team win here in the League Cup:

2004/05 Newcastle 0-2 Chelsea (LC)
2004/05 Newcastle 1-0 Chelsea (FAC)
2004/05 Newcastle 1-1 Chelsea
2005/06 Newcastle 1-0 Chelsea
2006/07 Newcastle 0-1 Chelsea (LC)
2006/07 Newcastle 0-0 Chelsea
2013/14 Newcastle 2-0 Chelsea
2014/15 Newcastle 2-1 Chelsea

(NB: Rafa Benitez was in charge when Chelsea lost here in 2012/13)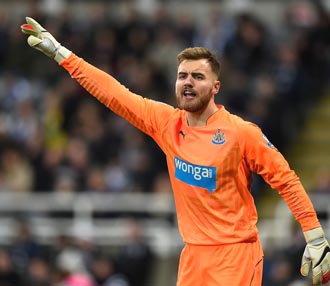 21 year-old goalkeeper Jak Alnwick made his Premier League bow and in the process became the 194th player used by Newcastle in that competition, a ninth PL debutant this season and the 25th player to see service in our 15 Premier League fixtures to date this season.

Alnwick became only the tenth goalkeeper to play for the club in the Premier League, following in the box markings of:

Pavel Srnicek, Tommy Wright, Mike Hooper, Shaka Hislop, Shay Given, Steve Harper, Jon Karelse, Tim Krul and Rob Elliot.

His appearance meant that 7 of the 14 players on duty were English-born (Elliot, Alnwick, Colback, Taylor, Ameobi, Williamson, Dummett)

Steven Taylor saw red for the fifth time in his senior Newcastle United career:

Aston Villa (h) April 2005 (lost 0-3, PL)
Blackburn Rovers (a) September 2005 (won 3-0, PL)
Birmingham City (h) January 2007 (lost 1-5, FA)
Manchester City (a) August 2013 (lost 0-4, PL)
Chelsea (h) December 2014 (won 2-1, PL)

Goals number six and seven for Papiss Cisse saw him make a further leap up the club's Premier League scoring chart into eighth position:

NUFC Premier League top scorers:

Alan Shearer 148
Peter Beardsley 46
Andy Cole 43
Shola Ameobi 43
Les Ferdinand 41
Nolberto Solano 37
Robert Lee 34
Papiss Demba Cisse 30
Gary Speed 29
Demba Ba 29

Blues @ SJP - Premier League era:

2014/15 Won 2-1 Cisse 2


2013/14 Won 2-0 Gouffran, Remy
2012/13 Won 3-2 Gutierrez, Sissoko 2
2011/12 Lost 0-3
2010/11 Drew 1-1 Carroll
2008/09 Lost 0-2
2007/08 Lost 0-2
2006/07 Drew 0-0
2006/07 Lost 0-1 (LC)
2005/06 Won 1-0 Bramble
2004/05 Drew 1-1 og(Geremi)
2004/05 Won 1-0 Kluivert (FAC)
2004/05 Lost 0-2 (LC)
2003/04 Won 2-1 Ameobi, Shearer
2002/03 Won 2-1 og(Hasselbaink) Bernard
2001/02 Lost 1-2 Shearer
2000/01 Drew 0-0
1999/00 Lost 0-1
1998/99 Lost 0-1
1997/98 Won 3-1 Dabizas, Lee, Speed
1996/97 Won 3-1 Shearer 2, Asprilla
1995/96 Won 2-0 Ferdinand 2
1995/96 Drew 2-2 Albert, Beardsley (FAC) (lost on pens)
1994/95 Won 4-2 Cole 2, Fox, Lee
1993/94 Drew 0-0

Full record v Chelsea:
| | | | | | | |
| --- | --- | --- | --- | --- | --- | --- |
| | P | W | D | L | F | A |
| SJP | 70 | 37 | 17 | 16 | 106 | 74 |
| SB | 69 | 11 | 19 | 39 | 72 | 132 |
| League | 139 | 48 | 36 | 55 | 178 | 206 |
PS: And what of the striker who scored eight times on this ground last season - including one against his current side? Monsieur Remy spent the afternoon on the bench, aside from some brief jogs along the touchline during which he was the subject of some mild booing.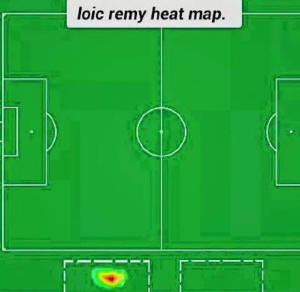 Waffle
Joint team photo as part of the Football Remembers initiative, commemorating British and
German soldiers who stopped fighting to play football on the Western Front on Dec 25 1914.

Fortress-like home record? check
Team and crowd in accord? check
Goalscoring number 9? check
Local contingent in team? check
Twisty faces in away dugout? check
Hyped-up opponents humbled? check

Here's a question that is rarely if ever asked in connection with NUFC, where did it all go right?

A team continually weakened by injury and self-inflicted blows has somehow continued to function this season and actually prosper, conjuring results and performances out of thin air regardless of whatever misfortune and complication comes their way. A Miracle on Barrack Road.

Today was a typical example:

League leaders in town and unbeaten all season but lose to a side who finish with ten men once again. Second choice keeper joins first choice keeper on the sidelines, third choice keeper - who is surplus to requirements - comes on and excels. Ivorian midfielder plays poorly in the wake of tabloid headlines about alleged drink driving but his pals cover, captain returns from injury to give man of the match display but is carrying an injury, another centre half comes on to shore up the defence after a court date as a witness, which in turn followed a game when he was taken off due to his poor showing. Oh aye, and striker again snaps up what chances come his way to further our remarkable shots/goal ratio. And breathe.

There has been a back story to virtually every victory in the last 12 months, which can be trotted out to take some of the gloss off our achievements. Be it finally winning at Old Trafford as the Moyes misadventure / mutiny became ever more obvious or beating Spurs and Liverpool this time round when they were in rotten runs of form - that old line about doing well by playing teams at the right time seemed tailor made for the black and whites.

Not this one though. A genuine 100%, gold-plated, jewel-encrusted, uncontroversial victory. No dodgy refereeing decisions in our favour, no disputed penalty calls or handballs. Nothing, nowt.

The visitors started brightly and had United on the back foot with Eden Hazard, Oscar and Willian causing the home defence all sorts of problems. However Jose Mourinho's side were restricted to shots from the edge of the box, Willian going close with efforts that narrowly went wide of either side of the Gallowgate goal but failing to trouble Rob Elliot.

At the other end, Daryl Janmaat crossed menacingly from the right in the 15th minute but Thibaut Courtois came off his line to gather. United's best chance of the half on 39 minutes saw Sammy Ameobi pick out Ayoze Perez and he set Jack Colback away in the box. However Courtois was quick to smother his shot and the rebound glanced off the midfielder to safety.

Oscar then had a spectacular effort on the stroke of half-time that shaved Elliot's upright as an overhead kick almost broke the deadlock. The Newcastle goalkeeper immediately held his thigh after clearing and it soon became clear that his game was over when Alnwick took to the field during half time, stripped for action and being warmed up by goalkeeping coach, Andy Woodman.

Alnwick was soon in the thick of the action, punching confidently after Cesc Fabregas delivered a free-kick into the box. The game-changing substitution came in the 53rd minute when Remy Cabella made way for Cisse and the striker netted less than five minutes later.

Mourinho threw on Andre Schurrle for Oscar and Willian headed over when well placed. Two more substitutions followed for the visitors but the Magpies' defence and Alnwick were holding firm and Cisse came close to doubling the lead.

Hazard went even closer when he hit the post from 16 yards after Branislav Ivanovic had picked him out. Within two minutes the course of the game - and perhaps Chelsea's season - changed, when Cisse got his second after an upfield charge by Sissoko punctured the visiting defence.

Fabregas and Diego Costa were both booked as Chelsea lost their heads but Taylor also lost his and put in a wild challenge that saw him receive a second yellow and leave his team a man short for the remaining nine minutes of normal time plus stoppages.

United hastily swapped their intended third substitution and stood Yoan Gouffran down for Mike Williamson, but Chelsea immediately took advantage and Drogba nodded the free-kick past Alnwick to give his side the chance to save their unbeaten run.

What followed was absolute agony as six minutes of normal time was doubled by referee Martin Atkinson with added time - despite the absence of any trainers on the field (a similar pattern of events in the first half resulted in 60 seconds of additional time).

Alnwick tipped over well from Costa and made some more confident claims and punches and his team mates were throwing everything in the way of shots and crosses. Drogba headed wide and United broke forward and instead of trying for a third, the ball was taken to the corner flag and Atkinson thankfully blew for full-time to signal the home celebrations.

Unbelievable, astonishing but well deserved given the circumstances, as United grew into the game and correctly altered their line-up and style to be in a position to profit when the inevitable chances came their way.

There's a mathematical element to this now: pair Coloccini and Taylor, keep Gouffran away from the action and ensure Colback and Sissoko are in situ. The return of Colo seemed to just tip the scales in our direction, while Moussa's enforced absence in midweek may have been timely ahead of a frantic fixture-filled month to come.

The steady improvement of Janmaat and Colback also counts as a major plus, while Perez continues to impress despite the physical challenge he again faced here and Ameobi found something in the tank after looking absolutely shattered at Turf Moor. Cabella's withdrawal was also a brave move and evidence of increased positive thinking from Pardew in trying to dictate games - not so long ago he'd have gone like for like and taken off Perez, or just unthinkingly chucked on Gouffran.

As to whether the manager is now back in credit with the punters as he notches up a fourth year in post, a fifth successive home win in two weeks' time over the old enemy would see his stock rise still further - not a bad return for a man who was a front runner in the bookies sack race until recently, but has vitally retained and enhanced his standing among our current crop of players.

That really does look to be all that counts round these parts at present. Best to just enjoy these games, these victories, for what they are - until reality returns and fortune stops smiling on us.


Biffa