Date: Saturday 3rd January 20154, 3.00pm.

Venue:

King Power Stadium



Conditions: Depressingly predictable

Admission: £13 (£15 members)

Programme: £3


Leicester City

Newcastle United

1 - 0

Teams
39 mins United were caught napping by a swiftly-taken short corner routine and when Matthew James crossed the ball, Leonardo Ulloa bulleted a header that he seemed to know little about. It beat Jak Alnwick, hit the bar, bounced down on the line and then up into the roof of the net.
0-1
Half time: Foxes 1 Magpies 0

Full time: Foxes 1 Magpies 0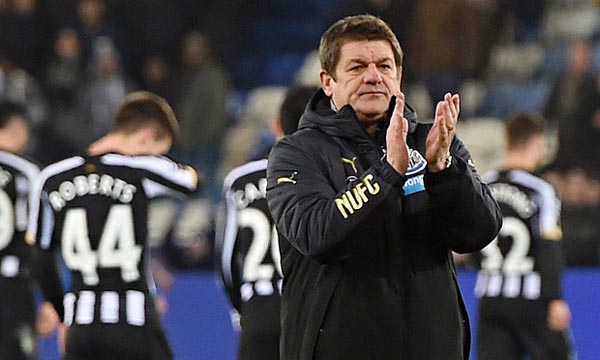 John Carver:

"I thought in the game against Burnley we played some really good football in the first 45 minutes. We were disappointing in the second half and now the physical data has come back, Burnley just over-run us, we had no legs in the team.
"Iíve prepared and organised this team as best I can. I put the best team on the pitch in the circumstances. I put out the strongest team - other than Ayoze Perez.

"Perez is coming into a new culture from Spanish football and he's one of our best players - one of our shining lights in a season when we didn't even expect him to be in the team. We thought he'd be one for the future, but he's gone into the team and has been outstanding.
"If you had seen him after the Burnley game or the following morning at the training ground, he'd ran out of fuel. For me to take a massive gamble 48 hours later with him would have been too big a gamble.
"Daryl Janmaat had a problem with his groin. Moussa Sissoko - both of his hamstrings were tight and I didn't want to risk that. (Fabricio) Coloccini had a problem with a nerve leading into his buttock. Steven Taylor we lost because of a snapped Achilles.
"Even the morning of the game we had Jack Colback travel with us despite having a tight hamstring. Unfortunately he felt worse and didn't play. That's why I didn't take the gamble and he wasn't even on the bench.

"Sometimes you have to look at the bigger picture. This was just one game, the future of this football club is over the next few weeks.

"ďItís probably one of the toughest moments Iíve ever experienced in football and itís hugely embarrassing (the away fan abuse) but theyíre entitled to do that.

"The one thing I wasnít going to allow was that the players didnít go over to them. I was in front of everybody because we deserved it. I thatís how they feel, they pay their money their entitled to do that.

"And Iím not going to shirk my responsibilities and itís important the players didnít either. It was important we went across and show appreciation for our support.

"I was making sure the players were going to the fans to take it, because when you do well , you accept the plaudits, and when itís not going well, you have to take it on the chin. I was at the front of it, I accept responsibility.
"Yes, I wouldíve done (booed). I wouldíve paid my money to come down here over the Christmas period when I wouldíve spent a lot of money.
"If Iíd been in the stands, then yeah, because I wouldíve been disappointed, because weíre out of the FA Cup, Nobody wanted to get to Wembley more than me.
"Thatís a fantastic feeling walking up the tunnel, and walking out into that fantastic arena.
"Iíve experienced that and I wanted to do it again. You donít get many opportunities and weíve missed that opportunity.
ďWe had some young guys there, and we kept banging on about how important the FA Cup is. Maybe one or two of the foreign lads donít understand it. but the longer theyíre at the club, they should understand it.
"Iíd just like to say now itís been announced Alan has taken the job (at Crystal Palace), Iíd be a fool if I didnít want to be manager of this football club or head coach.

"Deep down inside I was always thinking that. I am putting my hat in the ring, I told the players that on the first morning, and now Iím making it public.

"Iíve not spoken to Mike (Ashley) my only communication has been with (managing director) Lee Charnley. We had a short conversation last night about the game today, nothing else, and thatís been my contact.
"It will be confusing (to fans) but the only thing I will say is that the position is not now as a manager - itís now a head coachís job. So the head coachís job is to get the team ready and prepared for the next game and thatís all Iíve been thinking about.

ĎThereís no need for me to be in touch with the owner because thatís the line the club is going down now Ė head coach. When I was with Toronto in the MLS, I was head coach so I never got involved in any transfer dealings.

"My sole responsibility was to look after the team and get them prepared and ready for the game and Iím assuming thatís what most head coaches do.

"It hurts me because I grew up watching the FA Cup and Iíve been to a final and lost and Iíve been to a semi-final with Sir Bobby and lost. And that wasnít a nice feeling.

"I went and watched a final when Kenny Dalglish was manager against Arsenal and I was in with the fans and I was so disgruntled and I was in with them. So I know how important the FA Cup is but ultimately Premier League football is very important."

Nigel Pearson:

"On the back of two decent results in the league, it was important for us to carry that on. The Premier League is the priority but when you get a couple of decent results, on the back of the run we were coming off, it was important to get the result rather than the performance.

"We both had to utilise our squads, which made fluency difficult and perhaps didn't make for a great spectacle. But it gave some players pitch time, a chance to perform, which is going to be important for us going forward into the rest of January and into February and March.

"Ultimately for us the next two or three months is about picking up enough wins, not about performances.

"Expectations up there are huge and the potential is huge. But sometimes it's not easy to make progress when expectations are what they are.

"I don't know what goes on at boardroom level but I know John Carver and Newcastle is his club, if you like, and he has the club's best interests at heart."




First taking part in the FA Cup in the guise of Newcastle East End back in October 1887, we're now on our worst run of form ever, losing our last four ties (Brighton 4th Round, Brighton 3rd Round, Cardiff 3rd Round, Leicester 3rd Round).

In terms of failing to get past the round we entered in, we went four successive seasons (1982/83, 1983/84, 1984/85

& 1985/86) enduring Third Round exits - although two of those were in replays.

This was therefore the first time that our FA Cup involvement for three successive seasons was restricted to 90 minutes.

That record six game FA Cup match winless run ended in the 1986/87 campaign with a home win over a Northampton Town side who were managed by.....Graham Carr.

There were senior team debuts for 19 year-old Slovakian Lubo Satka (wearing 37) and 17 year-old Tynesider Callum Roberts (wearing 44). Alex Gilliead (squad number 43) was among the unused substitutes.

In addition to Satka and Roberts, this tie saw messrs Alnwick, Armstrong, Riviere, Vuckic and Cabella all make their FA Cup bows.

An exit for the invisible Mag Facundo Ferreyra must surely be confirmed by his omission from this non-event. Shorts-sporting Peter Beardsley had more chance of playing.

For Gael Bigirimana and Adam Campbell meanwhile there was the ignominy of not being able to get any pitch time whatsoever for a scratch team. Parcel up those boots.

Appearing at right back, Davide Santon made a playing return to the first team some nine months after his last outing - a 0-4 home loss to Manchester United in April.

The Magpies extended their winless away run to eleven games in this competition:

2014/15 3rd Leicester City lost 0-1
2012/13 3rd Brighton and Hove Albion lost 0-2
2011/12 4th Brighton and Hove Albion lost 0-1
2010/11 3rd Stevenage lost 1-3
2009/10 3rd Plymouth Argyle drew 0-0
2009/10 4th West Bromwich Albion lost 2-4
2008/09 3rd Hull City drew 0-0
2007/08 3rd Stoke City drew 0-0
2007/08 4th Arsenal lost 0-3
2006/07 3rd Birmingham City drew 2-2
2005/06 6th Chelsea lost 0-1
2005/06 4th Cheltenham Town won 2-0

(Our last away success in the Third Round came at Loftus Road against non-league Yeading in 2005, a 2-0 win).

Newcastle's Third Round Record - last 20 years:

2014/15 Leicester City (a) lost 0-1
2013/14 Cardiff City (h) lost 1-2
2012/13 Brighton and Hove Albion (a) lost 0-2
2011/12 Blackburn Rovers (h) won 2-1
2010/11 Stevenage (a) lost 1-3
2009/10 Plymouth Argyle (a) drew 0-0 (won replay)
2008/09 Hull City (a) drew 0-0 (lost replay)
2007/08 Stoke City (a) drew 0-0 (won replay)
2006/07 Birmingham City (a) drew 2-2 (lost replay)
2005/06 Mansfield Town (h) won 1-0
2004/05 Yeading (a) won 2-0
2003/04 Southampton (a) won 3-0
2002/03 Wolves (a) lost 2-3
2001/02 Crystal Palace (h) won 2-0
2000/01 Aston Villa (h) drew 1-1 (lost replay)
1999/00 Spurs (a) drew 1-1 (won replay)
1998/99 Crystal Palace (h) won 2-1
1997/98 Everton (a) won 1-0
1996/97 Charlton (a) drew 1-1 (won replay)
1995/96 Chelsea (a) drew 1-1 (lost replay on pens)

Magpies v Foxes - FA Cup history:

2014/15 3rd lost 0-1 (a)
1946/47 5thr won 2-1 (a)
1946/47 5th drew 1-1 (h)
1931/32 5th won 3-1 (h)
1924/25 2ndr lost 0-1 (a)
1924/25 2nd drew 2-2 (h)
1909/10 4th won 3-0 (h)*

*As Leicester Fosse

Full record v Leicester:
P
W
D
L
F
A
SJP

55

37
11
7
106
63
FS/WS
54
10
14
30
69
108
League
109
47
25
37
175
171
SJP(FA)
4
2
2
0
9
4
FS/KPS
3
1
0
2
2
3
SJP(LC)
0
0
0
0
0
0
FS
0
0
0
0
0
0
Cup
7
3
2
2
11
7
Tot
116
50
27
39
186
178
This was our third visit to Leicester's current home, the previous two coming in its guise of the Walkers Stadium. A 1-1 draw in the Premier League was achieved on Boxing Day 2003 thanks to a Darren Ambrose equaliser before a 0-0 draw in the Championship during January 2010. We are due back here in the PL in early May.
Waffle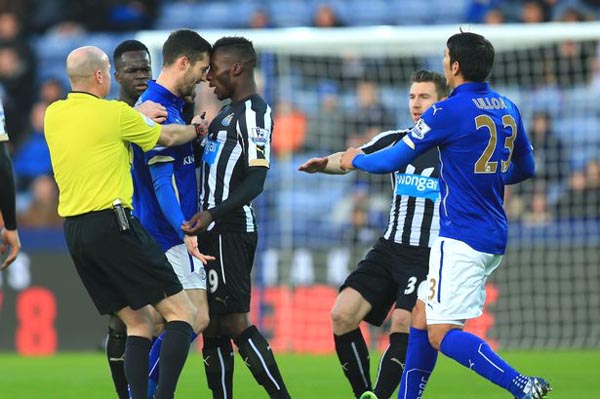 Just about the only bit of fight from United

Newcastle's sixty year domestic trophy drought was confirmed after an abject display against their Premier League rivals at the King Power Stadium

on a damp and chilly Saturday afternoon.

The Magpies last troubled the engravers back in 1955 and what looked like a deliberate attempt at concentrating on Premier League obscurity this season duly secured the desired outcome in the most lamentable fashion.

With no Alan Pardew to target, the 4,300-strong away support vented their spleens on the players, coaches and owner as an afternoon of frustration spilled over into anger at full time. We await the appearance of sackeveryone.com.....

It was a justifiable response to a feckless showing from the black and whites and by the end of the game the weakness of the 11 players left standing was depressing.

Moussa Sissoko, Jack Colback, Daryl Janmaat, Fabricio Coloccini and Ayoze Perez were all absent from the starting XI as seven changes were made as Davide Santon appeared competitively for the first time this season and Vurnon Anita was given a rare start.

John Carver claimed after the game that only Perez was rested, but few would give that comment any credence. That already undermines Carver's position as he called the side his strongest possible selection and suggests that he is immediately being dictated to from above - and by that we mean the board, not Sir Bobby's Ouija board....



Later quotes from JC then saw him sympathise with the fans but also mention the various knocks that precluded some players from appearing and referenced performance data confirming his side needed altering (in layman's terms, they had stopped running around against Burnley).

That all has merit, but completely fails to deal with the major issue at hand here: that this rotten performance was served up by a starting XI that should have been capable of winning this cup tie - or at least showing some semblance of going out fighting.

The reasons for yet another failure lie back in layers of poor recruitment, poor coaching, poor discipline and poor management, but in the here and now some things stick out like a sore thumb.

In terms of taking their cue from the man with the armband, Tiote again played like someone who is dreaming of jetting off to the Nations Cup and agreeing a transfer while he's in Guinea. Committed he ain't.

And if you want to go back to our curly-haired club captain, he's not cared to dirty his boots in this competition since we beat Blackburn in 2012. Since then our record is played four, won none.

Actions speak louder than words for one of the biggest influences in the dressing room, but like the booing of the young lads from the academy it's unfair to tar them with not taking this competition seriously enough because Colo wasn't here: last season messrs Sakta, Roberts and Armstrong were giving whole-hearted performances in the FA Youth Cup. The older ones have no excuse though.

The day began with a club statement confirming Pardew's departure to Palace and listing his achievements during a four year reign on Tyneside.

That they included reaching the Europa League Quarter Final in 2013 almost defied belief though, given that our progress to that point almost cost Pardew his position - for deviating from club policy to exit a competition with minimal TV income or prize money as soon as possible.

Those who perceive that there's been no significant shift in that sort of policy at SJP were given a plentiful supply of ammunition with this wilfully woeful display.

Managed by another one-time Magpie caretaker boss, Nigel Pearsons' Foxes side also did their fair share to contribute to the misery. They too showed their intent with seven changes from the side who drew at Liverpool 48 hours earlier (including a debutant who was playing on loan in League One barely a week ago) but unlike ourselves made an allowance for the poor conditions underfoot.

And referee Lee Mason and his team also can't escape from criticism as they appeared intent on adding to the despair, especially when they disallowed Remy Cabella's first half effort which was incorrectly flagged for offside.

City took advantage of that favourable decision and scored the decisive goal six minutes before the break and that also had a large slice of fortune about it.

United were caught napping by a swiftly-taken short corner routine and when Matthew James crossed the ball, Leonardo Ulloa bulleted a header that he seemed to know little about and it beat Jak Alnwick, hit the bar, bounced down on the line and then into the roof of the net.

After the break it was only some outstanding saves from Alnwick that kept United in the game while at the other end City 'keeper, Ben Hamer, had very little to do.

With Vurnon Anita having a shocker in midfield, Cheick Tiote again more of a danger to his team mates and Haris Vuckic failing to make an impact, forwards Adam Armstrong and Emmanuel Riviere were totally ineffective.

Remy Cabella was busy but brainless again and if the dynamic duo in charge had any idea of a team formation, then Carver and Steve Stone completely failed in their task of communicating it to the shambles on the pitch or either of the substitutes joining the fray.

Those substitutes made their first team debuts but Lubo Satka and Callum Roberts were given little chance to enjoy a positive start to life in the first team and Satka had a booking to go with the miserable cup exit, while Roberts barely touched the ball.

The game limped to its inevitable conclusion with a Vuckic free-kick battered into the defensive wall, a short corner being played out for a throw-in and an Anita pass to Roberts that gave the youngster no chance of reaching it. Tiote had earlier played a short corner directly back to the offside Vuckic and the pair exchanged terms of abuse. Schoolboy stuff.

Although Yoan Gouffran was named on the bench, the introduction of 17 year-old Roberts instead for the final 11 minutes confirmed that this was a public training exercise not a competitive match - and the very last thing that United desired was an equaliser and replay.

And with the away fans already chanting against the owner, the game ended to a chorus of boos from the visiting section and this became even more vociferous when the players attempted to applaud those fans.

Carver also appeared on the field and as he strode towards the discontented Magpie following, the thought did occur that a repeat of his reaction to supporter complaints at Southampton in September was looming.

However, he continued to applaud until abruptly turning on his heel and heading for the dressing room, presumably biting his lip.

Many media observers spoke of Carver fluffing his lines in this audition for the permanent role, but to our eyes it looked like a flawless display in appeasing his superiors.

Whether JC gets the post remains to be seen, but if nothing else then he created an unwanted piece of history for the club today: the first time that three successive FA Cup exits at the first hurdle have come in as many games. It's 2015, we last won a Third Round tie in 2012.

City stewards seemingly making it unnecessarily difficult to leave their flat-pack stadium rounded off another day to forget. Stow away those tinfoil FA Cups until next year, or more likely forever, this was all too predictable.

Eighteen Premier League games to go now, starting with a visit to Chelsea on Saturday. Forgive us if we're not relishing that particular one.

Biffa/Niall MacKenzie