Date: Saturday 31st January 2015, 12.45pm.
Live on BT Sport

Venue:

KC Stadium



Conditions: Cold: rain showers and snow flurries alternating with sunny intervals.

Admission: £35 (£30 in 2013/14)

Programme: £3


Hull City

Newcastle United

0 - 3

Teams
40 mins Jack Colback's coming together with an opponent on the edge of the City box resulted in the ball dropping to Remy Cabella. He lifted a goalbound pass between Michael Dawson and Gaston Ramirez that was intended for Ayoze Perez but cut out by Andrew Robertson.

After controlling the ball on his thigh however, the Scottish international laid the ball into the path of Cabella, who took three touches as he advanced unchecked on goal before hitting a swerving effort from 20 yards out into the bottom left hand corner of the goal - "a fabulous strike" according to BT Sports pundit Michael Owen.

Running to the celebrating away section in the near corner, the excitement of the occasion caused a brief stampede into the photographer's area - during which one over-exuberant fan tossed his burger into the air, landing on a clearly bemused Sissoko. Obviously he didn't want a gherkin.
0-1
Half time: Tigers 0 Magpies 1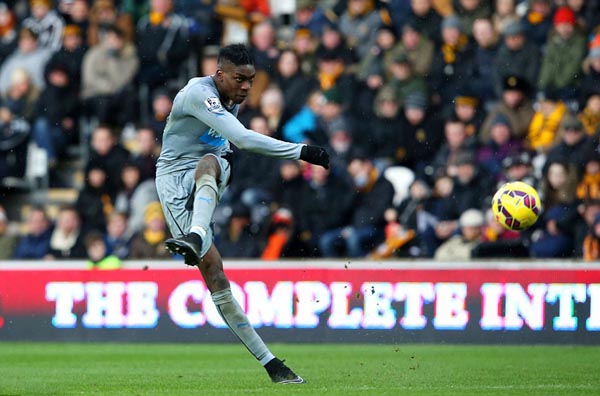 50 mins An aimless crossfield ball from Ramirez just inside his own half was seized upon by Colback, who helped it on to Sammy Ameobi on the United left. Shown the inside track by retreating defender

Ahmed Elmohamady, Ameobi shuffled forward before unleashing a 30-yarder that swerve, dipped and flashed past a flat-footed McGregor just to the right of centre.

0-2

78 mins An unimpeded run from Yoan Gouffran saw him weave past an idling Tom Huddlestone and around an equally stationary Curtis Davies. Shooting from an identical range and position to Cabella in the first half, his effort hit Elmohamady and left McGregor flailing at thin, air as the deflected shot looped over him and into the goal.

0-3



Full time: Tigers 0 Magpies 3

PS: Following this game, a small band of stout-hearted Tigers fans stayed in their seats to watch Hull's U21s play a league game against Mansfield Town. Their stoicism was rewarded with a free cup of tea - and an 8-0 home victory. Cold comfort though, quite literally.



John Carver: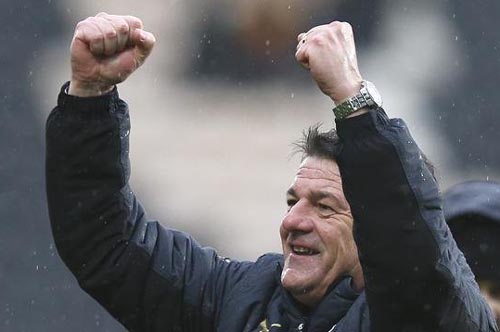 The leader of the pack


"I'm delighted. If I'm being brutally honest, my emotions are in my face, I very rarely tell lies but when I am lying it is obvious in my face. I'm a happy man.

"I want this job, and have all re-focused on what is really a 15-game season. We are getting players back from injury, and they have all got to compete and get in the team.
"Everybody's re-focused, because they know I am now the head coach, and I hope we are going to go forward.

"It was very emotional towards the end when I went across to the fans because a long time ago I was standing there with them and to be on the pitch and to be in charge of this fantastic football club - it was quite incredible.

"It makes a big difference when you know you're manager or you're head coach, and in charge for the rest of the season.

"You look for leadership from the top, and although the lads have been fantastic, there's always that little bit of doubt, not just for the players but for the staff.
"Once you make something permanent then people can get themselves focused, and I thought we were really focused in the performance.
"One of the first things I did with the group was to get them together and say that 'this is not an interim position'. If you look at the title, it is not interim head coach, it is head coach. I said to the guys, 'listen – I'm in this position, we have got 16 games to go, our season now starts'.
"It starts for the new players coming in, the injured players coming back, and for me and the staff around me, because it is important to get the results over those games we have left."

* we've no idea what he means by that either
"People have come out in public and said what they think. But it's OK talking about it – the evidence is in the performance, and we got that performance. This performance has been coming. I've seen a little bit of a difference.
"It wasn't very nice going across to the fans after the Leicester defeat in the Cup, but I'm a big guy, I can deal with that. took it on the chin, but this time, while I obviously wanted to celebrate with the players, I wanted to go to the fans because their support is massive.
"All through the second half, they never stopped getting behind the team and that makes a difference.
"I'm known as the Grumpy One, because when Alan (Pardew) was here, I was getting around people. I was the bad cop, but I'm quite controlled now. Stoney is becoming the bad cop.
"Jack Colback has (called me gaffer), but he wants to be on the teamsheet every week - he's the only one I've really had a conversation with as far as meeting me in the corridor and calling me gaffer. But they know what I'm about and I don't mind if they call me JC as long as they perform on the pitch."
On Remy Cabella:

"Remy's individual performance was great and we all know how important it is to get your first goal in the Premier League.

"I said to him before the game, 'I know you have got ability, start doing something for me, give me a goal.' I'm so pleased for him. His all-round performance was excellent. It's a great finish.
"I think there is still a lot more to come from him - there will be times when he has a bad day but he has come from another league and he can still get stronger and fitter."

On Sammy Ameobi:

"He's knuckled down, he's got a lot to learn but he has ability. I took him off because he was tired, but he did work hard for the team.
"He has a future – as long as he is prepared to put in performances like that."

On Papiss Cisse:

"We got him on a train and a plane, and he got here eventually. He might have been a little bit fatigued, but I wanted to get him on the pitch because he had travelled and made the effort to get here. It shows you that everybody wants to be a part of it and that is a good thing."
On the disallowed Tigers' goal:

"I thought he (Ahmed Elmohamady) almost caught it! It was blatantly obvious from where I was that it was a handball.
I said straightaway it was a handball – and my eyes are fantastic. I've got 20-20 vision!"

Fat-headed Steve Bruce said:

"We have to simply stop gifting people goals like we have done again today Just before half-time we've made a mistake, an individual mistake, which they scored from. Up until then I thought we were the better team.

"And then in the second half we've made a catalogue of errors for the second goal. The one thing you need after that is to show a bit of resilience and a bit more determination to try and rectify the situation.

"I think it's the individual errors [which cost us]. For the second goal in particular we made five mistakes. When you're playing against the likes of Newcastle, or any Premier League team, you're going to get punished.

"After the second goal, I've got everyone on the pitch who I think can try and score a goal, so I've got forward-thinking players on because we're trying to get back into it, but in the end it turned into one of those awful afternoons.

"That is the glimmer of hope that we've got at the moment. We've created more chances today. We need to take them, though. At this level, I've said repeatedly how important it is to score a goal. We've had one, two, three opportunities before Newcastle did. If you take one of them chances then it's a different story.

"Thankfully the linesman and the referee, they got it right. For however much we're struggling, we don't want to be seeing goals scored like that.

"I think it's a reaction rather than cheating. We've all done it as players; stick your arm up and get a touch on it. Fair play to the fourth official, he stepped in and made the right decision.

(based on what, a TV replay????)

"It's important that they (Ramirez, Robertson, Jelavic and Hernandez) stay fit because I've seen enough, in the first half in particular, to show that we had a bit more threat in front of goal (but) we have to stop these mistakes that we're making. Last week at West Ham, we gifted them the first goal.

"We've gifted them the second. No matter how well we play, we can't have individual error like we've had today.

"You earn your money, certainly, now. It's my job to lift the people who are a bit shell-shocked, today in particular. We have to find the bit of form that the big players showed for us last year and bring that form back. That's the challenge we all have ahead of us."

United scored more than twice in a Premier League away game for the first time since.....last season's visit to the KC Stadium when they ran out 4-1 winners.

The first goal of Remy Cabella's Magpies career came during his 24th game in all competitions (14 starts), 1,267 minutes. He's the 119th NUFC player to score at the right end in our 791 PL games.

Cabella's duck-breaker means that 13 players have now scored in the PL this season for the club: Aarons, Ameobi, Cabella, Cisse, Colback, Coloccini, Gouffran, Janmaat, Obertan, Perez, Sissoko, S.Taylor and Williamson. Excluding goalkeepers, that leaves 10 players who have played in the PL this season to find the net: Abeid, Anita, De Jong, Armstrong, Dummett, Haidara, Riviere, R.Taylor, Tiote and Vuckic.

Sammy Ameobi netted his second PL goal this season and a fourth for the club (two in the PL, two in the League Cup). All four came away from home: Scunthorpe, Morecambe, Spurs and Hull.

Having got off the mark with his first goal of the season at home to Southampton, Yoan Gouffran netted in back to back PL appearances for the first time since 2013. The Frenchman now has 11 PL goals to his name.

Newcastle collected their first clean sheet in thirteen attempts in all competitions, since a 1-0 home win over QPR back in November 2014.

Just four of the starting XI today remained from the side that won here in March 2014: messrs Krul, Williamson, Anita and Sissoko. The seven absentees were: Debuchy, Yanga-Mbiwa, Dummett, Tiote, Remy, Luuk De Jong and Gouffran (the latter a second half sub today).

The Magpies remain unbeaten at the KC Stadium in senior football, with two wins and two draws from their four visits. A fifth appearance in pre-season during 2003 also ended in our favour - John Carver overseeing a 4-0 success. Our only blemish was in 2007 when a Magpies XI lost 0-1 there in another pre-season kickabout.

United secured their third away victory of the season, following wins at Spurs (2-1) and West Bromwich Albion (2-0). Today's three point haul means that we have exceeded our lowest PL seasonal total of two wins - "achieved" in 2003/04, 2008/09 and 2012/13.

Toon @ Tigers - competitive games:
2014/15 won 3-0 Cabella, Ameobi, Gouffran
2013/14 won 4-1 Sissoko 2, Remy, Anita
2008/09 drew 1-1 (PL) S.Taylor
2008/09 drew 0-0 (FAC)
1990/91 lost 1-2 (Div 2) McGhee*
1989/90 won 1-0 (FAC) O'Brien*
1989/90 won 3-1 (Div 2) McGhee, Anderson, Brazil*
1976/77 drew 0-0 (ASC)*
1935/36 won 3-2 (Div 2) Pearson, Smith, Imrie+
1934/35 won 5-1 (FAC) Bott 2, Cairns, Pearson, og+
1934/35 drew 1-1 (Div 2) Pearson+
1929/30 lost 0-1 (FAC)+
1912/13 drew 0-0 (FAC)+

Total record against Hull City

:
P
W
D
L
F
A
SJP
7
3
1
3
18
12
BP/KC
7
4
2
1
16
8
League
14
7
3
4
34
20
SJP(FA)
4
2
1
1
7
4
BP/KC

5

2

2

1

6

2

SJP(LC)
1
1
0
0
2
0

Cup
10
5
3
2
15
6
Tot
24
12
6
6
49
26
Waffle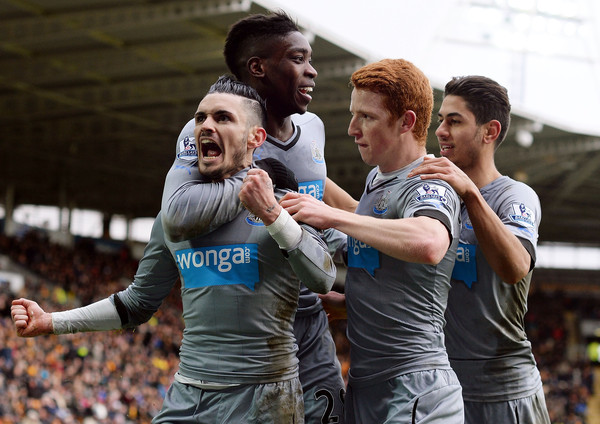 Unexpectedly overseeing last season's KC success following Alan Pardew's touchline antics, John Carver emerged triumphant from today's clash of the genial Geordies - marking his appointment as Head Coach until the end of the season with a longed-for first victory.

For opposite number Steve Bruce though, there was nothing but increasing exasperation and desperation as to the fate of him and his beleaguered team. Out of contract after the next 15 games, City have won just twice in their last 15 and failed to score in almost seven hours.

And if he harbours delusions of managing his "boyhood heroes", then the abuse he received today should be enough to deter him from throwing an amply-proportioned hat in that mythical ring. It's fair to say that the wearside section of his CV still haunts him, at least in the eyes of his fellow Tynesiders.

Of course Newcastle's recent form is hardly earth-shattering, but this victory put clear daylight between themselves and third-bottom Hull, who now trail the Magpies by a whopping 11 points.

Putting aside a forgettable opening half hour when City were denied an goal through an amazing combination of Tim Krul's fingertips, Fabricio Coloccini's chest and Mike Williamson's knee, the destination of the points seldom looked in doubt after Cabella's opener and the intervention of linesman Darren Cann in first half added time.

The flagwaver who wrongly chalked off a Papiss Cisse effort in the April 2013 derby spotted that Ahmed Elmohamady had punched the ball in Maradona-style - the ex-mackem receiving a booking for his misdeed and subsequent celebration while Jelavic recovered from being floored by Krul.

With Anita especially benefiting from the space afforded to the visitors in midfield, United took control of the game once Cabella curbed the needless tricks and flicks, began playing properly and opened his scoring account in fine style.

And although the hapless Tigers seemed incapable of scoring, there were slices of luck and some good officiating to thank for the blank, even after Sammy looked to have sealed the win with 40 minutes still to play.

In terms of good fortune, Coloccini almost sliced an amazing own goal from the byline but Vurnon Anita cleared off his line, Krul saved his captain after a woefully short backpass almost let City back in and Jelavic spared Krul's blushes when failing to knock home a rebound from close range.

Cheick Tiote may remain in Africa, while Siem De Jong and Gabriel Obertan continue their comebacks in the reserves and Rolando Aarons is yet to start his, but there were substitute cameos for both Papiss Cisse and Mehdi Abeid.

There was some doubt that the man from Senegal would make it back from the African Nations Cup, but he arrived in back Newcastle from Paris on Friday. The Algerian midfielder meanwhile is now back in contention after the toe problems that prevented him featuring in Equatorial Guinea, ready to build on seven appearances so far this season without defeat.

There was to be no farewell appearance for unused substitute Davide Santon however, who made a loan return to his former club Inter Milan two days later as the transfer window closed.

Reward then for those those who made an early departure from Tyneside and beyond on a day when snow and ice made conditions tricky en route and the floodlights were necessary, except for the brief periods of sunshine that were right in the eyes of many in the away section.

The majority of those fans then remained in their places after full time to applaud the team for their efforts, with several shirts tossed into the throng and a more positive atmosphere evident than for some time - underlining the different mindset - and sobriety of home and away travellers.

Carver duly joined in the celebrations with a brief clenched fist salute - and although that was reciprocated with applause, isolated chants of "Johnny Carver's black and white army" were in jest.

It would be wrong to think that his outburst before Southampton was completely consigned to the history books however, while it's less than a month since JC faced jeers after the Leicester farce.

Quite where we'd have gone from here though had the result gone against us is open to question, but thankfully Hull were so utterly awful that it would have been difficult for Newcastle not to win this game - unless it was in the FA Cup....

As it is, we appear to have reached a plateau.

This victory and the three point haul against Everton look to have banished any threat of relegation, while bland talk of upward mobility in the league wasn't reflected in transfer window investment.

Instead, an opportunity to further trim the wage bill was taken, following a squad review that presumably concluded we could make do and mend if required. We already know that the future head coach won't have that old "transfer war chest" at his direct disposal, so there's no angle of stockpiling cash ahead of a summer influx of "his" players.

In terms of that role, results like this will add credence to the cost-free, in-house solution that has been arrived at. Carver has played a part in this box-ticking exercise, deliberately distancing himself from transfer dealings in public and resisting the temptation to fill the "communication gap" that the club recently admitted to. The job of chief apologist remains a poisoned chalice.

Unlike his predecessor, he has no vested interest in team selection based on previous attempts to influence the identity of signings - and therefore no issue in aligning himself with the wishes of the other influences on the side, whether they come from the chief scout, the captain, or the owner.

There's also the Geordie heritage card to play (along with the tiresome evocations of a managerial previous era), but to most they are a needless distraction. Our Premier history simply isn't glorious enough to hark back to.

A brief excursion to tenth at full time soon became eleventh following other results, but victory against Stoke next Sunday would see us leapfrog the Potters.

When the novelty of looking forward to watching us on Match of the Day wears off though, it remains to be seen whether Carver is any more adept at marshalling or motivating his forces for the rest of this meaningless season than Pardew was last year.

Taking six points from a possible thirty after winning at Hull last March, issues with Ben Arfa, concerns over the Coloccini/Williamson partnership and the failure of the De Jong experiment meant a desire to get the season over and done was the only common bond between players and fans.

The omens aren't particularly encouraging though, given that Pardew's stadium and touchline ban saw Carver, Stone and Woodman all assume greater matchday responsibility in 2014, just as our downturn became a fully-fledged slump and the natives grew correspondingly restless.

Comparisons with the stewardship of Glenn Roeder have been made with the installation of Carver - along with references to Richard Dinnis by followers of a certain vintage - but the carrot of European football was present when achieving it led to a caretaker role becoming a permanent appointment for both men. In 2015 that's sadly no longer the case.

It's entirely feasible that Carver can complete the season having followed his instructions to the letter, only to emerge with zero credibility in the eyes of some supporters. Work that one out.


Biffa