Date: Sunday 15th March 2015, 4.00pm.
(not on live TV despite the KO time)

Venue:

Goodison Park

Conditions: predictable/unacceptable

Admission: £20 (£33 lower only in 2013/14)

Programme: £3.50 with a cover design from the 1973/74 season - when we drew 1-1 here


Everton

Newcastle United

3 - 0

Teams
20 mins There seemed little danger when James McCarthy took a pass from Romelu Lukaku outside the Newcastle box and scuffed an apparently routine shot from distance straight at Tim Krul. Sadly though the goalkeeper inexplicably dived to his right and conceded. Replays dispelled any notion of him being unsighted or deceived by a deflection so only he knows how he was beaten so easily 0-1

Half time: Toffees 1 United 0

56 mins Yoan Gouffran sloppily allowed Aaron Lennon to take the ball off him before needlessly bringing him down just inside the United area. Romelu Lukaku calmly sent Tim Krul the wrong way from the spot in front of the Gwladys Street end for his seventeenth goal of the season 0-2

90+3 mins Substitute Christian Atsu powered forward against a flagging United rearguard before playing in Ross Barkley. He supplied a low right footed finish from a narrow angle. 0-3

Full time: Toffees 3 United 0

John Carver:
"This group of supporters back this team. People in the north understand the game Ė and I include Everton fans in that. They understand the situation, they understand where we are and what we are. I know for a fact the majority of fans think that way.

"Iím not Harry Houdini, I canít magic something up, but what I will do is give everything, and never give up. Iím in a situation where Iím working with the group of players Iíve got.

"I canít bring in anyone from outside. We are not losing people through silly injuries on the training ground Ė weíre losing them for silly red cards.
"I know what situation Iím in, we have a huge injury list, we can lose our skipper to a red card, and we canít do anything about it. I will work with what Iíve got, and will not be negative, because by me not being negative, hopefully it will rub off on them, and they wonít throw in the towel.

"They havenít done that. They have fought until the end. There was a lot of disappointment after the game and usually, we leave them for a couple of days, but I asked the guys if they had anything to say, and two or three did.
"It was sensible. I wonít name names, but they had something to say. There werenít tea cups thrown, they were sensible, and examined it well.
"We have Arsenal next, and the way we are, we will be up for that. We had a two-way conversation, a controlled conversation, and we will review it all on Tuesday.
"I canít be down. I have never thrown the towel anywhere, and I wonít do it here. I want them to be positive.
"I told one or two (players) not to say anything, and it was nice that others did come forward. Iím not a dictator, Iím very open-minded. I listen, and I take on board what is said.
"What was encouraging was when we went 2-0 down with 10 men, we had our best opportunities. It wasnít a group of people who had given in. We still wanted to get back into the game.

"I have looked at it (the sending off) from four or five angles and it is not conclusive.

"When it actually happened, from the reaction of the Everton players, straight away I thought 'that must be a red'. But when I came in and looked at it, it was very difficult to decide.

"I will look at it again and if it is worthy of a sending off then I will accept it but if it is not I will appeal. There seemed to be more of their players surrounding the situation than our players."

(United did mount an appeal against Colo's three match ban, which was quickly rejected)

Roberto Martinez said:

"It was very important. We had a very good win on Thursday (at home to Dynamo Kiev in the Europa League) and it's always difficult to get back-to-back wins at home in such a short period.
"But our play at times was fantastic and we are starting to get rewards for all the hard work we have been putting in this season and getting the scorelines, which is important.
"You could read the intent of wanting to be positive, of wanting to control the game, we did that, we created many chances and it could have been a bigger scoreline."
"We finished that game with real intensity and purpose and we started in that manner today. That gives you a great initiative, you score the first goal and from that point on I think we managed the game fantastically well.
"There was a really good responsibility from every player and especially in the situation, that we had to win, I was very pleased with the way we handled the occasion and played really strong.
"It was a big, big game for us. Sometimes that can bring extra pressure in the way that you play the occasion rather than the game, but I was so pleased with the manner in which we started the game.
"We started with a lot of tempo and a very positive intensity. From that point on and after we scored the first goal, I thought we managed the game really well. That is something that we havenít done in the past when we have got ourselves into winning positions.
"I thought today we defended in a composed manner and Tim Howard only had one big save to make in the second half.
"It was a well-deserved clean sheet, we scored three goals which could have been more and, overall, it was an incredible display to carry on where we left off on Thursday.Ē
"I think you have certain players in a squad who can fulfill a similar role, but unfortunately Leon (Osman) is irreplaceable.
"He is very much a one-off in our squad because he is someone who can bring possession into threatening positions in the final third, he has incredible spatial awareness and his technical ability is as good as I have seen in an English player.
"Weíve missed him a lot and today you saw what a big impact he can have on our way of playing. Weíre delighted to have him fully fit again and available for us between now and the end of the season.Ē

John C

arver
's managerial record in 2015

:
lost
6

, drawn 3, won

2. Scored 10, conceded 19.

NUFC after 29 games - last six seasons:

2008/09:
29 points, 16th (scored 35, conceded 46)
2010/11: 36 points, 9th (scored 44, conceded 41)
2011/12: 47 points, 6th (scored 41, conceded 41)
2012/13: 33 points, 13th (scored 31, conceded 41)
2013/14: 43 points, 9th (scored 37, conceded 40)
2014/15: 35 points, 11th (scored 32, conceded 46)

Newcastle suffered their fourth red card in the Premier League this season, compared to the six they picked up last season (although one of those was later rescinded)

Mike Williamson Villa (a)
Moussa Sissoko West Ham (a)
Steven Taylor Chelsea (h)
Fabricio Coloccini Everton (a)

Coloccini's early bath was his third in our colours, following dismissals in a 1-5 loss at Bolton in November 2010 and a 1-1 draw at Liverpool in November 2012. Like today's indiscretion, both of those were straight reds and resulted in three match bans. Neither were appealed.

Toon at Goodison - Premier League era:

2014/15 Lost 0-3
2013/14 Lost 2-3 Cabaye, Remy
2012/13 Drew 2-2 Ba 2
2011/12 Lost 1-3 og(Hibbert)
2010/11 Won 1-0 Ben Arfa
2008/09 Drew 2-2 Taylor, Duff
2007/08 Lost 1-3 Owen (pen)
2006/07 Lost 0-3
2005/06 Lost 0-1
2004/05 Lost 0-2
2003/04 Drew 2-2 Shearer 2 pens
2002/03 Lost 1-2 Robert
2001/02 Won 3-1 Bellamy, Solano, Acuna
2000/01 Drew 1-1 og(Unsworth)
1999/00 Won 2-0 Hughes, Dyer
1998/99 Lost 0-1
1997/98 Drew 0-0
1997/98 Won 1-0 Rush (FAC)
1996/97 Lost 0-2
1995/96 Won 3-1 Ferdinand, Lee, Kitson
1994/95 Lost 0-1 (FAC)
1994/95 Lost 0-2
1993/94 Won 2-0 Cole, Beardsley

Full record against the Toffees:
| | | | | | | |
| --- | --- | --- | --- | --- | --- | --- |
| | P | W | D | L | F | A |
| SJP | 80 | 43 | 18 | 19 | 144 | 84 |
| GP | 80 | 20 | 16 | 44 | 95 | 156 |
| League | 160 | 63 | 34 | 63 | 239 | 240 |
| SJP(FA) | 1 | 1 | 0 | 0 | 4 | 1 |
| GP | 4 | 1 | 0 | 3 | 1 | 5 |
| SJP(LC) | 1 | 0 | 1 | 0 | 3 | 3 |
| GP | 0 | 0 | 0 | 0 | 0 | 0 |
| Cup | 6 | 2 | 1 | 3 | 8 | 9 |
| CS | 1 | 0 | 0 | 1 | 3 | 5 |
| Tot | 166 | 65 | 35 | 66 | 247 | 249 |
Waffle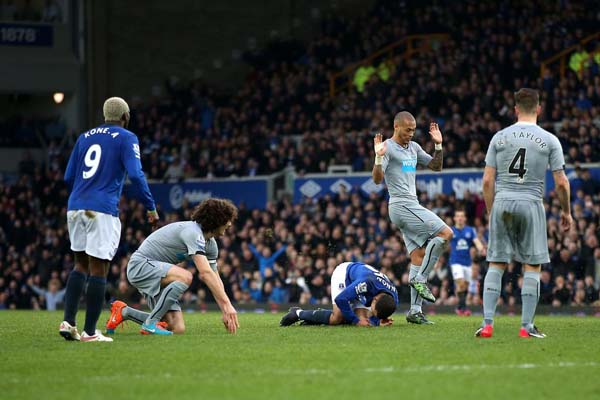 Gouffran: surrendering, or Morris Dancing?
Newcastle's stated aim of mid-table mediocrity was shown to be massively over-optimistic on Sunday by a relegation-threatened Everton side, who wiped the floor with John Carver's side of misfits at Goodison Park.

Just one win in twelve Premier League outings had seen the Toffees tumble towards the bottom three but it was the shambolic visitors who looked to be the team in trouble today.

Fabricio Coloccini's senseless red card summed up the non-performance as the captain showed his team mates a terrible example, launching a cowardly and dangerous challenge to effectively end this the game as a contest - although in truth we had been cast adrift with a full playing complement.

By that stage, United were already trailing to goals from James McCarthy and Romelu Lukaku that were gifted by blunders from Tim Krul and Yoan Gouffran respectively.

But a poor team performance by the silver-clad Magpies had allowed Everton to restore their fragile confidence, inviting the Merseysiders to run through the middle of the park with alarming ease.

And don't forget that Everton had been in Europa League action here the previous Thursday - a commitment that Newcastle deemed too taxing and sacrificed in order to maximise their efforts domestically. You couldn't tell.

United could have been in front in the third minute when a corner was cleared to Gabriel Obertan and his fierce shot was beaten out by Tim Howard. Mike Williamson fired the rebound goalward where it hit McCarthy on the line but referee Martin Atkinson waved away penalty claims, despite the ball clearly hitting the Everton player on the arm.

The same player then inevitably scored an opener that knocked the stuffing out of the visitors, who struggled badly with Emmanuel Riviere filling in for Papiss Cisse - United's top scorer beginning his seven game ban. A goal behind and we simply crumbled, not even capable of competing to the level that we attained in the defeat to Manchester United.

Moussa Sissoko once again carried the side with Jack Colback also looking solid but the quality of crosses from Daryl Janmaat and Sammy Ameobi simply weren't good enough. Ayoze Perez was introduced at half-time and Ryan Taylor almost fired home a free-kick after he was brought down by Darron Gibson but his shot was over the wall and over the bar.

Yoan Gouffran's form continues to slide backwards and it was his mistake that the home side doubled their advantage from the spot, Everton looking all set to record their first home league victory in three months and only a fourth in fourteen attempts.

Any doubts that they wouldn't succeed were dispelled by Coloccini's two-footed lunge on Lennon that brought a straight red card with over half an hour still to play. On first viewing the dismissal looked harsh - and the hysterical reaction of home players led by Darron Gibson did nothing to ease the situation - but replays showed that the challenge was both malevolent and cowardly.

The loss of Coloccini saw Janmaat was partnered with Williamson and Colback dropped into left back with Ryan Taylor moving to the opposite flank in what looks like our new starting back four. The Colback withdrawal opens the door for Vurnon Anita to come back into midfield. Oh goody.

For all his heart and guts, Taylor is no more than a stop gap and easily got past. Janmaat's subsequent admission that he'd never played there before meanwhile just adds to our suspicions that he'll soon sicken of this ambition-free zone and take himself off to a proper football club.

Jonas Gutierrez replaced Riviere and took up a central midfield berth, after which we enjoyed our best (or least worse) spell of the game.

Perez wasn't far away from latching on to a Gutierrez pass before Sissoko forced Howard into a one-handed save after a powerful surge towards goal from the left flank. At the other end though, Krul saved from Arouna Kone and Taylor cleared Ross Barkley's shot off the line.

Remy Cabella - on for Ameobi - almost finished off a fine move but Antolin Alcaraz got a last-ditch block in to deny the Frenchman. Everton's third arrived at the end of added on time when Barkley tucked his shot into the empty net, although a Janmaat dive may have blocked it.
The three-goal defeat and the three match ban for Coloccini will do little to ease Carver's defensive headaches and with his captain missing for the visit of Arsenal, the derby game and another trip to Merseyside, the limp to the end of the season continues.

35 points leaves us in 11th but that seems an unlikely finishing position for a side once again drifting aimlessly towards the close season - Carver seemingly no more in control of the dressing room than Pardew was at this point in 2014.

While our feet were firmly up by now last season with a 43 point haul and an eventual tenth place finish, things aren't quite as clever this time round though. With two major parts of the "spine" now suspended due to their own indiscipline it would be a brave Mag who predicts where our next point, goal or clean sheet is coming from.

It appears as if the team have listened to fan concerns that our season was petering out into mid-table obscurity by ensuring that we become embroiled in events towards the trapdoor.

Next weekend could prove to be very uncomfortable indeed for Toon followers: a threadbare United XI facing an Arsenal side who are second in the form table, in the habit of winning on Tyneside and now with no European commitments to distract them.

Add in the prospect of the mackems going to West Ham in the teatime game with a boost from a new manager, and facing a Hammers side winless in seven and in worse form than us. As a side order, serve up an away win for Palace at Stoke on the same day that would elevate Pardew's current mob above us - assuming we fall to Wenger's lot as expected.

Carver's comments about the fans today neatly sum things up: "They understand the situation, they understand where we are and what we are". Yes: managerless, in decline, a former football club.

Biffa