Date: Friday 5th August 2016, 7.45pm
Live on Sky Sports

Venue: Craven Cottage

Conditions: sultry / sulky

Admission: £25 (although tickets were printed with the matchday price of £30)

(We paid £40 on our last visit in 2013/14)

Programme: £3.50


Fulham

Newcastle United

1 - 0

Teams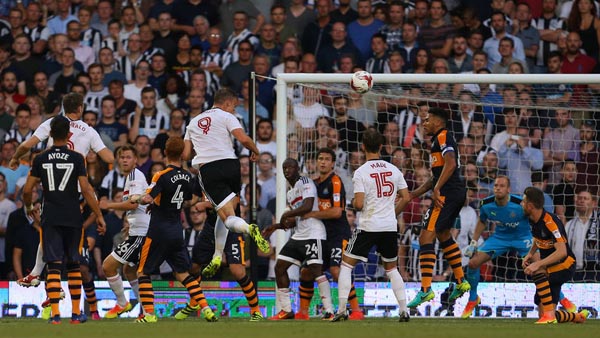 45 mins Grant Hanley was unable to prevent the ball going out for a corner, which was swung in left footed by Tom Cairney in front of the Cottage and headed by Matt Smith, left in yards of space. That flew beyond Matz Sels, with no Newcastle player stationed on the back post.

Another goal from a dead ball situation, Just like the four we conceded in pre-season. 0-1

Half time: Cottagers 1 Magpies 0

Full time: Cottagers 1 Magpies 0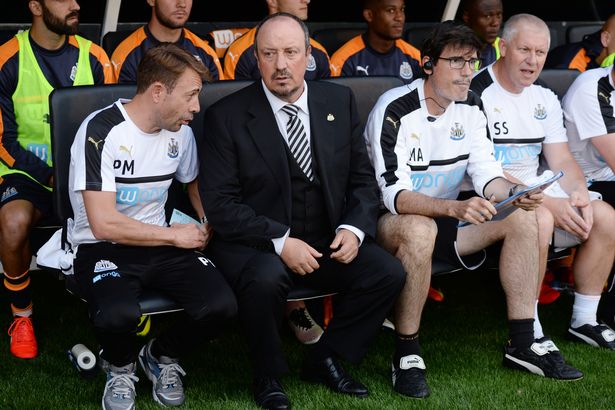 L-R: Francisco Moreno (Assistant Manager), Rafa, Mikel Antia (Coach), Simon Smith (GK Coach)


Rafa Benitez commented:

"I'm really disappointed because we did not play at the level we expected. We did not win the ball too much in the second ball and were not keeping the ball properly. We were not concentrating. This game could be a wake-up call for everyone.
"The only positive is it is the beginning of the season and we can wake up. At least everyone has to realise it has to be like this for the rest of the season.
"We didn't play at the level we want to play and have to play if you want to score goals and win games. You have to be much better. We have to realise this is a tough competition and we have to be much better."
About the penalty claims:
"The first one was clear and not given. The second one depends on the referee."


Fulham boss Slavisa Jokanovic said:

"It's great for us, the perfect start. I took great pleasure from my team. They played altogether.

"It's good news, my team played a serious game. If you follow this way we can think about a better season.
"I thought my team worked very well in pre-season. They showed what they had to do.
"We had many difficulties keeping a clean sheet last season, it's great news for us.
"My team is very sharp. But this Championship is so long with so many games.

"I said before we were ready for Newcastle but not for the season."

Goalscorer Matt Smith added:

"The lads were buzzing afterwards. We had a really productive pre-season, we felt we were in a good place coming into the game.
"It was ultimately the test for everything we'd worked on, and I think the lads passed with flying colours. We were set up really well and stuck to our game plan, and had that self-belief which got us over the line.
"I don't think anyone backed us prior to the game except ourselves really. Newcastle are the favourites for the title and maybe we caught them at a good time in the sense that they haven't had an opportunity to suss out the division and get into their stride yet.
"They're a very good team, make no bones about it, but we have that self-belief, and the confidence in the camp was high after pre-season because of the quality in the squad.
"So we felt very good going into the game and we stuck to the game plan that was laid out, and it was just great to hear the final whistle go and be on the end of a 1-0 win."


United's six game unbeaten record came to an end, this defeat our first since a 1-3 reverse at Southampton in April 2016. Our wait for an away victory in 2016 also continues, with the last a 2-1 conquest of Spurs last December. Since then we've failed to win in 13 attempts (11 Premier League, 1 FA Cup, 1 Championship). 11 of those were lost, two drawn.

Rafa Benitez gave competitive debuts to five of his close-season acquisitions: Matz Sels, Grant Hanley, Isaac Hayden, Matt Ritchie and Dwight Gayle. Fellow new boy Jesus Gámez remained on the bench while recent arrivals Ciaran Clark and Mohamed Diame weren't included in the squad.

Only three of the starting XI in the season closer against Spurs kept their place today; messrs Dummett, Janmaat and Colback. The eight omissions were Darlow (substitute), Taylor (left), Mbemba (substitute), Tiote (not selected), Wijnaldum (left), Sissoko (left), Townsend (left), Mitrovic (suspended).

United debuted their blue & orange second kit in a competitive game, while the captain's armband was sported by Jamaal Lascelles for the first time (although he had led the side in pre-season).

Losing a sixth successive match at Craven Cottage makes this our worst run of away games against Fulham, eclipsing the run of five defeats endured between 1959/60 and 1967/68.

Toon away to Fulham - post-WW2:
2016/17: Lost 0-1
2013/14: Lost 0-1
2012/13: Lost 1-2 Ben Arfa
2011/12: Lost 2-5 Guthrie, Ben Arfa
2010/11: Lost 0-1
2008/09: Lost 1-2 Ameobi
2007/08: Won 1-0 Barton (pen)
2006/07: Lost 1-2 Martins
2005/06: Lost 0-1
2004/05: Won 3-1 Ambrose, Kluivert, Ameobi
2003/04: Won 3-2 Robert, Shearer 2*
2002/03: Lost 1-2 Shearer*
2001/02: Lost 1-3 Speed
1983/84: Drew 2-2 Beardsley, Keegan
1982/83: Drew 2-2 McDermott, Varadi
1981/82: Lost 0-2 (LC)
1979/80: Lost 0-1
1978/79: Won 3-1 Connolly, Withe, Shoulder
1967/68: Lost 0-2
1966/67: Lost 1-5 B.Robson
1965/66: Lost 0-2
1960/61: Lost 3-4 Allchurch, Hughes, Woods
1959/60: Lost 3-4 Eastham, Hale 2
1955/56: Won 5-4 (FA) Casey, Keeble 2, Milburn, Stokoe
1951/52: Drew 1-1 G.Robledo
1950/51: Drew 1-1 Walker
1949/50: Lost 1-2 Milburn
1947/48: Lost 0-3
1946/47: Won 3-0 Bentley, Wayman
* at Loftus Road (all others at Craven Cottage)
Total record against Fulham:
| | | | | | | |
| --- | --- | --- | --- | --- | --- | --- |
| | P | W | D | L | F | A |
| SJP | 31 | 15 | 8 | 9 | 52 | 37 |
| CC/LR | 32 | 7 | 5 | 19 | 44 | 64 |
| League | 63 | 22 | 13 | 28 | 96 | 101 |
| SJP(FA) | 3 | 3 | 0 | 0 | 15 | 0 |
| CC | 1 | 1 | 0 | 0 | 5 | 4 |
| SJP(LC) | 2 | 1 | 0 | 1 | 4 | 2 |
| CC | 1 | 0 | 0 | 1 | 0 | 2 |
| Cup | 7 | 5 | 0 | 2 | 24 | 8 |
| Tot | 70 | 27 | 13 | 30 | 120 | 109 |
Reality bites: post-relegation season openers:

2016/17: Fulham (a) lost 0-1
2009/10: West Bromwich Albion (a) drew 1-1
1989/90: Leeds United (h) won 5-2
1978/79: Millwall (a) lost 1-2
1961/62: Leyton Orient (h) drew 0-0
1934/35: Nottingham Forest (a) lost 1-5

Slow starters? - last ten opening day away results:

2016/17: Fulham (a) lost 0-1
2013/14: Manchester City (a) lost 0-4
2010/11: Manchester United (a) lost 0-3
2009/10: West Bromwich Albion (a) drew 1-1
2008/09: Manchester United (a) drew 1-1
2007/08: Bolton Wanderers (a) won 3-1
2005/06: Arsenal (a) lost 0-2
2004/05: smoggies (a) drew 2-2
2003/04: Leeds United (a) drew 2-2
2001/02: Chelsea (a) drew 1-1
Waffle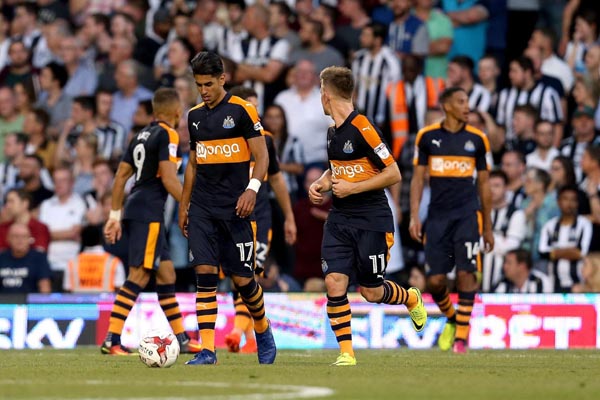 Unnoticed by most match goers heading along the Thames Path to Craven Cottage is a memorial to the International Brigade, complete with the motto "No Pasaran!" ("They Shall Not Pass").

Sadly for the 7,000 exuberant Newcastle fans present, that phrase encapsulated the shortcomings of Rafa's new-look side, who made a remarkably poor fist of their first Championship outing since May 2010 - and added not shooting to that vow of passing abstinence.

The misplaced hand of Ryan Tunnicliffe looked to have given United a welcome break in a barren first half, only for referee Simon Hooper to ignore the blatant offence and not award a penalty.

A second valid handball shout in front of the away end was also refused in the closing stages of the game, but those non-decisions book-ended a confusing and concerning away performance that no amount of bad officiating can excuse.

The presence of former boss Steve McClaren on punditry duty wasn't the only unwelcome memory of our previous inadequacies, conceding on the cusp of half time another tradition sadly revived.

That's now six games in a row we've lost at Craven Cottage - and the solitary success of 2007 (with Joey Barton's added time spot kick) in the middle of nine consecutive losses was as poor any of the others. It's hardly a bear pit - exactly what is it that we can't cope with here?

And by the time Adam Armstrong arrived to re-enact his 2014 debut here in another fruitless pursuit of an equaliser, the only real difference between this visit and that last one was our bonny new change kit and the fact we'd be avoiding watching highlights on Channel 5 rather than BBC1...

Since last season we've enjoyed/endured Euro 2016 and tonight brought further echoes of that summer tournament. Some Newcastle fans made a mercifully unsuccessful attempt at emulating that daft Icelandic chant - and some Newcastle players following the Roy Hodgson backwards and sideways blueprint for success, achieving precisely nothing - save for nice possession statistics.

The majority of our side had recent experience of playing outside the top flight, but you'd not know it from this performance, as they failed to make runs, find colleagues or exploit the space created when Fulham attempted to shackle Matt Ritchie by putting two players on him.

Dwight Gayle had scored twice on his last visit here, but was handed the impossible task of trying to take balls down out of the sky and fashion himself a shooting opportunity. Such was the lack of communication between defence, midfield and attack that we appeared to believe the suspended Aleksandar Mitrovic was actually playing - and tailored our upfield bombardment accordingly.

Ayoze Perez meanwhile needs to wake up to the fact that referees aren't quite as indulgent at this level, with Hooper unmoved by his swooning.

Rafa persisted with his original selection for the second half there was an uplift of sorts with Ritchie switching from the left flank to the right and Daryl Janmaat supporting him.

Having looked certain to depart, the Dutchman proved to be our main wide threat but just couldn't get through the traffic - and when he did burst into the area late on, was booked for an understandable reaction to Hooper pulling play back for a Newcastle free kick - which was wasted.

Paul Dummett and Vurnon Anita foraged down the left with little success meanwhile - the full back's place already looking under threat and the midfielder presumably counting on replacing non-entity Jack Colback in the middle, after tonight's understudying of Moussa Sissoko / Momo Diame.

As was the case with our set pieces though, the necessary quality was absent save for Anita's drilled low ball that Ritchie hammered goalwards but straight at goalkeeper David Button's feet.

And when substitute Rolando Aarons scuffed his shot with time and space in the box the game looked up and a couple of Fulham breakaways threatened to deepen our misery - propelling home fans to greater efforts in rattling those freebie cardboard things that Leicester have popularised.

By the end of the game, one of the central midfield berths was occupied by Jonjo Shelvey, whose body language was anything but positive as he waited to come on and disrupted his own side's efforts as much as Fulham's while on the field. He was the nearest thing to Kevin Nolan or Alan Smith we had on the field all night, even if the brawn outweighed the brains. We'll need him.

Quite what's going on with Jonjo is uncertain, but reacting badly to his temporary stint as captain under Rafa last season seems to have done him no favours. and along with the endless indisposition of Siem De Jong, narrowed down the armband-wearing options until Jamaal Lascelles was the only choice. The 22 year-old led the team out tonight for his 22nd competitive Toon game (13th start).

The final whistle saw no negativity from the resolutely upbeat away support though, with the team applauded as they trudged across the pitch back to the dressing room. There's still just the 45 games for Rafa and his squad to get it right of course and many of our most memorable seasons have begun with similarly listless displays (0-1 v Spurs at home in 1993, 0-2 at Everton in 1996).

The major difference between the Premier League and the Championship to us is one of perception: starting off with the intention of not losing is essential when every top flight point is priceless, but in this league you simply have to go out to win match after match. Chris Hughton's Brighton lost just five games in 46 last season, but drew no less than 17 and ended up missing out on promotion.

We need to quickly re-acquire that winning habit on Saturday and Wednesday if the unprecedented levels of optimism are to be maintained. Rafa urged fans last week to "be patient, support the team, help the players - some of them will need help." After this game, that's more than apparent.

Biffa