Date: Wednesday 17th August 2016, 7.45pm

Venue: St. James' Park

Conditions: pressure-relieving






Newcastle United

Reading

4 - 1

Teams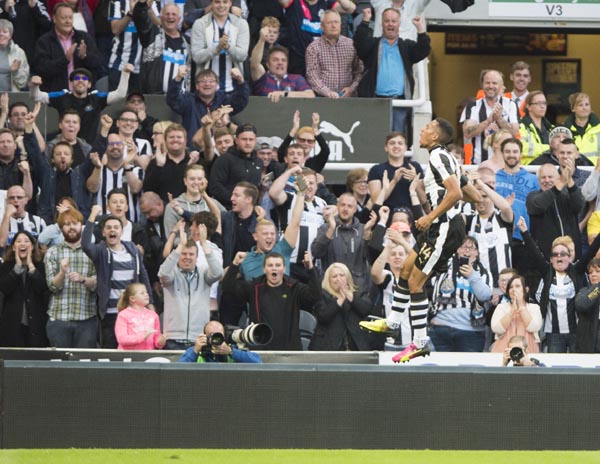 20 mins Matt Ritchie's free-kick from the right flank was blocked but the rebound fell to Gouffran and then Isaac Hayden, who took a touch before firing a low shot beyond goalkeeper Ali Al Habsi at the Leazes End 1-0

45 mins Debutant Ciaran Clark mis-controlled and attempted to make amends with a reckless dive at John Swift in the box. Garath McCleary comfortably tucked the ball past Matz Sels from the resultant spot kick. 1-1

Half time: Magpies 1 Royals 1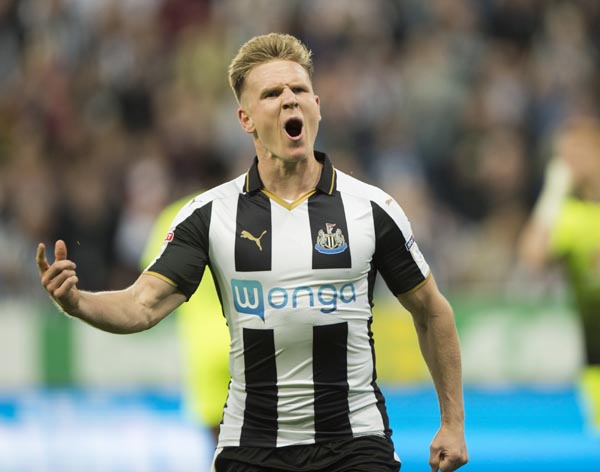 50 mins Chris Gunter bundled over Yoann Gouffran at the near post from a corner and Matt Ritchie gratefully accepted the chance to expertly slot the ball home from the spot, celebrating by rushing to the South West corner and kung fu kicking the helpless corner flag 2-1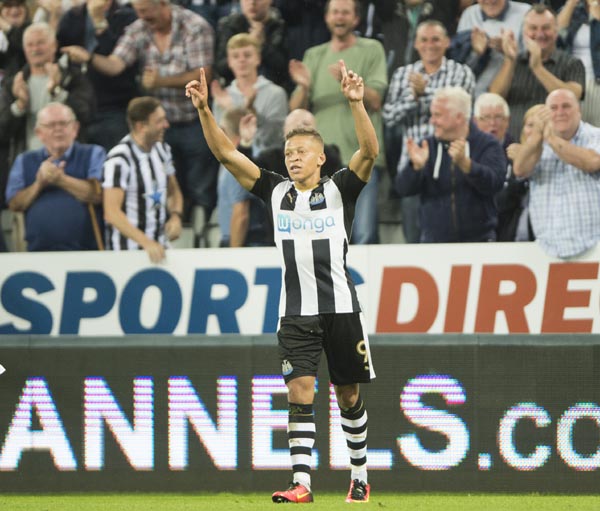 69 mins The increasingly prominent Isaac Hayden saw another forward run halted illegally, allowing Dwight Gayle to hammer in a fabulous 25 yard free-kick from a central area. 3-1

89 mins Hayden's determination saw him burst into the Reading area before his centre gave Dwight Gayle a simple tap-in, after Al Habsi was unable to block the cross 4-1

Full time: Magpies 4 Royals 1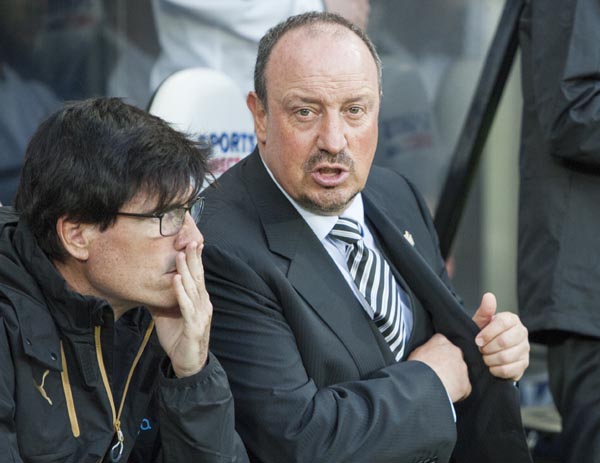 Rafa Benitez said:
"I didn't want to say the other day after losing two games there were 44 games to play, now 43, but it's the reality.

"The reality is you don't have too much time to prepare the team during the week, so you have to do things at the same time that you are trying to win games, and that's more difficult.

"But it's like this and hopefully these three points will give us a little bit of confidence for the next games.

"I know we can do much better, how much? Thatís difficult to quantify, but I am sure we will improve. Weíll have bad games but I know that we will get better.

"Players could leave and players will come in before the end of the transfer window, so itís quite complicated to keep everybody focused. But weíll get offers and some may go.

"At the moment itís not easy for players to focus when they could leave, but we saw that against Reading. We showed good character after conceding just before half-time. We have to play well and show that character.

"Itís always important to get results, the way you get helps you grow in the future. If you do well we have more possibilities to win games.
"We could be saying the same about Fulham or Huddersfield, we made one mistake at Fulham and two against Huddersfield. We made another against Reading and we conceded a goal but scored four.

"In the end, what matters is winning. It was important for me, for the fans, for the players, for everyone here to get three points today.

"The first two games without playing so badly, we didn't get any points. Today we showed character, a good reaction after the goal we conceded, and that's what we have we to do, play well sometimes and show character all the time."

On Yoan Gouffran:

"Until the end of the transfer window, it is quite complicated to keep everybody focused. But we are doing what we have to do every week.
"We were talking about Gouffran, and maybe he was thinking about offers that could come, but he had to play and he did really well.
"It is not easy for any player to think ĎI have to be really concentrated and focused when maybe tomorrow I will leaveí, but you have seen examples in the Premier League of players playing one game and then leaving the following day for another team. Iíve said a lot that these players are quite professional.
"Every training session they are working hard, even the players who know they might leave.
"He is a good professional, a good player, and we needed a bit of experience in the wide areas. I think he did well.Ē

Reading boss Jaap Stam (who suffered his heaviest loss in a four game term managing the Royals):
"I think the referee had a bad night - he made a couple of decisions that I found very harsh.
ďNewcastleís wasnít a penalty. From what I saw it was a clash between a couple of players who fell over. Then after that he should have given us a penalty when G (Garath McCleary) went down, but he didnít give anything. After that you know itís going to be difficult.
"When you play at big clubs, with a lot fans then the referee sometimes does that (as a former Manchester United player, he should know that better than anyone...)
ďIím not looking for excuses or anything because Iím very proud of the team and what they showed on the pitch, but the referee is important. He can make or break a game and he costs us points.
"I think we should have got something out of the game because I think if you look at the game and at how both teams played, I think we deserved a lot more than a 4-1 loss, to be fair.

"The people over here, especially in Newcastle, they are thinking about a 4-1 win. Probably we were the better team, but everybody knows that they won and they have got three points and we have got nothing.

"That's how it goes in football, so for us it's very difficult but we need it keep on going."

Dwight Gayle netted his second and third goals for United, which like his first effort on Saturday came in front of the Gallowgate End. All told the striker has made four senior starts at SJP in his career - and scored in all of them.

Netting in the opening seconds for Crystal Palace in August 2014, Gayle also netted against Vitesse Arnhem in pre-season. Spoiling his 100% record was a 17 minute substitute outing at SJP last season, as the Eagles lost 0-1.

There were first NUFC goals for both Matt Ritchie and Isaac Hayden - the latter who had netted just once before in his senior career, during his 24 game loan at Hull City last season.

As a consequence of Jamaal Lascelles dropping to the bench, the captain's armband was worn by Paul Dummett for the first time.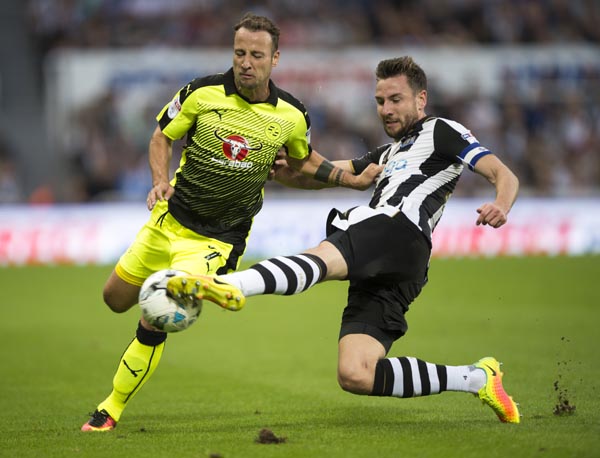 United have used 18 players in their first three games, but another 12 current players who saw service last season are yet to feature for various reasons: Krul, Darlow, Elliot, Sterry, Mbabu, Haidara, Sissoko, De Jong, Tiote, Saivet, Riviere and Mitrovic. Adding in unused new arrival Jesus Gamez takes that figure up to 13.

Royals in Toon - all-time:
2016/17 won 4-1 Hayden, Ritchie(pen), Gayle 2
2012/13 lost 1-2 Cabaye
2009/10 won 3-0 Sh.Ameobi 3
2007/08 won 3-0 Martins, Owen, Viduka
2006/07 won 3-2 Sibierski, Martins, Emre
1989/90 won 4-1 McGhee 2, Quinn, Robinson (FAC)
1989/90 won 4-0 Brazil, Brock, Thorn, McGhee (LC)
1968/69 won 4-0 Craig, Dyson, Robson, Scott (FAC)
1899/00 won 2-1 Stevenson, Rogers (FAC)
All time record v Reading:
| | | | | | | |
| --- | --- | --- | --- | --- | --- | --- |
| | P | W | D | L | F | A |
| SJP | 5 | 4 | 0 | 1 | 14 | 5 |
| MS | 4 | 1 | 1 | 2 | 5 | 6 |
| League | 9 | 5 | 1 | 3 | 19 | 11 |
| SJP(FA) | 3 | 3 | 0 | 0 | 10 | 2 |
| EP | 1 | 0 | 1 | 0 | 3 | 3 |
| SJP(LC) | 1 | 1 | 0 | 0 | 4 | 0 |
| EP | 1 | 0 | 0 | 1 | 1 | 3 |
| Cup | 6 | 4 | 1 | 1 | 18 | 8 |
| Tot | 15 | 9 | 2 | 4 | 37 | 19 |
Waffle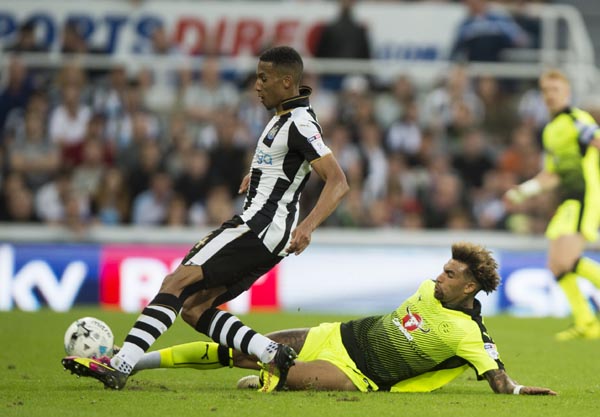 The SJP DJ's playlist tonight included a track from The Jam, but sadly it wasn't the most appropriate selection from Weller's mob, which would have been "Start!"

It proved to be third time lucky this season for United, as they won their first Championship game since 2010 - a result that allowed players, fans and manager alike to breathe a sigh of relief.

Rafa Benitez saw three of his signings find the net, Isaac Hayden, Matt Ritchie and Dwight Gayle's brace sending most of a 48,209 crowd home happy, raising the Magpies up to seventeenth.

The result slightly flattered United, who conceded on the stroke of half-time for the third successive game, but after two false starts tonight was always more about the scoreline than performance.

Having made four alterations from the side that started against Fulham for the loss to Huddersfield, Rafa opted for another quartet of changes: Ciaran Clark debuting, Matt Ritchie and Ayoze Perez earning recalls and Yoan Gouffran selected for the first time by the manager.

The reshaped lineup (with Vurnon Anita at right back) almost got off to a perfect start when Gayle had the ball in the net after barely two minutes. Referee Andrew Madley initially awarded a goal, only for fierce Reading protests see him consult with the linesman in front of the East Stand.

He then correctly called what was a blatant handball - but had initially failed to indicate any offence, which raised questions as to whether the officials had been tipped off via a message in their earpiece.

Thankfully home fans didn't have to wait long for a breakthrough, with Hayden's first Toon goal arriving in the 20th minute. The relief was palpable but like the Huddersfield game, the nerve-settling second goal wasn't forthcoming and Reading started to threaten, with Roy Bereens unlucky to hit the bar with a dipping shot from the left.

United looked to have reached the interval in front, only for Clark to concede a penalty that Garath McCleary comfortably tucked home, leaving United to go in at half-time amid an uneasy murmur as the poor start to the season threatened to continue.
Thankfully those doubts were quickly dispelled by Matt Ritchie's emphatic spot kick conversion just five minutes after the restart, although Reading still threatened to make a game of it and forced a series of corners that stretched our defence before Hayden was denied by Al Habsi.

However, the decisive third arrived after 69 minutes, Gayle lashing home a fabulous free-kick from distance to finally give his side some vital breathing space.

Some thoughtful management from Rafa then saw Jamaal Lascelles brought on to help shore up the defence for the closing stages, his presence on the field putting aside negative conclusions about his being dropped and stripped of the armband for this game.

Hayden then set up Gayle in the final minute of normal time for his second of the night and our fourth - both players looking brighter, sharper and happier than Saturday.

Victory by any means necessary was the name of the game tonight, so on that basis some goals, improved performances and positive reaction from a tremendous crowd were all plus points. The addition of Gouffran to the side wasn't a total success, but his involvement was more tangible than the 45 minute shift Rolando Aarons put in on Saturday or Anita's filling a shirt on the right wing.

Jaap Stam showed that he'd been reading from the Fergie book of excuses when he moaned afterwards the injustices his side had suffered. While the scoreline may have had elements of fortune though - and Reading did have a second penalty shout in the second half - the suspicion was that Stam's version of events reflected the fact only 550 of his fans saw all 90 minutes.

Wins for Barnsley and Cardiff prevented Rafa's side reaching fifteenth but with QPR losing the league's only 100% record, top spot is now just four points away! Rumours of our demise etc.

Biffa