Date: Saturday 20th August 2016, 3.00pm

Venue: Ashton Gate

Conditions: Wet and windy - it was quite literally blowing a Gayle!

Admission: £30 (£25 in 2009/10)

Programme: £3


Bristol City

Newcastle United

0 - 1

Teams




19 mins Chancel Mbemba won the ball in his own half and played it forward to Momo Diame, whose chipped pass to Dwight Gayle was inch-perfect. The striker's control at pace and finish with his second touch were immaculate as the game's one moment of magic ultimately proved decisive.

After crashing home his left footer from around 14 yards, Gayle wheeled away cocking an ear at home fans, who had been giving him some low level abuse following his decision not to quit Selhurst Park for Ashton Gate 12 months ago. 1-0

Half time: Robins 0 Magpies 1

Full time: Robins 0 Magpies 1
Rafa Benitez commented:
"We knew it would be this kind of game and we had to work really hard as a team. We knew there would be a lot of high balls into our box. We showed character and spirit today and will need that for the rest of the season.
"We have to keep working as hard as we did today and then show our quality. City had different options, different ways of playing and they will do well this season.
"It is important to be able to attack and score goals, but we also need to show spirit and be able to play this way. This was a big step forward.

"He (Gayle) has good movement, he is a clever lad and he can score goals. We saw all of that today. It was a good movement, a good pass and a good finish.
"Dwight Gayle can play in the Premier League for sure. He has played there before and, hopefully, he can play there for us in the next two years or so."

"It was difficult because the ball came into the box so many times. You also have this second ball to deal with too. In the end it was a good performance as a team, a defensive team performance.
"Everybody tried to help, it was important to see everyone working so hard. It is important to be a team that attacks and scores goals.
"But then at the same time you have to be organised and have team spirit to work and get a result. For me it's a good step forward in terms of confidence as well."

City Head Coach Lee Johnson said:

"There were loads of positives for us. We lost to one quality finish after being caught out by a great ball.

"We have a bit of work to do with our forward play. The strikers need to know when the ball is going into the box so they can time their movement and we took too many touches at times.

"But I can't be too critical because the players gave everything. The way we penned Newcastle in and the energy we showed were really pleasing.

"We got the ball into good areas so many times without capitalising.

"I thought Gary O'Neil was the best player on the pitch and I'm delighted with the way Hordur Magnusson is adapting to English football.

"Lee Tomlin had that spark about we know he possesses and lots of other things pleased me. It's hard to talk know because I so wanted to give our supporters a win but when I analyse things later I know I am going to be a lot happier.

"It was great to see Ashton Gate so packed and thatís what we want in the future.
"Itís important we build on that now and grow our community. Hopefully those who came along will go back and tell their friends that something good in happening at Ashton Gate.
"On behalf of all the players I want to thank them for their brilliant support.Ē


United won away from SJP for the first time under Rafa Benitez, ending a barren run of thirteen league and cup games since a 2-1 success at White Hart Lane before Christmas.

The Magpies boss also enjoyed back to back victories for the first time here, as took six points from six for the first time in 2016. Our last consecutive successes were Liverpool at home and Spurs away in December 2015.

Dwight Gayle's run of form in front of goal makes him the first Magpie to score in three successive games since Ayoze Perez in October/November 2014 (Spurs away, Liverpool home, West Bromwich Albion away).
Goalkeeper Matz Sels kept a first clean sheet for the club in what was his fourth appearance. He's played every minute of those four games, but Gayle's late replacement here means that Vurnon Anita is now the only outfield ever-present in the Championship for United this season.
Magpies @ Robins - All-Time Record:

2016/17 won 1-0 Gayle
2009/10 drew 2-2 Gutierrez, Carroll
1995/96 won 5-0 D.Peacock, Sellars, Ferdinand, Gillespie, Lee (LC)
1992/93 won 2-1 Kelly, Scott
1991/92 drew 1-1 Clark
1990/91 lost 0-1
1980/81 lost 0-2
1977/78 lost 1-3 Barrowclough
1976/77 drew 1-1 Burns
1910/11 lost 0-1
1909/10 won 3-0 Randall, Stewart 2
1908/09 drew 3-3 Higgins, Veitch 2
1907/08 drew 1-1 Orr
1906/07 lost 1-2 Brown
Full record v City:

| | | | | | | |
| --- | --- | --- | --- | --- | --- | --- |
| | P | W | D | L | F | A |
| SJP | 12 | 6 | 5 | 1 | 19 | 4 |
| AG | 13 | 3 | 5 | 5 | 16 | 18 |
| League | 25 | 9 | 10 | 6 | 35 | 22 |
| SJP(FA) | 0 | 0 | 0 | 0 | 0 | 0 |
| AG | 0 | 0 | 0 | 0 | 0 | 0 |
| SJP(LC) | 1 | 1 | 0 | 0 | 3 | 1 |
| AG | 1 | 1 | 0 | 0 | 5 | 0 |
| Cup | 2 | 2 | 0 | 0 | 8 | 1 |
| Tot | 27 | 11 | 10 | 6 | 43 | 23 |
Waffle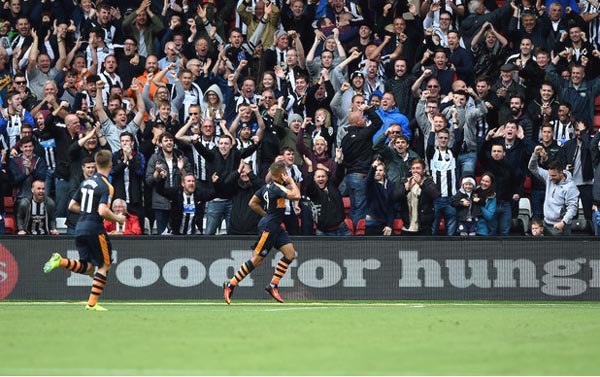 Dwight Gayle's fourth goal in three games earned a second successive win for Newcastle and ended a winless run away from home that had stretched back to Spurs last December.

Neither goalkeeper had a taxing afternoon at City's rebuilt Ashton Gate, but Richard O'Donnell was helpless to prevent the visiting number nine from driving home after latching on to Momo Diame's sublime through ball in the 19th minute of the first half.

Clad in their blue and orange change strip, Rafa Benitez rotated his lineup once again. Out went Paul Dummett, Jonjo Shelvey and Ayoze Perez from the side that beat Reading; Jamaal Lascelles, Momo Diame and Jack Colback all returning and Ciaran Clark moving to left back.

United took over quarter of an hour to threaten City's goal, Isaac Hayden heading wide from a corner. Gayle's free kick two minutes later flew over the bar and ended up among the away fans, but the striker who almost joined City a year ago soon had them dancing with delight.
Failing to add a second led to some anxious moments but City failed to fashion a genuine scoring chance from open play, relying instead on crosses into the box from cheaply-conceded free kicks.

Amid occasional rain flurries, the second half saw Bristol begin to win some of the midfield battles as United looked slightly weary. However, the visitors held firm, Yoan Gouffran dropping deep and Vurnon Anita wholeheartedly defending at right back.

Tempers flared in the closing stages as referee Tony Harrington began to lose control, but City's pressure produced only a Hordur Magnusson header that flashed wide and a volley from Jonathan Kodjia that whistled just over Sels' crossbar on 90 minutes.
There's still a massive amount for Rafa to work on based on this display, notwithstanding the ongoing squad turnover that is likely to see further comings and goings before Wednesday week's closing of the transfer window.

City were poor but still could be forgiven for thinking they should have got a point from this game. Certainly there'll be no repeat of 1993 when we come calling for their centre forward - there's no Andy Cole in this Robin's nest.

Diame's fitness should improve but his speed on the ball needs to increase if he is to be the sort of figurehead that succeeds Sissoko and as a bonus brings the consistency the number seven lacks.
Ritchie was marked out of the game to a worrying extent, leaving Gouffran all the time and space he needed. However, the Frenchman's inability to elude the home defence was remarkable and should act as a wake up call to Rolando Aarons.

Now that Aleksandar Mitrovic is ready to belatedly begin his season, the promise of a partnership is an interesting one - with today another example of United being in desperate need of someone to win the ball in the air and hold it up.
So far Rafa has out-tinkered the Tinker Man with his selections but once we regroup at Derby next month, a settled formation needs to be achieved - even if the demands of the fixture programme require full use of the desired 27/28 players to see us through until January.

The situation of the away section in proximity to the away bench and warm-up area allowed for a non-scientific study of those players not in the starting selection - and one or two hints as to the future direction of the squad could be gleaned.

Having worn the armband in the previous game only to then be benched amid reported transfer interest from top flight clubs (West Brom and Hull), it would have been understandable if Dummett appeared distracted while warming up, reluctant to get involved. He didn't - and along with messrs Hanley and Sterry seemed "in the zone" or at least keeping up appearances.

By contrast, Shelvey looked indifferent and barely went through the motions all afternoon before getting on for the briefest of appearances. Having had a brief flirtation with the captaincy last season but not been mentioned this time round, it's difficult to know just what's in his mind now.

And into that category also come Aarons and Perez at this early point of the season: not adjusted to the rigours of the task in hand and hardly busting a gut to claim a starting place, if their rather puerile flicks and tricks competition at half time was any guideline. Maybe we're just getting old.

It seems far longer than a fortnight since our previous away game at Fulham, but evidence that we're adjusting to our task could be seen here, with evident spirit and application in the side and Lascelles able to concentrate on his own defensive game rather than geeing up his elders.
The win raised us into seventh - reward for a display that wasn't particularly pretty but undoubtedly effective, echoing hard-fought single goal away victories in 2009/10 at Sheffield United and Preston North End. That's the sort of grit and winning mentality that ultimately wins promotion. A good day.
Niall MacKenzie/Biffa