Date: Saturday 27th August 2016, 5.30pm
Live on Sky Sports

Venue: St. James' Park

Conditions: Emboldened





Newcastle United

Brighton

2 - 0

Teams
15 mins Jonjo Shelvey was fouled around 30 yards from goal and Matt Ritchie's free-kick into the box was met by Jamaal Lascelles, who guided a powerful header past David Stockdale and into the Gallowgate net. The 'keeper got a hand to it but couldn't keep it out to the delight of the skipper, who pointed to his new top-knot aka man-bun during the celebrations. 1-0

Half time: Magpies 1 Seagulls 0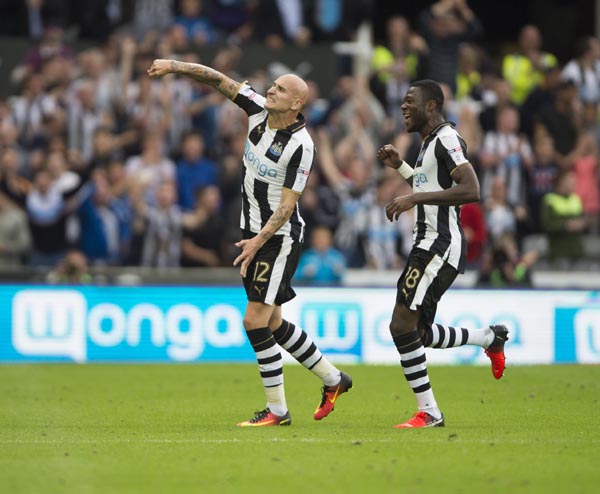 63 mins Momo Diame was floored just over 20 yards from goal in a central position and after a brief discussion with Matt Ritchie, Jonjo Shelvey strode up to hit a perfect free-kick that curled around the wall and just inside the post - Stockdale rooted to the spot. 2-0
Full time: Magpies 2 Seagulls 0
Rafa said:
"It was important to win against a team going well with players and a manager who has experience in this division.
"We got a lot of the things we were looking for today but there is still room for improvement. The team has been working very hard. But when you want change and improvement, it takes time.
"It is good to have another win before the international break, and it would be good to carry it on, but we have a rest now. Itís good for everybody to relax but at the same time after winning four games in a row itís a pity. Thatís what we have though, we have to enjoy.
"It was important to get this win and to do it by playing well for the majority of the game. Thatís good - but to do it against a team like Brighton, who were playing well, gives more credit to our players.

"I think it's important for me to see the team playing well after I have changed players because then the squad is stronger.
"The message is: They have to compete. They have to realise that the only way to be strong until the end of the season is to have the opportunity to change things and keep the team fresh.
"So they have to compete and they have to be fresh. They have to realise they must keep pushing and put me in a position where every time I need to decide who to play. I am happy with that.
On his goalkeeping selection dilemma:

"It wasnít easy. Karl Darlow did really well the other day and I had to make a decision. I did it to give more confidence. It is always difficult to make those decisions - I was really pleased with Karl anyway, but Matz (Sels) made good saves and had a good game."

On Yoan Gouffran:

"Normally he has to stay now. I said before that he had some offers, but they were not good enough, so I gave him the chance to play because he has been a very good professional.
"So now after playing three games, with three wins and him playing well, then I don't see any change. The only change is if someone comes with massive money, then I will think about it.
"I believe he is happy. When a player can see that you trust him, and we can give him confidence, then normally they are happy with that. Especially if they are playing."
"The only thing is in this case is that, if you have a player of this age, and someone comes and makes him a good offer with a three-year contract and big offer, you have to understand that for him it could be important to leave.
"But in this case the offer was not good enough. I said to him: 'Look, I am happy, keep going, keep working hard and you will have your chances.' And he has had his chances."
On transfers:

"We are trying to do some more business but I can't say too much. He (Achraf Lazaar) was just here watching the game."
ďNow I am a little bit happier, but if we sign what we want and we can do the business that we want to do, then I will be happier.Ē

(At that time Rafa had seen nine new players join his squad. Within 24 hours that figure was 11, following the signings of Ipswich Town striker Daryl Murphy and Palermo left back Achraf Lazaar)

Jonjo Shelvey went in front of the cameras for Sky's goals on Sunday show and said:

"I donít regret going to sign for Newcastle. Itís such a big club to go and play for. I spoke to Steve McClaren on the phone and I just liked every word he said and I just couldnít wait to get up there.
"I drove up through the night and it took about seven hours but I just loved to get up there.
"Itís a massive club - in terms of size Iíd put it on par with Liverpool.
"Itís probably one of the best stadiums that Iíve gone to play every week at. The fans are just great. They get behind you and you seen last night exactly what theyíre like. Theyíve just got the flags back as well in the stadium so itís tremendous.Ē
On Rafa Benitez:

"Heís got such a good pedigree in the game, obviously with where heís been at. He canít be no fool if heís been in charge of the likes of Liverpool and Real Madrid. Heís always won trophies wherever heís gone and thatís something that we want to do at Newcastle.
"At the minute weíre taking it game by game and step by step and hopefully we can achieve promotion. "
On his goal against Brighton:
ďItís about time I scored to be honest with you. Itís been well overdue. I think the stat was that Iíd had about 31 shots without scoring so itís about time I scored.
ďWe played really well. We started off really well and we pressed and got the early goal, and that always helps you against a team like Brighton, especially at home.
ďIt was a great win. Matt Ritchie wanted it (the free-kick) , but I just said Ďno, Iím taking ití. To be fair, it was on his side but I just had a good strong feeling that I was going to score it. As soon as it was given, you can just see me running over to pick the ball up. I just said ĎIím having ití.Ē
Is Mitrovic as crazy as he seems?

ďYeah. I saw him at the airport this morning - he is just a crazy character. Heís a top man though and he looks about 36 even though heís only 21. He is a top man and heíll be a handful in that Championship this year.Ē
On pressure to win the Championship:

ďYouíve got to expect that. Itís our fault that we went down last season and we owe it to the club to get them back into the Premier League.
ďI think thatís why many of us have stayed and are trying to fight for our places in the team to get us back into the Premier League, but youíre playing for Newcastle in the Championship. The club shouldnít be there, so itís time for us now to get us back out of it.Ē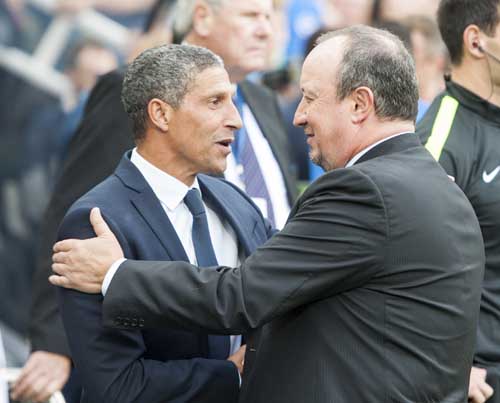 Seagulls boss Chris Hughton:
"It feels like a missed opportunity. They scored from two set pieces and although they hit the bar, we had the better chances. We are disappointed because we felt we had a good chance today and we didn't pose as much of a threat as we should have.

"Itís a tough place, and I think itíll be a tough place for every team that comes here. Possibly Huddersfield caught them at a good time when they were still trying to get into a bit of rhythm.

But I think theyíll be very strong this season and I think itíll be a very tough place to come.

"It doesnít matter what division youíre in, thereís a support here who want to see the team winning. Thatís why thereís still such a massive crowd here. Itís nice for this support, not for me (today) to see the team winning again.
"My time here was completely different. What I had, although we lost a lot of players, was a lot of stability. "We didnít sign so many players, but the players who did it for me were the players who were here and who decided they wanted to be here and do it.

ďRafa is completely different, heís having to mould a team, but what heís able to do is bring in very good players. His acquisitions this summer, heís bought players who will be top players in this division, all good types, quality, workmanlike.
"I didnít think Newcastle were great, but they were very efficient at what they do. Theyíve got good people, good players on the ball and they also showed they can score from set plays.

"A lot of what you saw today in Newcastle is whatís needed in this division. This was a home performance from Newcastle - what youíve got to be able to do is go away from home and be as efficient as Newcastle were.

"Thatís the key in this division - we had to wait until January last season to win a game by more than one goal Ė thatís how tough this league is.
"I think theyíre very strong at centre-half and I think heís built a team here that he thinks can get them promotion and Iím sure theyíll go very, very close.Ē
On the sending off:

"I thought it was harsh. If you watch the second challenge, the keeper kicks Sam. He is not that sort of player."

Asked if he heard home fans singing his name:

"Yes, I did and itís always very nice. Itís a very special place for me. If weíre very close to where Newcastle are at the end of the season, we wonít be too far away."





United beat Albion for the first time in seven attempts in all competitions, since a 2-0 home success in March 1990.

Newcastle won their fourth successive game in all competitions - their best run of form since six consecutive victories in October/November 2014.

There was a fleeting debut from the bench for new arrival DeAndre Yedlin, taking the number of players used in our five Championship games to 20, nine of whom were debutants.

Yoan Gouffran completed a century of competitive appearances for United (80 starts) and came mighty close to increasing his goal tally of twelve.

Vurnon Anita's substitution ended our last outfield ever present record in the Championship this season.

DeAndre Yedlin and Jesus Gamez both made their league bows for the club, the former debuting as a Magpie and the latter following up a first outing against Cheltenham Town in the EFL Cup.

Jamaal Lascelles netted his third Newcastle goal - all of which have been headers - on his 25th appearance in all competitions (16 starts).

Jonjo Shelvey broke his Magpies scoring duck on his 21st appearance in all competitions (15 starts). His last goal came for Swansea City against Bournemouth back in November 2015.

Chris Hughton made a third managerial return to SJP since leaving the club in 2010 and was beaten again, following a 0-1 defeat for his Norwich City side in the 2012/13 season and a 1-2 reverse for the Canaries in the 2013/14 campaign.

Seagulls @ St. James' - all time:

2016/17 won 2-0 Lascelles, Shelvey
1991/92 lost 0-1
1990/91 drew 0-0
1989/90 won 2-0 Gallacher, Quinn
1985/86 lost 0-2 (FAC)
1983/84 won 3-1 Keegan, Waddle, Beardsley
1982/83 lost 0-1 (FAC)
1978/79 lost 1-3 Shoulder
1961/62 won 5-0 Leek 3, Tuohy, Hale
1929/30 won 3-0 Gallacher 3 (FAC)

Total record against Brighton:
P

W

D

L

F

A

SJP

7

4

1

2

13

5

GG

6

3

1

2

12

8

League

13

7

2

4

25

13

SJP

(FA)

3

1

0

2

3

3

GG/AS

3

0

1

2

1

4

SJP

(LC)

0

0

0

0

0

0

GG

0

0

0

0

0

0

Cup

6

1

1

4

4

7

Tot

19

8

3

8

29

20
Waffle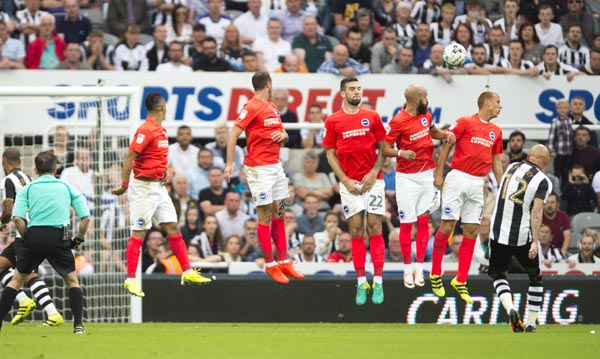 "We're Newcastle and we're gonna win the league".

That chant went up from the Gallowgate End on Saturday night, with United two goals to the good against one of their main promotion rivals and homing in on their fourth victory in eleven days.

Doubtless that will fuel further accusations of mass delusion among Toon fans, but the scoreline and the manner of victory were certainly worthy of celebration by the 49,000 crowd that was the largest in the country on Saturday.

Rather than picking fault with a revitalised fanbase, that song should be seen as joyous affirmation that the "Rafalution" is gaining momentum after a slightly hesitant start to the season - and that the crowd have a vital part to play this season.

Set-piece strikes from Jamaal Lascelles and Jonjo Shelvey accounted for a Brighton side who began the day in second behind Huddersfield Town and had lost just once in their last 23 games.

Chris Hughton's side had one early half-chance when a ball into the United area caused momentary confusion, but still looked to be adjusting to both their task and surroundings when the home side scored a perfectly-timed opener after 15 minutes.

Matt Ritchie's smooth delivery was matched by Jamaal Lascelle's adept header and taking the lead at that point kept the crowd buoyant and boosted the Newcastle side - whose growing confidence was exemplified by Yoan Gouffran's nutmegging an opponent before pinging a 30-yarder off the bar.

Having scored following a free kick, Newcastle then moved deeper into uncharted territory with a short corner routine that had obviously been honed on the training ground. Sadly though, Gouffran collected Vurnon Anita's perfect centre but ballooned his shot when he had time to take a touch.

Making light of the enforced absence of both Dwight Gayle and Aleksandar Mitrovic due to league rules on concussion, United offered good support to sole striker Ayoze Perez and Jonjo Shelvey in particular grew into a more offensive role as the game progressed.

United's early season habit of going in at half time having just conceded is thankfully now becoming an unpleasant memory and Matz Sels dealt with the nearest thing we had to a sticky moment here, parrying a shot from Sam Baldock.

The Magpies goalkeeper then watched an ambitious shot from the same player pass narrowly over his head straight from the kickoff and Brighton threatened again when Toon transfer target
Anthony Knockaert clipped the bar when looking to register his fourth goal in as many games.

Another well-timed occurrence then halted Albion's advance on 55 minutes, Baldock dismissed for his second bookable offence (the first for tripping Perez) catching Sels as he cleared the ball - although the goalkeeper looked to make the best of the situation as he went to ground.

Within ten minutes Shelvey had curled in a perfect free-kick to wrap up the points and although the same player then had another low effort tipped onto the post by Stockdale, United began to adopt a more cautious approach to see the game through rather than go looking for further goals.

Former Magpie Kazenga LuaLua was warmly applauded when introduced as a substitute for the Seagulls and sent a shot skimming wide, as ten-man Brighton attempted to make a game of it.

A fantastic one-handed save from Beram Kayal during added time saw Sels complete a second successive clean sheet on a day of plusses on and off the field for United, who now pause for breath before the conclusion of a hectic transfer window and internationals that follow it.

For a side in obvious transition to take nine points from a possible 15 and occupy fourth spot is a positive return at this point. Today's performance offered both hints of our promise (knocking the ball around with pace and purpose) and reminders of that we're very much a work in progress (maintaining discipline when seeing out games).

To borrow an old slogan from Albion's shirt sponsor, "that'll do nicely", for starters anyway.

Biffa