Date: Tuesday 13th September 2016, 7.45pm.

Venue: Loftus Road

Conditions: Unprecedented

Admission: £34 (£30 in 2009/10)

Programme: £3


Queen's Park Rangers

Newcastle United

0 - 6

Teams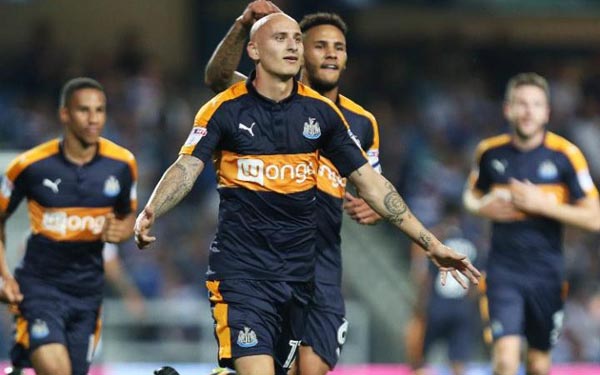 12 mins The opener came as Jonjo Shelvey's shot deflected in off Karl Henry 1-0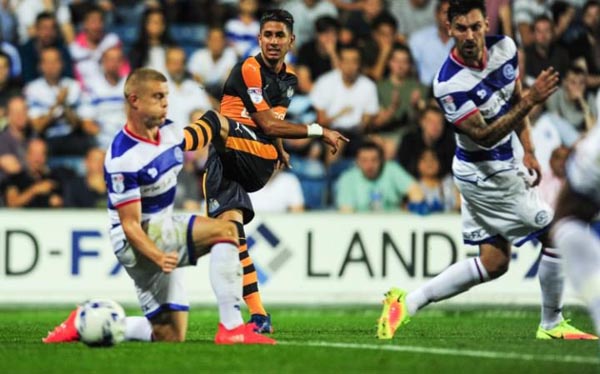 30 mins An Ayoze Perez strike on goal was deflected but he steered the rebound home 2-0

Half time: Rangers 0 Magpies 2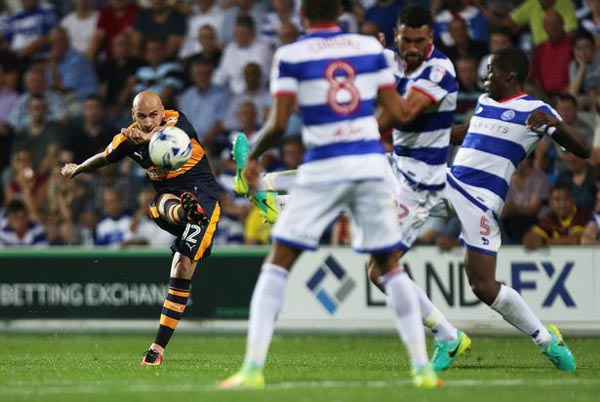 48 mins Jonjo Shelvey hit an unstoppable effort just that flew into the top corner. 3-0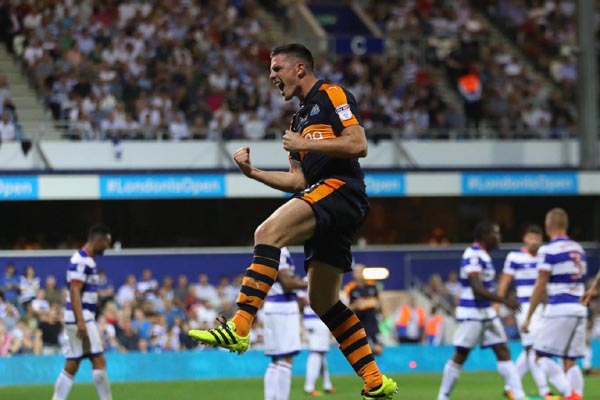 56 mins Beating Mitrovic to the ball, Ciaran Clark headed home Matt Ritchie's corner. 4-0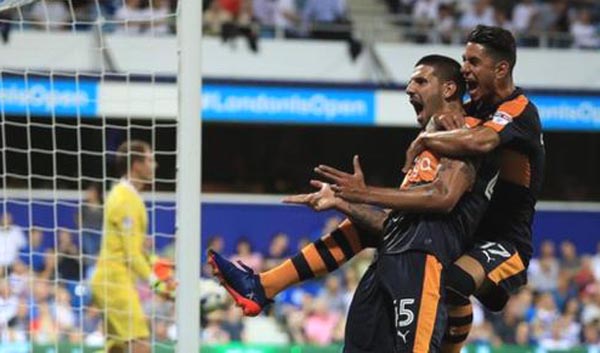 63 mins Atsu's grasscutter was steered home by Aleksandar Mitrovic . 5-0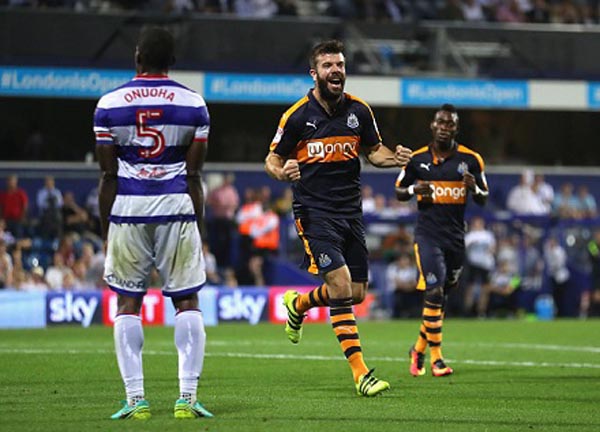 79 mins The rout was complete when Grant Hanley poked home his first for the club. 6-0

Full time: Rangers 0 Magpies 6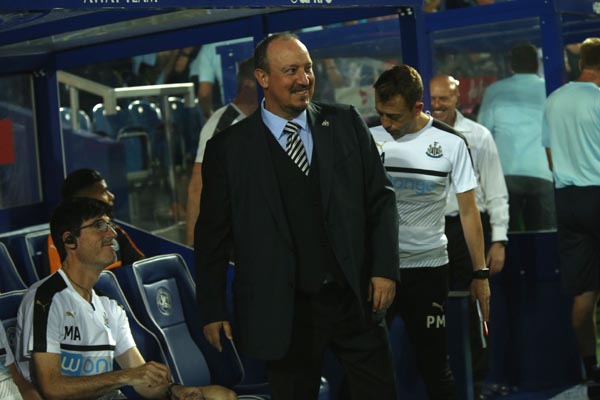 A very merry manager

Rafa Benitez commented:

"We can still improve. The team was playing well, everybody was pushing and working hard, but you always make some mistakes.

"The main thing for us was to get the three points so we could leave our fans happy. We also managed to get the clean sheet.

"We now have to show we can concentrate in every game. It doesn't matter if we score six goals, we get three points in the end. Now have to concentrate on the next game and not lose that concentration.
"We have to be keep working hard. And will say it again, I am pleased with them because the way they train and work everyday puts me in a difficult position to decide the team.

"Mitrovic did well but so did Ayoze around him and the wingers and defenders. The goalkeeper did well too and everybody who came off the bench. Everybody is pushing and to have this problem of Mitrovic, Ayoze, Gayle or Murphy is a good problem every game.

"It is not easy to keep everybody happy - hopefully, we continue winning and if we have to change players they will understand it is for the good for the team.

"I donít think we played well in the first two games but we werenít as bad as people said. They said we deserved to lose, I donít think so. But we canít change that.

"We had a difficult game away at Bristol and it showed sometimes you can win without playing really well. At QPR we had both things, we played well and got the result.
"Maybe against Fulham or Huddersfield we could have got a draw and it would have been totally different.

"You have to do things well, look forward and try to improve your team...we are a new team and we have to bring in new players. You have to keep working with them and understanding them.
"To play at the level we did at QPR was quite positive. They were quite strong and started the game with intensity. It was very warm out there, though.
"When we scored the third goal, I think mentally that moment killed them more than physically.
"After that, we were passing the ball well. When you are doing that and keeping the ball it gets more and more difficult for the other team.
On Jonjo Shelvey:
"He worked very hard over the summer to be ready. He didn't start in the team and maybe he thought it would be tough for him this season, but it's the same message for everyone.

On improving the goal difference:
"You never know. Sometimes you have to rely on it, but the main thing was to get three points and we are happy with that."

Ex-Smoggie Jimmy Floyd-Hasselbaink said:
"Some honesty has been said in the dressing room. Of course you have to be honest and truthful with each other after that. But the main thing is that we are together and that we want to move on and put it right.

"Newcastle are a good side and have a striker in Mitrovic who cost £15m, Shelvey cost £12m, Matt Ritchie £11m - and I could go on, but I don't want to make excuses. There were things that happened out there that I wasn't happy with.

"We were very stretched and it was easy for them to counter-attack us - and it's very dangerous when they they are able to do that. It was easy for them to get in behind us when though we were playing deep.

"It's hard to take, but I must say that Newcastle are a great team with big players and you could see that."

United's biggest away winning margins:

1907/08 Fulham won 6-0 (Anfield) (FAC)
1912/13 Everton won 6-0 (D1)
1927/28 Manchester United won 7-1 (D1)
1931/32 Southport won 9-0 (Hillsborough) (FAC)
1962/63 Walsall won 6-0 (D2)
1993/94 Notts County won 7-1 (LC)
2016/17 QPR won 6-0 (Championship)

It gives us great pleasure to confirm that this is our biggest ever away win in London and the first time we've ever scored six goals in an away game in the capital. Stroll on!

Newcastle recorded their sixth consecutive victory in all competitions (five in the league), their best form since a similar return in October/November 2014.

They also made it five games since conceding a goal - it's now 495 minutes since Reading's Garath McCleary netted from the penalty spot - beating a 488 minute run set in October/November 2014,

Our current tally of 495 minutes is the longest we can uncover since a 563 minute shutout that was achieved during March/April 1982.

Rafa Benitez has now seen his side win their last three away games, our best league sequence on the road since concluding the 2009/10 Championship season with five successive away victories.

Christian Atsu made his Magpies debut from the bench (becoming our first ever Ghanaian), while there were first goals in our colours for defensive duo Ciaran Clark and Grant Hanley.

United's 16 Championship goals so far have come from no less than 11 scorers: Clark, Gayle, Gouffran, Hanley, Hayden, Lascelles, Mitrovic, Perez, Ritchie, Shelvey, Yedlin. Our last second tier season saw 17 different players contribute to an eventual total of 90.

(Re: that 2009/10 season, our highest margin of victory away from SJP was 4-0 at Ipswich).

A statistical quirk that we cannot claim credit for is that United have never lost the second half of any of the 18 league and cup games since Rafa Benitez took over as manager.

Mags v R's @ the Bush - all-time:

2016/17 won 6-0 Shelvey 2, Perez, Clark, Mitrovic, Hanley
2014/15 lost 1-2 Riviere
2012/13 won 2-1 Ben Arfa (pen), Gouffran
2011/12 drew 0-0
2009/10 won 1-0 Lovenkrands
1995/96 won 3-2 Ferdinand 2, Gillespie
1994/95 lost 0-3
1993/94 won 2-1 Clark, Beardsley
1988/89 lost 0-3
1987/88 drew 1-1 P.Jackson
1986/87 lost 1-2 Goddard
1985/86 lost 1-3 Gascoigne
1984/85 drew 5-5 Waddle 3, Wharton, McDonald
1982/83 lost 0-2
1981/82 lost 0-3
1980/81 won 2-1 Hibbitt, Boam
1979/80 lost 1-2 Ferguson
1977/78 won 1-0 Robinson
1976/77 won 2-1 Barrowclough, Nattrass
1975/76 drew 0-0 (FAC)
1975/76 lost 0-1
1975/76 won 3-1 Macdonald, Burns, Nulty (LC)
1974/75 won 2-1 Tudor, Burns
1974/75 won 4-0 Macdonald 3, Tudor (LC)
1973/74 lost 2-3 Moncur, McDermott
1968/69 drew 1-1 Foggon

Full record v QPR:
P

W

D

L

F

A

SJP

22

12

3

7

31

29

LR

23

9

4

10

34

38

League

45

21

7

17

65

67

SJP

(FA)

1

1

0

0

2

1

LR

1

0

1

0

0

0

SJP

(LC)

0

0

0

0

0

0

LR

2

2

0

0

7

1

Cup

4

3

1

0

9

2

Tot

49

24

8

17

74

69
It seems pertinent to mention the 5-5 game here in September 1984, when we led 4-0 at half time, having scored four times in 39 minutes. Tonight we managed it in 31 minutes. Since then we've scored four goals in one half away at Notts County in the League Cup (in 26 minutes, won 7-1 in October 1993) and the mackems in the Premier League (in 27 minutes, won 4-1 in April 2006).

Scoring four goals in one half away from home is rare, but our record tally is five.

QPR suffered the heaviest league home defeat in their 96 year history - and the biggest home mauling in any competition since Arsenal scored six without reply in the FA Cup during 2001.

Waffle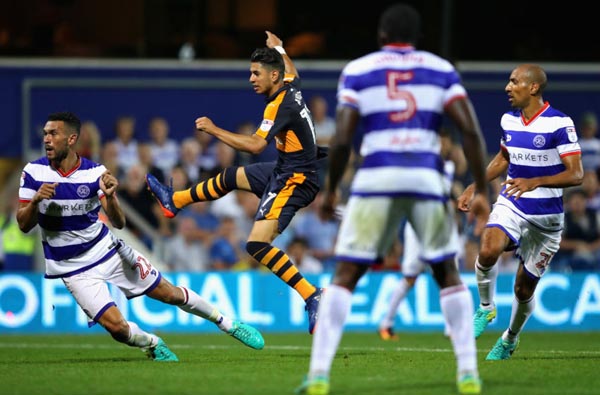 Forty days and forty nights since losing at nearby Fulham, famine turned to feast for United as they made a triumphant return to West London on Tuesday.

A burst water main caused disruption near Loftus Road, but it was QPR who found themselves swamped by a tidal wave of a different sort as Newcastle went goal crazy, a totally professional performance that annihilated the hapless home side.

Scoring six times to register their biggest league win on the road for over half a century, only an offside flag and the School End crossbar (twice) prevented United from racking up the largest away success in the entire history of the club.

An incredibly one-sided game in stifling temperatures - it was 26 degrees at kickoff - saw manager Rafa Benitez once again rotate his side, making four changes from last Saturday's starting lineup.

Out went Chancel Mbemba, Jack Colback, Momo Diame and Dwight Gayle, with Ciaran Clark, Isaac Hayden, Ayoze Perez and Aleksandar Mitrovic rotated in - Mbemba, Gayle, Daryl Murphy, Achraf Lazaar, Jesus Gamez not even making it on to the bench.
Those changes took just 12 minutes to take effect when Jonjo Shelvey's shot deflected off Karl Henry to put United ahead, having had an earlier Perez effort disallowed for offside.

The Spaniard then saw his 30th minute strike on goal deflected but was able to steer the rebound home to give United a deserved 2-0 interval lead against an R's side who had lost former Magpie James Perch to a knee injury that saw him stretchered off after just 18 minutes.

Preferring to soak up pressure rather than press on in the second half at both Bristol City and Derby County, Rafa's lads couldn't be accused of that here as they renewed their attacking with vigour (and would go on to register 29 shots in total -12 on target).

Shelvey's unstoppable effort just three minutes after the interval then set the tone for further punishment before Mitrovic's header soon after rattled the crossbar.

Ciaran Clark nodded home Matt Ritchie's corner on 56 minutes for 4-0 - replicating our best-ever victory here - and a fifth wasn't long in arriving, an onside Mitrovic almost apologetically steering home a low shot for his tenth goal in our colours.

United's biggest away success in any competition since a 7-1 League Cup mauling of Notts County at Meadow Lane in 1993 was then rounded off by Grant Hanley's first for the club on 79 minutes.

Matching six goal margins at Everton in October 1912 and Walsall in September 1962, United then came agonisingly close to rewriting the history books when substitute Christian Atsu's shot struck the underside of the bar - the debutant having instantly dazzled with his pace and agility, quite literally leading the disconsolate home players a merry dance.

Full time saw the expected celebrations - with most of those home fans still in the ground joining in the applause - while ever the perfectionist, Rafa took time to demonstrate a defensive tweak to captain Jamaal Lascelles as the pair left the field.

A 0-1 loss at Brighton for leaders Huddersfield Town saw United move to within a point of the Terriers, while Barnsley's eye-catching 4-0 win at Wolves left them third on goal difference.

Almost inevitably, there were post-match mentions of the 5-5 draw here in 1984, when we led 4-0 but ultimately scraped a point. However there was never the remotest chance of a repeat: never mind five shots on target, the R's hardly mustered that many visits into our area....

What a night - and payback for all those other ones when the train/bus broke down, the pub really was home fans only and United's performance made one hanker for a restricted view seat. Enjoy.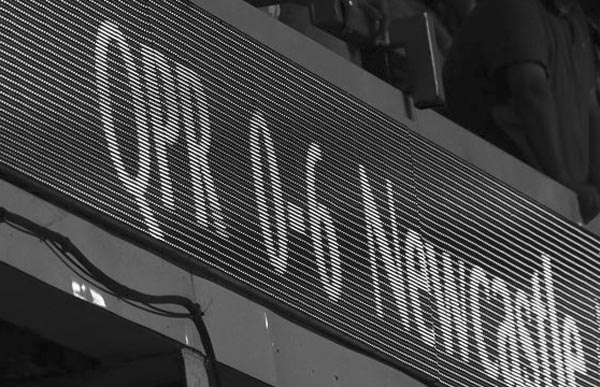 Biffa