Date: Saturday 17th September 2016, 3.00pm

Venue: St. James' Park

Conditions: disjointed





Newcastle United

Wolves

0 - 2

Teams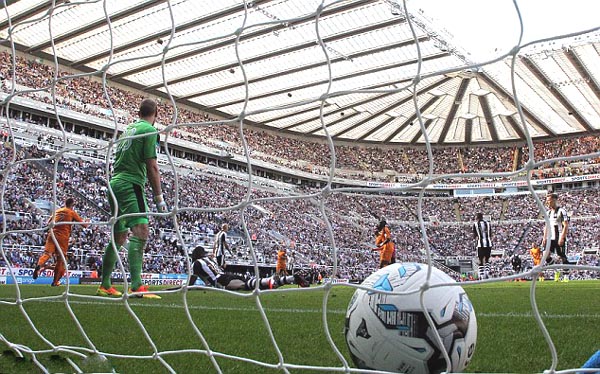 29 mins Jon Dadi Bovarsson crossed from the right and Chancel Mbemba beat Helder Costa to the ball but buried a close range header in his own net at the Gallowgate End. It's not the first time our DR Congo defender has made a complete hash of what looked a simple header, but until this point he'd ridden his luck. 0-1

Half time: Magpies 0 Wolves 1
62 mins Ayoze Perez lost possession in his own half to Costa, who stepped forward and curled his shot home. On first sight it looked to be a well-judged effort that eluded Matz Sels but reviewing the footage suggests the 'keeper may be a "little disappointed" that it beat him. 0-2
Full time: Magpies 0 Wolves 2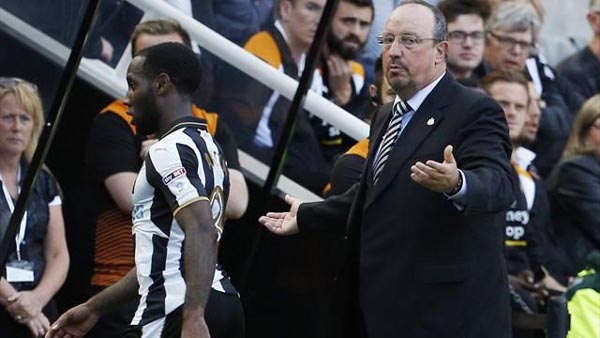 Rafa said:
"I didn't expect to start the game as we started. We started the game making mistakes. The own goal was worse as it was when we had more control.

"It gave them the opportunity to believe and keep working hard. The second goal was the same. It was another mistake.

"They (Wolves) were organised and worked hard. We were making the wrong decisions. Our football decisions were wrong and we put ourselves under pressure.

"I donít think the players were carried away after Tuesday Ė they knew how important it was to be concentrated and do the right things. It is more about the decisions they made.
"The football decisions were wrong, and we put ourselves under pressure. We have to analyse what went wrong now and try to correct things as soon as possible.

"We are not very happy now, but we have to concentrate on the next game and try to do things in the way we were doing things before.

"In English itís very difficult for me to express but Iím really, really disappointed because we are working hard on trying to do the right things.

"When you see the team play so well (at QPR) and how hard they worked in training, to come here and start making mistakes from the beginning, and do the things you tell them they cannot, itís a big disappointment.
ďWe have analysed some games here before and we know our team Ė our strengths and weaknesses.

"You are expecting that every week we will be improving little things and that the team will be stronger and stronger.
ďWhen I said the other day there was plenty of room for improvement I think some people were surprised, but you can see now we have to improve.
"We have players with experience in the Championship and a lot of players have been asking me about the Championship, two games a week, they know itís like this.

"Itís just an issue that our football decisions have to be right and we were making mistakes from the beginning.
"We were really too square at times, then we scored an own goal, it was unbelievable. We were not playing at the level we are used to playing.
"The second half we started a bit better but after that we made a lot of mistakes. We made our own mistakes, our own problems.
"You know (days like this) will happen but you donít expect too many. Sometimes it can happen so the main thing is to learn quickly from these things and try to put them right.
"You know your players. In different types of games you have to see the reaction of different players. You are learning every week about different players and you have to make your team selection after that,
"But itís a reminder for everyone - for us, for players, for fans, for everyone Ė that we have to stick together until the end because it will not be so easy.Ē

On Anita's red card:
"It was not even a foul - it was a surprise. I donít know if we can appeal it because I think everybody can see. Hopefully we wonít lose him for three games. We will see."

Wolves boss Walter Zenga:
"I'm delighted because we prepare this game to show that the last 15 minutes in the last game was an accident.

"We have to follow the philosophy that what's done is done and we have to continue in our confidence in our job.

"Especially here in Championship you play Saturday-Tuesday-Saturday-Tuesday and it's very important to react (to a defeat) or confirm (after a win).

"I think this is what everybody wanted to see, the reaction. Even the players they wanted to see for themselves, to show the last 15 minutes of Barnsley was a shock for everybody.

"The spirit of the team, how they approach the game, how they start the game, how they play, is the big answer to everybody.

"Playing in this stadium in front of 52,000 fans against one time that came from five victories in a row, four games without receiving a goal and the last games was 6-0 for them and 0-4 for us - the approach was very important.

"This is my satisfaction about today. I didn't expect that all the fans come from Wolverhampton to follow us and this was something we have to give back to them, something very important.

"In the 90 minutes I'm satisfied about the team. And they're satisfied because we got three important points."


United conceded their first goal in 524 minutes of league and cup football.

In fairness we could have seen this defeat coming, after the scoring excesses of midweek.

Here's Tuesday's stat about record away victories we posted after QPR:

1907/08 Fulham won 6-0
1912/13 Everton won 6-0
1927/28 Manchester United won 7-1
1931/32 Southport won 9-0
1962/63 Walsall won 6-0
1993/94 Notts County won 7-1
2016/17 QPR won 6-0

And here's the subsequent game NUFC played:

1907/08 Bolton (a) lost 0-4
1912/13 Sheffield Wednesday (h) won 1-0
1927/28 Derby County (h) won 4-3
1931/32 Sheffield Wednesday (a) lost 0-2
1962/63 Leyton Orient (a) lost 2-4
1993/94 QPR (h) lost 1-2
2016/17 Wolves (h) lost 0-2

In a similar vein, here's a few more high/low combos:

The last time we scored six before Tuesday evening was against Norwich City last season - followed by a 0-3 loss at the mackems.

Our biggest winning margin of modern times was 1999's 8-0 home win over Sheffield Wednesday - followed by a 2-3 loss at Leeds United.

United's previous Championship season in 2009/10 included a 5-1 home rout of Cardiff City - followed by a 0-3 loss at Derby County.

The promotion and title-winning season of 1992/93 featured a 6-0 demolition of Barnsley at SJP followed by a 0-1 loss at Wolves.

Wolves in Toon - last 10:
2016/17: lost 0-2
2011/12: drew 2-2 Cisse, Gutierrez
2010/11: won 4-1 Nolan, Shola Ameobi, Lovenkrands, Gutierrez
2003/04: drew 1-1 Bowyer
1992/93: won 2-1 Kelly 2
1991/92: lost 1-2 OG(Madden)
1990/91: drew 0-0
1989/90: lost 1-4 Brock
1982/83: drew 1-1 Wharton
1978/79: drew 1-1 Withe (FAC)
Full record against Wolves:
P

W

D

L

F

A

SJP

42

23

10

9

96

54

M
41

6

10

25

40

81

League

83

29

20

34

136

135

SJP

(FA)

2

0

2

0

3

3

M/H/LR

7
1
1
5
7
13

SJP

(LC)

0

0

0

0

0

0

M

0

0

0

0

0

0

Cup

9

1

3

5

10

16

Tot

92

30

23

39

146

151
Chancel Mbemba's own goal was the first registered by a Newcastle player since Steven Taylor against AFC Bournemouth at SJP back in March 2016.

Waffle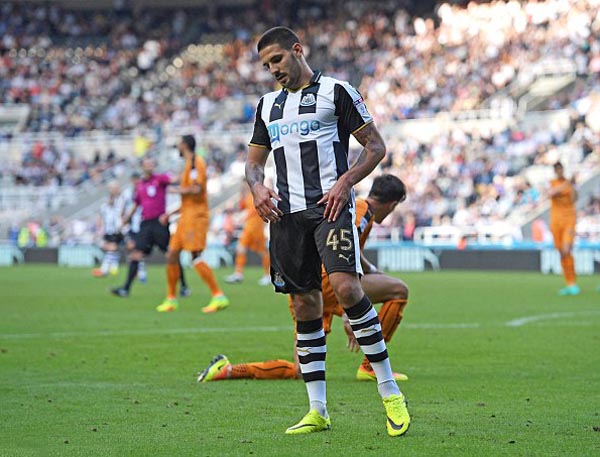 Newcastle's six match winning run came to a juddering halt at a sold-out St.James' Park on Saturday, when almost everything that could go wrong did so.

Falling behind when Chancel Mbemba headed past his own 'keeper, United conceded again midway through the second half when slack work by Ayoze Perez allowed Helder Costa to fire home.

And Magpie misery was completed two minutes from full time, when Vurnon Anita received a straight red card for a tackle that was more mis-timed that malicious.

Making three changes from Tuesday's 6-0 win at QPR, Rafa Benitez called up Chancel Mbemba, Momo Diame and Dwight Gayle for Ciaran Clark, Yoan Gouffran and Aleksandar Mitrovic.

The warning signs were there for a sluggish United after just nine minutes, when an epic scramble in and around the box ended with Icelander Jon Bodvarsson pinging his shot off the crossbar.

It took until midway through the half for the home side to threaten at the other end, Karl Ikeme equal to a Perez effort. Matt Ritchie then just failed to get on the end of a sweeping move involving Perez, Paul Dummett and Gayle before the Scots international crossed for Gayle to miscue.

Behind to Mbemba's own goal just before the half hour, the lack of any response from Newcastle in the remainder of the half made changes look inevitable, but an unchanged side returned after the interval - and contrived to be even more uniformly dreadful.

Failing to make any impact on a defence that towered above them, the Magpies had shown no upturn when Perez lost possession in his own half to Costa, who curled a 62nd minute shot in to evoke memories of Grimsby's party-pooping Jim Dobbin back in 1992.

That prompted the arrival of Atsu and Mitrovic, with Hayden removed, along with the frustrated Ritchie - who looked in danger of second booking. Bovarsson then turned on the edge of the box and sent a shot whistling over the bar, before a rare positive moment saw Shelvey shoot just wide.

With fourteen minutes to play and thoroughly irritating referee Tim Robinson making ever more random calls, Sels was unchallenged as he came for a routine cross but looked mighty close to palming it into his net after some impromptu juggling at his near post.

A point could perhaps have been salvaged had Mitro kept his head a minute later when through on goal, lobbing the advancing Ikeme rather than brainlessly blasting the ball at him. That lack of composure or striking instinct though summed up his bone-headed display; needless fouls and laughable attempts at heading the ball offering no threat whatsoever.

Coupling that to the fitful contributions of Perez, Gayle and Diame, the ball spent so little time in and around the Wolves box that there was nothing for fans to cheer - in stark contrast to Tuesday.

The final disaster saw the 87th minute dismissal of Anita after a firm tackle on substitute Cavaleiro - preening referee Robinson again taking centre stage and putting the tin lid on an awful display that concluded with booing that would have been more audible had thousands not already flounced off.

Pacesetters Huddersfield Town returned to winning ways with a 2-1 home victory over QPR, but a 1-2 win for Reading at Oakwell meant that Barnsley missed the chance go second at our expense.

Today was classic Newcastle, building up their fans by winning away, only to fluff their lines on home turf in a manner that has frustrated crowds for decades. It's hard to believe we'll post such a collectively bad display again this season, but this was a massive reality check for those on and off the field who had started to believe the hype - and maybe no bad thing for that reason. Onwards.

Biffa