Date: Saturday 24th September 2016, 5.30pm. Live on Sky Sports

Venue: Villa Park

Conditions: Mildly frustrating.

Admission: £35 (£41 in 2015/16)

Programme: £3.50

Aston Villa

Newcastle United

1 - 1

Teams
28 mins DeAndre Yedlin was sent down the right and his cross looked to have found Dwight Gayle but Tommy Elphick was first to the ball and sliced it past his own 'keeper Pierluigi Gollini for an own goal at the Holte End - an absolute Boon for the Magpies..... 1-0
Half time: Villans 0 Magpies 1
88 mins An entirely unnecessary and brainless back heel from substitute Aleksandar Mitrovic gave Villa possession. An unmarked Aaron Tshibola then headed Jordan Ayew's corner kick in off the post as Matz Sels totally lost his bearings. 1-1

Full time: Villans 1 Magpies 1
Rafa Benitez commented:

"We were so dominant in the first half we could've finished the game and now we're talking about another thing. That's football, you have to take your chances and we didn't do it.

"We made some mistakes defending in the second half and we have to give credit to them but, for me, the positives were the first half and the negatives were the mistakes in the second half and that we allowed them to stay in the game.

"We had a lot of chances, so many clear chances we could finish the game but in the second half we have to defend a little better.

"It's key for me to be consistent and we have to keep calm and work hard. You could see a great team in the first half creating a lot of chances but the final score means we didn't take our chances, not that the team wasn't good enough in the first half."

On Cheick Tiote and whether he's set to leave:

"To be fair, I still donít know. We knew we had a problem in the middle because Jack (Colback) had a little problem in the last training session and we didnít want to take a risk.

"So we decided to bring in Cheick. He is training really well. You could think maybe he wonít have the match fitness, and we knew if we did have to use him it could be no longer than 15 minutes. He did well.

"The transfer window is still open in the UAE. If somebody comes in with an offer we will analyse it. If not, I am happy because he is a competitive player.Ē

Villa boss Roberto Di Matteo said:

"I said let's just put them under pressure and lets ask some questions.
"We changed the formation a little bit as well and managed to get more of a hold of the ball and created some real problems for Newcastle. I really thought that towards the end we would have the opportunity to win the game as well.
"We had plenty of chances and we got into very good positions. Just the last pass was missing, but there was somebody at the end of the last cross.
"It's five times that we've hit the woodwork so sometimes you do think it would be nice if they go in but it doesn't seem to be at the moment. We just have to keep working and improving and I'm sure that sooner or later those will go in.

"I think it was more a question of being more positive on the ball and really controlling the ball better in the second half. I'm trying to find a solution for our team that suits us best and that gives us opportunities to win.
"We've drawn a lot of games and we need to be able to transfer those to wins rather than draws.
"We are unbeaten at home and it was a great comeback from the team as well, a great spirit that we showed. I think at the end if there was one team that was going to win it was us.
"We showed it against Forest as well, just that little bit of link at the end that is missing from us to win, so we keep working hard on it and hopefully that win will come soon."
About ending their habit of conceding late goals:
"I really hope so, against Forest we turned the game around but unfortunately we conceded an equaliser. Today we got it back and pushed on to find the second. There's certainly a degree of belief that we're still in the game and can win.

"Our challenge is to turn the draws into wins because we have drawn too many games and that's what the table reflects."

About the absent Jack Grealish:
"We've fined the boy and he was suspended for today's game. It's not the first time but he needs to learn from the past and the only one who can do that is himself. He needs to make the right decisions.

"He's 21 now and needs to understand what kind of career he has ahead of him. as long as he does what he's supposed to do we will treat him like everyone else. every player you have to speak differently to and I have my way to speak with Jack."


A third successive draw on this ground means that United Magpies are unbeaten in their last six visits since a 0-1 loss in April 2011. And since that game we've not lost any of the eleven home or away meetings (five wins, six draws).

Midfielder Cheick Tiote made his first competitive appearance of the season, boosting the number of players we've utilised in all competitions so far to 27.

Tommy Elphick's own goal was the first scored by an opponent in a Newcastle game since Liverpool's Martin Skrtel at SJP back in December 2015.

Rafa Benitez saw his side concede only their second away goal of the season, 403 minutes after their first - another header from Fulham's Matt Smith.

This was Newcastle's first non top-flight league game at Villa Park since 1937.

Toon @ Villa Park - last 25:
2016/17 drew 1-1 og(Elphick)
2015/16 drew 0-0
2014/15 drew 0-0
2013/14 won 2-1 Ben Arfa, Gouffran
2012/13 won 2-1 Cisse, Cabaye
2011/12 drew 1-1 Best
2010/11 lost 0-1
2008/09 lost 0-1
2007/08 lost 1-4 Owen
2006/07 lost 0-2
2005/06 won 2-1 Ameobi, N'Zogbia
2004/05 lost 2-4 Kluivert, O'Brien
2003/04 drew 0-0
2002/03 won 1-0 Shearer
2001/02 drew 1-1 Shearer
2000/01 drew 1-1 Solano
2000/01 lost 1-0 (FAC)
1999/00 won 1-0 Ferguson
1998/99 lost 0-1
1997/98 won 1-0 Batty
1996/97 drew 2-2 Shearer, Clark
1995/96 drew 1-1 Ferdinand
1994/95 won 2-0 Lee, Cole
1993/94 won 2-0 Allen (pen), Cole
1988/89 lost 1-3 Mirandinha (pen)
Waffle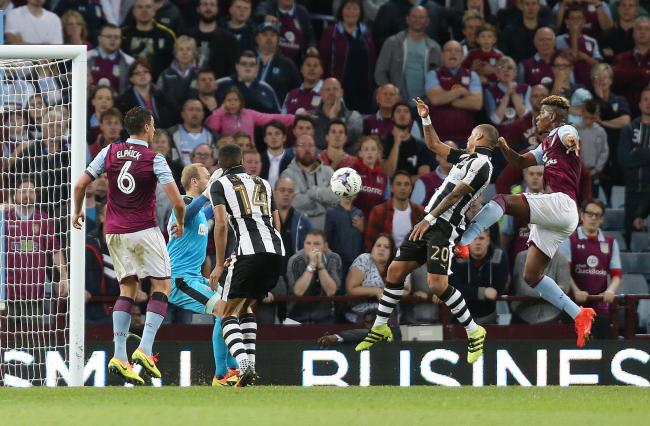 Newcastle somehow managed to snatch a draw from the jaws of victory having missed several chances to secure a win but another shaky performance from goalkeeper Matz Sels transmitted itself to his defence at Villa Park on Saturday.

An own goal had gifted United the lead but Dwight Gayle and Momo Diame should have wrapped up the points before substitute Aaron Tshibola headed a corner past the flapping Sels.

The Belgian stopper's indecision and poor handling was clearly affecting those in front of him with Jamaal Lascelles berating him before waving his hands in frustration towards the bench after Sels completely missed yet another cross in the first half.

But the whole side were culpable for allowing a poor home side any sniff of an equaliser as profligacy in front of goal was mirrored by errors in midfield and some sloppy defending.

Ciaran Clark
should

escape any criticism for a commanding display in front of his former fans
(who half-heartedly booed him)
while

Jonjo Shelvey ran the game
-

especially
during a

first half
in

which
Rafa's side crucially missed opportunities to build up a more substantial lead.

That goal came in the 28th minute when
the fleet-footed DeAndre Yedlin was sent down the right and his cross looked to have found Gayle but Elphick was first to the ball and sliced it past his own 'keeper for an own goal.

Gayle's golden touch seems to have deserted him and when he pinched the ball off the own goal scorer, Elphick, he should have found the net but hit a low shot that was easily saved.

Diame's
second half
miss was possibly worse when he sliced a Shelvey cross woefully wide from six yards with the goal gaping.
Had either of those gone in then it was difficult to believe that Villa would have had any response, but 1-0 proved to be a dangerous lead for the Magpies.

Reshaping his side after the break and returning to a more orthodox back four than a confusing central defensive trio, Di Matteo watched as his side began to threaten more and bring a moribund Villa Park to life.

Mile Jedinak headed in a free-kick but was flagged offside in the 68th minute and then four minutes later Jordan Ayew curled a shot against the post, as he came close to emulating his effort at St. James' Park last December.

Those warnings weren't heeded though and when the home side forced a couple of late corners, Tshibola headed in off the post for a goal that in truth had been coming for some time.

Both sides still attempted to grab a late winner in the six minutes of added time but Villa looked the more likely to achieve that and more balls into the Newcastle box gave cause for concern.

Full time saw the remaining home fans celebrate as if they had won promotion, not merely salvaged a home point and drawn their sixth game out of nine.

In the grand scheme of things, a point at fellow relegation sufferers wouldn't be a disaster provided that we beat them on Tyneside in February. However, to not leave with all three points was ridiculous given that had Gayle and Diame scored, 3-0 wouldn't have flattered us at that point.

But allowing such a poor team to force us back in the final 25 minutes will have worried Rafa and there are still many aspects of his side that need improving. Our spending has brought in some talent but players like Hayden, Gayle and Ritchie can look ordinary at times and their confidence seems a little fragile.

There shouldn't be enough in this league to stop us finishing in the top two but we remain more than capable of shooting ourselves in the foot. Hopefully today's wastefulness won't ultimately prove costly and our first draw of the season will be viewed as a point gained.
Niall MacKenzie