Date: Wednesday 28th September 2016, 7.45pm

Venue: St. James' Park

Conditions: incredible, just incredible





Newcastle United

Norwich City

4 - 3

Teams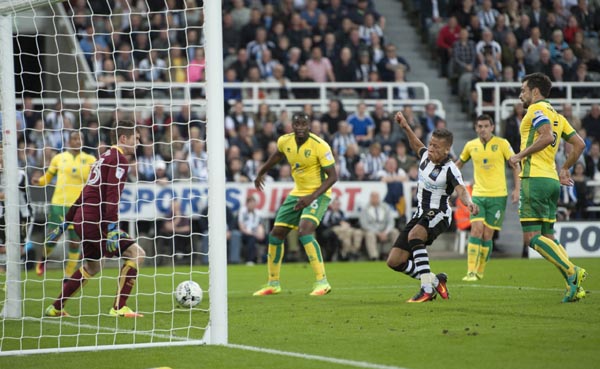 24 mins Jamaal Lascelles strode forward and sprayed a pass to Andre Yedlin down the right flank. He in turn sent Matt Ritchie away past Olsson to centre with the outside of his left foot for Dwight Gayle to poke the ball home at the near post. 1-0

44 mins Yoan Gouffran made a risky challenge in the box to halt the progress of Robbie Brady and Graham Dorrans easily sent Karl Darlow the wrong way from the resultant penalty kick. 1-1

Half time: Magpies 1 Canaries 1
52 mins The visitors broke and the ball was eventually across the box to striker Cameron Jerome, who stepped inside the idling Jonjo Shelvey before curling a fine shot over Darlow. 1-2

69 mins Another City counter attack ended with Jacob Murphy's 25 yard shot from a central area taking a massive deflection off Lascelles and looping over the already committed Darlow. 1-3

71 mins A superb 60-yard forward ball from Shelvey was brilliantly controlled by Gayle before slotting it past McGovern in the Leazes End goal. 2-3
90+5 mins Ritchie's powerful shot was deflected by a home player and reached Yedlin out on the right flank. His cross was met by a Yoan Gouffran header from just outside the six yard box that hit Bennett's thigh en route to the back of the net. 3-3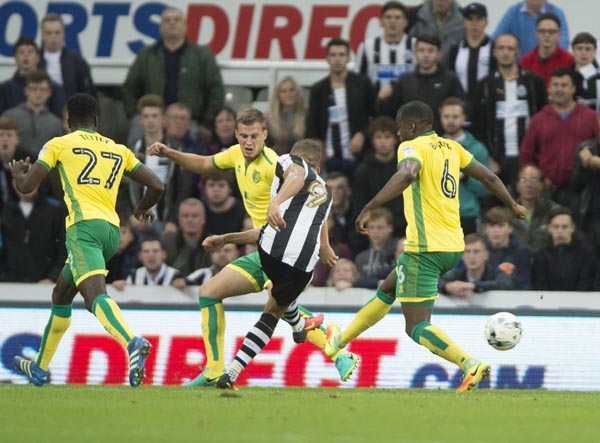 Full force Gayle
90+6 mins Shelvey's long forward punt was knocked down by Aleksandar Mitrovic for Gayle, who chested the ball down and found the back of the Leazes net with a low left footed shot from just inside the Norwich box. Cue absolute bedlam 4-3
Full time: Magpies 4 Canaries 3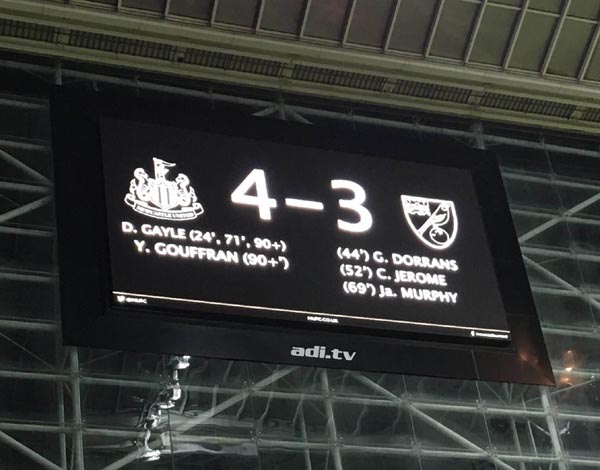 doubleplusgood, as Geordie Orwell would have said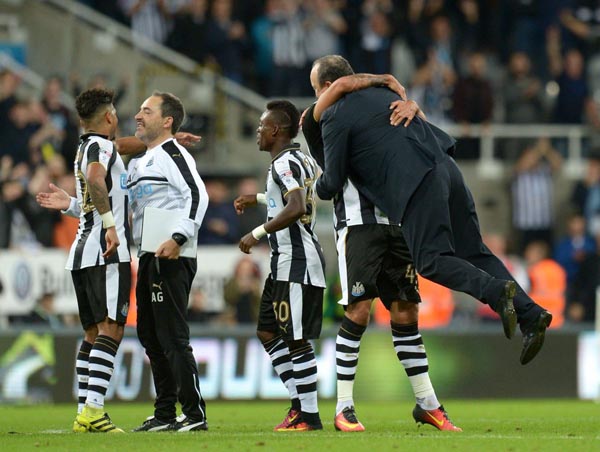 Elevation
Rafa said:
"I did a little fist pump. Normally I am calm.

"To feel the fans here when you are scoring goals and winning the game was amazing. I think that we deserved to win. In the first half we deserved to be ahead easily against a good team. The second half was incredible at 3-1 down.
"We didnít start well in the second half after one or two mistakes but still the team reacted and pushing. They played five at the back and we dropped off a little bit. Then we were in attack.
"And for all the bad luck in the first half we had good luck in the second half. In the end we deserved to win.
"I said the other day that against Aston Villa, he (Gayle) had one or two clear chances and things could have been different. Every striker will have those situations, and I will always try to give confidence to a striker as long as he continues working.

"It is not just about scoring goals. He has been working hard Ė he had chances in the first half Ė and then his goals came in the second half. Iím really pleased for him, and really pleased for the team.
"You never know how important this could be. It is still early, but if you win and you win in this way, it is a boost for everyone. It is a boost for the players and the fans.

"You have to give credit for the players because their work rate and spirit Ė everything you are looking for Ė you could see. You could see all of those things.

"Itís important to show that the team is there, the team is together.
"The fans and the players, we have to find a way that if everything is fine, it will be easier, but if something is wrong, still we have to stick together because it will be really important for us for the future.
"Today as soon as we scored the goal, the fans were supporting the team and the players ran a little bit more.Ē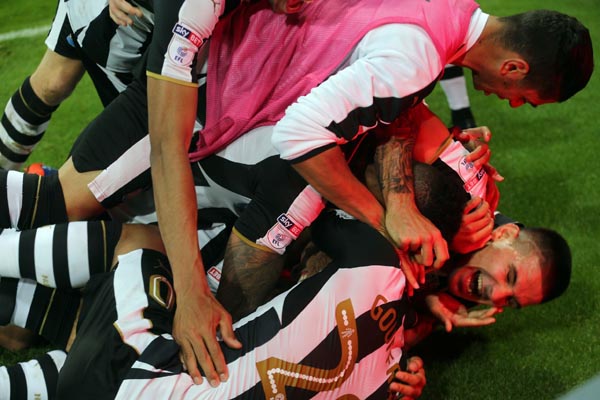 Hat trick hero Dwight Gayle:

"It was mixed emotions all through the game, but it was amazing to win at the end. It's a fantastic feeling.

"We came out all guns blazing and I should have probably had a hat-trick in the first half. We played really well but we came in at half-time 1-1, and we were all a bit frustrated. "Then we went 3-1 down and we were wondering how it had happened.

"The turnaround at the end was phenomenal; the fans were fantastic and right behind us, and they seemed to suck the ball into the goal at the end.'
"After the few that I missed in the first half, I was starting to think that it probably wasn't my day but luckily Matty (Ritchie) put in a great ball across the front and I managed to get on the end.

It's frustrating to miss the chances you should be scoring but at the end of the day it's a good sign that you're getting the chances and it's only a matter of time before they go in. On Wednesday they went in for me and I was pleased to help the team.'
"I think it was a crucial time for us. If we hadn't scored for a little while, I think the game would have died out because they're a very good team and good defensively. But we managed to get one back quickly. It was a great ball from Jonjo and luckily I managed to finish it off. It got us back buzzing and the fans got right behind us and pulled the ball in, as I said before. When we got back to 3-3, we didn't really celebrate too much. We knew the fourth was there if we wanted it.
"I just swung my left foot at it (for his third) and luckily it went in. It's a bit of a blur now - crazy scenes.

"I couldn't breathe; I was getting suffocated by my whole team and head-butted by Mitro. It was a crazy couple of minutes but something I'll never forget. It just shows that we never give up. At 90 minutes, we were 3-2 down but we came away with three points and it's fantastic.

"It's a great sign for us throughout the season that we can come back when maybe we don't look like we can."

Canaries boss Alex Neil:
"Iíll be honest with you that (additional time) has been an issue for us all season long. For whatever reason I would go as far to say in about seven of the games so far we have played four or more extra minutes at the end
"I donít know if itís a new initiative they have going. I actually asked him (the referee), ĎWhere does the six minutes come from?í because I didnít see that. He tried to say this and that but itís just nonsense. What they want to do is keep the going as long as possible.
"However, if they want to play six minutes then we have to defend for six minutes, not for four and a half.

"I have been here twice now and they are probably two of the most bizarre games I have ever been involved in as a player, manager, anything.
"I feel frustrated, disappointed for them (the players) and with them. A whole range of emotions. I am sure they will be frustrated and angry with each other because they will feel they could have defended better themselves. It really was a bizarre end to a game we should have seen out.
"We got ourselves into a position at 3-1 where we should be comfortable and we conceded a goal from a 60-yard straight ball down the middle of our team.

"We didnít defend it properly and once Newcastle stuck two strikers on to try and get down the sides of us I brought another centre-back on.
"From that point we defended relatively well and it is 3-2 with 90 seconds left to see the game out. We donít defend our box well enough. It is as simple as that.Ē

Dwight Gayle's fourth senior career hat-trick was his first in a Newcastle shirt and the first by a Magpie since Gini Wijnaldum's treble against Norwich City at SJP in September 2015.

Gayle now has seven goals from eight Championship starts for the Magpies, while Yoan Gouffran added a third of the season in all competitions and now has 15 to his name from 105 league and cup appearances.

The last Newcastle player to score three goals in a Championship game was Kevin Nolan against Ipswich Town at Portman Road in September 2009.

Our last league ever-present record of the season went by the wayside with replacement of Matz Sels by Karl Darlow. The Belgian custodian played
all of our first nine Championship games.

Latest recorded NUFC goals in recent seasons:

2016/17 Dwight Gayle v Norwich (h) 90+6 (Ch)
2016/17 Yoan Gouffran v Norwich (h) 90+5 (Ch)
2013/14 Yohan Cabaye v West Ham (a) 90+5 (PL)
2011/12 Yohan Cabaye v Blackburn (a) 90+6 (LC)

That 2011 game at Ewood Park is the last occasion before Wednesday night when United scored twice during second half added time - with Danny Guthrie having already netted at 90+3 minutes.

In terms of home goals, Gouffran and Gayle both left their efforts later in proceedings than these:

2013/14 Papiss Cisse v Palace (h) 90+4 (PL)
2012/13 Papiss Cisse v Fulham (h) 90+4 (PL)
2012/13 Papiss Cisse v Anji (h) 90+4 (EL)
2011/12 Jonas Gutierrez v Blackburn (h) 90+4 (FA)
2010/11 Fabricio Coloccini v Wigan (h) 90+4 (PL)

(Goals scored in added time were routinely recorded as 90 minutes until the proliferation of online statistics, meaning that it's impossible to compile longer lists).


Magpies versus Canaries - post WWII:
2016/17 won 4-3 Gayle 3, Gouffran
2015/16 won 6-2 Wijnaldum 4, Perez, Mitrovic
2013/14 won 2-1 Remy, Gouffran
2012/13 won 1-0 Ba
2011/12 won 1-0 Cisse
2004/05 won 2-1 Jenas, Sh.Ameobi (LC)
2004/05 drew 2-2 Bellamy, Hughes
1994/95 won 3-0 Beardsley 2(1pen), Kitson
1993/94 won 3-0 Cole, Lee, Beardsley
1988/89 lost 0-2
1987/88 lost 1-3 Gazza
1986/87 won 4-1 Goddard, Gazza, McDonald, Jackson
1984/85 drew 1-1 Waddle
1981/82 won 2-1 Varadi, Mills
1977/78 drew 2-2 Burns, Kennedy
1976/77 won 5-1 T.Craig, Gowling, Oates, McCaffery 2
1975/76 won 5-2 Gowling 2, Macdonald 2, OG
1973/74 drew 0-0
1972/73 won 3-1 Tudor 2, Guthrie
1964/65 won 2-0 Cummings, Robson
1963/64 won 2-0 Cummings, Iley
1962/63 won 2-1 Fell, Thomas
1961/62 drew 0-0
Full record against Norwich:
| | | | | | | |
| --- | --- | --- | --- | --- | --- | --- |
| | P | W | D | L | F | A |
| SJP | 27 | 17 | 6 | 4 | 58 | 26 |
| TN/CR | 26 | 6 | 9 | 11 | 30 | 35 |
| League | 53 | 23 | 15 | 15 | 88 | 61 |
| SJP(FA) | 0 | 0 | 0 | 0 | 0 | 0 |
| CR | 1 | 0 | 0 | 1 | 0 | 5 |
| SJP(LC) | 1 | 1 | 0 | 0 | 2 | 1 |
| CR | 0 | 0 | 0 | 0 | 0 | 0 |
| Cup | 2 | 1 | 0 | 1 | 2 | 6 |
| Tot | 55 | 24 | 15 | 16 | 90 | 67 |
Waffle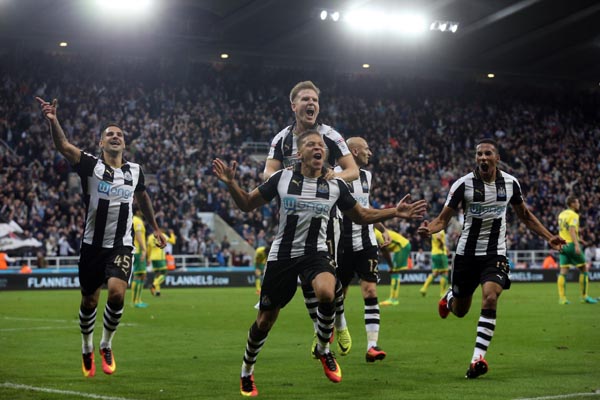 Magpies number 9 Dwight Gayle netted a hat-trick as Newcastle scored twice in added time, turning defeat into victory on a simply staggering night at St. James' Park.

After suffering a late set-back at Villa Park five days earlier, United staged a late, late show of their own to stun a Norwich side seemingly heading for top spot.

Apparently heading for a 1-3 loss that would leave them languishing in ninth United instead ended up in third - a point behind the Canaries and just three off current Championship leaders Huddersfield.

Yoan Gouffran's 95th minute effort had seemingly salvaged a point but then came Gayle's incredible winner to send SJP absolutely wild. It would have been an astonishing ending to any game but to turn the tables on a City side victorious in their previous four outings has the feel of a pivotal moment in this season for Rafa Benitez and his players.

Enjoying a level of domination that even eclipsed the opening exchanges of the recent 6-0 win at QPR, United could have been five goals up before Dwight Gayle broke the deadlock on 24 minutes.

The former Palace striker had three unsuccessful efforts in just six minutes - two saved by visiting goalkeeper Michael McGovern - before Matt Ritchie headed against the crossbar and Jonjo Shelvey drove just wide of the Gallowgate goal.

Without a goal in three starts, Gayle got his reward by poking home at the near post as a City defence including ex-Magpie Sebastien Bassong looked all at sea. As United throttled back their attacking efforts though, some neat and tidy forays upfield by the visitors hinted that the recent tradition of goals in this fixture might just continue.

Despite that though, Norwich had mostly been kept at arms' length and Karl Darlow hadn't been tested on his recall to the side until seconds before the break. At that point Yoan Gouffran collided with Robbie Brady and Graham Dorrans converted the resultant penalty to restore our unhealthy tendency of conceding just before the interval.

Worse was soon to follow after the break though, with striker Cameron Jerome curling home a fine shot over Darlow to put the visitors ahead. And if that wasn't bad enough Norwich got a third when Jacob Murphy's 25 yard shot deflected over the wrong-footed Darlow.

Unbelievably that was enough to send some alleged home fans heading to the exits with over 20 minutes remaining - but United instantly replied through Gayle, who killed a majestic upfield ball from Shelvey before striking it firmly home.

It was game on at 3-2, with the below-par Momo Diame and Jack Colback replaced by Aleksandar Mitrovic and Isaac Hayden, but again the Serb seemed more intent on wrestling than playing and was almost instantly booked for some needless shoving.

Dorrans saw an effort blocked as City looked to seal victory, before what looked like being our major opportunity went begging on 79 minutes - Gayle's rising near-post volley blocked by McGovern.

Mitrovic headed wide as the 90 minutes approached and a third home loss of the season loomed - along with inevitable scrutiny of the tactics, personnel and substitutions that had been deployed by Rafa.

Christian Atsu arrived in place of Dummett at the start of added time as the last throw of the dice, while an improvised clearance from last man back Ciaran Clark to rob substitute Nelson Oliveira maintained ever-dwindling hopes of a point.

Some ridiculous time-wasting antics by City had led to six minutes of added time being allotted and unwisely but crucially wound up the home support - aided by some interaction Martin Olsson and the crowd, who gained a reaction from the Swede after accusations of feigning injury.

Long-term SJP watchers will point to that 12th man factor as being a vital constituent in games like this when they come along - righteous indignation firing up the crowd and spurring the players on to greater efforts. Had Norwich just played it straight they would have won this game and gone top.

Five of those six addedminutes had gone before Gouffran managed to get his head on DeAndre Yedlin's cross for an unlikely leveller that appeared to have produced a face-saving point.

More drama was to follow though and within a minute Gayle sent the ground into raptures as he completed his hat trick.

Pick one from your own personal memory bank: Alan Shearer's treble in the epic 4-3 win over Leicester in February 1997, Mark McGhee's late winner in a 5-4 against the Foxes in January 1990 or Kenny Wharton forcing the ball over the same goal line to see off Fulham 3-2 back in November 1983. And from a previous era, the 4-2 FA Cup defeat of Villa here in 1952 and 1974's infamous Forest 4-3 from 1974 also warrant a mention in dispatches.

Just like Tiote v Arsenal, that's why you never leave.

There was still time for Darlow to deny Jonny Howson in the 99th minute before card-happy referee Peter Bankes ended an enthralling encounter that may just have changed the course of our season.

The Canaries' rotten run on Tyneside continues, losing each of their last six visits and conceding 16 goals in doing so, with ten coming in the last two games. However defeat for Alex Neil's side tonight seemed totally unthinkable until Gouffran and Gayle's fabulous finale.

Glorious, unexpected, ridiculous, Newcastle United.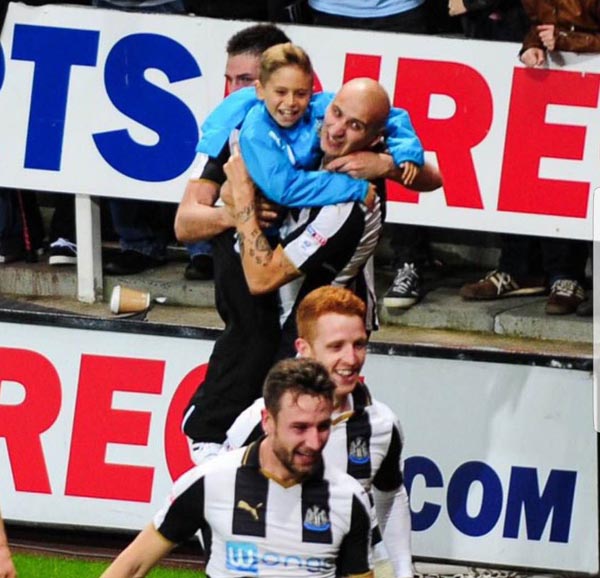 Shelvey and Clark celebrate the winner with a ball boy, while
already-substituted Dummett and Colback join the pile-on...
Biffa