Date: Saturday 22nd October 2016, 3.00pm

Venue: St. James' Park

Conditions: Routine






Newcastle United

Ipswich Town

3 - 0

Teams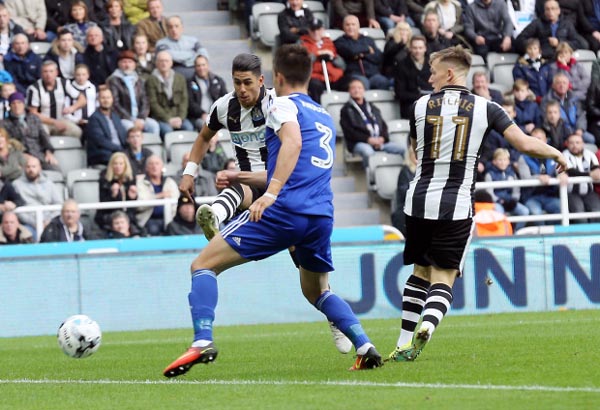 59 secs The quickest goal we've scored since 2004 saw all eleven Magpies including goalkeeper Karl Darlow touch the ball and none of the opposition make contact with it - until Town goalkeeper Bartosz Bialkowski fished the ball out of the Leazes End net.

Jonjo Shelvey's diagonal crossfield ball out to the left flank was the nineteenth pass of the sequence, allowing Paul Dummett to centre with the twentieth, Yoan Gouffran to flick the ball on and Ayoze Perez to hit a controlled volley into the net from just outside the six yard box. 1-0
Half time: Toon 1 Town 0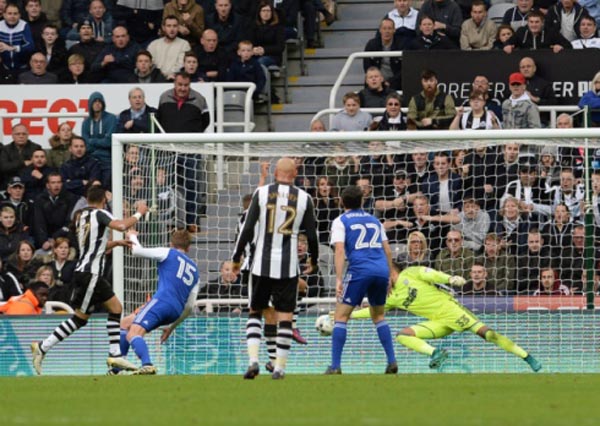 73 mins Jonjo Shelvey was involved again, spraying a pass out to Matt Ritchie on the United right and when the ball was clipped across, Ayoze Perez stylishly smashed it home on the full from level with the penalty spot. 2-0
78 mins Ritchie intercepted a clearance and played it to Perez on the left side of the box. The Spaniard then set up Ritchie who had continued his run to strike the goal of the game with the outside of his left foot. 3-0
Full time: Toon 3 Town 0
Rafa said:
"It's another good win, because it's not easy to win in this competition. We played really well in the first half, we had chances and could have scored more goals but we didn't do it so we had to work hard in the second half.

"It's important to keep confidence high and the only way is working hard. We know every game is difficult and we have to be ready.

"After the second goal we had more control. It was easy at the end but you could see the difficulty we had at the start of the second half.

"When you are top of the table and you are doing well, you have to be careful and make sure that you don't have over-confidence or complacency.
"You can tell the players though, and still sometimes you cannot control everything. They need to be on their toes and they know that if they don't perform well, someone else will be there.
"So I think this positive competition is the key to keep the momentum and keep the team winning.
"Sometimes you have managers that have a good squad, But they try to play the same players all the time - 13 or 14 players - and then little by little you lose the other players.
"So we try to keep everybody as fit and keen as possible. We know keeping 25 to 27 players happy is impossible but, as much as we can, we must keep them all thinking that they could play and they could perform and they could give something."
About Perez:
"It's important for him, he did well and worked hard. I didn't play him in the last game, but he did a good job.

"It's good for him but also good for the team because it means we can change players and they can perform."


Ipswich boss Mick McCarthy:

"We were beaten by the better team, beaten by the champions. If I see a better team than that this year Iíll be surprised. Iíve just spoken to the players, That was one of those days where we couldnít do a lot about it. We tried everything to stop them and to get a foothold in the game.
"To be fair, the one pleasing thing was we kept it at 1-0 for 70 minutes. We gave the ball away from a throw for the second goal, but nevertheless the finish was fabulous. All three of the finishes were fabulous.
"I wonder if weíd have had those chances, or anybody else, would they have scored them? I donít know. They were better than us, they are better than us and theyíll be champions in my view.Ē
"I was the prophet of doom - I didnít want them to have the ball, I wanted us to press, we didnít do that particularly well, we didnít get enough tackles in. If somebody could have put a tackle in and upset their fans it might have been different, but we didnít get anywhere near them.
"I donít know how many passes they had before it ended up in our net. It was difficult to stop.Ē
"The players are all knackered, theyíve all tried their nuts off, theyíve worked really, really hard and put a shift in like they do every week for me. I canít really say anymore. They are a very good team, they played very well and they deserved to win and we got what we deserved, which was nothing.
"I think we got in their half a couple of times didnít we? Itís not a consolation. I know my lads have worked hard and, having kept it at 1-0 in the first half, in the second half we got to 70 minutes and the crowd are just getting a little bit fractious with them.
"Everybody knows you can then nick one from a corner kick a free-kick, a mistake. The disappointing thing is that we didnít keep it at 1-0 a bit longer an give ourselves that chance of nicking something.
"Leon (Best) dislocated his finger, but I wanted Didzy (David McGoldrick) on the pitch and I wasnít going to have the two of them on. I didnít think I was going to lose anything by having him on, only gain something by giving him 45 minutes. I thought he did alright and will be a lot better for it."

NUFC's q
uick starts - modern era:


Scoring in two minutes or less:

Aug 1997 Sheff Wednesday (h) Tino Asprilla
Sep 2002 mackems (h) Craig Bellamy
Feb 2006 Aston Villa (a) Shola Ameobi
Apr 2006 Spurs (h) Lee Bowyer
Sep 2007 West Ham (h) Mark Viduka
Feb 2009 West Brom (a) Damien Duff
Aug 2009 Crystal Palace (a) Kevin Nolan
Feb 2011 Birmingham City (a) Peter Lovenkrands
Jan 2013 Everton (h) Papiss Cisse
Nov 2013 Norwich (h) Loic Remy

Scoring in one minute or less:

Jan 1996 Arsenal (h) David Ginola
Jan 2003 Manchester City (h) Alan Shearer
Mar 2004 Charlton Athletic (h) Alan Shearer
Oct 2016 Ipswich Town (h) Ayoze Perez

Ayoze's 17th goal for the club was the fastest scored by a Newcastle player since Alan Shearer's 57 second effort against Charlton Athletic in March 2004. The Spaniard now has 18 Newcastle goals from 88 appearances in all competitions (58 starts).

Matt Ritchie registered his third goal as a Magpie (two in the Championship, one in the EFL Cup). All three have come at home (the new Wijnaldum?) and all three have been at the Gallowgate End.

Newcastle won their tenth league game of the season from 14 played - one more than they managed in the whole of the 38 game 2015/16 season.

M
ick McCarthy as manager v Magpies (@ SJP):

2016/17
NUFC 3-0 Ipswich
2010/11 NUFC 4-1 Wolves
2005/06 NUFC 3-2 mackems
1992/93 NUFC 1-1 Millwall
1991/92 NUFC 0-1 Millwall


Tractor boys in Toon -all-time:
2016/17 won 3-0 Perez 2, Ritchie
2009/10 drew 2-2 Carroll, Ameobi (pen)
2001/02 drew 2-2 Shearer, Robert
2001/02 won 4-1 Shearer 2, Robert, Ameobi (LC)
2000/01 won 2-1 Shearer 2
1994/95 drew 1-1 Cole
1993/94 won 2-0 Sellars, Cole
1991/92 drew 1-1 Quinn
1990/91 drew 2-2 Stimson, Quinn
1989/90 won 2-1 Quinn 2
1985/86 won 3-1 Beardsley, Whitehurst. Gascoigne
1984/85 lost 1-2 Waddle (LC)
1984/85 won 3-0 OG, Heard, Waddle
1977/78 lost 0-1
1976/77 drew 1-1 Nattrass
1976/77 (won 1-0 Barrowclough)*
1975/76 drew 1-1 Nulty
1974/75 won 1-0 Howard
1973/74 won 3-1 Macdonald 2, OG
1972/73 drew 1-1 Macdonald (TC)
1972/73 lost 1-2 Macdonald
1971/72 lost 0-1
1970/71 drew 1-1 Mitchell (FAC)
1970/71 drew 0-0
1969/70 won 4-0 Robson 2, Ford, Dyson
1968/69 won 2-1 Davies 2
1964/65 drew 2-2 Suddick, Anderson

* game was called off at half time due to an icy pitch
Waffle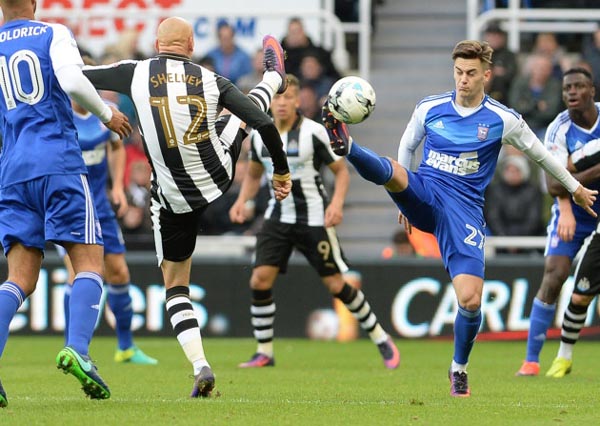 We've previously mentioned the knack of scoring early goals at home this season, while visiting players unfamiliar with the expanse of St. James' Park are adjust to their surroundings.

Failing to do so against Huddersfield left us pointless, but breakthroughs against Reading (20), Brighton (15), Norwich (24) and Brentford (11) all proved to be the platform for ultimate success - an outcome sadly maintained when Chancel Mbemba put through his own goal v Wolves (29).

Even by our recent standards though, today's lightning start was pretty exceptional - meaning that an Ipswich side with just two away goals from six games were lurching towards defeat before some latecomers had even reached their seats. Quite literally gone in sixty seconds.
Despite former Magpie Leon Best grazing the crossbar soon after Ayoze Perez's 59 second opener, a fifth successive win that extended our lead at the top of the table to three points never looked anything other than inevitable against opposition for whom mediocrity was a lofty aspiration.

Leading at such an early stage led to an expectation of an abundance of goals, and had referee James Adcock given a penalty when an onside Dwight Gayle was upended by Bialkowski then an avalanche of Loftus Road proportions could have followed.

However the whistler waved away what looked like cast-iron claims for a spot kick and cast further doubt on his own judgment by failing to book the Newcastle man for diving: an all-too rare example of keeping his cards in his pocket and his whistle out of his gob.

With the Tractor Boys seemingly content to remain one goal adrift and the ground quiet, Rafa's side struggled to build momentum after the break until belatedly clicking and contributing quality strikes from Perez again and then Matt Ritchie to give the scoreline some realism and send another superb attendance away with renewed happiness.

With just a single goal dividing the sides as the final 20 minutes arrived, Christian Atsu was stripped and ready to come on while there was to be a late cameo for Aleksandar Mitrovic - although he hurried down the tunnel after the final whistle as his captain urged the players to salute the fans.

A lack of match fitness following injury had seen Daryl Murphy's league debut for United delayed further and denied him an outing against his former club, while it was Vurnon Anita's turn to step down from the first XI and give DeAndre Yedlin another chance to demonstrate his turn of pace.

Such was the meekness of Ipswich though that virtually any lineup would have collected these points. We'll have more difficult days - and a league and cup double-header against one of the Championship's form teams in the shape of Preston North End may prove rather more testing.

As a certain Spaniard has said in public - and doubtless in private also - the trickiest opponent in this league may well be ourselves, believing that we have a divine right to victory simply because we're the main attraction, with the biggest pulling power.

The feet have been kept firmly on the ground so far, but nothing has been achieved yet - other than a massively encouraging start, raising hopes of a genuine renaissance round these parts. At this stage, that's enough to be going on with - that winning feeling is a nice one though isn't it?

Biffa