Date: Saturday 29th October 2016, 3.00pm.

Venue: Deepdale

Conditions: Combative

Admission: £24 (£20 in 2009/10)

Programme: £3

Preston North End

Newcastle United

1 - 2

Teams
Half time: Lilywhites 0 Magpies 0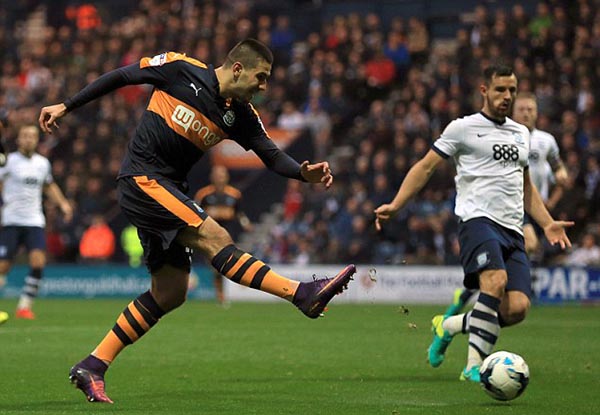 59 mins Matt Ritchie's diagonal forward ball from the United left caught out defender Greg Cunningham, whose failed header helped it on and left him helpleslly sprawled on the turf.

The onside Aleksandar Mitrovic calmly collected the ball before firing a low right-footed effort beyond Chris Maxwell and into the far side of the goal. Mayhem then ensued. 1-0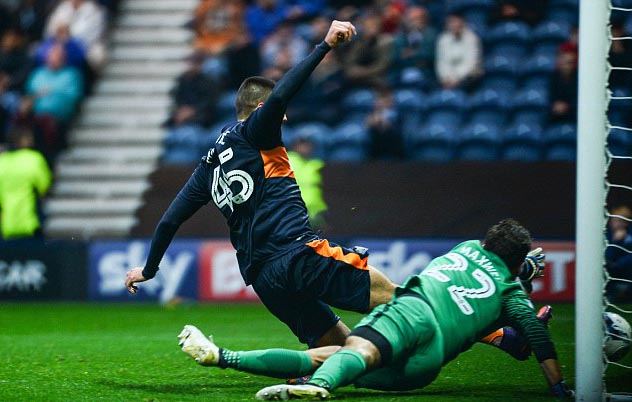 71 mins The lead was doubled when DeAndre Yedlin's centre was met by Mitrovic. His initial header was parried by Chris Maxwell but the Serbian reacted quickest to stab the rebound home in front of the exuberantly celebrating away support 2-0
90 mins Paul Gallagher's forward pass allowed Cunningham space behind Yedlin down the Preston left and his low pull back from the byline deflected off Jamaal Lascelles to beat Karl Darlow at his near post. Jermaine Beckford was adjacent to Lascelles but didn't look to get any touch. 2-1
Full time: Lilywhites 1 Magpies 2
A delighted Rafa Benitez said:

"We can see the team spirit growing and that is the main thing if you want to be strong.

"I am really pleased with the team because we are doing so well away from home.

"We showed great character, we made mistakes, but in the whole game we defended well and played the counter-attack we wanted to play.

"We knew that it would be a tough game, they have beaten some good teams. So we were ready for that and we've been working hard on defence.
"In the first half they were pushing and we couldn't stop the defenders getting it across the box and challenging for the first and second ball.
"In the second half we were much better. We had more space, more possibilities to counter attack and I think we did well until the end, when we had the extra 15 minutes or whatever it was!

"They were pushing and pushing and we were defending and, in the end, the main thing was to get three points and we did it.

"We did well to withstand their pressure and we used our quality to make the difference.

"I am really pleased with the team because we are doing well away - the players showed character and in the whole game we did well defending."
Yedlin tweeted after the game:
"Hard fought battle today.. good to come away with another 3 points.. thanks to the fans for the incredible support
a
nd to whoever threw the coin at me... thanks for the 20 pence."


(The police said they'd be "reviewing CCTV images and any culprits will be dealt with accordingly.")

PNE manager Simon Grayson said:

"We were disappointed with the outcome because we deserved so much more. It could have been one or three more points to the total we have collected from a tough schedule of games.
"There were a lot of encouraging signs, with good work off the ball and a lot of good stuff with the ball. It was a totally different game to when we lost 6-0 at Newcastle in the cup last week.
"Playing Newcastle with 10 men, as was the case at their place, would be a very difficult job for anyone. (Here) we were brave, we went 4-4-2 against a strong team.
"We knew we had to have an intensity with and without the ball and we had that. Although we should have taken something out of the game, we can take heart from that performance.
"You look at Newcastle's two goals, they only came from half mistakes from us but they have the players to punish you.
"I thought our back four was outstanding in the way they contained some good players. The midfield stopped Jonjo Shelvey from playing, all over the pitch you could not fault anyone.
"I'm just disappointed that the players did not get the rewards they deserved."
"The referee said to me at the end if he's got it wrong he will apologise. Well that's no good to us now! I understand it's a tough role to do, but that's a clear penalty there in the last minute.

"Jermaine (Beckford) wouldn't go down if he's got an opportunity like that. It's cost us from getting anything out the game. "It was 100% a penalty - Jermaine got on the wrong side of Hanley and he has gone to kick it without knowing Jermaine is there.
"Hanley kicked his backside and put him on the deck. Callum Robinson's was a penalty as well, he has been pushed in the back. We didn't get the breaks with the opportunity for two penalties. You get those breaks when you're at the top of the division."

About the coin incident:

"You don't like to see anything like that in any football match. Hopefully we can deal with it in the manner it deserves to be dealt with."


A seventh successive United win in all competitions is their best run of form since they managed eight on the bounce during February/March 2005. It matches the seven recorded between October and December 2009.

They've also now gone nine games without defeat in all competitions, something not achieved since an eleven game unbeaten run between August and October 2011.

HT/FT away from home this season:

Fulham 0-1 / 0-1
Bristol C 1-0 / 1-0
Derby C 1-0 / 2-0
QPR 2-0 / 6-0
Villa 1-0 / 1-1
Rotherham 1-0 / 1-0
Barnsley 0-0 / 2-0
PNE 0-0 / 2-1


NUFC in the Championship after 15 games:

2009/10 30 points (W9, D3, L3) F22, A9 1st
2016/17 34 points (W11, D1, L3) F32 A12 1st

Magpies @ Deepdale - Post WW2:

2016/17 won 2-1 Mitrovic 2
2009/10 won 1-0 Nolan
1980/81 won 3-2 Rafferty, Shinton 2
1979/80 lost 0-1
1978/79 drew 0-0
1964/65 lost 0-2
1963/64 lost 0-3
1962/63 lost 1-2 Hale
1961/62 won 1-0 Woods
1960/61 won 3-2 White 3
1959/60 won 2-1 Eastham, OG
1958/59 won 4-3 Franks, White 3
1957/58 lost 1-2 White
1956/57 lost 0-1
1955/56 lost 3-4 Hannah, White 2
1954/55 drew 3-3 Hannah, Milburn, White
1953/54 drew 2-2 Keeble, Milburn
1952/53 lost 1-2 Brander
1951/52 won 2-1 G.Robledo 2
1948/49 lost 1-2 Taylor



Waffle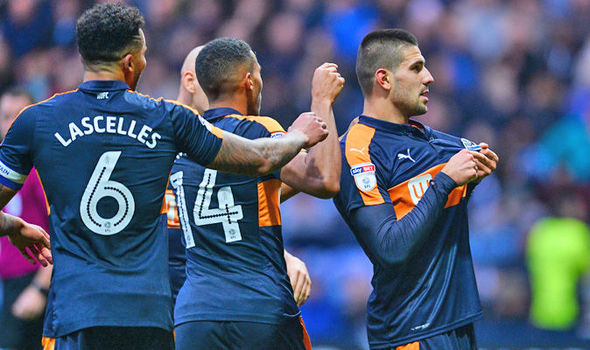 Four days on from our 6-0 humping of Preston, eight of the 22 players who started that cup tie
(two for PNE, six NUFC) reconvened for a rather more engrossing and less predictable league encounter.

The post-match celebrations on the field may once again have involved some Serbian folk dancing, but
Aleksandar Mitrovic's second successive brace was the highlight of a winning Newcastle display that was as much about guts and good fortune as stylish passes and trickery.


Even the most optimistic Tynesider couldn't have expected that the midweek s
troll against the Lilywhites

would be repeated here in Lancashire, with the absence of hamstring victim Dwight Gayle removing the opportunity to test Simon Grayson's first-choice XI in a different manner.


Like previous away
days at Barnsley, Bristol City and Rotherham, Newcastle struggled for any fluency in the first half; Jonjo Shelvey particularly wasteful in possession and the lack of any discernible threat rivaling the Wolves home game for our least effective 45 minutes this season.

Importantly though, North End were kept at arm's length for the most part and their tendency of bombarding our box caused no major panics - save for one stop from Darlow that saw the ball shoot arrow-straight high up into the air before plummeting back to earth and being cleared.

Things began to open up in the second half, with Aleksander Mitrovic seemingly reminded at the interval that his striking attempts needed to be directed towards the ball not the opposition....

He had already shown some finesse in possession before latching on to Matt Ritchie's long pass and shoot United into the lead, adding another 12 minutes later at the second attempt and pleasingly tracking back to aid the collective efforts. We're still to be convinced that he's trustworthy enough for the top flight, but at least he's now contributing more positively to our cause - perhaps he'll become the 2017 David Kelly and end up at Wolves.....

The second goal should have sealed victory in relative ease but after Jamaal Lascelles sliced the ball past Darlow in the dying seconds of normal time, the signaling of six additional minutes by the fourth official gave renewed hope to home players and fans alike that a point could be salvaged.

Some obvious time-wasting (for which Darlow was booked), a stoppage when a missile struck Yedlin as his head was being bandaged and the arrivals of Grant Hanley and Christian Atsu all combined to take proceedings to a staggering tenth additional minute.

By then the home side had seen a strong penalty claim rejected, with the last act of the game a shot from PNE's Belgian defender Marnick Vermijl that struck the outside of the post and brought waves of relief from the away fans - an unfamiliar feeling after our recent hot streak.

They all count though and there's satisfaction to be had from grinding out victories after rearguard actions on a day when we didn't exactly win ugly, but only fleetingly showed our best side.

Elsewhere the news was good, Norwich and Huddersfield dropping off the pace after 0-5 losses at Brighton and Huddersfield respectively. That left us three points up on the Seagulls, six clear of the play-off places and with a healthy +20 goal difference (third-placed Huddersfield are -1).

Fifteen games in and everything looks to be on track, with the bonus of a cup adventure that could make January a particularly manic month, especially with players away on Nations Cup duty. That and whatever else stands in our way this season has to be coped with, but for the first time in a long time there's a sense that we have a strategy in place that's fit for purpose.

Playing in a bang-average league also helps, but the commitment that we often lacked last season is now evident, even when the football is less than sparkling.

Niall/Biffa

Thanks to Preston-based NUFC.com reader Mark for parking assistance