Date: Sunday 20th November 2016, 1.15pm
Live on Sky Sports

Venue: Elland Road

Conditions: Accomplished

Admission: £37 (£29 in 2003/04)

Programme: £3

Leeds United

Newcastle United

0 - 2

Teams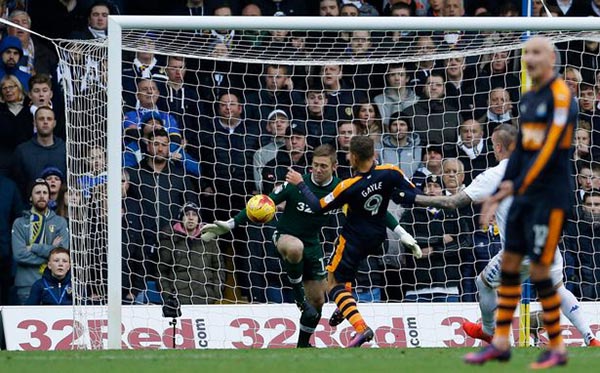 23 mins Jack Colback's left-footed swirling forward ball seemed to have been over-hit, but it dropped towards goal with Rob Green back-pedalling to reach it.

The former England custodian opted to palm the ball rather than catch it on his line and risk carrying it into his goal - but succeeded only in presenting it to the predatory Dwight Gayle who instantly volleyed in from a yard out at the south end of the ground. 1-0
Half time: Whites 0 Magpies 1

54 mins A great passing move that involved Colback, Vurnon Anita and Ayoze Perez ended with Anita's perfect cross from the right flank being slid in by Dwight Gayle from close in. 2-0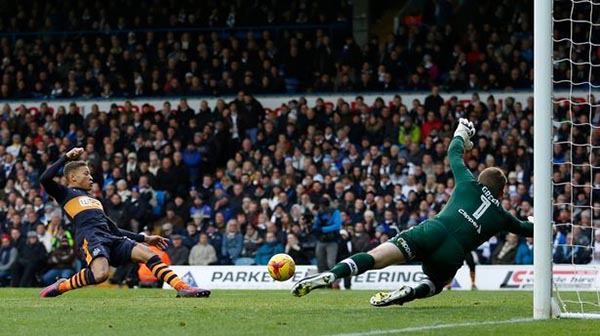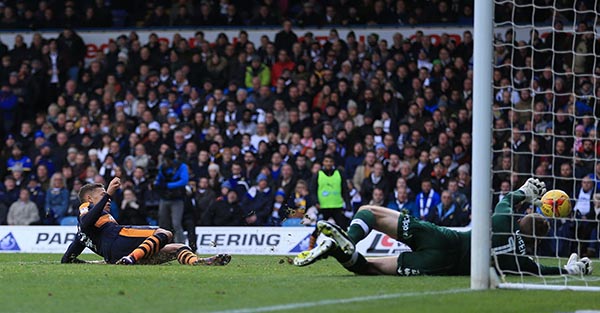 Full time: Whites 0 Magpies 2
Rafa Benitez - who mercifully avoided the Manager of the month curse - commented:

"It's a great opportunity and we are in a fantastic position.

"Everything we tried to do we did well - from set-pieces, control of the game and counter-attack, we saw the effort, the mentality was good and the understanding of the game was very good.
"We made some mistakes, there is room for improvement but I can't complain because we did very well.

"We knew that it could be a tough game and it was, but I think we did what we had to do, we controlled the game for 30 minutes in the first half and scored the goal but were under pressure for the last 15 minutes as they pushed us with corners and free-kicks.

"(We reacted) in the second half, the team was doing well and we scored the second goal and afterwards it was more or less about doing the same.
"We have to keep doing the same things, playing with intensity, no complacency and try to get more points in every game We know anything can happen (in the Championship), so we have to approach every game with the same mentality."
About his striking dilemma:

"It's not just the goals, it's the movement he (Gayle) gives to the team, but it's not easy for me. It's not just Gayle and Mitrovic - there's Mo Diame, Ayoze Perez, DeAndre Yedlin, Vurnon Anita, Issac Hayden, Jack Colback.....
"We have so many players that when they play, they do so well and it's difficult to decide."
"It's quite difficult for me to decide whether I play (Aleksandar) Mitrovic or him (Dwight Gayle) because they're both training really well and both scoring goals.
"I have a lot of confidence in both, it's not a problem because you have to analyse how they are in the training sessions.

"Dwight was training with us and not with the national team like Mitrovic, so it's always an advantage, but Mitrovic is training really well and it was a great goal (for Serbia) against Wales."

About the record-equaling eighth win:

"Yeah they told me and I'm really pleased. Obviously when you win you want to win as many games as you can, but you can't do it if it's just one game at a time.

"We need to concentrate and get three points each time and after that you can see the records, people will tell me, But every game in the Championship is so difficult we have to be sure the approach is right."

About the penalty claims:
"You can talk about that for half an hour but it wouldn't change too much because in the end we (played) a good game against a good team."

Leeds boss Garry Monk said:

"The game was decided on critical moments, to be honest with you.

"Against a side who are top we competed very well. Our attitude and commitment to what we were doing was very good.

"I just felt we got on the wrong side of those critical moments and had we not, we would probably have got a result."

"In my opinion it's a clear-cut penalty. I've had many penalties given against myself or my team for much less than that. It was a clear-cut penalty.

"But those critical moments, we fell the wrong side of today."


Newcastle's unbeaten run in all competitions is now eleven games* and nine wins+ in a row.
* All-time record is nineteen games from Apr to Oct 1992
+ All-time record is nine games in 1994 (last one of 1993/94, first eight of 1994/95)

Therefore, victory over Blackburn Rovers at SJP on Saturday would be the first time in the club's entire history that they'd won ten in all competitions in a row.
In league fixtures only, we're unbeaten in nine^ with eight wins~ in a row:
^ All-time record is seventeen games from Feb to May 2010
~ All-time record is thirteen games in 1992 (last two of 1991/92 first 11 of 1992/93)

Rafa's side secured their fourth successive away win, which is still some distance off the record tally of six that was recorded during 1992 (last one of 1991/92, first five of 1992/93).

We maintained a season-long league and cup record of not allowing an opposition player to score against us within the opening 44 minutes - a 29th minute own goal by Chancel Mbemba being the only time we've conceded until a minute before the break.

Dwight Gayle made it 13 league goals for the season from 13 starts and nine in his last six.

NUFC in the Championship after 17 games:

2009/10 36 points (W11, D3, L3) F26, A10 1st
2016/17 40 points (W13, D1, L3) F36 A13 1st

Current Leeds boss Garry Monk lost his first game against Newcastle in management, having won three and drawn the other one while in charge of Swansea City.

The Magpies are now unbeaten in their five most recent competitive visits to Elland Road - their best run ever - and have scored in each of the last ten games on this ground.

Last 20 visits to Elland Road:

2016/17 won 2-0 Gayle 2
2003/04 drew 2-2 Shearer 2
2002/03 won 3-0 Dyer 2, Shearer
2001/02 won 4-3 Bellamy, Elliott, Shearer, Solano
2000/01 won 3-1 Solano, Acuna, Ameobi
1999/00 lost 2-3 Shearer 2
1998/99 won 1-0 Solano
1997/98 lost 1-4 Gillespie
1996/97 won 1-0 Shearer
1995/96 won 1-0 Gillespie
1994/95 drew 0-0
1993/94 drew 1-1 Cole
1989/90 lost 0-1
1983/84 won 1-0 Anderson
1982/83 lost 1-3 Anderson
1982/83 won 1-0 (LC) Varadi
1977/78 won 2-0 Burns 2
1976/77 drew 2-2 Cassidy, Cannell
1975/76 lost 0-3
1974/75 drew 1-1 Nulty

Waffle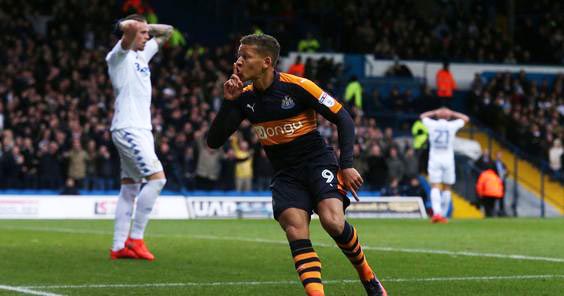 Returning to this part of West Yorkshire after a thirteen year absence, a Sunday lunchtime TV slot failed to dilute an obvious sense of occasion - regardless of the division it was being played in.

What has always been a well-contested and much-anticipated fixture gained extra significance with the home side on their best run for several years and fancying themselves to upset the leaders - something repeated ad nauseam by a stream of former players in the days leading up to the game.

The closest thing to a local rivalry we'll experience this season proved to be a big day in the North for the visitors though, as a composed and professional performance from the off frustrated the Leeds players and hushed their followers - who remain as unreconstructed as their surroundings.

A couple of positive results against an ailing Norwich side seemed to have sent expectations levels round these parts into the stratosphere, prompting some trash talk that wouldn't have been out of place in the run-up to a high profile boxing match.

Once the waffling was over and the action began though, it soon became obvious that this was a mis-match. Two knockout blows from a player who may regret not wearing a gum shield were administered at close quarters, while the challenger struggled to lay a glove on his opponent.

There was only one United here today really marching on together.

Arriving in search of a seventh win on the road this season, Newcastle instantly took the fight to Leeds; dispensing with the shadow-boxing of previous opening periods at Preston etc.

That more front foot approach starved the home side of possession and had its first reward just when the hosts may have thought they'd survived our initial offensive.

If the part Rob Green played in Dwight Gayle's opener was reminiscent of Fraser Forster's rick at the same end of the ground during our friendly visit here in 2011, then his second goal was in the calibre of Craig Bellamy's finish from similar range in front of the Kop back in 2001. A thing of beauty.

In between came some moments of discomfort for Rafa's side, Leeds winding themselves and their fans up with a spell of possession late in the first half when they got within range of Karl Darlow.

The visiting goalkeeper made a great one-handed save four minutes into the second period to deny Eunan O'Kane, but a rapid sequence of passing from Newcastle ended with Gayle striking again as the clock ticked round to 2.30 (or tooth-hurty as the old joke goes...).

That knocked the stuffing out of the hosts and once Souleymane Doukara's header was saved, they never looked like staging any sort of comeback; the league leaders managing the game to a conclusion as they desired - Aleksandar Mitrovic appearing in the closing stages to jolly up proceedings in the away end still further.

Gaps in the home sections increased as the clock ticked down, before celebrations at full time - and a brief outbreak of Yorkshire two-step outside The Peacock until the constabulary intervened.

Nothing changes here: this remains a proper football stadium with a proper history. Scruffy in places but with echoes of previous times - happy times - that cannot just be relocated elsewhere. As at St. James' Park, just being here evokes recollections of games, players and fans. Gary Speed's name may have been chanted, but many others were silently remembered.

The folly of these two sides playing in this league while a club the size of Bournemouth takes their place is testament to some epic mismanagement: the Elland Road list of villains as lengthy as the Barrack Road one and even exceeding our clownish antics by crash-landing into the third tier.

Next comes the visit of Blackburn Rovers to Gallowgate, when victory against Owen Coyle's men would set a new all-time club record of ten successive victories in all competitions.

Blackburn's return of six losses, one draw and one victory away from Ewood thus far this season does little suggest that they will deny Rafa & Co. a "perfect ten".

Five wins in their last seven visits to SJP underline that nothing can be taken for granted though: down-at-heel Grimsby Town and a player called Jim Dobbin ending our lengthy run in 1992....

Biffa