Date: Tuesday 29th November 2016, 7.45pm

Venue: KCOM Stadium

Conditions: Elongated

Admission: £9 to £15 (£35 in 2014/15)

Programme: £2





Hull City

Newcastle United

1 - 1
(aet)

Teams
Half time: Toon 0 Tigers 0
Full time: Toon 0 Tigers 0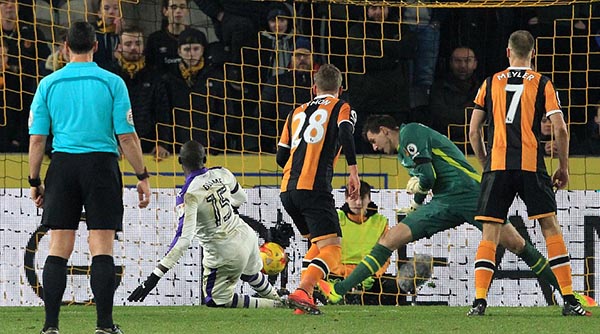 98 mins Former City player Momo Diame stabbed home from six yards after Anita's centre was flicked on following a short corner routine adjacent to the away following. 1-0
99 mins Michael Dawson's upfield ball wasn't dealt with and Marcus Henriksen found space for a shot that Sels parried straight to Robert Snodgrass, who turned it home with ease. 1-1

Half time of extra-time: Toon 1 Tigers 1

Full time of extra-time: Toon 1 Tigers 1

Rafa said:
"The team as a whole made mistakes. We allowed them to score when we had scored. It is 11 players. We allow them to go to a position we did not want them to.

It is a pity when you play so well and go out. The way we played, the situation we had, against 10 players, and 1-0 up, we have to manage better.
"I am really pleased with the performance and the attitude for a long time, but disappointed because we didn't manage the situation properly with the advantage.

"That is something you can get with experience, and hopefully a match like this will give us that experience and in the future we will do a bit better when we have this kind of advantage. We created so many chances.
"The way we played away at a Premier League team means we are strong enough to manage the situation, but we need experience to ensure we do it in the right way.
"It's something you can learn from in situations like this and you will improve from these kinds of goals, mistakes and penalties that give you something to learn.

"We didn't practice (penalty kicks), because it is different when you do it in a training session to when you do it in a game. It is totally different."
[Why practice anything then we wonder...??]

Tigers boss Mike Phelan said:

On the dismissal:
"In a moment of madness he (Mbokani) reacted. I spoke with the ref afterwards. I'm disappointed on both parts. I'm disappointed he retaliated which gave the ref no option but to make a decision. I was disappointed because he didn't get much protection the whole game.
"For this football club it's a tremendous achievement reaching a semi-final. This is the furthest we've ever been. That is something for the players, hopefully we can go one step further."
"Newcastle played decent football. They moved the ball around well but we were good value for money tonight. We've got plenty of character. We will need a lot more of it over the next few months.
"I'm pleased for Eldin, I'm pleased for all of them. Eldin's been in the cup competitions all the way through.

"He's performed well tonight and going into the penalty shoot-out he was probably the right goalkeeper to have there because his record is pretty good in those situations.

"I brought in another good goalkeeper and we've now got two good goalkeepers. Allan McGregor's on his recovery, so we may end up with three terrific goalkeepers and we may have to use them.

"It's important they stay focused. Eldin's done that. He's taken his opportunity tonight, he's probably been the hero and hopefully he'll be a hero again.

"I've never even thought about penalties to be fair," he said. "If I'd have had it my way I wouldn't have wanted to go that far because we have a very important (Premier League) game on Monday (against Middlesbrough).

"I thought our penalties were very clinical and under that spotlight they all executed them very well.
"For this football club it's a tremendous achievement because this is the furthest they've ever been. The players are really pleased with that. It gives them something in Rothman's (Football Yearbook) now or what have you, where they can say they've got to a semi-final of the competition.

"Hopefully they can go one step further. They worked hard enough tonight to get their reward."

NUFC Competitive shoot-out record:
1970/71 Pecsi Dozsa (a) FC Lost
1979/80 mackems (h) LC Lost
1991/92 Tranmere Rovers (a) ZDS Lost
1991/92 Bournemouth (h) FA Lost
1995/96 Chelsea (h) FA Lost
1998/99 Blackburn Rovers (h) LC Lost
2002/03 Everton (h) LC Lost
2003/04 Partizan Belgrade (h) CL Lost
2006/07 Watford (a) LC Won
2016/17 Hull City (a) LC Lost
The Magpies made an eighth League Cup Quarter Final appearance, losing for the seventh time.

That sole success came at Gallowgate against Notts County in December 1975, with a 1-0 win coming courtesy of an opposition own goal. As a consequence, Momo Diame's goal here made him the first Newcastle player to ever score for us in a League Cup Quarter Final tie.

The man from Senegal now has three Newcastle goals to his name - all in this competition.

There was a competitive debut for our white change kit, which may well now be binned....

League Cup Quarter Final Record:

2016/17 Hull City (a) drew 1-1 (lost 1-3 on pens)
2014/15 Spurs (a) lost 0-4
2006/07 Chelsea (h) lost 0-1
2001/02 Chelsea (a) lost 0-1
1997/98 Liverpool (h) lost 0-2
1995/96 Arsenal (a) lost 0-2
1975/76 Notts County (h) won 1-0
1974/75 Chester City (a) lost 0-1 (replay)
1974/75 Chester City (h) drew 0-0

Toon @ KCOM Stadium:

2016/17 drew 1-1 Diame (LC) (lost 1-3 on pens)
2014/15 won 3-0 Cabella, Ameobi, Gouffran
2013/14 won 4-1 Sissoko 2, Remy, Anita
2008/09 drew 1-1 S.Taylor
2008/09 drew 0-0 (FAC)
(We also won 4-0 in a friendly in 2003 but were beaten 0-1 in another kickabout during 2007).

Former Newcastle United Academy player Greg Olley was an unused Tigers substitute.

Quarter Finals:

Tue 29.11.2016:
Hull City 1-1 Newcastle United (3-1 on pens)
Liverpool 2-0 Leeds United
Wed 30.11.2016:
Arsenal 0-2 Southampton
Manchester United 4-1 West Ham United

Semi Final Draw:

Manchester United v Hull City
Southampton v Liverpool
Waffle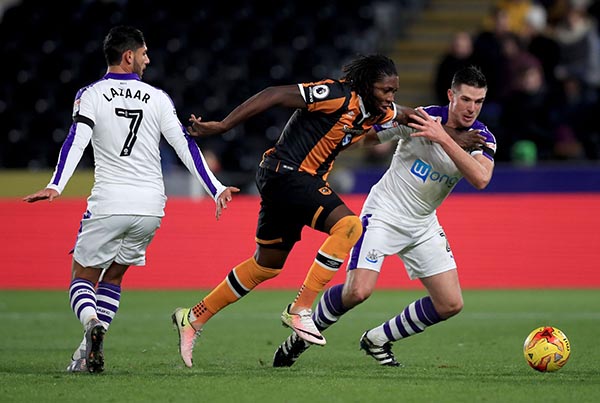 Newcastle lost their unbeaten record at the KCOM Stadium and exited from the EFL Cup at the Quarter Final stage on Tuesday - but only have themselves to blame after failing to take advantage of numerous opportunities to claim a Premier League scalp.

Dominating the opening 45 minutes of play but failing to take any of their chances, Rafa Benitez's side were handed a numerical advantage in the closing seconds of the second half and 30 minutes added time when Dieumerci Mbokani was dismissed.

Contriving to take the lead against ten men through Momo Diame and then immediately allow them to level, the Magpies then camped around City's 18 yard line but were unable to test 'keeper Eldin Jakupovic.

That lack of shooting prowess was then highlighted in during the penalty shootout: shocking misses from Jonjo Shelvey, Dwight Gayle and Yoan Gouffran sealing our fate - with only Christian Atsu's effort sneaking under the crossbar to prevent a total humiliation.

Both sides fielded strong lineups on a pitch which looked to have a touch of frost, temperatures just above zero at the first whistle. Clad in their predominantly white change kit, United seized the initiative and with Shelvey finding room in midfield the chances began to arrive.

Gayle was first to warm Jakupovic's palms on 12 minutes, former Tiger Momo Diame heading narrowly over midway through the half and Matt Ritchie, Isaac Hayden and Diame again all having decent efforts.

City came more into the contest after the hour mark but a drab encounter was drifting towards extra time when Mbokani was red-carded on 89 minutes - jerking his head at Jamaal Lascelles in a manner reminiscent of Alan Pardew's infamous clash with David Meyler here in March 2014.

That incident stemmed from a previous altercation between the Magpies captain and the home striker whose goal for Norwich last April pushed us further towards the drop.

Lascelles had been the centre of attention on two other occasions during the game; firstly taking an unexpected trip over the pitchside hoardings after Andy Robertson's shove that cost him a booking.

The other incident saw Lascelles boot a stray plastic bottle off the field and narrowly miss a ball boy in front of the East Stand, causing some mild fury from home fans in that area and prompting a swift apology from the player.

Hull's numerical disadvantage and the triple swap of players that brought a 17 year-old into the fray seemed to have handed the initiative back to the visitors, Ciaran Clark forced a good save, Achraf Lazaar striking the bar and Shelvey's follow-up awkwardly pushed behind.

The apparently inevitable winner arrived when Diame stabbed home from six yards after Anita's centre was flicked on following a short corner routine.

Game over - or so you'd think - but the travelling support hadn't even got as far as the "we're going to Wembley" line of the "won't be home for tea" chant before City levelled just 77 seconds later.

That came when Michael Dawson's long ball upfield wasn't dealt with and Marcus Henriksen found space for a shot that Sels parried straight into the path of Robert Snodgrass, who turned it home with ease.

Both sides then had chances to win it in the second period of extra time, Christian Atsu's cross seeing fellow substitute Daryl Murphy denied a goal with his first touch after a good save from Jakupovic.

At the other end meanwhile, Lascelles lost out to Snodgrass but the City player then crucially mis-controlled with just Sels to beat.

After that came the penalty debacle, at the far end of the ground away from the Toon support - although distance certainly didn't lend any enchantment to a sorry spectacle, as inept as anything that we've endured in previous spot kick misadventures.

The self-inflicted manner of this latest cup exit is particularly irritating, but the response it produced from the manager tonight was noticeably less downcast than Saturday's defeat by Blackburn.

When emotions subside, the prospect of playing a two-legged semi-final against top-flight opposition during January may have been an extra distraction to our main aim of gaining promotion. Heavy defeats in one or both legs could also adversely affect us.

Add in FA Cup commitments, the unresolved Shelvey situation and his possible prolonged absence, plus African Cup of Nations call-ups for up to four players that month and this defeat becomes a little easier to bear. After all, we should be used to it by now....

Shoot-out:
0-0 Shelvey saved
0-1 Snodgrass scores
0-1 Gayle hits bar
0-2 Dawson scores
1-2 Atsu scores
1-3 Huddlestone scores
1-3 Gouffran saved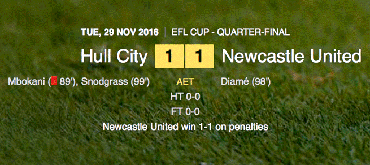 Sadly the BBC website's post-match summary
was as inaccurate as our players from 12 yards....
Biffa