Date: Friday 2nd December 2016, 7.45pm
Live on Sky Sports

Venue: City Ground

Conditions: Incredulous

Admission: £27 (£30 in 2009/10)

Programme: £3

Nottingham Forest

Newcastle United

2 - 1

Teams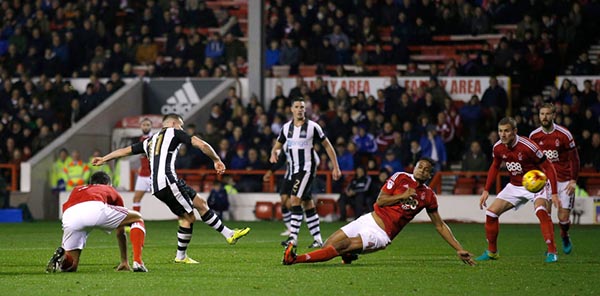 45 mins After Forest's Matthew Cash had surrendered possession deep in his own half, Matt Ritchie lashed home a deflected left wing centre from Isaac Hayden in front of the Trent End. 1-0
Half time: Forest 0 Magpies 1

52 mins Former mackem Nicklas Bendtner poked the ball home to end a goalmouth scramble during which Karl Darlow had made another excellent instinctive stop to no avail. 1-1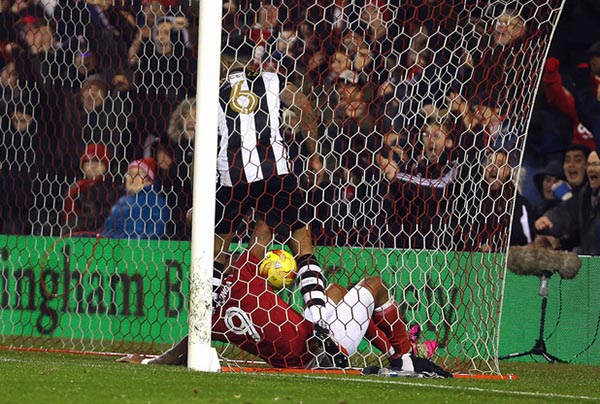 86 mins Apostolos Vellios flicked on a Lansbury corner that dropped in the six yard box and evaded Forest substitute Brit Assombalonga. Lascelles wasn't so lucky and could only help the bouncing ball over the line. 1-2

Full time: Forest 2 Magpies 1
Rafa Benitez commented:

"Everything was against us. You could see in the game we have a lot of things we can complain about. But I was really surprised with (Henri) Lansbury.

"The way he was acting, twice with the penalties and also with Jonjo Shelvey, but maybe he's proud of himself.
"If the referee cannot see that Lansbury was kicking Jonjo before, I will not defend Jonjo as he made a mistake, but (Lansbury) was kicking him before from behind. Sometimes the FA take action also on the players that are over-reacting, so (maybe that will happen here).
"(With Dummett's sending off) it was very clear the number 10 (Lansbury) was waiting for him. So maybe again the FA can analyse this and see the behaviour of the Number 10.

"I will not ask for anything. If they (the FA) want to do something, fine. If they do not, it is up to them.

"I haven't spoken to the referee, I don't need to do it, I've seen the images and it's obvious and clear to me.
"We did really well, we were doing what we had to do but it's a big difference when you have 45 minutes numerical inferiority it's not easy.
"We can also talk about the goal that was disallowed or the penalty that was not given.
"The first goal (from Forest's Nicklas Bendtner) was also maybe offside. We can talk about so many things, but that is not going to change the score at the end.
"We just have to praise the players for the effort and the work they were doing, and make sure that we do not make these silly mistakes in the future."

Forest boss Philippe Montanier said:

"We had to be patient in the second half to push higher, to get a lot of crosses in and create opportunities to score. We had to respect the plan but we did that and we got the goal at the end.

"It was difficult for me to see whether they were clear penalties, but we cannot change the referee's decision. We were on a downer after missing the two penalties, but I told the players to be clear in their minds - we had 45 minutes still to win the game and we knew we only needed a few seconds to score a goal.

"We had to forget the penalties and be patient - and we were. They had nine men and we had to move the ball. We had to deliver crosses and get bodies in the box.

"We needed to be accurate with the crosses. But the most important thing is that we got the two goals and the three points."


Update: four days after the game, the following appeared from the FA:

Both Jonjo Shelvey and Paul Dummett have had their suspensions withdrawn with immediate effect after their wrongful dismissal claims were successful following an Independent Regulatory Commission hearing.
The Newcastle United pair were dismissed for violent conduct and denying an obvious goal scoring opportunity respectively during the game against Nottingham Forest on 2nd December 2016.


The last Newcastle goalkeeper to save two penalty kicks during the same competitive match (excluding shootouts) that we can recall was Gary Kelly. Preston-born Kelly was 21 when he denied Chelsea's Kevin Wilson and Mickey Hazard during a 3-1 home victory in February 1988.

United ended a game with nine men for the first time since a 0-3 loss at Leicester City in the Premier League in May 2015 - Mike Williamson (62) and Daryl Janmaat (90+1) both seeing red.

This was reminiscent of our April 1992 game along the A52 at Derby County's Baseball Ground, when Kevin Brock and Kevin Scott's dismissal reduced United to nine men before half time. That then descended further into farce when United went down to eight men following Liam O'Brien's sending off on 72 minutes. The Rams won 4-1.
Since losing 1-2 at the City Ground in May 1987 (and then invading the pitch after full time), none of our subsequent eleven visits have been 3pm Saturday kick-offs.

Forest v United - last 20:
2016/17 lost 1-2 Ritchie
2011/12 won 4-3(aet) (CC) Lovenkrands 2, Coloccini, Simpson
2009/10 lost 0-1
2002/03 lost 1-3 Viana (FR)
1998/99 won 2-1 Shearer, Hamann
1996/97 drew 0-0
1995/96 lost 5-6 Ferdinand 2, Guinan, Barton, Keegan (FR)
1995/96 drew 1-1 Beardsley
1994/95 drew 0-0
1991/92 lost 1-2 (ZDS) Scott
1990/91 lost 0-3 (FAC)
1988/89 drew 1-1 Brock
1987/88 won 2-0 Gascoigne, Mirandinha
1986/87 lost 1-2 Gascoigne
1985/86 won 2-1 Beardsley 2
1984/85 drew 0-0
1984/85 drew 1-1 (FAC) Megson
1977/78 lost 0-2
1974/75 drew 1-1 (LC) Macdonald
1971/72 lost 0-1
Full record v Forest:
| | | | | | | |
| --- | --- | --- | --- | --- | --- | --- |
| | P | W | D | L | F | A |
| SJP | 44 | 25 | 9 | 10 | 88 | 47 |
| CG | 45 | 17 | 11 | 17 | 49 | 54 |
| League | 89 | 42 | 20 | 27 | 137 | 101 |
| SJP(FA)* | 9 | 4 | 3 | 2 | 19 | 13 |
| CG | 7 | 2 | 3 | 2 | 5 | 9 |
| SJP(LC) | 1 | 1 | 0 | 0 | 3 | 0 |
| CG | 2 | 1 | 1 | 0 | 5 | 4 |
| CG(ZDS) | 1 | 0 | 0 | 1 | 1 | 2 |
| Cup | 19 | 8 | 7 | 4 | 32 | 26 |
| Tot | 108 | 50 | 27 | 31 | 169 | 127 |
* Includes the 1973/74 FA Cup game, ordered to be replayed.
Waffle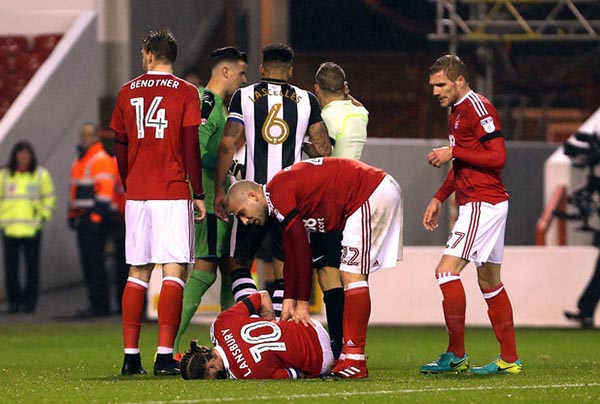 Cheat

Referee Steve Martin took centre stage in a distinctly unfunny comedy with his pathetic performance for the Sky cameras at The City Ground on Friday night.

During an incredible 19 minutes of first half action, the bungling whistler awarded two penalties to the home side, dismissed two Newcastle players and disallowed a perfectly good Newcastle goal - having ignored our earlier spot kick claim for an obvious obstruction.

Despite the best efforts of Martin though, nine man United left the field with a 1-0 lead after Matt Ritchie slotted home - thanks in no small part to Karl Darlow making penalty stops before and after that goal.

Sadly though the loss of Jonjo Shelvey and Paul Dummett ultimately allowed Forest to claim what was an undeserved and unconvincing victory - six yard box scrambles on 52 and 86 minutes ending with Darlow beaten - fellow former Forest favourite Jamaal Lascelles getting the final touch for the winner.

The opening 30 minutes gave little hint of the madness that lay in store, as Newcastle dominated possession with some measured and purposeful play and looked significantly slicker than against Blackburn Rovers seven days earlier.

Ciaran Clark was held back right in front of goal by a defender whose clear foul went unpunished before referee Martin took centre stage with his antics. The man-in-the-middle was following play and had his back to a flare-up between Shelvey and home captain Henri Lansbury as both went to ground on the edge of Newcastle's box.

However, the linesman in front of the Main Stand had a view and waved his flag; Shelvey soon on his way to the dressing room after a straight red card - which combined with the possible outcome of his FA hearing could see him out of action until well into 2017.

The Newcastle midfielder was undoubtedly in the wrong, but Lansbury's actions were pivotal in the decision-making process - initiating contact with Shelvey before dramatically rolling around following minimal contact in response - this was no re-run of Shearer versus Lennon....

Enter Karl Darlow, who guessed right and blocked Nicklas Bendtner's tame spot kick amid great celebrations in the away section at that end.

Referee Martin's next trick was to deny Clark a goal when he headed home a free kick, somehow being penalised for ignoring the blatant shirt-grabbing of Matthew Cash to reach ball and score. Incredible.
Into first half added time and Martin still had one more trick up his sleeve before the intermission, consigning Dummett to an early bath after he collided with Lansbury in the box - the Forest man waiting for a semblance of contact before crumbling.

It was a clear goal-scoring opportunity but under this season's regulations that does not necessarily mean a straight red card - Martin presumably determining that our left-back made no attempt to play the ball and deliberately halted the already stationary Forest man.

Wrong, wrong, wrong.
(Sky Sports later reported a claim that the United defence were distracted by a phantom half-time whistle from the away section. It's audible on the TV replays, which also show home coaches getting up out of their dugout seats at that point. Sadly that wasn't to be the only Toon own goal of the evening).

A second penalty was awarded by the whistler, who seemed intent on claiming pole position in the ever lengthening list of idiotic officials we've endured in Championship games this season.

Forest changed their taker and Lansbury himself took responsibility - only for Darlow to dive the opposite way this time to deny him and then prove equal to a second shot that came his way. Cue fan delirium.

In between the madness, ten-man United took the lead as Ritchie lashed home a deflected left wing centre from Isaac Hayden for his fifth goal in our colours.

That advantage only lasted for seven second half minutes though, Bendtner poking the ball home to end a goalmouth scramble during which Darlow had made another excellent instinctive stop to no avail.

United's nine men pressed as best they could, earned a few set pieces and saw their eagerness pass up the chance of a few others, but no real chance came.

Forest meanwhile huffed and puffed but all too often relied on unscientific lumped balls into the area - a tactic that betrayed their evident lack of quality.

Just when it seemed as if a famous point was within Newcastle's grasp though, a final sting in the tail came when Apostolos Vellios flicked the ball on in the box.

That evaded Assombalonga but not our captain, who could only help the bouncing ball over the line to give his former side a third successive league victory.

So not a vintage week for Rafa & co: six points dropped, an EFL Trophy exit and two suspensions.

And for Shelvey it's been a wretched few days, his penalty miss on Tuesday and tonight's avoidable and costly sending off add to his charge of misconduct. As his former boss Brendan Rogers said of him, "you have all the tools, son" - he just needs to avoid being the biggest spanner in our box.

There have been positive elements evident in all three of the defeats suffered in the last seven days, both in terms of our approach and some of our play.

At times however we've shown ill-discipline and a lack of composure that has come back to bite us on the backside. Over-celebration of Diame's goal at Hull by the players is one example, our disgraceful no-show for the subsequent penalty shootout another.

The mentality isn't there yet. A collective mindset that needs to be both methodical and detached - albeit under the most demanding of circumstances when attention-seeking, whistle-wielding clowns appear.

Despite the chants from our own supporters, nothing has been achieved yet, nothing won. Losing these three games isn't the end of the world, in the same way that winning nine on the spin wasn't a reason to become overly excited and get carried away.

These two sides meet again at St. James' Park in four weeks time - no team talk will be necessary.

PS - a few words about substitute, Mo Diame who ambled around aimlessly and almost avoided the ball - arguably costing us the second Forest goal.
What on earth did he think he was put on to do other than run his b*llocks off for only 15 or so minutes and throw himself into challenges? Credit to colleague DeAndre Yedlin, who told him in no uncertain terms.

And similarly, the futility of Aleksandar Mitrovic was never more evident than when he took to the field in the final minutes - failing to shift his carcass for a slightly misplaced pass, then seconds later imploring away fans on to greater efforts before a free kick.
Biffa