Date: Saturday 10th December 2016, 3.00pm

Venue: St. James' Park

Conditions: Emphatic






Newcastle United

Birmingham City

4 - 0

Teams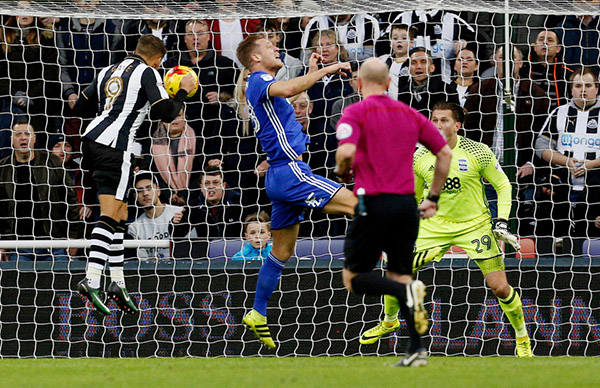 18 mins Vurnon Anita played the ball to Mo Diame and after a smart turn he scampered down the right and put in a delicious cross that was nodded in at the far post by Dwight Gayle for only his second headed Toon goal (his maiden strike against Huddersfield Town here was the first). 1-0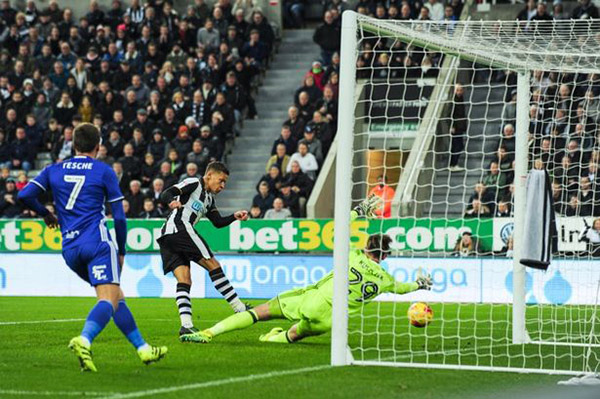 24 mins Diame combined with Matt Ritchie down the Newcastle right, allowing Isaac Hayden to speed past Che Adams. His deflected centre found Dwight Gayle unmarked towards the back post to slot into the Gallowgate End net from three yards with his right foot after a poor first touch. 2-0
Half time: Toon 2 Blues 0
47 mins Ritchie laid the ball back to Shelvey from a free-kick midway in the City half down the United right and his lofted pass into the box looked intended for Gayle. However a mis-control by the number 9 fell kindly for Yoan Gouffran to finish clinically from just on the six yard box. 3-0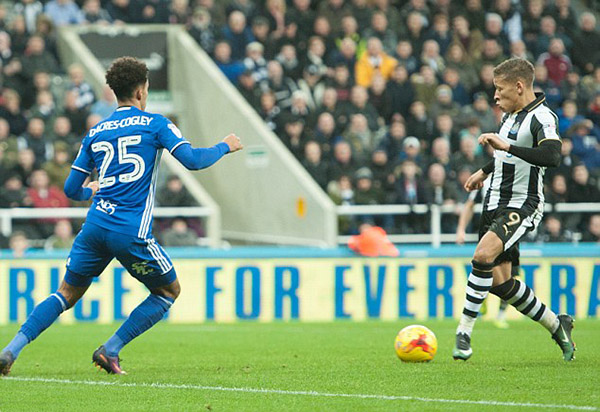 77 mins Shelvey exchanged passes with Ritchie down the right, driving at the City defence before picking out Dwight Gayle with a pull-back from the byline. The finish was routine and expected 4-0
Full time: Toon 4 Blues 0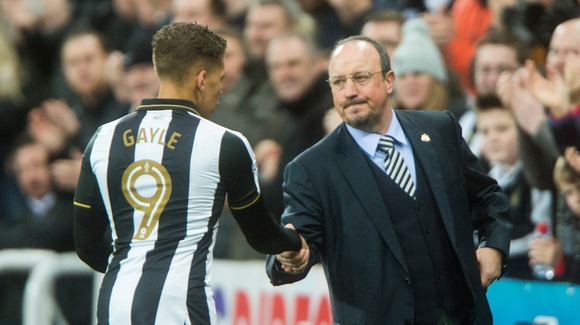 Rafa said:
"We were really focused. We started well, created good chances and we needed to do that in the second half as well.

"I am pleased with the concentration of the players and pleased with how they were playing, the hat-trick of Dwight and the contribution of Mo Diame and the players. I think they realised how important it was.

"If the team is playing well Dwight will score goals. He is a great finisher, good movement and he can make the difference. I knew he could score goals, but I don't think too much about how many. Hopefully he can score every game.

"I wanted to get three points. That was the main thing, we need to be strong enough and compete in every game and be at the end of the season the top."

The manager's pre-game comments are also worthy of note:

"The players realise, and hopefully the fans also, that if we stick together we can be stronger.
"If not, because we are top of the table, because we are a top side in the Championship, then it's easy (for things) to go against us.
"It's easy to say 'they can win because they have good players' or 'they've spent a lot of money' or whatever, so we have to stick together and be sure if we have any problem, we help each other.
"We know that it is a long race and we know that we have to keep going and pushing. If we can stick together, and also with our fans behind us, we will be much stronger and it will be more difficult for the other teams.
"Every day when you talk, when you see the reaction of the fans on the forums or any comments, what they are looking for from a Newcastle United player is that they have to give everything.
"They have seen nine players on the pitch, players outside, everyone pushing, trying to win, trying to get a result the other day. That is the way."

Blues boss Gary Rowett:

"Newcastle are very clinical and they hurt you in different ways. We had been very effective in these games by blocking, you can't let Newcastle have space and if you do they will hurt you.

"We tried to deny them space in our half first half, and at times their movement was so good, their penetrating runs were excellent. It was a bit of a football lesson, it was also an athletic lesson.
"The top players run and they sprint. Make no bones about it, that is a Premier League team out there we were against in the unbelievable stadium they have. I will be astonished (if they don't get promoted).
"We were fifth because we have been bloody-minded and worked hard for each other. Today we didn't work hard enough to stop Newcastle from dictating almost everything in the game."

Three more goals for Dwight Gayle make it 16 from 15 Championship starts this season for the striker - and a second Toon treble after the Norwich

City

home game

(when we were also kicking towards the Leazes End in the second half). His first took 72 minutes, this one was 59 minutes.

This hat-trick had the distinction of being a "perfect" one i.e. all three coming from open play and including one left footed, one right footed and a header. Gayle is the first Toon player to achieve this since Peter Lovenkrands in an FA Cup tie against Plymouth Argyle at SJP in January 2010.

Gayle's 16 goals take him within one of our top scorer for the last Championship season (2009/10), when both Andy Carroll and Kevin Nolan ended with 17 in the league apiece (Carroll also helped himself to a brace in the FA Cup and Nobby one in the League Cup).

Yoan Gouffran netted his seventeenth goal for the club and fifth of the season, moving to within two of his best tally of seven, set in the 2013/14 campaign.

Blues in Toon - last 20:

2016/17: Won 4-0 Gayle 3, Gouffran
2010/11: Won 2-1 Ameobi(pen), S.Taylor
2007/08: Won 2-1 Martins(pen), Beye
2006/07: Lost 1-5 Milner (FA Cup)
2005/06: Won 1-0 Emre
2004/05: Won 2-1 Ameobi, Bowyer
2003/04: Lost 0-1
2002/03: Won 1-0 Viana
1992/93: Drew 2-2 Cole, Lee
1985/86: Won 4-1 Beardsley 2, Anderson, Whitehurst
1979/80: Drew 0-0
1977/78: Drew 1-1 Nattrass
1976/77: Won 3-2 Burns 2, T.Craig
1975/76: Won 4-0 Macdonald 2, Gowling, Burns
1974/75: Lost 1-2 Macdonald
1974/75: Drew 1-1 Macdonald (Texaco Cup)
1973/74: Won 3-1 Tudor 2, Clark (Texaco Cup)
1973/74: Lost 0-1 (League Cup)
1973/74: Drew 1-1 Robson
1972/73: Won 3-0 Macdonald, Howard, Gibb

Total record against Birmingham:

| | | | | | | |
| --- | --- | --- | --- | --- | --- | --- |
| | P | W | D | L | F | A |
| SJP | 48 | 26 | 14 | 8 | 92 | 48 |
| SA | 47 | 15 | 11 | 21 | 61 | 77 |
| League | 95 | 41 | 25 | 29 | 153 | 125 |
| SJP(FA) | 2 | 1 | 0 | 1 | 4 | 5 |
| SA | 2 | 0 | 2 | 0 | 4 | 4 |
| SJP(LC) | 1 | 0 | 0 | 1 | 0 | 1 |
| SA | 3 | 0 | 1 | 2 | 3 | 6 |
| Cup | 8 | 1 | 3 | 4 | 11 | 16 |
| Tot | 103 | 42 | 28 | 33 | 164 | 141 |
Waffle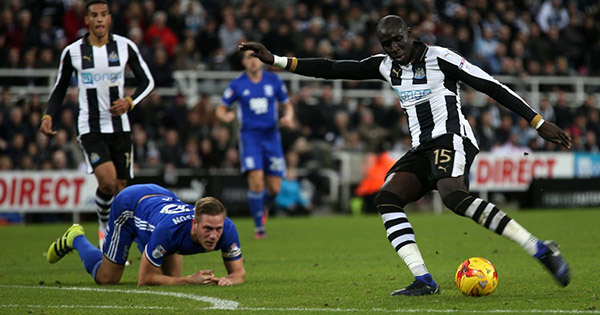 Normal service was resumed at St. James' Park on Saturday, following a slightly turbulent trio of defeats in unfortunate circumstances that had seen Brighton fleetingly top the table after winning their Friday night game.

And had we not managed to squeeze out yet another unfunny Dwight Gayle-related pun into a headline, then plundering John Lydon's back catalogue for "anger is an energy" would have nicely covered the mood among those clad in black and white.

Dwight Gayle's goals may have deservedly hogged the headlines, but in addition to seeing his main striker on song again, Rafa Benitez was doubtless delighted by the composure and controlled aggression that the whole team demonstrated right from the first whistle.

That no-nonsense attitude was epitomised by Mo Diame, who by his own admission had sleepwalked through the opening months of the season; only really rousing himself back at his old Humberside stamping ground for the League Cup tie.

The man from Senegal was a revelation today though, twice setting up Gayle to score and causing City headaches every time he went near the ball. Driving forward in a manner reminiscent of Moussa Sissoko (the good one), Diame upset Birmingham's game plan of trying to close down Jonjo Shelvey.

Good though Diame was, the unsung hero for us was Vurnon Anita, whose reading of the game from the right back berth had echoes of a previous beneficial posting for Nolberto Solano at the back. If there's any doubt over the merits of giving Gouffran a new deal, extending Anita seems like a no brainer, now that he's playing for a manager he's compatible with.

Two ahead before Karl Darlow had been called into action, any thoughts the visitors may have entertained of making a contest of this were obliterated by Yoan Gouffran (sporting dyed blonde hair) rapidly making it 3-0.

After that it was just a question of how many they'd score, Gayle denied by Kuszczak on 65 minutes after more good work from Diame. However the number nine completed what was a routine treble by his standards with 13 minutes remaining before making way for Aleksandar Mitrovic.

That rounded off the scoring and left United back on top of the table - at least until Brighton go to Blackburn on Tuesday, 24 hours before we head to Wigan for what has often been a tricky fixture.

Post-match opinion was polarised between those in praise of Newcastle and/or critical of a City side who started the day in fifth but were as meek as anything we've seen this season in this league.

Rafa's side can only beat what's put in front of them though: for what it's worth, the first 45 minutes were as good if not better than anything we've served up since relegation.

That's clear evidence that players are learning and improving training session by training session and game by game - and should continue to do so. If the term "Pardewed" has come to mean influenced negatively, Isaac Hayden for one has certainly been "Rafa'd" in a positive way.

The players did their jobs and followed instructions, never lapsing into the panic mode that was evident against Blackburn and accordingly keeping the home moaners quiet.

It really is as simple as that - unless clowns with whistles willfully try to influence the outcome.

PS: Those subscribing to the "what goes around comes around" theory doubtless enjoyed seeing Forest's 3-0 loss to Derby in Sunday's live TV game. Chief cheat Henri Lansbury injured himself in the warm-up, ex-mackem plank Nicklas Bendtner notched one OG and came very close to a second

Combine that with the decision to rescind both red cards and a measure of natural justice has been dispensed - although, the final score at the City Ground remained 1-2 and the number of points we collected zero. Lunatic referee Steve Martin meanwhile was deselected from whistling duty but trusted to work the subs board when acting as fourth official in Friday's Brighton v Leeds game.

PPS: Following the quartet of goals at SJP, there was the chance to see another fab four in Newcastle on Saturday, as the Bootleg Beatles played at a packed City Hall.

Tynesider and Toon fan Adam Hastings (John Lennon) appeared for the encore in a Newcastle shirt and fittingly the band ended with a spirited rendition of "Revolution" - or was it "Rafalution"?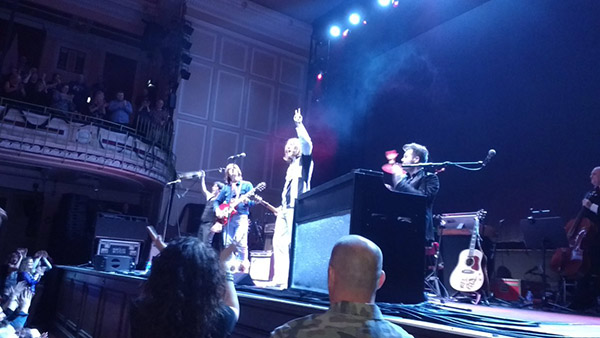 Don't you know it's gonna be, all right, all right, all right



Biffa