Date: Monday 26th December 2016, 7.45pm
Live on Sky Sports

Venue: St. James' Park

Conditions: Unconvincing





Newcastle United

Sheffield Wednesday

0 - 1

Teams
Half time: Magpies 0 Owls 0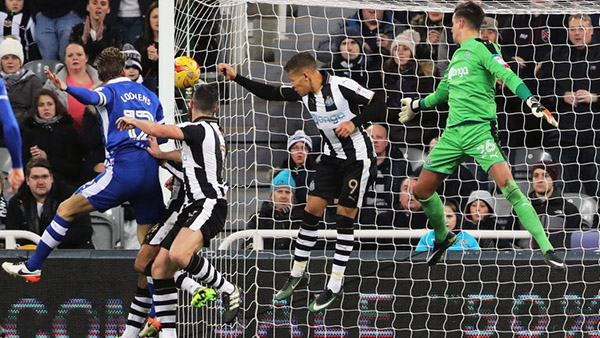 53 mins Karl Darlow dived to block a Tom Lees header from a corner but Fernando Forestieri was able to nod the ball back for Glenn Loovens to head in from close range at the Gallowgate End 0-1.

Full time: Magpies 0 Owls 1
Rafa:
"We didn't handle the pressure well. You always have to be disappointed when you lose, especially in a game like this when you're at the top against a good side.

"We had about three good chances before they scored their goal and we just didn't take our chances.

Even after we conceded we gave them the chance to keep counter-attacking. This is something we have to improve on because we've had this problem in a couple of games.

"It's been highlighted by a good team but it's something we need to improve on.

"We needed to score but we were a little bit anxious and made mistakes. We gave them too much space to play on the counter. Again, these are the types of games we have to manage because we are losing games that maybe you can draw or win - we have to learn that.

"I donít like being right but I said before the game that it would be tough against a good team. We have seen that, they have experience in this league. They have good players and they are well organised.
ďAnd because we didnít take our chances at the beginning they started having chances and creating problems in counter attacks, so I think we have to learn how to manage in games.Ē


Owls boss Carlos Carvalhal said:
"We played absolutely fantastic.

"We kept the ball well and were a threat to Newcastle's goal all the time.

"We created clear chances to score, my players were fantastic and deserve the three points.

"I said before the game we are Sheffield Wednesday, we have a brand and we always fight for the three points.

"Newcastle's best player was their goalkeeper. He made three or four fantastic saves.

"It was an important win. We deserved the win, playing against the strongest team in the competition.

"We prepared very well for the game, we have a way to play, we have big principles and are not an easy team to play against.

"We go step by step, game by game and let's see what position we will achieve in May."


Halfway the lads: NUFC in the Championship after 23 games:
2009/10 50 points (W15, D5, L3) F39 A14 1st
2016/17 49 points (W16, D1, L6) F45 A18 2nd

Goalscorers (Championship):

Dwight Gayle 17
Yoan Gouffran 4
Ayoze Perez 3
Aleksandar Mitrovic 3
Matt Ritchie 3
Christian Atsu 3
Jonjo Shelvey 3
Ciaran Clark 2
Mohamed Diame 2
Grant Hanley 1
Isaac Hayden 1
Jamaal Lascelles 1
DeAndre Yedlin 1
OG 1
NUFC Boxing Day Record - last 20:
2016/17 Sheffield Wednesday (h) lost 0-1
2015/16 Everton (h) lost 0-1
2014/15 Manchester United (a) lost 1-3
2013/14 Stoke City (h) won 5-1
2012/13 Manchester United (a) lost 3-4
2011/12 Bolton Wanderers (a) won 2-0
2010/11 Manchester City (h) lost 1-3
2009/10 Sheffield Wednesday (a) drew 2-2
2008/09 Wigan Athletic (a) lost 1-2
2007/08 Wigan Athletic (a) lost 0-1
2006/07 Bolton Wanderers (a) lost 1-2
2005/06 Liverpool (a) lost 0-2
2004/05 Blackburn Rovers (a) drew 2-2
2003/04 Leicester City (a) drew 1-1
2002/03 Bolton Wanderers (a) lost 3-4
2001/02 smoggies (h) won 3-0
2000/01 Leeds United (h) won 2-1
1999/00 Liverpool (h) drew 2-2
1998/99 Leeds United (h) lost 0-3
1997/98 Derby County (a) lost 0-1

Owls in Toon - last 20:
2016/17 lost 0-1
2015/16 lost 0-1 (LC)
2009/10 won 1-0 Ameobi
1999/00 won 8-0 Shearer 5, Hughes, Speed, Dyer
1998/99 drew 1-1 Dalglish
1997/98 won 2-1 Asprilla 2
1996/97 lost 1-2 Shearer
1995/96 won 2-0 Ferdinand, Clark
1994/95 won 2-1 Watson, Cole
1993/94 won 4-2 Cole 2, Mathie, Allen
1990/91 won 1-0 Brock
1988/89 lost 1-3 Mirandinha
1987/88 drew 2-2 Goddard 2
1986/87 lost 2-3 Allon, Scott
1985/86 won 4-1 Stephenson, Gascoigne, Beardsley, Whitehurst
1984/85 won 2-1 Beardsley, Wharton
1983/84 lost 0-1
1982/83 won 2-1 Varadi, OG
1981/82 won 1-0 Varadi
1980/81 won 2-1 Waddle 2 (FAC)
Waffle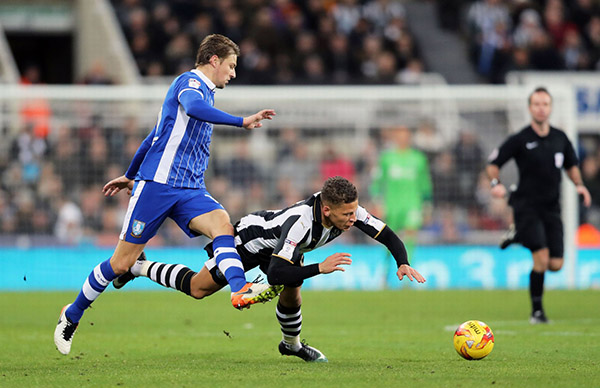 An in-form Sheffield Wednesday inflicted further post-Christmas misery on an unconvincing Newcastle side, who have now lost four of their last five Boxing Day home games.

On a vexing night at St. James' Park, the biggest Championship crowd of the season, plus a live TV audience watched the Owls frustrate United before leaving with a victory they arguably deserved.

The visitors won 1-0 here in the League Cup last year and although just three of their starting XI remained for this league encounter, their manager executed a similar game plan of containment and countering, adding in some elements of unchecked thuggery.

Tellingly, goalkeeper Karl Darlow was the pick of the Championship leaders' line-up and made a couple of outstanding saves before he was finally beaten.

Deprived of Jonjo Shelvey as he began a five game suspension, Jack Colback returned and there were recalls for Yoan Gouffran and Vurnon Anita at the expense of Christian Atsu and DeAndre Yedlin.

Wednesday began well and alarmingly found space to play early on in front of United's back four. The home side did come close to an opener when Mo Diame's measured pass led to Dwight Gayle striking the bar.

Other than that though, a set piece looked the most likely to bring a goal; Ciaran Clark twice finding space from corner kicks but putting his headers wide.

Darlow's first intervention was a fine tip over the bar from Steven Fletcher, miraculously saving with his legs to deny the mackem old boy early in the second half.

His 53rd minute dive to block a Tom Lees header from a corner though allowed Fernando Forestieri to nod the ball back for Glenn Loovens who headed home from close range at the Gallowgate End.

A rare moment of attacking fluency from Newcastle saw Colback's tempting centre from the left brush Gouffran's blonde crop but pass wide of the post.

Benitez made changes; Christian Atsu replacing the ineffective Gouffran and Ayoze Perez coming on for Diame - who seldom threatened anything or anyone, perhaps already thinking of the African Nations Cup.

Atsu did see one wicked effort tipped over by Keiren Westwood but our efforts to salvage a point then centred on Aleksandar Mitrovic, who directed one header from a corner straight at the 'keeper.

Gayle wasted a free-kick 25 yards from goal and Ritchie continued to look in vain for a telling pass without looking to take on or beat an opponent - although he's not the only player short of form.

Six minutes of added time saw Hayden get in behind the Wednesday defence but fluff his cross before full time on our fourth home defeat of the season, due in part to a noticeable lack of urgency for too long.

As was the case when Huddersfield, Wolves and Blackburn left with all three points, our opening salvo failed to bring a goal and we quickly ran out of ideas - reverting to type and playing unthreatening passes whilst searching in vain for space to open up.

That issue is masked by the accuracy and range of Shelvey's passing (in itself no guarantee of success, given that he played in our first trio of home losses) but the shortcomings of Colback and Hayden were exposed here, despite some room to work in.

Our lack of penetration down the flanks hardly made their tasks easier while Gayle's progress was illegally halted time after time, although he lacked both support and service.

Wednesday's rough tactics prompted six bookings and considerable leniency from referee Paul Tierney, who followed the standard Championship blueprint of fudging big calls and fussing over minute details.

The crudest of time-wasting tactics were deployed - Ross Wallace and Fletcher guilty of blatantly feigning injuries late on - the latter going off after treatment before wandering back on to the field unprompted.

It was only Tierney's shortcomings and the Owls' aggressive approach that brought any life to home fans though - an apparent lack of conviction by Newcastle's players soon deadening any optimism.

None of the substitutes deployed pressed their claims for a starting berth against Forest on Friday, leaving Rafa to try and reinvigorate what he's got.

It's important to stress that shortcomings of officialdom and our lack of ingenuity remain two separate issues. One doesn't excuse the other.

There's no value in nursing any sense of injustice without becoming more street smart: we really must learn to cope with what halfway competent teams deploy as a game plan to unsettle us.

This is a setback, a reality check, but not quite the end of the world some seem to have decided. Maybe we're so used to things turning to dust in our hands that we're all waiting for the team to revert to type.

Our next game gives us a great chance to end 2016 on a high note - and settle a score into the bargain. Surely that has to give both fans and players alike a kick up the rear end. No pain, no gain.

Biffa