Date: Friday 30th December 2016, 7.45pm

Venue: St. James' Park

Conditions: Score-settling





Newcastle United

Nottingham Forest

3 - 1

Teams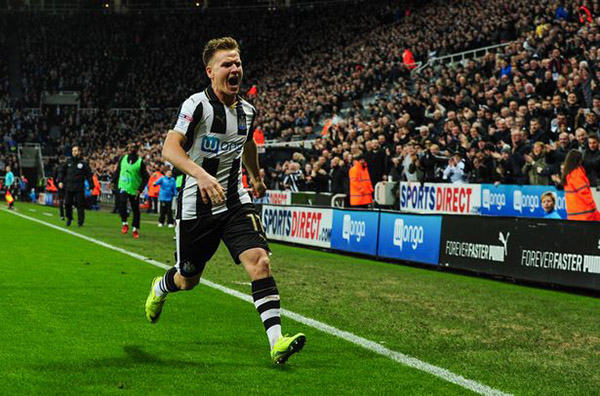 4 mins A perfect start for United after Ben Osborn upended Paul Dummett in a central position outside the Forest area. Matt Ritchie's free kick took a significant deflection to leave visiting goalkeeper Vladimir Stojkovic helplessly wrong-footed in the Leazes End goal 1-0

29 mins A right wing cross from Matthew Cash was inadvertently helped on by Ciaran Clark and nodded down by for Nicolao Dumitru to fire past Karl Darlow from eight yards. 1-1

Half time: United 1 Forest 1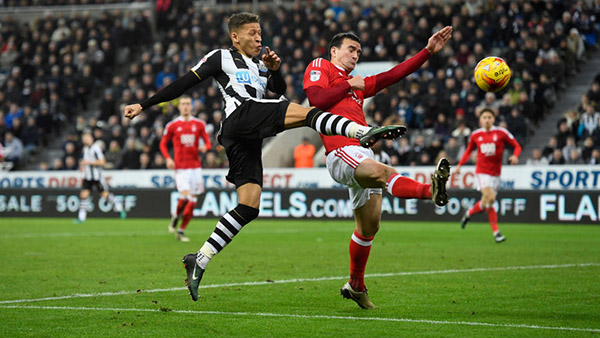 63 mins There looked to be nothing on as Dwight Gayle pursued a diagonal cross from Clark, but Eric Lichaj's attempted header back towards his 'keeper dropped into the number nine's path and he powered home a right-footed effort from the narrowest of angles. 2-1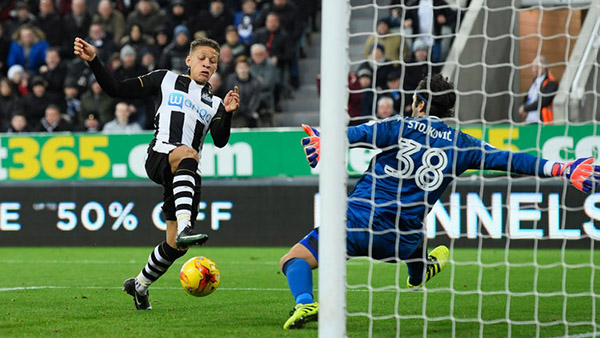 80 mins Matt Ritchie's low centre from the right eluded a pair of retreating defenders was walked / chested into the net by a limping Gayle 3-1

Full time: United 3 Forest 1
Rafa said:
"It was a different game and a different situation to the City Ground clash. I think we started the game well, pushing and creating chances.
"After they scored it was a little more even and we needed to change in the second half. We did again and we were pushing at the beginning. The sending-off was a big advantage for us.
"We started scoring and controlling the game, we created even more chances. I think at the beginning of the first half and second half the team played with the intensity and pace you need if you want to win in this type of game.

"I am really pleased because obviously it's not an easy league. I think we have won 17 games now, so I think that's quite good. We have lost some games, but still we are winning a lot of games.

"We have a good team working very hard, and then in the bad moments, we need these experiences. And we have had a lot of very good moments, so that is the main thing for me, keep doing that and try to improve the little things."

About Dwight Gayle:

"We said at the beginning that he's a good player who works for the team, but at the same time, can score goals, so I am really pleased for him and really pleased for the team."


Forest boss Philippe Montanier said:

"I prefer not to comment as everybody saw what happened. It is tough as it was a yellow card and no more. It was incredible and it changed the game. We played a good first half and had a good reaction after an unlucky goal with some opportunities to score.
"If we stayed 11 against 11 we could have got a better result and quickly after we conceded the second goal and 10 against 11 was too tough.
"Sometimes it is normal when you receive two yellow cards but I said to the players they will be fined if they get booked for dissent. In this case it was exaggerated. He gave the ball to the opponent strongly, but if you receive a yellow card every time for this there would be 10 or 11 yellow cards.
"It's incredible because even the referee didn't see anything, it was just the fourth (official) exaggerated a lot. For me, it is incredible, but I prefer not to comment on this decision. You saw what happened. But you can't change that.

"It was tough at the beginning of the second half, like at the start of the first, but we knew we had the quality to play and be dangerous. We had better control of the game, better than last time, and the players gave everything. They were brave as with the sending off everyone worked hard and never gave up, but we need a bit of luck in this tough period."


NUFC in the Championship after 24 games:
2009/10 51 points (W15, D6, L3) F39 A14 1st
2016/17 52 points (W17, D1, L6) F48 A19 1st
Dwight Gayle scored his 18th and 19th Championship goals of the season on his 19th start (he's also made one sub appearance in that competition).

He's the first Magpie to score 19 competitive goals in a season since Alan Shearer in 2004/05 (7 Premier League, 1 FA Cup, 11 Uefa Cup).
And barring a catastrophe, Gayle will reach 20 league goals in a season for the first time since big Al hit 22 in the 2003/04 Premier League campaign.

Matt Ritchie notched his sixth goal in Newcastle colours and fourth in the Championship, making him our second top scorer this season to date.
Tricky Trees in Toon - last 20:
2016/17 won 3-1 Ritchie, Gayle 2
2009/10 won 2-0 Ameobi, Enrique
1998/99 won 2-0 Shearer 2
1996/97 won 5-0 Asprilla, Ferdinand 2, Shearer, Elliott
1996/97 lost 1-2 (FAC) Ferdinand
1995/96 won 3-1 Lee 2, Ginola
1994/95 won 2-1 Fox, Lee
1990/91 drew 2-2 (FAC) Quinn, McGhee
1988/89 lost 0-1
1987/88 lost 0-1
1986/87 won 3-2 Wharton, A.Thomas, Beardsley
1985/86 lost 0-3
1984/85 lost 1-3 (FAC) Waddle
1984/85 drew 1-1 Wharton
1977/78 lost 0-2
1974/75 won 3-0 (LC) Macdonald, Burns, Keeley
1973/74 won 4-3* (FAC) Tudor, McDermott, Craig, Moncur
1971/72 won 2-1 Macdonald 2
1970/71 drew 1-1 McNamee
1969/70 won 3-1 Dyson, Craig, OG
Full record v Forest:
| | | | | | | |
| --- | --- | --- | --- | --- | --- | --- |
| | P | W | D | L | F | A |
| SJP | 45 | 26 | 9 | 10 | 91 | 48 |
| CG | 45 | 17 | 11 | 17 | 49 | 54 |
| League | 90 | 43 | 20 | 27 | 140 | 102 |
| SJP(FA)* | 9 | 4 | 3 | 2 | 19 | 13 |
| CG | 7 | 2 | 3 | 2 | 5 | 9 |
| SJP(LC) | 1 | 1 | 0 | 0 | 3 | 0 |
| CG | 2 | 1 | 1 | 0 | 5 | 4 |
| CG(ZDS) | 1 | 0 | 0 | 1 | 1 | 2 |
| Cup | 19 | 8 | 7 | 4 | 32 | 26 |
| Tot | 109 | 51 | 27 | 31 | 172 | 128 |
NUFC's year ending results - last 20:
2016/17 Nottm Forest (h) won 3-1
2015/16 West Bromwich Albion (a) lost 0-1
2014/15 Everton (h) won 3-2
2013/14 Arsenal (h) lost 0-1
2012/13 Arsenal (a) lost 3-7
2011/12 Liverpool (a) lost 1-3
2010/11 Spurs (a) lost 0-2
2009/10 Derby County (h) drew 0-0
2008/09 Liverpool (h) lost 1-5
2007/08 Chelsea (a) lost 1-2
2006/07 Everton (a) lost 0-3
2005/06 Spurs (a) lost 0-2
2004/05 Arsenal (h) lost 0-1
2003/04 Blackburn (h) lost 0-1
2002/03 Spurs (h) won 2-1
2001/02 Chelsea (h) lost 1-2
2000/01 Manchester United (h) drew 1-1
1999/00 Leicester City (a) won 2-1
1998/99 Liverpool (a) lost 2-4
1997/98 Liverpool (h) lost 1-2

Waffle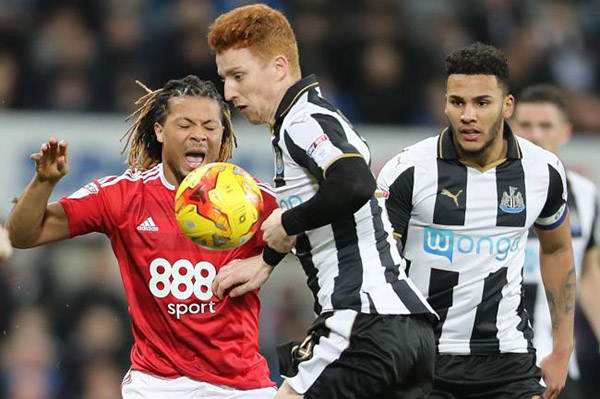 United rounded off 2016 by returning to the top of the Championship after dishing out some justice on Nottingham Forest at a packed and relieved St. James' Park on Friday evening.

The justice was poetic in that Forest had a player sent off minutes before Dwight Gayle made it 2-1; later bundling in a third to avenge an infamous defeat at the City Ground earlier in the month when Jonjo Shelvey and Paul Dummett were wrongly dismissed.

With Brighton and Reading having their games postponed and abandoned respectively due to fog, victory saw us leapfrog the Seagulls and open up a nine point lead over the third-placed Royals.

Gayle's double restored his goal-per-start record after failing to register against Wednesday and although goals 18 & 19 for the club were both in the box, they couldn't have been more different.

His first was a fabulous finish from a tight angle that left Stojkovic motionless but his second came off his chest and fooled the Forest 'keeper

Matt Ritchie had given his side the perfect start when his free-kick from 25 yards in front of the Leazes End hit the defensive wall and wrong-footed Stojkovic in just the fourth minute.

Forest responded with a couple of excursions upfield that ended in wayward shots, but got back on terms just before the half hour when on-loan Napoli striker Nicolao Dumitru beat Karl Darlow from eight yards to notch his first goal in English football.

From the side beaten here by Sheffield Wednesday, Rafa Benitez elected to bench Mo Diame, Yoan Gouffran and Vurnon Anita - Ayoze Perez, Christian Atsu and DeAndre Yedlin replacing them.

That reshuffle paid dividends, with the tempo and intensity of United's play better - aided in no small part by an evident desire to atone for the defeat suffered in the corresponding game a month ago.

Lacking pantomime villain Henri Lansbury, Forest's general approach remained unchanged, their first illegal challenge made after precisely eight seconds and followed almost continual play-acting. Clearly that's a deliberate tactic by their manager.

An early goal maintained the mood but once back at 1-1, the enthusiasm of a Championship record crowd of 52,228 waned and United's lack of progress was reflected in frustration from the stands.

Resuming with the same side, United moved the ball quicker and Gayle moved out to the left before setting up Atsu - his effort blocked and reaching Ritchie to batter a first-time shot off Stojkovic.

The antics of Forest had succeeded in winding up home fans and the volume was turned up after an hour when Matt Mills received his marching orders following two bookings in the same incident.

Going through Perez in the middle of the pitch earned Mills a first yellow, shoving the ball into Gayle's chest in view of the fourth official the second. Self-inflicted, avoidable, hilarious.

Attacking with renewed vigour and that numerical advantage, the crowd's encouragement was soon repaid by Gayle with a classic poacher's strike.

The arrival of Diame in a central midfield role gave United some additional presence and threat from that area and he pressed forward at every opportunity.

It took 17 more minutes to get the third goal that sealed the points, Ritchie's dangerous low cross from the right virtually walked into the net by a clearly injured Gayle.

By then though Forest had accepted their fate and rarely looked like denying Newcastle a significant and morale-boosting victory to close off 2016.

The performance wasn't always top drawer, but United's work ethic and will to win was evident and Gayle's striking instincts thankfully undiminished.

Another wrong righted then; similar belligerence is now required at Ewood Park against a Rovers side who somehow left SJP with three points in November.


Biffa