Date: Monday 2nd January 2017, 3.00pm
Live on Sky Sports

Venue: Ewood Park

Conditions: Exasperating

Admission: £30 upper & lower
(£29 2011/12)

Programme: £3

Blackburn Rovers

Newcastle United

1 - 0

Teams
Half time: Rovers 0 Magpies 0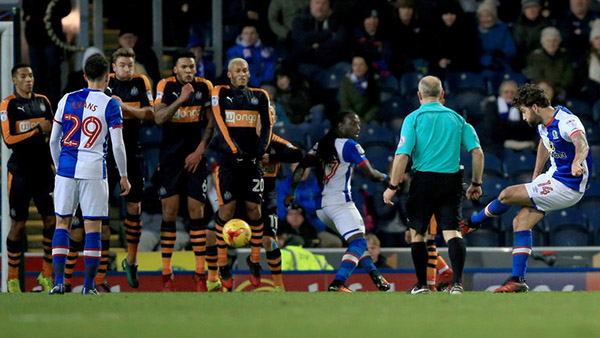 74 mins Jack Colback's illogical foul on Marvin Emnes as he ran out of ideas gave Rovers a free kick in a dangerous position just on the curve of the "D". Charlie Mulgrew calmly side-footed his effort past the wall on Karl Darlow's side in front of a half empty Blackburn End Stand. 0-1
Full time: Rovers 1 Magpies 0
After the game Rafa said:
"I didnít know the stats in the first half, the chances the possession, corners and everything was all in our favour so itís difficult to explain.

"Then what we had to do was keep doing the same things in the second half and we started the second half with two goals disallowed and the same idea and same control.
"We lost control of the game for maybe five or ten minutes and we concede the goal.

"How can you not even draw but lose this game? Itís incredible.

"I will not say anything about if it was a penalty or a goal disallowed if it was right or not because I couldnít see and I didnít see the replays.

"The only thing for me is to see the team playing so well and not winning the game is difficult to understand."


Rovers boss Owen Coyle said:
"I've said before and I said in my programme notes that thereís been troubled times at the club for a number of years now.

"If you have a protest, we understand that but the important thing is that during the games, if you back the players then they will respond to that.

"We knew coming into the game that we would have to defend for our lives at times because for me they are a quality side and a side that I certainly believe will go on to be champions.

"Charlie Mulgrew came up with a wonderful free-kick and then we had to stand up and be counted."


Daryl Murphy made his Championship debut for United, becoming the 26th player used in that competition so far this season.

Paul Dummett completed a century of first team appearances for United, almost exactly four years since debuting in an FA Cup tie at Brighton in January 2013.

Blackburn Rovers became the first side to complete a league double over Newcastle outside the top flight since Millwall in the 1991/92 season (1-2 a, 0-1 h)

Rovers v United - last 20:
2016/17: Lost 0-1
2011/12: Won 2-0 og(Dann), Obertan
2011/12: Lost 3-4 Guthrie, Cabaye, Lovenkrands (LC)
2010/11: Drew 0-0
2008/09: Lost 0-3
2007/08: Lost 1-3 Martins
2006/07: Won 3-1 Martins 2, S.Taylor
2005/06: Won 3-0 Shearer, Owen, N'Zogbia
2004/05: Drew 2-2 Dyer, Robert
2003/04: Drew 1-1 Bellamy
2002/03: Lost 2-5 Shearer 2
2001/02: Drew 2-2 Shearer 2
1999/00: Won 2-1 Shearer 2 (FAC)
1998/99: Won 1-0 Saha (FAC)
1998/99: Drew 0-0
1997/98: Lost 0-1
1996/97: Lost 0-1
1995/96: Lost 1-2 Batty
1994/95: Lost 0-1
1994/95: Won 2-1 Hottiger, Clark (FAC)

First footing - last 20 year-opening results:

2017 Blackburn (a) lost 0-1
2016 Arsenal (a) lost 0-1
2015 Burnley (h) drew 3-3
2014 West Bromwich Albion (a) lost 0-1
2013 Everton (h) lost 1-2
2012 Manchester United (h) won 3-0
2011 Wigan (a) won 1-0
2010 Plymouth (a) drew 0-0 (FAC)
2009 Hull City (a) drew 0-0 (FAC)
2008 Manchester City (h) lost 0-2
2007 Manchester United (h) drew 2-2
2006 smoggies (h) drew 2-2
2005 Birmingham City (h) won 2-1
2004 Southampton (a) won 3-0 (FAC)
2003 Liverpool (h) won 1-0
2002 Manchester United (a) lost 1-3
2001 Spurs (a) lost 2-4
2000 West Ham (h) drew 2-2
1999 Crystal Palace (a) won 2-1 (FAC)
1998 Everton (a) won 1-0 (FAC)
Waffle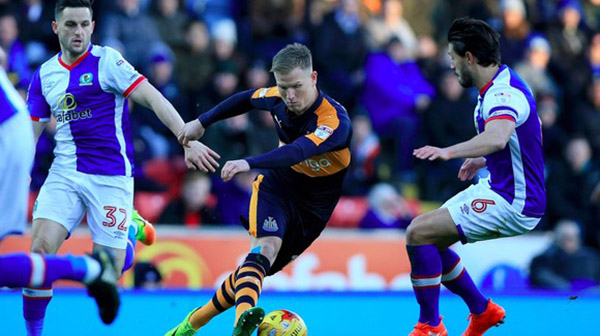 Newcastle's rollercoaster festive period ended with a significant dip, as Blackburn completed an unlikely league double and Charlie Mulgrew again managed to land the sucker punch.

The former Celtic player netted the only goal of the game at Gallowgate in November and his free kick at Ewood was enough to steal the points - Blackburn's only accurate effort in the 90 minutes.

United's statistics were rather more substantial, but hitting the target with just five of their 25 recorded efforts on goal underlines another afternoon when domination and possession of the ball didn't translate into enough match-winning opportunities.

Chances came and went; Mo Diame rattling the bar, Dwight Gayle twice denied and Ciaran Clark involved
in

two penalty claims,
seeing a volley tipped over and his goal chalked off for handball.

With United building up a head of steam after the break as they attacked a noisy away end, a tenth away win from 13 games seemed the inevitable outcome of an embarrassingly one-sided contest.

However frustration had mounted after the two "goals" chalked off in quick succession - one for offside, the other for handball - and the prospect of a rare draw began to loom until Jack Colback intervened to give Rovers the chance of a shot at goal. Gayle had wasted a free kick from an identical position earlier but Mulgrew didn't.

At that point, Brighton and Reading were losing their away games, but both subsequently recovered to claim victory in the closing stages to make it a disastrous start to the year for the Magpies.

The concern is that another bang average Championship side looking over their shoulders at the relegation zone were able to line up with two banks of four and frustrate us - an extra level of annoyance coming from the fact their game plan involved neither play-acting or thuggery.

Shelvey may not be the sharpest knife in our drawer; the needless abuse he directed at a linesman in the Burton away game on the eve of his hearing further evidence of that. However the absence of collective football intelligence from Newcastle here was stark, leadership and direction coming from the sidelines not the pitch - where we lacked personality.

Perhaps the only positive to take is a redoubling of recruitment efforts in this window; Diame and Atsu now missing up to eight league and cup games due to the Nations Cup. At least Shelvey is almost back in contention - sitting out just one more Championship game and hopefully refreshed after his enforced month of idleness.

The Colback/Isaac Hayden midfield combination is just ineffective and the quality of crossing and service into the box for the most part verged on the laughable.


And after praising the quality and variety of set pieces in previous games this season, those today were either badly planned or badly-executed, or both.


Our
s

ubstitutions were also baffling; Ayoze Perez again offering nothing and Yoan Gouffran's race run long before Christian Atsu replaced him in the 85th minute.
Preferred to Aleksandar Mitrovic
("rested"
despite barely featuring recently) Daryl Murphy's appearance from the bench also came far too late to have any impact.


They were panic measures, made once behind, rather than an attempt to win when goalless.

Recovering from going behind is also something not currently in our skill set (aside from the Norwich home win), but something our rivals manage regularly.

That's seven defeats now in the league - we went up in 2009/10 losing just four games all season and remained undefeated at home (we've lost four at SJP already).


At a time when most of us can't bear to stomach any more comestibles, that's certainly food for thought for Benitez
, although our habit of winning and losing rather than drawing keeps the points tally ticking over to some extent (we drew twice between Christmas and new year that season).

Brighton's win put them two points clear at the top of the table with a game in hand while Reading are six points behind us, also having played one game less.
A
nd a

s the fixture list stands, both sides will play again in the Championship before Newcastle.
Not quite a foregone conclusion then....


Biffa