Date: Saturday 7th January 2017, 3.00pm

Venue: St. Andrew's

Conditions: Feeble

Admission: £18 ST holders (£20 public)
(£28 in 2010/11)

Programme: £2






Birmingham City

Newcastle United

1 - 1

Teams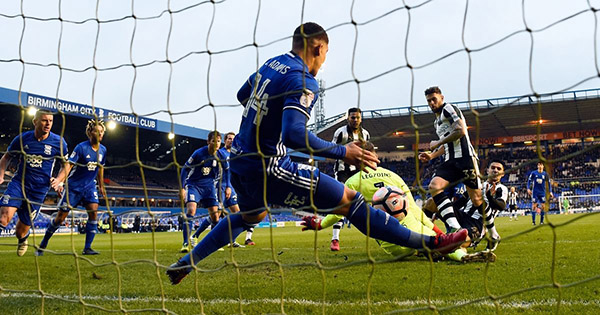 That'll be the Murphy's
5 mins Achraaf Lazaar's left footed corner bounced in front of the near post in front of the away fans and Massadio Haidara made a failed attempt to touch the ball on into the six yard box.

Grant Hanley sent the loose ball goalwards but his improvised shot cannoned off two home players, falling to Daryl Murphy who beat Aleksandar Mitrovic to it and steered in from four yards. That was despite the 'keeper getting a hand to it and City's Che Adams being close to the goal line 1-0
42 mins United failed to regroup following a quickly-taken free-kick and Jonathan Grounds beat Lazaar before crossing from the City left for Lukas Jutkiewicz to beat Matz Sels with a simple low six yard shot in front of the Tilton Road End . 1-1

Half time: Toon 1 Blues 1
Full time: Toon 1 Blues 1
Rafa said:

"I was a little bit disappointed - not because of the formation, but because we were trying to play with two strikers and we lost one after just a few minutes, so we had to change things in the game.

"We had the control and were creating. We were dominant and then we gave Birmingham the chance to get back into the game as we lost that control.

"Obviously, when you have so many players who have not played for a while, to keep the tempo and intensity was not easy. We then had to make the substitutions in an effort to get back into the game.

"I think it was fine. It was fine for 30 minutes, and after we needed a little bit more control, but maybe we didn't have the legs to cope with the pace of the game.

"We wanted to manage in a way that was more similar to what we were trying to do and get more from it, but in terms of the defence and the midfielders, I was trying to protect some players who were not playing too much to be sure we have numbers there.

"In possession, we could maybe do a little bit better. We gave the ball away too much, and so we had to defend a lot. I was happy with a lot of things, but we can improve the understanding. We can improve some obvious things.

On the goalscorer:

"I thought Murphy did a great job scoring his first goal for the club. In terms of effort I was pleased for him as well as him scoring a good goal.

On Gouffran returning to his former forward role when replacing Mitro:

"He likes to play there, I was talking to him about that. It was a different approach with Mitrovic. We had an idea with Mitrovic and Murphy, but with Gouff it was different.

"He had one or two chances. He did well, but in the end for us it meant we had one substitution already and it was hard to manage the physical condition of some players who needed to be changed or substituted to give fresh legs to the team. We couldn't do that.

"We knew before that the worst thing could be to play another game, but, OK, it's what we have, and we have to try to manage properly. We must try to win (the replay) and manage it properly, but make sure we don't lose focus on the league.

"A replay is not ideal for us or Birmingham but we have to manage as best we can in an effort to progress in what I believe is a massive competition. We know what it means to the Newcastle fans and will try to go through despite having to use players who are not playing very often.

"This is both good for the squad and the team to operate like this."

On giving pitch time to squad players:

"It can help some of them to be better, to be fit for the rest of the season and to use them. On the other hand, it's bad news because we have to play more games, use more players and that always creates more risk."

On using Lazaar at wing-back:

"He can be fine in this position."

Blues boss Gianfranco Zola:
"There was some good football but it was important that we got something out of the game. It will give the players a big lift.
"I thought it was our best performance for consistency with the exception of the opening five minutes, when Newcastle scored their goal.

"This game will improve the quality of the football we can produce and improve the confidence in the team.

"I can say I was nervous on the bench. This is the moment for us to begin as the players understand what I want them to do.

"I totally believe we should have beaten Newcastle. We had more possession, more shots and looked more dangerous than Newcastle.

"We didn't allow them to find their rhythm and create problems. I thought our three midfielders were outstanding and we stopped them playing. I think that was a surprise to them."

If Newcastle are to return to the top-flight this season, then they've managed to do one thing common to all of their previous promotions - be drawn away in the FA Cup Third Round tie and fail to win at the first time of asking:

1947/48 Charlton Athletic (a) lost 1-2
1964/65 Swansea Town (a) lost 0-1
1983/84 Liverpool (a) lost 0-4
2009/10 Plymouth Argyle (a) drew 0-0

United
have won just one of their last eleven FA Cup Third Round ties at the first attempt:

2016/17 Birmingham City (a) drew 1-1 (replay outcome tbc)
2015/16 Watford (a) lost 0-1
2014/15 Leicester City (a) lost 0-1
2013/14 Cardiff City (h) lost 1-2
2012/13 Brighton and Hove Albion (a) lost 0-2
2011/12 Blackburn Rovers (h) won 2-1
2010/11 Stevenage (a) lost 1-3
2009/10 Plymouth Argyle (a) drew 0-0 (won replay)
2008/09 Hull City (a) drew 0-0 (lost replay)
2007/08 Stoke City (a) drew 0-0 (won replay)
2006/07 Birmingham City (a) drew 2-2 (lost replay)

The Magpies have failed to win any of their last 13 away ties in the FA Cup:

2016/17 R3 Birmingham City drew 1-1
2015/16 R3 Watford lost 0-1
2014/15 R3 Leicester City lost 0-1
2012/13 R3 Brighton and Hove Albion lost 0-2
2011/12 R4 Brighton and Hove Albion lost 0-1
2010/11 R3 Stevenage lost 1-3
2009/10 R3 Plymouth Argyle drew 0-0
2009/10 R4 West Bromwich Albion lost 2-4
2008/09 R3 Hull City drew 0-0
2007/08 R3 Stoke City drew 0-0
2007/08 R4 Arsenal lost 0-3
2006/07 R3 Birmingham City drew 2-2
2005/06 R6 Chelsea lost 0-1
2005/06 R4 Cheltenham Town won 2-0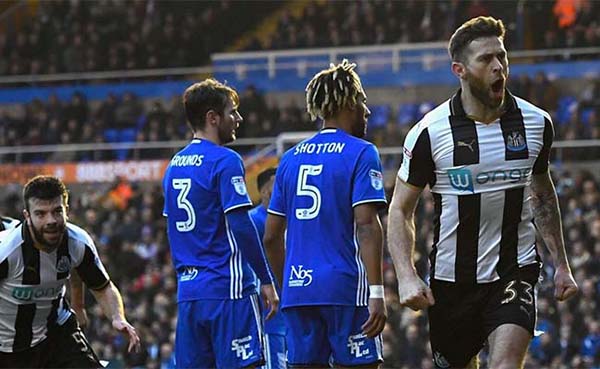 Daryl Murphy marked his FA Cup debut for the club with his first Toon goal and our first in the competition since Papiss Cisse v Cardiff City (h) in 2014, ending a scoreless run of 213 minutes.

The Republic of Ireland international also ended our FA Cup scoring drought away from home at 365 minutes, since Joey Barton shot home in the last seconds of a defeat at Stevenage in 2011.

Murphy was one of eight competition debutants for United, along with messrs Sels, Yedlin, Hanley, Colback, Ritchie, Hayden and Lazaar. It was also the manager's NUFC debut in the competition.

Vurnon Anita has now made four FA Cup appearances for United (all starts) - and is yet to finish on the winning side.

Cheick Tiote made a second competitive appearance of the season (following a substitute outing at Aston Villa in the Championship) and his first competitive start since a 5-1 Premier League home win over Spurs in May 2016.

The Ivorian and Mitrovic were the only survivors from the side beaten 0-1 at Watford in last season's FA Cup Third Round; messrs Elliot, Janmaat, Mbemba, Coloccini, Dummett, Mbabu, Sissoko, Wijnaldum and Perez all sold, unavailable or omitted for a variety of reasons.

Massadio Haidara made a return to first team action following injury, his last senior outing coming from the bench in the 6-2 Premier League home win over Norwich City in October 2015. The Frenchman's most recent start had been in a 0-2 loss at West Ham a month earlier.

It's now eight league and cup games without defeat for Newcastle on this ground - a run stretching back to a League Cup reverse in November 2000.

Toon @ St. Andrews - last twenty:
2016/17 drew 1-1 Murphy (FA)
2010/11 won 2-0 Lovenkrands, Best
2007/08 drew 1-1 Owen
2006/07 drew 2-2 Taylor, Dyer (FA)
2005/06 drew 0-0
2004/05 drew 2-2 Jenas, Butt
2003/04 drew 1-1 Speed
2002/03 won 2-0 Solano, Ameobi
2000/01 lost 1-2 Dyer (LC)
1999/00 lost 0-2 (LC)
1992/93 won 3-2 Peacock, Scott, OG
1985/86 won 1-0 Reilly
1979/80 drew 0-0
1977/78 lost 0-3
1976/77 won 2-1 T.Craig, Barrowclough
1975/76 lost 2-3 T.Craig, Nulty
1974/75 lost 0-3
1974/75 won 4-1 Kennedy, Nattrass, Cannell, OG (TC)
1973/74 lost 0-1
1973/74 drew 2-2 Gibb, McDermott (LC)

Blues v Magpies in FA Cup - all time:

2016/17 R3 drew 1-1 (a)
2006/07 R3R lost 1-5 (h)
2006/07 R3 drew 2-2 (a)
1905/06 QFR won 3-0 (h)
1905/06 QF drew 2-2 (a)


Waffle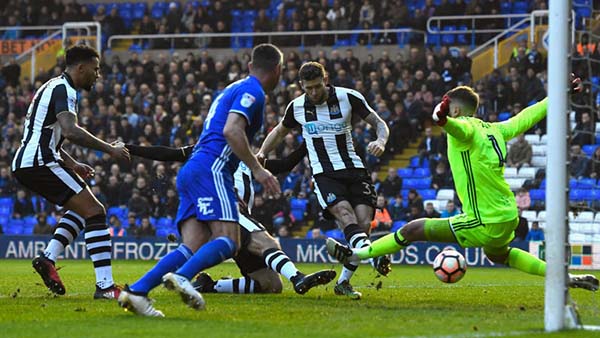 A different manager brought only the most marginal of uplifts to Newcastle's FA Cup fortunes at a lifeless St. Andrew's on Saturday, as an unwanted replay was added to the club's schedule.

True, we're in the Fourth Round draw for the first time in five seasons and scored for the first time in three attempts. However, the fifth anniversary of our last FA Cup win passed with no increase on that tally and the interminable wait for an away success since Cheltenham Town in 2006 goes on.

Rafa Benitez returned to the competition he won with Liverpool in 2006 for a first FA Cup tie in his 1,005 game managerial career since his Chelsea side lost to Manchester City at Wembley in the 2013 Semis. Cup football may be all about the result but this occasion was rather less auspicious....

A side showing eight changes from that beaten at Ewood Park on Monday and including forgotten pair Massadio Haidara and Cheick Tiote took a fifth minute lead but proved unable to build on that.

In mitigation, the enforced change to an unexpected forward pairing of goalscorer Daryl Murphy and Aleksandar Mitrovic before the game resumed was a factor, but a midfield including Tiote, Jack Colback and Vurnon Anita proved unfit for purpose - despite some promise from Achraaf Lazaar.

Restored to the starting lineup after less than half an hour's service in our last eight games, the Serbian was stretchered from the pitch with a gaping leg wound sustained in trying to reach the loose ball that Murphy converted.

And although some semblance of cover was available by introducing Yoan Gouffran to the attacking role he occupied when bought for from Bordeaux four years ago, that did little to aid the experiment of a rare two up front formation for a Benitez side set out as 3-5-2.

Gouffran had two clear opportunities to double the lead but hesitated to shoot when well placed, failing to pull the trigger having rounded the 'keeper as he had fleeting sight of the empty net.

Regardless of the alteration to our attack though and shortcomings in midfield, the issue of who goes in goal instead of Karl Darlow remains a pertinent one. Quite simply, while Matz Sels is that player, we'll never progress in any competition that gives him the chance to cause consternation with his penchant for punching and flapping at the most of unthreatening of balls. A total liability.

Some online fan comments about the Belgian being our worst custodian ever may be wide of the mark for those who recall the likes of Hollins, Hardwick or Hooper, but the clearest indication Rafa can give that he's seeking an early FA Cup exit is to retain Sels for the replay.

No blame was attached to the 'keeper though for City's equaliser; the outfield players collectively nodding off before Lukas Jutkiewicz shot home to rouse the home fans from their slumbers.

Level at half time, any real semblance of a contest disappeared in the second period as United showed total disinterest in seeking out another goal and Birmingham weren't much better. One gentleman in a corporate box behind us was clearly asleep, while others watched racing on TV.

Gianfranco Zola's first victory as City boss though did start to look more likely as they accepted our invitation to press in the closing stages

, ex-Burnley striker Jutkiewicz somehow twice failing to direct his headers on target when what would surely have been a winner was put on a plate for him. Had either of those gone in, we might have struggled to suppress a relieved cheer.

With Dwight Gayle well and truly off limits following the injury to Mitrovic and omission of calf injury victim Ayoze Perez, the introduction of Isaac Hayden and Matt Ritchie did nothing to improve our general play and the full time whistle sounded amid almost total indifference, Newcastle players leaving the field to barely a ripple of applause.

For all the transfer work in the summer, the failure to bring in like-for-like cover for Shelvey stands out - although had such a player existed then he'd doubtless not have been risked today.

In the same way that Rafa couldn't paint over the cracks in ten games last season, assessing and reversing the years of neglect on Barrack Road will take more than a few months.

The FA Cup no longer "matters" in the same way because of the people who came before him at this club, be they players, managers, administrators or Chairmen who sanctioned the butchering of the fixture list and the downgrading of the competition at their summit meetings.

Cup runs would be nice, but one look at Hull's two-legged reward this month (Manchester United) for beating us in the EFL Cup) should be enough to inject a note of realism to proceedings.

We live to fight another day, although we'd rather not have done. To close with a quote from our report of the equally demoralising but predictable 0-0 draw at Plymouth in January 2010, "we have only one priority this year and it's not to go to Wembley - in the FA Cup or the bloody playoffs".

Biffa