Date: Saturday 28th January 2017, 3.00pm

Venue: Kassam Stadium

Conditions: Futile

Admission: £21

Programme: £3





Oxford United

Newcastle United

3 - 0

Teams
Half time: U's 0 Toon 0
46 mins Barely 50 seconds after the restart, United conceded a right wing corner that was played short and centred by Chris Maguire for Chey Dunkley to head back across goal and Kane Hemmings to bundle home from close range in front of the home support in the East Stand 0-1

(66 mins Aleksandar Mitrovic penalty saved)
79 mins Curtis Good made a vital interception at the expense of a corner down the Oxford left. Rob Hall sent that over to the back post for Curtis Nelson to shrug off a half-hearted challenge by Isaac Hayden before heading home 0-2

87 mins Another corner; another goal. Dunkley and Liam Sercombe combined for the former to cross from the right and unmarked striker Toni Martinez to loop his header beyond Sels for his first senior goal just 17 minutes into his debut. Martinez is on loan from West Ham and scored twice for them against Newcastle U23s back in August. 0-3
Full time: U's 3 Toon 0
Rafa said:

"We didn't underestimate Oxford - we didn't take our chances in the first half, we missed a penalty and Oxford took their chances.
"You have to give credit to them as they were fighting for the result and we just made too many mistakes and paid for the first one at the start of the second half.
"We had to make the changes. It is very clear. I said before the game that if we were going to go through, it had to be with the squad, and if we couldn't do that, then we couldn't.

"We could have been ahead in the first half, but we didn't do it and then we paid for the first mistake in the second half and that was it.
"I feel sorry for the fans and for us, as we wanted to go through and we could've done on the chances created in the first half. It's something we need to analyse and find out why we made the mistakes we did and be ready for the next game.

"We didn't take our chances in the first half, we missed a penalty and they took their chances.
"We didn't mark properly from the corners and we gave the ball away. You have to give credit to them because they were fighting for the result and we made too many mistakes.
"We knew about Oxford's quality, we did our homework and we analysed almost everything.
"In the end, football is a game that you have to take your chances - we had ours and we didn't take them."
"Mitrovic was working hard for his chances. I was not thinking of playing him for 90 minutes, but he was getting the chances. He was unlucky."

U's boss Michael Appleton:
"For me personally, with the squad Newcastle have got, this surpasses beating Arsenal at the Emirates when I was at Blackburn (in the fifth round four years ago). That's how big this is.

"This feels fantastic. It won't be long before Newcastle are plying their trade in the Premier League and, with the squad they've got, they'll be challenging in the top half, I believe.

"We tried to press really high and we had to be brave. We rode our luck at times but it was a fantastic performance. It was when we got the second goal that I felt we were going to do it.

"The save from the penalty probably gave the players more belief that we could win the game than if we'd got a goal then - it was massive. Eastwood had to make two very, very big saves with his feet (from Mitrovic in the first half).

"I said at half-time to the players, 'You won't get a better chance to get into the fifth round'.

"Kane Hemmings wasn't going to play, originally, but there has been interest from a club (Plymouth Argyle) for Ryan Taylor so he got his chance. To be fair, the cup competitions have been good for Kane. I still want him to score more goals in the league, which I am sure he will.

"Toni (Martinez) has got a hell of a career ahead of him. He's just turned 19."


Magpies @ Oxford - all-time:

2016/17 lost 0-3
1992/93 lost 2-4 O'Brien, Clark
1991/92 lost 2-5 Scott, Peacock
1990/91 drew 0-0
1989/90 lost 1-2 Quinn
1987/88 won 3-1 McDonald, O'Neill, Mirandinha
1986/87 drew 1-1 Goddard
1985/86 won 2-1 Gascoigne, Beardsley
1985/86 lost 1-3 Cunningham (LC)
1983/84 lost 1-2 Keegan (LC)

All games before 2016/17 were at the Manor Ground.

This was Newcastle's 34th game of the season - they played 41 in the whole of 2015/16.

The Magpies conceded three goals in a game for the second time this season, after the 4-3 Championship home win over Norwich City back in September.

This was the first occasion United have conceded three times in one half since going in at half time 0-3 behind to Chelsea in February 2016. That game ended 1-5.

This was our heaviest FA Cup
defeat since a 0-3 Fourth Round reverse at Arsenal in 2007/08.

Curtis Good made only his second senior appearance for the club
, the first in a League Cup tie away to Morecambe in August 2013. The defender's most recent senior competitive game came while on loan at
Dundee United in February 2014.


United

have failed to win any of the 14 away ties in the FA Cup since Cheltenham in 2006:

2016/17 R4 Oxford United lost 0-3
2016/17 R3 Birmingham City drew 1-1
2015/16 R3 Watford lost 0-1
2014/15 R3 Leicester City lost 0-1
2012/13 R3 Brighton and Hove Albion lost 0-2
2011/12 R4 Brighton and Hove Albion lost 0-1
2010/11 R3 Stevenage lost 1-3
2009/10 R3 Plymouth Argyle drew 0-0
2009/10 R4 West Bromwich Albion lost 2-4
2008/09 R3 Hull City drew 0-0
2007/08 R3 Stoke City drew 0-0
2007/08 R4 Arsenal lost 0-3
2006/07 R3 Birmingham City drew 2-2
2005/06 R6 Chelsea lost 0-1
2005/06 R4 Cheltenham Town won 2-0

This was the 23rd time that we've been the subject of a post-WW2 giant-killing:

1948/49 Bradford Park Avenue (h) 0-2 (D2 beat D1)
1956/57 Millwall (a) 1-2 (D3S beat D1)
1957/58 Scunthorpe United (h) 1-3 (D3N beat D1)
1960/61 Sheffield United (h) 1-3 (D2 beat D1)
1961/62 Peterborough United (h) 0-1 (D3 beat D2)
1963/64 Bedford Town (h) 1-2 (NL beat D2)
1967/68 Carlisle United (h) 0-1 (D2 beat D1)
1971/72 Hereford United (a) 1-2 (NL beat D1)
1972/73 Luton Town (h) 0-2 (D2 beat D1)
1974/75 Walsall 0-1 (a) (D3 beat D1)
1977/78 Wrexham 1-4 (a) (D3 beat D1)
1979/80 Chester City (h) 0-2 (D3 beat D2)
1980/81 Exeter City (a) 0-4 (D3 beat D2)
1985/86 Brighton & Hove Albion (h) 0-2 (D2 beat D1)
1988/89 Watford (a) 0-1 (D2 beat D1)
1991/92 Bournemouth (h) 2-2, 3-4pens (D3 beat D2)
1993/94 Luton Town 0-2 (a) (D1 beat PL)
2002/03 Wolves 2-3 (a) (D1 beat PL)
2006/07 Birmingham City (h) 1-5 (CH beat PL)
2010/11 Stevenage (a) 1-3 (L2 beat PL)
2011/12 Brighton (a) 0-1 (CH beat PL)
2012/13 Brighton (a) 0-2 (CH beat PL)
2016/17 Oxford United (a) 0-3 (L1 beat CH)
Newcastle made their first visit to the Kassam Stadium - the third new domestic venue this season after Rotherham United's New York Stadium and Burton Albion's Pirelli Stadium.

15 of the current 92 league grounds are still to be visited by us for a first team fixture (either competitive or friendly) and no NUFC side has yet set foot in 11 of them:
Barnet
Bristol Rovers
Chesterfield*
Colchester United
Crawley Town*
Fleetwood Town
Millwall*
MK Dons
Newport County
Northampton Town
Shrewsbury Town
West Ham
Walsall*
Wimbledon
Wycombe Wanderers
*United have played here at reserve/junior team level
(Rochdale is omitted from the list as United played a War Cup tie at Spotland during 1941)



Waffle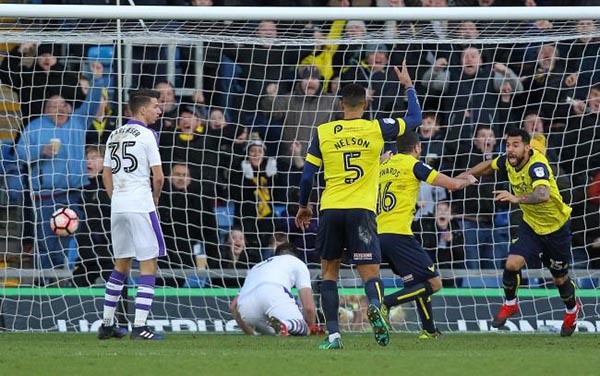 Given that it's now eleven seasons since Newcastle advanced beyond the FA Cup Fourth Round or won an away tie, this latest exit barely counts as an upset.

A scratch team featured a player whose only previous senior game was in 2013, two rookies who debuted in the last round and three returning from injury.
Taking that into account and looking at the score, it's reasonable therefore to conclude this was a deliberate attempt to avoid progressing.

However, there was enough evidence in the first 45 minutes to suggest that those on show were good enough to overcome a mid-table third tier outfit.
Sadly though, our perennial weaknesses of defending set-pieces and responding positively when going behind

would

again bec
o

me evident
.


This loss
was avoidable - and not just by picking a different team. And for avoidable, also read annoying, irritating

and
self-inflicted, but inevitable.... given where we are

currently
and what the

sole
aim of this season is.
Alan Shearer may have led a chorus of disapproval but w
e were tossing this competition off in our Premier League days, so to be relegated and follow convention is hardly a shock: given that we did our best to get out in the second half at Birmingham, we're surprised that anyone is surprised.


Just Isaac Hayden and Ayoze Perez
were retained
from the side
that beat Rotherham a week earlier, Rafa Benitez making six changes from the side who overcame Birmingham at the second attempt.

Having gashed his leg in the Third Round tie at St. Andrews, Aleksandar Mitrovic returned to lead the attack and contrived to waste three opportunities from inside the box before half time.

With Yasin Ben El-Mhanni also forcing Simon Eastwood into a decent block and his opposite number Matz Sels only tested once, the opening 45 minutes gave some cause for optimism that we'd be in the

draw.
Had we been interested in building on that, then a sub or two then could have helped.


Sadly though, Michael Appleton's charges unsurprisingly
had other ideas and raced forward from the restart, forcing a corner that was eventually bundled home from close in by Kane Hemmings.

The Magpies responded positively and won a series of corners before Mitrovic forced his way into the area on 66 minutes and went over after
being

persistently
manhandled by Phil Edwards.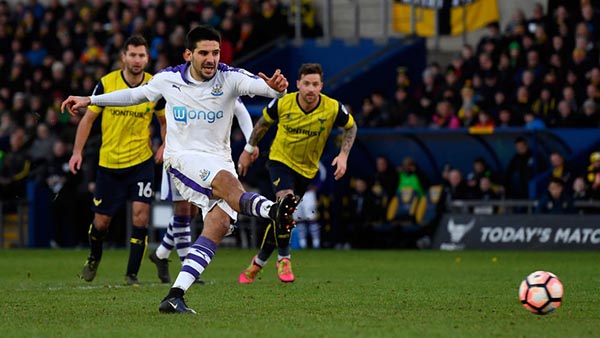 Referee David Coote awarded a penalty that the Serbian took - after conferring with Achraf Lazaar - only to place it too close to Eastwood and see the 'keeper making a successful diving block.


We simply never recovered from that blow and although Yoan Gouffran and Matt Ritchie were both introduced from the bench, neither Mitrovic or Perez offered any semblance of a forward threat.


Two further goals followed; both stemming from corner kicks
and both driving

more malcontented away fans
towards

the exits
.
A

small number
meanwhile

remained
until the bitter end, with some

fight
ing

amongst themselves and verbally abus
ing

visiting players after full time.
They

had every right to do so
, but reserved their wrath for those on the field. Others pointed the finger at Rafa.

Ritchie escaped any wrath but far too may of the rest had shown absolutely no appetite, desire or fight for the cause
.
O

nce again Hayden
failed t
o

fill
Jonjo

Shelvey's boots
adequately in the centre, both he and
Perez p

irouetted
in

attempt
s
to win fouls rather than actually attack with purpose.

Gamez and Lazaar were clearly unaware of how to approach a game like this, while both Good and Haidara were unsurprisingly well off match fitness. Playing the second senior games of their entire careers meanwhile, Barlaser and El-Mhanni did their best but looked totally out of their depth.

Opinion is divided as to whether there was a political element to the team selection, but what is apparent is the lack of depth and quality beyond a matchday core of 18 players. Given that we've now given pitch time to 33 players in all competitions (not including Elliot or Krul) this season, that's one hell of a lot of excess baggage.

A completely different line-up should take to the field against QPR on Wednesday; none of those given starts today justifying their inclusion. For Sels it may yet be his last act of the season, while our Serbian liability may just have brought down his own curtain.

Mitrovic was little short of a disgrace. Looking overweight and slow as he returned from a three week layoff, his lack of brainpower quickly shone through when attempting to elbow an opponent (missed by the officials) and reacting to abuse from home fans with some sarcastic applause.

Sulking around like a petulant child, the penalty miss and blatant lack of effort afterwards merely highlighting his huffiness. The opposite of whole-hearted and utterly undeserving of any mention in the same breath as previous Newcastle players who had a physical reputation.

The annoying thing was that when he occasionally applied himself, the home side looked absolutely scared stiff of him. One episode in the first half when he held off a trio of defenders reminiscent of former Magpie (and Oxford) battering ram, Billy Whitehurst.

Maybe it's adding another club to a list that includes Chester, Exeter, Stevenage and Brighton that meant we were ambivalent about this defeat, although anyone present without those campaign medals is perfectly entitled to vent their spleen.

Our first loss at Oxford was in the League Cup back in 1983/84, when as is the case currently we were two leagues down and the hosts were one below that. Fast forward a few months though and annoyance at that was replaced by sheer jubilation at having achieved a return to the top flight.

We remain a relegated team, looking to recapture some of our (very) faded glory. If advancing via a replay before being howked by a Premier League team in the next round while league fixtures pile up around us was our fate, get out now and forget about it.

The chances of us reaching Wembley in the FA Cup were so remote as to be unthinkable; avoiding a trip there in the playoffs remains our main objective. Stuff romance; anyone looking for that should have gone to see La La Land at the adjacent cinema.
Biffa