Date: Monday 20th February 2017, 8pm
Live on Sky Sports

Venue: St. James' Park

Conditions: Vengeful







Newcastle United

Aston Villa

2 - 0

Teams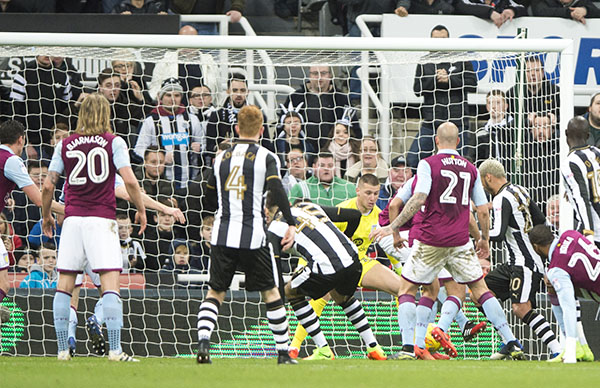 42 mins A flag kick from "Firebomb Corner" was quickly taken by Matt Ritchie, who exchanged passes with Jonjo Shelvey before swinging it left-footed into the Villa box. Jamaal Lascelles attempted to head it goalwards only for Mile Jedinak to stick out a foot and block it.

The ball travelled a short distance before Mitrovic hooked it back goalwards as he went to ground, falling for Ciaran Clark to instinctively get a boot on it, diverting it into the path of Jedinak again.

The Australian midfielder's second attempt at a clearance was no better than the first, and Yoan Gouffran poked the gift into the roof of the Leazes End net from around three yards 1-0
Half time: Newcastle 1 Villa 0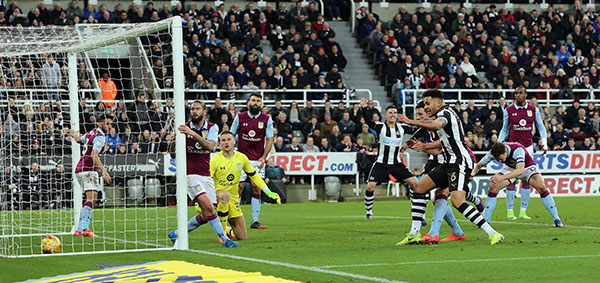 59 mins Another corner and another goal, this one taken by Shelvey from the Strawberry Corner (and earned by goalkeeper Sam Johnstone blocking Shelvey's dipping free kick). The ball dropped towards the near post on the edge of Villa's six yard box, Lascelles reaching it ahead of Tommy Elphick and flicking it towards the net.

Stationed on the front post, Henri Lansbury had the task of clearing the danger, but could only touch the ball onto the goal frame, the rebound hitting his heel and diverting into the net. He clutched the post in despair, while Shelvey and Lascelles led the celebrations in front of the Strawberry Corner - the latter later admitting he thought he'd scored until hearing Lansbury announced over the PA amid great applause.

Seconds before that announcement, the goal was replayed on the big screen at the Leazes End, with those underneath it celebrating more lustily as they realised who had scored. Class! 2-0
Full time: Newcastle 2 Villa 0
Rafa said:
"This is a very difficult division. Every game is tough and we were playing against a good team with very good players.
"They pressed well at the beginning and it wasn't easy for us to play how we wanted.

"We needed to score to open up the game, and after the second goal it was more open. We had more chances and more control of the game.
"The idea was to play as well as possible because then you have more chances to win games. We knew it could be difficult, but at the same time we know to keep going and keep pushing then we'll have chances.
"Dwight Gayle seemed like he wasn't comfortable from the beginning and then he said he was feeling something in his hamstring. We don't know how serious it is. We have to wait."

Big Daddy said:

"We were better but unfortunately what weíve just witnessed there is us. Weíve done OK but given a poor goal away. They are two horrible goals to lose a game up here, thatís our achilles heel at the moment.

"Weíve created three or four chances and we couldnít take one.
"The first goal is an awful goal and if thatís not bad enough we give another one away 10 minutes later. We make basic mistakes and every one is being punished.

"If that (own) goal doesnít sum us up then I donít know what does. Itís hideous. I donít want to see it again because it was bad enough the first time.

"All in all a very disappointing night. Itís been a tough eight weeks and to be honest Iíve not known anything like it.

"I canít remember us getting two horrible scrappy goals like they got tonight - Newcastle needed that to be fair because I thought we were the better side."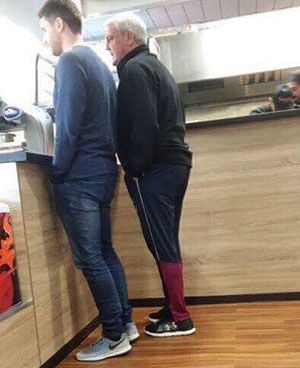 A few weeks old, but still worth posting -
Brucey in a kebab shop. No salad, thanks.

Villans @ SJP - last 20:

2016/17 Won 2-0 Gouffran, og(Lansbury)
2015/16 Drew 1-1 Coloccini
2014/15 Won 1-0 Cisse
2013/14 Won 1-0 Remy
2012/13 Drew 1-1 Ben Arfa
2011/12 Won 2-1 Ba, Cisse
2010/11 Won 6-0 Barton, Nolan 2, Carroll 3
2008/09 Won 2-0 Martins 2
2007/08 Drew 0-0
2006/07 Won 3-1 Milner, Dyer, Sibierski
2005/06 Drew 1-1 Shearer (pen)
2004/05 Lost 0-3
2003/04 Drew 1-1 Robert
2002/03 Drew 1-1 Solano
2001/02 Won 3-0 Bellamy 2, Shearer
2000/01 Won 3-1 Glass, Cort, OG
2000/01 Drew 1-1 Solano (FAC)
1999/00 Lost 0-1
1998/99 Won 2-1 Shearer, Ketsbaia
1997/98 Won 1-0 Beresford

That's no win at SJP for Villa in their last eleven visits, since the infamous 0-3 game of April 2005, when United ended with eight men on the field.

And the Villans have now failed to beat us home or away in twelve attempts, since their 1-0 success at Villa Park in April 2011.

Matt Ritchie's home scoring run ended after netting in five successive league and cup games at SJP - a tally that equals Papiss Cisse in 2012/13 and Alan Shearer during 2003/04. The last player to manage more than five was Les Ferdinand in 1995/96 (seven games).

Yoan Gouffran netted his nineteenth Newcastle goal - and seventh of the season, matching his best-ever tally for the club, which was set during the 2013/14 season.

Henri Lansbury netted the second own goal of the season in Newcastle's favour, fellow Villan Tommy Elphick managing the first at Villa Park in September.

United enjoyed a 1-0 interval lead for the thirteenth time in 36 league and cup games this season. They've gone on to win 11 of those, drawn one (1-1 Villa away) and lost one (1-2 Forest away).

This was Newcastle's first Monday victory in twelve attempts, since Demba Ba's brace and Gael Bigirimana's only competitive goal for the club overcame Wigan 3-0 at SJP in December 2012.

NUFC last 13 Monday matches:

Dec 2012 Wigan (h) won 3-0
Dec 2012 Fulham (a) lost 1-2
Aug 2013 Man City (a) lost 0-4
Sep 2013 Everton (a) lost 2-3
Apr 2014 Arsenal (a) lost 0-3
Sep 2014 Stoke (a) lost 0-1
Apr 2015 Liverpool (a) lost 0-2
Sep 2015 West Ham (a) lost 0-2
Dec 2015 West Brom (a) lost 0-1
Mar 2016 Leicester (a) lost 0-1
Dec 2016 Sheffield Wednesday (h) lost 0-1
Jan 2017 Blackburn Rovers (a) lost 0-1
Feb 2017 Aston Villa (h) won 2-0

This was the tenth time Steve Bruce has squeezed into the away dugout at SJP during his managerial career. He's now lost five, won three and drawn two:
2016/17 Newcastle 2-0 Aston Villa
2014/15 Newcastle 2-2 Hull City
2013/14 Newcastle 2-3 Hull City
2010/11 Newcastle 5-1 mackems
2008/09 Newcastle 2-2 Wigan Athletic
2006/07 Newcastle 1-5 Birmingham City
2005/06 Newcastle 1-0 Birmingham City
2004/05 Newcastle 2-1 Birmingham City
2003/04 Newcastle 0-1 Birmingham City
2002/03 Newcastle 1-0 Birmingham City

Although we've played Arsenal, Everton, Liverpool and Manchester City more times than Villa in all competitions home and away, only Man City have been beaten the same number of times (71) and we've now scored one more goal against Villa (253).

This was our 49th success at Gallowgate against Villa - more than any other club - and the 164 goals netted on Tyneside against them is the most by some distance. Tonight was Villa's first league visit for a non-top flight game here since February 1938, a game that we won 2-0.


Waffle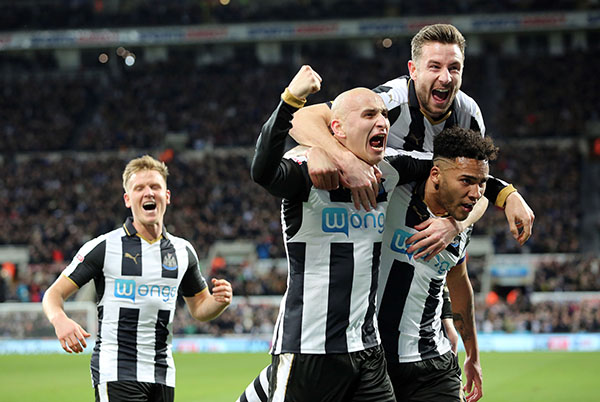 United returned to the top of the table as a result of this victory, on what was ultimately a very happy Monday indeed for Rafa Benitez and his side.

The performance may not have been a classic - while a recurrence of Dwight Gayle's hamstring issues gave cause for concern - but the comedy provided by Villa was absolutely priceless.

Visiting manager Steve Bruce had urged Henri Lansbury to enjoy the abuse from home fans following his cheating antics when playing against us for Nottingham Forest earlier this season.

But the ex-mackem boss - whose red and white past was loudly referenced by home fans - couldn't possibly have foreseen that Lansbury would become the toast of Tyneside, memorably registering an own goal to seal victory for the home side.

Schadenfreude, revenge, karma, come-uppance, call it what you like, this was beyond satisfying - and infinitely preferable to seeing the preening twit either sent off or carried off.

Lansbury's 59th minute effort made it 2-0 to the home side, after Yoan Gouffran's seventh goal of the season had given United an interval lead that they never really looked like surrendering.

Naming nine of the side that started at Norwich, Benitez added Mo Diame and Dwight Gayle in place of Ayoze Perez and Alesksandar Mitrovic. However the Serbian would make his entrance barely half an hour into the game, replacing Gayle after he suffered a recurrence of his hamstring problems.

The Magpies had struggled to fashion anything in the way of scoring chances and Villa had come closest to an opener, Karl Darlow beating away a deflected cross by Jonathan Kodjia.

In keeping with much of what preceded it, Gouffran's goal was a messy affair - finding the Leazes net from close range after a scramble in the box following a 42nd minute corner.

Lascelles was also involved in our second, side-footing Shelvey's corner goalwards for Lansbury obligingly helped it over the line. The cheers that greeted the announcement of his OG were huge - and as were choruses of "One Henri Lansbury" replacing, "Henri Lansbury is a w*nker".

Darlow made a fine stop from Birkir Bjarnason to keep it at 2-0 but there were no more second half scares as United coasted home, Matt Ritchie and Jack Colback both close to adding a third.

Villa were reduced to ten men for the six minutes of added time when Scott Hogan's ankle crumpled beneath him with all three subs already used, but the game was already well won by that stage.

With Gayle joining Hayden on the sidelines, there was a measure of satisfaction (and relief) at seeing both Colback and Mitrovic supply confidence-boosting performances here, both showing much-needed discipline and composure.

The reaction to the flags and banner-led call to arms was also encouraging, inspiring some of those within the ground and improving the atmosphere immeasurably from the last weeknight home game, against QPR. Having said that, the absence of a breakthrough in the first half did cause noise levels to dip - despite the continuing Rafa chants from the Strawberry Corner.

It's difficult to gauge how important these visible shows of support of the team in general and the manager in particular are, but after doubts arose in January over our future direction they seem both significant and opportune.

The presence of Benitez in the dugout gives this club credence and maintains a level of interest in us overseas that a second tier football club has no right to expect. If there's a genuine desire to progress, then he gives us colossal advantage when it comes to profile raising and opportunities to increase our commercial worth. For the fans, we just want to see the team perform and achieve something rather better than striving for fourth bottom of the top league with a puppet.

Leading Spanish football newspaper AS carried a report of this match and made specific reference to the new Rafa banner, calling it "a new gesture of admiration", with "new banners to encourage the team and give colour to the stands at St James' Park". Similar flags for messrs Pardew, McClaren - and Carr - remain mysteriously unordered.

As for that United banner, there's no more visible affirmation of the unity that currently exists - its presence in the ground at all proof of a more enlightened attitude at SJP. It seems a far cry from "Cockney Mafia Out", but parallels between Keegan and Benitez can still be drawn all too easily.

The biggest battles this season may yet be off the pitch.


Biffa