Date: Saturday 25th February 2017, 3pm

Venue: St. James' Park

Conditions: confusing







Newcastle United

Bristol City

2 - 2

Teams
11 mins Old guys rule: 37 year-old Aaron Wilbraham was lurking behind the Newcastle defence to head in a centre played diagonally across the box from the right by 33 year-old Gary O'Neill. 0-1
21 mins Paul Dummett's ill-advised header back to Karl Darlow caught the goalkeeper out as he advanced to collect the ball. Only able to get a glove on it, that was enough to slow its progress and allow David Cotterill to walk the ball into the vacant Gallowgate End net. 0-2
Half time: Magpies 0 Robins 2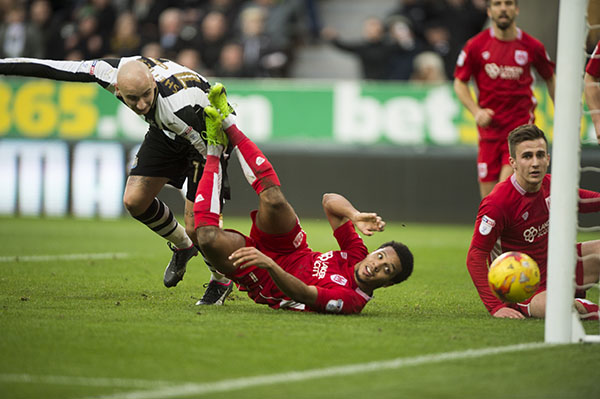 59 mins Christan Atsu's low cross from the left was forced in by Jonjo Shelvey, City defender Korey Smith getting the final touch and visiting goalkeeper Fabian Giefer seemingly helping it in 1-2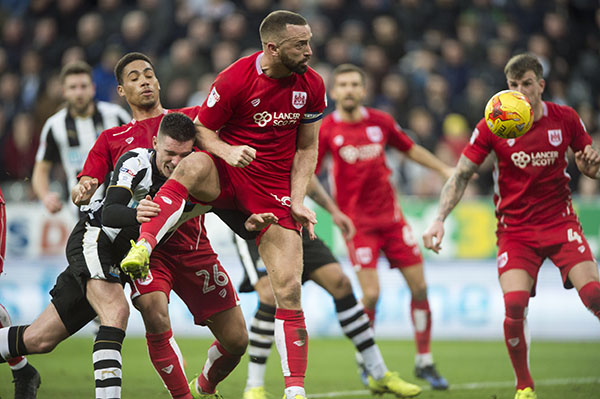 82 mins Matt Ritchie's inswinging corner was headed home through a crowd of players by Ciaran Clark for his third goal of the season. 2-2
Full time: Magpies 2 Robins 2
Rafa said:
"For me, it was two points lost.
"We didnít start well and we made some mistakes which gave them some hope they could get a result.

"The reaction of the team in the second half was really good and Iím really pleased with that. Thatís what we have to do and we did it.
"The chances that we had I think we could have scored another goal and won the game.

"My concern is that we made mistakes that we canít afford again in the future.
"We also did really well in the second half and showed everything we needed, character, good football and attacking play.
"A lot of those things were positive but Iíd still prefer to stay calmer in the second half by us winning. If we are it will be better for everybody.Ē

Lee Johnson - whose father Gary was in charge of City when they last played at SJP in 2009:

"We were outstanding as a club today. The staff, the players, the fans all came together.
"I was just proud of the club today. There has been a lot of stick flying about this week and rightly so, and of course I bear the brunt of it.
"The players have produced and if anyone was ever in doubt that this was a committed bunch of players then today they will have seen that.
"It's not easy but for me, as a young manager having dealt with a tough week and then come against one of the world's leading managers in Rafael Benitez, you take your lessons.
"Today I think we've shown our worth as a staff, as a team and as a club."



Rafa Benitez failed to commemorate the 50th match of his Newcastle managerial career in all competitions with what would have been a 30th victory. His stats are: won 29, drawn 9, lost 12.

Magpies v Robins - all-time:

2016/17 drew 2-2 OG, Clark
2009/10 drew 0-0
1995/96 won 3-1 Barton, Ferdinand, Albert (LC)
1992/93 won 5-0 G.Peacock 2, O'Brien, Carr, Brock
1991/92 won 3-0 Kelly 2, O'Brien
1990/91 drew 0-0
1980/81 drew 0-0
1977/78 drew 1-1 Martin
1976/77 drew 0-0
1910/11 lost 0-1
1909/10 won 3-1 Shepherd 2, Anderson
1908/09 won 2-1 Howie 2
1907/08 won 2-0 McClarence, Soye
1906/07 won 3-0 Rutherford 2, Howie

United have now failed to win back to back home league games since 2013, today's point their 13th successive wasted opportunity to earn six points:

2016/17:
Aston Villa won / Bristol City drew
QPR drew / Derby County won
Sheffield Wednesday lost / Nottingham Forest won
Huddersfield lost / Reading won

2015/16:
Aston Villa drew / Everton lost
Manchester United drew / West Ham won
Swansea City won / Manchester City drew

2014/15:
Everton won / Burnley drew
Aston Villa won / Manchester United lost
Spurs lost / Swansea City lost

2013/14:
Crystal Palace won / Everton lost
Spurs lost / Aston Villa won
Stoke City won / Arsenal lost
Norwich City won / West Brom won

This draw gave United their 5,324th league point, thus overtaking the mackems who had been stuck on 5,323 since winning 4-0 at Crystal Palace on February 4th. (The subsequent wins at Brighton and Huddersfield took United well ahead of Moyes' mackems who lost their next three).

Waffle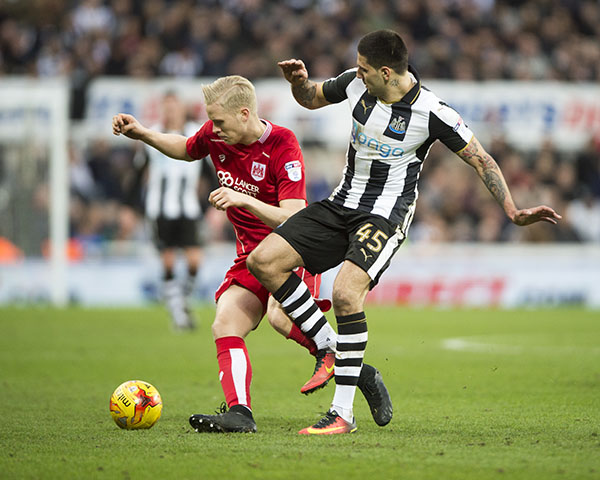 United extended their unbeaten league run to eight games on Saturday - but had to be content with a single point after giving lowly City a two goal start.

Another 52,000+ crowd were left aghast when striker Aaron Wilbraham was given the freedom of the Newcastle box to head in - home fans and players alike seemingly waiting for an offside flag that never materialised.

And when Paul Dummett's header back to Karl Darlow ten minutes later was mis-handled by the goalkeeper and David Cotterill walked the ball into the vacant Gallowgate End net, a fifth home league loss of the season looked a distinct possibility for the Magpies.

However, the black and white comeback began just before the hour, when Christan Atsu's low cross from the left was forced home by Jonjo Shelvey, City defender Korey Smith getting the final touch.

Parity was duly restored when an 82nd minute corner was headed home by Ciaran Clark, but what seemed like an inevitable winner failed to materialise despite waves of Newcastle attacks and decent chances for both Aleksandar Mitrovic and Shelvey in the closing moments.

City's ludicrous time-wasting tactics infuriated Rafa Benitez, but referee Chris Kavanagh saw fit to add only four additional minutes before blowing for time, despite City making a substitution during added time. The same official had added on almost ten minutes on our trips to both Preston and Brentford earlier in the season but must have been on a promise today.

While grateful that a point was saved from a two-goal deficit, the tests that lie ahead made this a must win game but United largely wasted the first 45 minutes - in addition to conceding twice.

Another Karl Darlow error proved to be costly - with his eagerness to come charging off the line almost allowing City to score a third in the opening half.

There are question marks again too regarding the suitability of both Ayoze Perez and Mitrovic for the task at hand. Neither impressed today - the latter toppling over early in the second half after evading the last man rather than testing the goalkeeper.

Why Rafa failed to replace him with Daryl Murphy in the closing stages was baffling - the Serbian looking a spent force well before the equaliser.

As for Perez, his neat footwork often precedes a frustrating lack of positivity, strength and general gumption. Some weak shooting also suggests he needs some intensive coaching in the art of forward play, although he did graze the bar with one good effort from outside the box.

The lead in the Championship changed hands between ourselves and Chris Hughton's mob for the fifteenth time so far a few hours after full time at SJP; Brighton beating Reading 3-0 at home to least keep the Royals ten points adrift. A second half equaliser meanwhile denied the Terriers a seventh successive league victory, as they were held 1-1 at Oakwell by Barnsley.

Rafa remains of the opinion that April is the real shakedown period, but by the time we gather here again for the visit of Fulham a trio of season-defining visits to Brighton, Huddersfield and Reading
will have tested our away durability.

And for all the pleasure that extending our enviable record of winning on the road would bring, the importance of not giving any of those teams a three point donation is paramount. Safety first.


Biffa