Date: Tuesday 7th March 2017, 8.00pm

Venue: Madejski Stadium

Conditions: Knackered

Admission: £20 NUFC ST holders/members, £23 general sale (£40 2012/13).

Programme: £3

Reading

Newcastle United

0 - 0

Teams
Half time: Royals 0 Magpies 0
Full time: Royals 0 Magpies 0
Rafa said:

"It is important to be solid. This team is consistent and knows what to do. We have to carry on with that. We can draw games too but we have chances to win in every game.
"At Reading we had 13 attempts and they had just six. That is the main thing - we create chances.
"We made a couple of mistakes at the start of the second half and gave them a little bit of hope.
"When they made changes and played with wing-backs they switched things a bit.
"We were a little bit tired but to be fair to play three games in a row - especially the midfielders, it was not easy for them because they have to go to press and cover.
"The others have to counter attack and you could see that we were a little bit short of legs in some cases.
"We knew that they like to keep the ball but in the first half they had just two attempts on target and we had four but ours were clear chances.
"That is what we are looking for."

On the right back situation:
"We have a problem with Yedlin because he had a knock against Brighton. It was worse than we were expecting. Anita was playing after six weeks.

"Jesus (Gamez), I think he was fine on the ball. He's fine and he has experience - he knows his job.

"Defensively, it was not an easy game, because they have some pace but I think he was OK. When you have a new player playing, you cannot expect that he will be the best in the team, but I think he did fine."

Reading boss Jaap Stam said:
"We played very well in how we were patient on the ball.

"You know if you play a side like Newcastle, who were looking to play defensively and on the counter-attack, it's going to be hard to create chances.

"If you are not patient on the ball yourself, you lose that ball and basically you are open and they can hurt you.

"We got warned in the first half but we still did okay on the ball. Maybe certain choices we could have made better to make it more difficult for them.

"In the second half, we totally dominated the game. We kept control, kept our composure and let them run.

"We had a couple of chances where we could have scored but we didn't do that and that's why it's a draw.

"But I'm very happy with the performance of the team."

The Magpies extended their unbeaten league run to 11 games - their best form since a similar sequence between August and November 2011 (although that ended up as a 14 game run, given that the team avoided defeat in the final three league games of the previous season).

The 13 away wins amassed so far this season is a joint best-ever with the 1992/93 campaign - and although the opportunity was missed tonight, four more chances remain to break that record, at Birmingham City, Sheffield Wednesday, Ipswich Town and Cardiff City.

Newcastle played out their first 0-0 draw of the season in all competitions, the last coming at Aston Villa last May in the Premier League. And as a consequence, the Madejski became only the third Championship away ground that we've not scored at this season, after Craven Cottage and Ewood Park - both of which ended in 0-1 losses.

Tonight saw the club record a fifteenth clean sheet in their 36th Championship game of the season: Karl Darlow responsible for 11 of them, Matz Sels the other four. As a comparison, the 2009/10 season saw United record 22 shutouts from the full 46 game schedule.

Full back Jesus Gamez made his third Championship appearance for United (two starts) and completed the full 90 minutes for the first time in the competition. His last full league appearance came for Atletico Madrid at home to Rayo Vallecano back in April 2016.

NUFC in the Championship after 36 games:

2009/10 76 points (W22, D10, L4) F69 A26 +43 1st
2016/17 77 points (W24, D5, L7) F69 A29 +40 1st

Magpies @ Royals - all-time:

2016/17 drew 0-0
2012/13 drew 2-2 Ba 2
2009/10 won 2-1 Nolan 2
2007/08 lost 1-2 og(Duberry)
2006/07 lost 0-1
1999/00 drew 2-2 Coppinger, Robinson (FR)
1989/90 drew 3-3 McGhee 2, Quinn (FAC)*
1989/90 lost 1-3 Gallacher (LC)*
1956/57 won 3-2 Curry, Eastham, White (FR)*
1953/54 drew 2-2 Milburn, Davies (FR)*

*At Elm Park - all other games at the Madejski

Waffle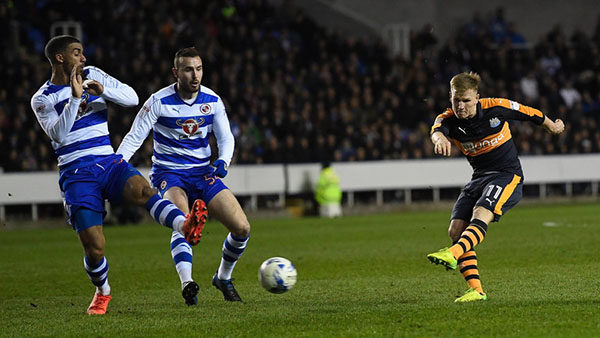 Our most manic sequence of away games for many years (exceeded only by the five in fifteen days lunacy of April 2005*) concluded in a congested car park in a rainstorm near a motorway.

Despite failing to complete a hat-trick of victories on the road - and provide extra delight to those who backed that @ 33/1 - remaining unbeaten and being seven points better off than at full time against Bristol City made the trek back to Tyneside and the 4am arrival rather more bearable.

Possession statistics after this game revealed that Reading had enjoyed similar time on the ball to Huddersfield on Saturday, but without showing any more endeavour or guile than the Terriers - save for one heart-stopping moment late on when a smart back heel led to a shot that grazed our bar.

And with none of the defensive misadventures that had resulted in four goals in West Yorkshire evident, it ended scoreless - the acquisition of a point that maintains a 13 point gap between the sides of rather more satisfaction to Rafa Benitez than the slightly unhinged Jaap Stam.

Injury and fitness concerns saw Vurnon Anita and DeAndre Yedlin miss out and Jesus Gamez feature at right back - a situation that inevitably restricted our upfield forays down that flank, on a pitch resembling a worn carpet in some places, the "blessing" of sharing with egg chasers.

Fellow Spaniard Ayoze Perez was drafted in to replace Mo Diame, while Christian Atsu was stood down in favour of Yoan Gouffran. A safety-first approach to Dwight Gayle's comeback saw him benched again, while Daryl Murphy retained his place - Aleksandar Mitrovic not having travelled.

Surviving an early scare when Reading missed the target in the opening seconds, United's most productive period came before the break as they kicked towards their massed ranks of fans - Matt Ritchie coming agonisingly close to a tenth Championship goal this season when hitting the post.

After that point the inevitable onset of weariness became evident (mental and physical), save for a brief flurry when messrs Gayle and Perez played the final 15 minutes together and both almost looked to have found a route to goal - at least when viewed from the opposite end of the ground.

On a full night of Championship games, wins for Huddersfield and Brighton against Aston Villa and Rotherham respectively saw our advantage over both reduced, but the recent successes against both leave Newcastle masters of their own destiny.

Three of our next four games are at home - two against teams in the bottom six - giving a perfect opportunity to maintain momentum and keep the chasing pack at arm's length. Saturday's visit of Fulham however is not to be taken lightly; the Cottagers no slouches on their travels and intent on following the example of Blackburn Rovers in completing the double over us.

Biffa/Niall MacKenzie

* UEFA Cup, FA Cup and Premiership commitments that season took us to London, Lisbon, Cardiff, Norwich and Manchester in just 15 days - and we lost the bloody lot..... our reports are here