Date: Wednesday 5th April 2017, 7.45pm

Venue: St. James' Park

Conditions: inexplicable/anarchic






Newcastle United

Burton Albion

1 - 0

Teams
(29 mins Matt Ritchie's penalty was disallowed)

Half time: Magpies 0 Brewers 0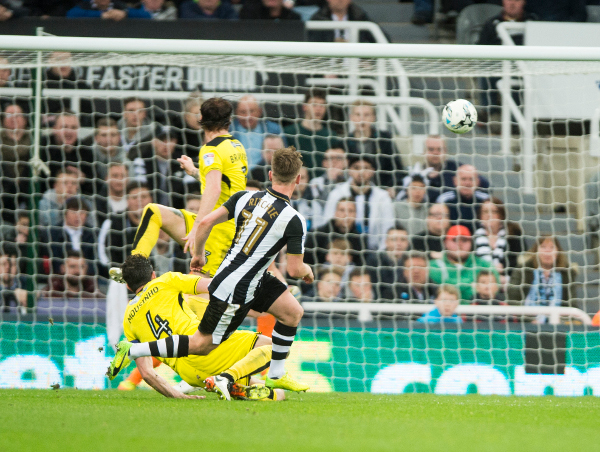 68 mins Occupying a central midfield position just over halfway, Jonjo Shelvey played a pass forward to Matt Ritchie, in the middle of a quartet of opposing players. He strode towards the penalty area before unleashing an unstoppable right-footed shot into the Leazes End goal. 1-0

Full time: Magpies 1 Brewers 0
Rafa resisted wiping the floor with the officials, saying only that:

"I think you have all seen the (penalty) incident and you have a lot of experts on TV and in radio and newspapers to analyse what has gone on. I was talking to the referee but I donít want to talk about it. For me it was an important win and we had to win.
"We got three points and it was fantastic goal from Matt Ritchie with a great performance from the players with commitment and work-rate.
"We had good possession and passes, there were lots of positives.
"Fortunately we will talk about the incident but I prefer not to talk too much because itís clear for everyone.
"We knew that this (Burton) team would be very difficult to break down and to beat. They have a line of five and they are very aggressive. The midfielders also fight for every single ball.
"It could be a free-kick or a long ball from a counter attack which could be dangerous for us. So we needed to be sure that after scoring the goal we didnít make any mistakes and were in the right positions.

"We have to make the right decisions just in case but until the final whistle you couldn't relax.Ē

Brewers boss Nigel Clough said:

"I didn't think it was a penalty in the first place. I don't know about that. I am pleased it wasn't the game-deciding issue. Somebody has put the ball in the top corner. I am pleased about that. You don't want controversial decisions to decide matches.

"But I thought it was a magnificent effort by our lads. Disappointed we didn't get a goal, we had enough chances. We had a great chance with Jackson Irvine's volley, a few others, we stayed in the game even at 1-0. It took a wonderful strike to beat us.

"I don't think our spirit will be dented by tonight. We battled as well as we did, (lost) only by the one goal, we shouldn't apportion blame.

"We toyed with the idea of leaving a few out and resting a few. They all want to play, they all feel great after Saturday, on a high, and you saw that as well.
"We've just gone to Huddersfield, won 1-0 and then come here and it's a narrow defeat - a lot better teams have come here and been beaten 3-0 or 4-0 this season."


Following tonight's farcical events, The Professional Game Match Officials Limited (PGMOL) quickly released a statement confirming referee Keith Stroud and his team had acted incorrectly:
"In this evening's EFL Championship game between Newcastle United and Burton Albion, referee Keith Stroud awarded Newcastle a penalty in the 29th minute.
"As Matt Ritchie took the kick, Dwight Gayle encroached in the penalty area. An indirect free kick was awarded to Burton, but the Laws of the Game state that the penalty kick should have been retaken.
"Unfortunately the referee has misapplied the Law.
"Keith and his team are understandably upset at the lapse in concentration and apologise for the mistake."
What we struggle to comprehend is how all four match officials failed to know the rules - leading to strong suspicions Stroud overruled the other three (he appeared to be gesturing to that effect when speaking to Rafa on the pitch at the end of the game).
But surely at least one of them had the gumption to tell Stroud the penalty must be retaken and the two others (they are all miked-up) agreed? Or did both linesmen and the fourth official say nothing??
It's absolutely staggering in any professional game, let alone at this level. This has to be worse than Stuart Attwell's ghost goal or Graham Poll's infamous three yellows.
Adding insult to injury, a mere three minutes of time were added to the first half, despite around seven minutes having elapsed during the penalty furor - as if Stroud was trying to pretend that nothing had happened. Five extra minutes were then conjured up in the second half, doubtless compensating for time-wasting etc.
PS: The referee's assessor for tonight's game was scheduled to be Tyneside-born former whistler Alan Wilkie - his report should make interesting reading.

PPS: All four officials were removed from their scheduled matches this coming weekend.


Newcastle finally managed to win back-to-back home league games at the fourteenth time of asking since last accomplishing the feat during November 2013:

2016/17:
Wigan won / Burton won
Aston Villa won / Bristol City drew
QPR drew / Derby County won
Sheffield Wednesday lost / Nottingham Forest won
Huddersfield lost / Reading won

2015/16:
Aston Villa drew / Everton lost
Manchester United drew / West Ham won
Swansea City won / Manchester City drew

2014/15:
Everton won / Burnley drew
Aston Villa won / Manchester United lost
Spurs lost / Swansea City lost

2013/14:
Crystal Palace won / Everton lost
Spurs lost / Aston Villa won
Stoke City won / Arsenal lost
Norwich City won / West Brom won

Matt Ritchie made it 11 league goals so far this season (15 including both Cups) and in doing so equaled his best-ever seasonal tally at club level, hitting 15 for previous club Bournemouth during their Championship-winning 2014/15 season.

It's now seven games since Aleksandar Mitrovic last featured for United (Bristol City home) and he didn't make the matchday squad for this game. And while Chancel Mbemba and Sammy Ameobi both returned to action, Achraaf Lazaar remains out of sight.

Still to start a Championship fixture, the last of four substitute outings came against Rotherham United in January and Lazaar hasn't made the squad at all for our last eight games.

Newcastle's sixth league double of the season was completed, Burton Albion added to a list that includes Brighton, Rotherham, Brentford, Derby and Wigan.

Although Burton Albion had never visited Gallowgate until tonight, the now-defunct sides Burton Swifts and Burton Wanderers both played here previously:

1897/98 Newcastle 3-1 Burton Swifts
1896/97 Newcastle 3-0 Burton Wanderers
1896/97 Newcastle 2-1 Burton Swifts
1895/96 Newcastle 4 -0 Burton Wanderers
1895/96 Newcastle 5-0 Burton Swifts
1894/95 Newcastle 3-1 Burton Wanderers
1894/95 Newcastle 6-3 Burton Swifts
1893/94 Newcastle 4-1 Burton Swifts

With Burton Albion now making their debut at SJP

, 10 of the current 92 Football League and Premier League sides are still to play a senior game here: Accrington Stanley, Barnet, Crawley Town, Fleetwood Town, Gillingham, MK Dons, Morecambe, Rochdale, Wycombe Wanderers, Yeovil Town (we're working on the basis that AFC Wimbledon are the successors to Wimbledon FC).


Waffle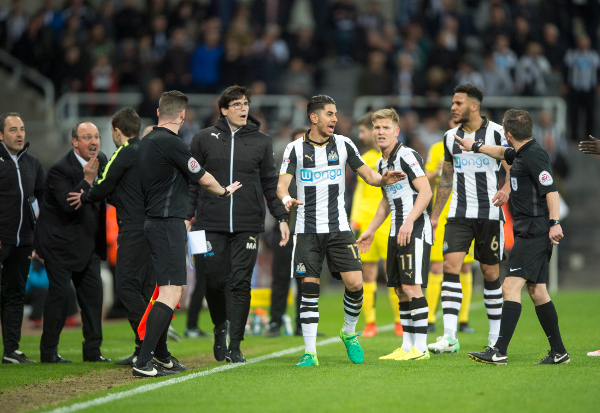 Seven years to the day that promotion was last confirmed for Newcastle, the class of 2017 collected maximum points and took another significant step to repeating that feat this season.

Victory was ultimately secured thanks to a fabulous curling shot by Matt Ritchie, but that sublime effort was almost an afterthought when compared to the incredible scenes in the first half.

Referee Keith Stroud took centre stage after a blunder of monstrous proportions that almost defied belief - and could have had profound implications for United, had Ritchie not subsequently scored.

Dwight Gayle went over in the Gallowgate End box under challenge from Tom Flanagan in the 29th minute, leading to a penalty award that Ritchie converted with ease. However his celebrations were quickly curtailed when it became apparent that Stroud had disallowed the spot kick - and instead chosen to restart play by giving Burton an indirect free kick in their own box.

After prolonged protests from Toon players to the referee and equally strident representations at pitchside from the home bench directed at fourth official Tony Harrington, Stroud belatedly moved to the touchline and consulted with him and Milburn Stand flag waver Matthew McGrath.

To the consternation of the crowd though, Stroud remained unmoved and the game finally restarted with the score 0-0 - amid an air of total bewilderment in the stadium and further afield.

Clarity as to what had happened was eventually forthcoming via social media etc. Stroud observing Dwight Gayle encroach into the area as Ritchie took the penalty and therefore disallowing the effort.

Instead of ordering a retake, the referee inexplicably opted to award a free kick to the defending side - despite the only circumstance for that being if the disallowed penalty hadn't been scored.

That decision was quickly confirmed as incorrect via a statement from Stroud's employers (see full text above).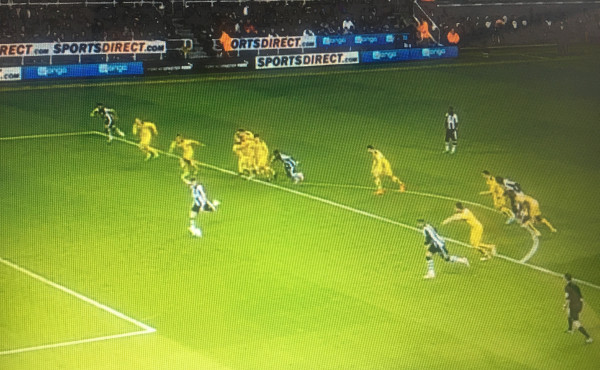 Ritchie v Burton 05.04.2017

Subsequent replays of the incident confirm that a host of players were actually encroaching as Ritchie struck the ball, given that the edge of the penalty area is not the decisive mark - it's any point less than ten yards from the spot, meaning that being in the "D" is illegal.

On that basis, most if not all penalties could be retaken and Stroud's decision to disallow Ritchie's effort falls within the rules - but his next decision was wrong.

A different - but similarly incorrect - interpretation of encroachment can be seen by Ritchie netting at the same end of SJP earlier this season against Preston to the satisfaction of Andrew Madley:



Ritchie v Preston 25.10.2016


Meanwhile the general and correct expectation that the penalty would be retaken is underlined by Burton's players instinctively regrouping outside the box in expectation of that happening: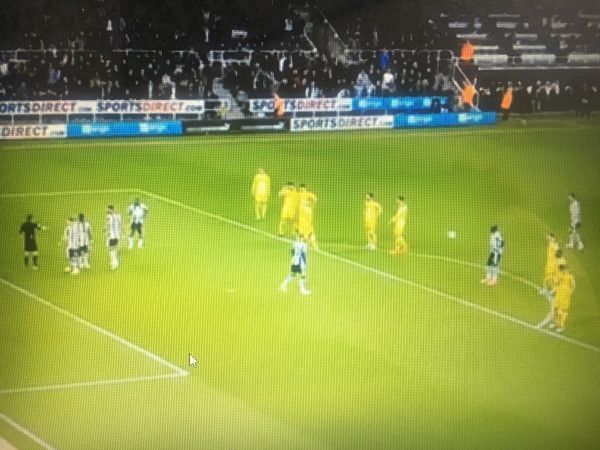 Ritchie v Burton 05.04.2017


This ludicrous turn of events inflamed the crowd but some frantic attacking before the break failed to open up a Burton side, who aside from a 17th minute volley from Jackson Irvine narrowly over the bar had been content to marshal ten men behind the ball.

The second half followed a similar pattern, the home side enjoying great swathes of possession without really testing Brewers 'keeper Jon McLaughlin.

Recalled to the starting lineup, Ayoze Perez should have hit the target when bursting into the box on 59 minutes, but instead shot harmlessly wide.

The Spaniard was one of three changes to the lineup that started against Burton, coming into the side along with Christian Atsu and Chancel Mbemba - the latter for the first time since November.

Thankfully though, Ritchie's unstoppable effort soon after was enough to win the game - Nigel Clough's side unable to repeat the added-time goal that brought them an unexpected success at Huddersfield on Saturday. Had they scored though, the ramifications don't bear thinking about - media reports quickly surfaced of a partially restaged England women's U19 game in 2015.

The fact remains though that the penalty incident occurred well before half time and although the immediate aftermath was one of confusion, we went in scoreless at half time and regrouped. Failing to beat Burton would have been a partial consequence of the referee's botched decision, but blame would also have been placed at our door for failing to step up to the plate in the second 45.

Three points sent the Magpies back to the top of the table after Brighton had occupied that spot for 24 hours and also guaranteed a top six finish for United. More importantly the ten point gap to third was maintained, Huddersfield beating Norwich tonight to climb ahead of Reading once again.

Having looked at one point as if he'd get through a game with an unchanged XI for the first time as Newcastle boss, Rafa made two late replacements and continued to warm up a third substitute (Grant Hanley) even after that point.

For once though the changes seemed to be ill-timed, Christian Atsu especially contributing little for some time before belatedly making way for Sammy Ameobi. This could prove to be the game when the on-loan Chelsea winger finally saw his hopes of a permanent transfer here end - failing to make any impression against Burton doesn't augur well for future tests against more illustrious opponents.

Preferred to both Jack Colback and Isaac Hayden, there was a deeper midfield role for Mo Diame meanwhile and he did reasonably well there - although given the safety-first mentality of Albion, he'd need to impress against a more offensive side before playing him their looked like a genuine option going forward.

From a game management perspective, it's concerning that we had opportunities to take the ball into the corners and run the clock down, but appeared to be uncertain of whether to do that or head for goal - surrendering possession as a result.

This game will be ultimately be remembered for the goal that wasn't - and the fallout from what happened next. Meanwhile, we draw inexorably nearer to the target. Six to go.



Biffa