Date: Friday 14th April 2017, 7.45pm
Live on Sky Sports

Venue: St. James' Park

Conditions: gripping






Newcastle United

Leeds United

1 - 1

Teams
Half time: Magpies 0 Whites 0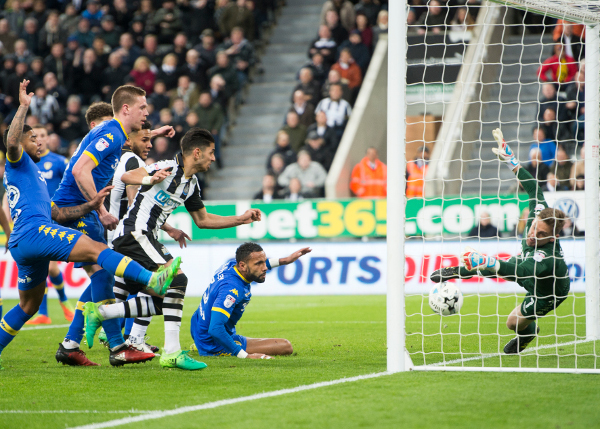 67 mins Yoan Gouffran's deep cross from the right was nodded back across goal by Aleksandar Mitrovic for Jamaal Lascelles to climb above two defenders and head in at the Gallowgate end. 1-0
90+5 mins The persistence of Pablo Hernandez took him towards the Newcastle area. He then found Kemar Roofe, whose chipped ball fell nicely for Chris Wood to drive in from just outside the six yard box 1-1
Full time: Magpies 1 Whites 1
Rafa said:
"I am pleased with the performance of the team, the commitment, the passion, the effort but I am disappointed because we make a mistake at the end - at the end, I mean 95 minutes.
"I'm so upset because I have seen so many games this season where there are things I do not understand. Why where there five minutes? There was nothing unusual, no unusual stoppages. I do not understand why they go against us.

"If you analyse the last few games, my understanding of the rules is they have changed a bit. Everything. Have you seen anything special? The last time we got three minutes added on but seven minutes was lost during the penalty incident.
"I prefer to focus on the performance of the team. We played well, the passion, the quality, it is just a shame about the result. I cannot be happy after that.

"We have to keep winning our games and that's it. The priority is to go up and we have to win games if we want to do that."

On the pitch invader:

"I will not talk too much about that. I'm not happy with things that went on."


Leeds boss Garry Monk said:

"We must have a granite chin. When you get an equaliser like that, it felt better in our dressing room than theirs after the game. We expected to find it difficult here against a team that will be promoted and we did.

"They got their tails up, our goalkeeper was outstanding, but it shows the group we have and why we've been in the top six all season.

"We knew it was going to be difficult match before we came to St James' Park, we started the game really well and had a big chance inside ten minutes, which we probably should have scored from.
"Like you expect, it was a big crowd, a good team and they started to get on top, we were quite comfortable in open play, but we conceded a lot of set-pieces, which we defended them really well, but eventually the one of them told and they got a breakthrough.
"I really have to credit the players, the mentality and togetherness is really strong and it was clear, there was a real belief to keep going right until the end.
"Sometimes when you show that mentality and resilience, along with that determination to fight until the end, you can pick up points.
"We had to dig in and we did that and I think that shows the ingredients of a very strong team, we were really resilient and mentally strong against a very good Newcastle side, who are going to get promoted for sure."
Jamaal Lascelles scored his third goal this season (all in the Championship) and his fifth in total.

Leeds @ SJP - last 20 visits:

2016/17 drew 1-1 Lascelles
2013/14 won 2-0 Cisse, Gouffran (LC)
2009/10 drew 0-0 (FR)
2003/04 won 1-0 Shearer (PL)
2002/03 lost 0-2 (PL)
2001/02 won 3-1 OG, Dyer, Bellamy (PL)
2000/01 won 2-1 Solano, Acuna (PL)
1999/00 drew 2-2 Shearer 2 (PL)
1998/99 lost 0-3 (PL)
1997/98 drew 1-1 Ketsbaia (PL)
1996/97 won 3-0 Shearer 2, Ferdinand (PL)
1995/96 won 2-1 Lee Beardsley (PL)
1994/95 lost 1-2 Elliott (PL)
1993/94 drew 1-1 Cole (PL)
1989/90 won 5-2 Quinn 4, Gallacher (D2)
1983/84 won 1-0 OG (D2)
1982/83 won 2-1 Waddle, Keegan(pen) (D2)
1982/83 lost 1-4 Clarke (LC)
1980/81 drew 2-2 Davies, Rafferty (FR)
1977/78 won 3-2 Burns 2, Kennedy (D1)

NUFC in the Championship after 42 games:

2009/10 92 points (W27, D11, L4) F83 A32 +51 1st
2016/17 85 points (W26, D7, L9) F75 A36 +39 2nd

When previous NUFC promotions were achieved:

Game 41 of 42 April 24th 1948 drew 1-1 v Spurs @ White Hart Lane.
Game 39 of 42 April 16th 1965 won 2-0 v Bolton Wanderers @ St.James' Park
Game 40 of 42 May 7th 1984 drew 2-2 v Huddersfield Town @ Leeds Road
Game 44 of 46 May 4th 1993 won 2-0 v Grimsby Town @ Blundell Park
Game 40 of 46 April 5th 2010 (without playing)

Waffle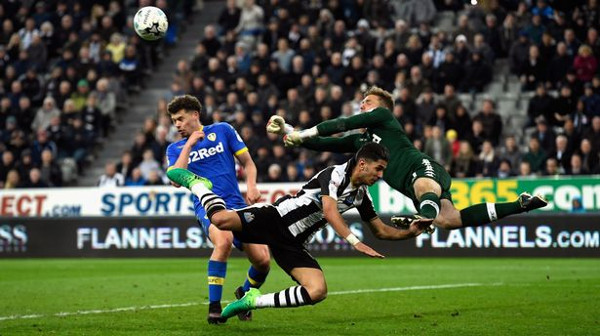 A pivotal weekend in the promotion race saw dramatic finales in two matches towards the top of the table - but late twists in Yorkshire and on Tyneside did nothing to aid Newcastle's cause.

While leaders Brighton secured an unremarkable 2-0 victory at Wolves, third-place Huddersfield saw off Preston 3-2, but only thanks to their 96th minute penalty kick turned in at the second attempt.

At St. James' Park meanwhile, Newcastle went into five minutes of second half added time holding a 1-0 advantage, after a Jamaal Lascelles header just crossed the line on 67 minutes.

Sadly though, the Magpies captain was unable to shadow Chris Wood adequately with just seconds left and the division's top scorer beat Karl Darlow to bag an undeserved point for the visitors.

Retaining Chancel Mbemba in an unchanged back four, fit-again midfielder Isaac Hayden returned in place of Mo Diame and Aleksandar Mitrovic got the nod to replace the injured Dwight Gayle.

The visitors made and missed the first real chance of the evening when Alfonso Pedraza struck the crossbar and Keymar Roofe's follow-up header was palmed away by Darlow in the ninth minute.

From that point on though it was almost all one way traffic, with the black and whites forcing a series of corners and dominating the possession statistics.

Matt Ritchie shot narrowly over as chances began to arrive, Gouffran struck the woodwork and Ritchie's follow-up was deflected over. Ayoze Perez then turned and cleared the crossbar from close in, while Mbemba directed his powerful header from another corner at Robert Green.

Scoreless at the interval, the second period brought more of the same from the home side, with their efforts rousing the crowd into raucous support.

With Leeds defending desperately in a manner reminiscent of their rugby league counterparts, a valid penalty shout was ignored when Luke Ayling dragged Mbemba over as a corner reached the far post.

Still the chances came, Aleksandar Mitrovic cleverly flicking a stray backpass over Green to gain sight of goal, but losing out to Pontus Jansson. The breakthrough finally came on 67 minutes when Gouffran's deep cross from the Newcastle right was nodded back across goal by Mitrovic for Lascelles to head in a priceless opener.

With the ground in full cry, Newcastle continued to press forward and Green somehow defied Perez soon afterwards - one of a handful of misses that would ultimately come back to haunt us.

The home side attempted to run down most of the five added minutes by the corner flag, with Jonjo Shelvey booked for his deliberate clumsiness in letting the ball run under his feet.

Substitute Jack Colback - on for the excellent but tiring Hayden - was cautioned for a tackle on the halfway line when Leeds countered, before the persistence of Pablo Hernandez took him towards the home area, Roofe playing Chris Wood in to fully exploit his only real sight of goal in the entire match.

Regardless of tonight's frustrating finale though, Newcastle's performance overall was a sizeable improvement on that of recent weeks - and that includes the home wins over Wigan and Burton.

The Terriers may still be barking at our heels, but are rapidly running out of games. Our pace has dropped, but we're still going forward and are masters of our own destiny. Momentum remains.

And that really is the message of tonight: a decent display that failed to earn full reward, but showed encouraging levels of spirit and intensity to take forward into those final four games.

Keep calm, all is not lost - it's still within our grasp.

Biffa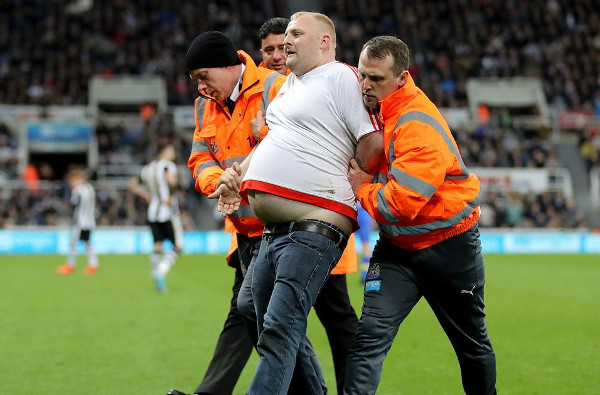 There was a crucial break in play at the start of added time, when a solo pitch invader made his way from the East Stand and got involved with the Leeds pair Rob Green and Pontus Jansson.
Captured by two stewards, the pitch invader was then led along the front of the Gallowgate by several more stewards, gesturing to home fans in a manner suggesting that he wasn't one of them.
(NUFC.com readers have since confirmed that he had an LUFC tattoo visible and was one of two away fans in the East Stand. He looked to have gone on the pitch for a bet, while the other clown kept hold of the invader's coat etc and filmed the whole incident).
There was then a melee in front of the Strawberry Corner involving home fans apparently trying to attack the pitch invader - with similar scenes outside the ground after full time seeing further punches thrown at him outside the Strawberry.