Date: Monday 17th April 2017, 3.00pm

Venue: Portman Road

Conditions: lacking

Admission: £32.50 / £37.50

Programme: £4

. A

n extra celebration of Bobby Day saw a £1 increase on the usual £3 - the programme seller actually apologising for the rip-off.



Ipswich Town

Newcastle United

3 - 1

Teams
42 mins Matt Ritchie was robbed on halfway and Tom Lawrence allowed to run unchecked before playing in Freddie Sears who shot right-footed past Karl Darlow from ten yards. Ritchie made a lung- busting run to recover, but arrived only in time to help the ball into the net. 0-1

Half time: Tractor Boys 1 Magpies 0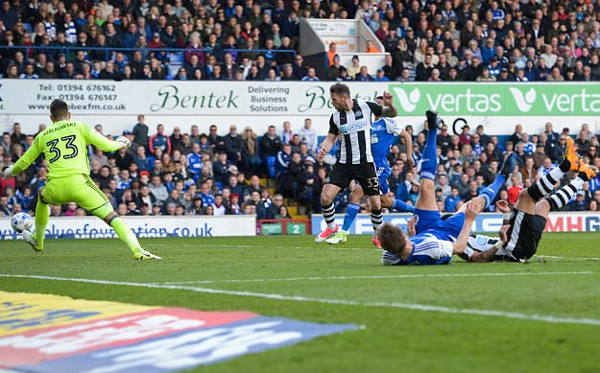 62 mins Taking a pass from Paul Dummett, Christian Atsu motored down the Newcastle left before whipping over a dangerous cross that substitute Yoan Gouffran missed at the near post but Daryl Murphy swept it in without fuss. There was no celebration from the former Tractor Boy. 1-1
69 mins Darlow's mis-kicked clearance wasn't as immediately calamitous as his effort at Norwich, but let to him conceding within seconds as Grant Ward released Sears in the box and he teed up an onside David McGoldrick to touch the ball home at the far post. 1-2
90+3 mins A forward pass to no-one in particular was headed up into the air by Dummett outside his own box and his second header was straight at Ward, who headed it into the path of Sears. He in turn flicked it out to the overlapping Brett Pittman on the Town right, who was slightly fortunate to avoid a lunging tackle Dummett before pulling over a deep centre to Emyr Huws.

The former Huddersfield player who is currently on loan from Cardiff City arrived in space to lash in a left-footed first-time effort from around seven yards. 1-3
Full time: Tractor Boys 3 Magpies 1
Rafa said:

"I am concerned about the change of the team, in terms of the performance against Leeds and then our performance today.

"That is the only thing I am thinking about. We know that we have to win games to do our job, so we will have to change and improve a lot.

"We knew it could be this kind of game today. I thought that we were ready, but it seems that we were not.

"We were not focused and mentally ready. When we were reacting, we scored the goal, and it seemed that we had more control of the game, but then we made another mistake.

"It's difficult to explain but that was the reality. We made a lot of mistakes and we are paying for that, massive mistakes that normally we were not doing.
"We have to analyse what is wrong and change quickly. I am not going to blame players here but they know what I told them at half time and the end.

"We have played so many good games this season. Now we have to play at the level we had before."

Post-match comments from Tractor Boys boss Mick McCarthy (from East Anglian Daily Times)
Q: Is that a bittersweet performance given it's come so late in the season?

A: "No, it's just sweet."

Q: Is that your team's best performance of the season?

A: "Er, I would say so, especially with it being Newcastle. Yeah… it's the best one."

Q: Do you think Newcastle are getting a little nervous chasing automatic promotion?

"You can get nervous at either end of the table at this time of year. We were nervous on Friday (at Burton Albion), but thankfully we held it together and won.

"We deserved to win today. We've been better than them all round. If anyone goes away talking about Newcastle being nervous and not playing very well, I think that would be an injustice to my players and my team today."

Q: Was it a case of the shackles being off your players with Championship safety all but secured on Friday?

A: "Maybe. That's a good story isn't it? I thought we played well on Friday night when the shackles were well and truly on.

"That is a little bit unjust to say that. It may well have happened, maybe they are feeling it a bit, I don't know.

"I said to the lads before the game 'there are 25,000 thousand here coming to watch' and then I added 'not us, by the way, I'm sure none of the f*ckers are coming to watch us the way we've been playing here'.

"I said 'if that's the case I'm not bothered, but make sure they are talking about us when they go home in a positive manner and make sure they have come and enjoyed watching us'.

"For whatever reason we produced a good performance. I can't get to the bottom of it and tell you why. Maybe it's the fact that David McGoldrick is in his pomp and playing great? And that our front four, with Freddie Sears, Tom Lawrence and (Grant) Wardy, were great?

"Anyway, I'm not really bothered by the reason why, I'm just glad we were good."

Q: Emyr Huws was one of several superb performers today? Would you like to keep him beyond this season?

A: "I'm only repeating what I've said before, so 'yes'."

Q: Supporters haven't always left Portman Road happy this season, but today everyone will have gone away with smiles on their faces...

A: "Good."

Q: It was a nice tribute to Bobby (Robson) wasn't it?

A: "I think it was a great tribute to Sir Bobby. I'm not sure what side he would have been on? I think he must have favoured us today!

"I think the game was a fitting tribute to him too because it was a good game."

Q: It was a positive atmosphere today wasn't it? That's not always been the case.

A: "No, because we've been shit. I'm cool with saying that. It's not been helped by a shit atmosphere as well though. It cuts both ways doesn't it? It cuts both ways.

"When we were struggling and maybe could have got relegated I said the I said the crowd would have been part of that if it happens. They've been a great part of a fabulous victory today.

"We had 13 straight victories here on a Tuesday night at one point and the atmosphere was fab. I've kept the club up, had three top-10 finishes and I've had a bad year this year. Isn't it great when everybody turns their back on you and sneers at you and tries to stop you coming to the game and things like that? I'm glad they've enjoyed it today. I have as well."


Newcastle may have ended the hoodoo of winning anywhere on a Monday at the twelfth time of asking after a 2-0 home victory against Aston Villa in February - but it's a different story away from Gallowgate on that day of the week, this our eleventh successive defeat and thirteenth unsuccessful attempt at claiming victory:

Unhappy Mondays:

2016/17 Ipswich Town (a) lost 1-2
2016/17 Blackburn Rovers (a) lost 0-1
2015/16 Leicester City (a) lost 0-1
2015/16 West Bromwich Albion (a) lost 0-1
2015/16 West Ham (a) lost 0-2
2014/15 Liverpool (a) lost 0-2
2014/15 Stoke City (a) lost 0-1
2013/14 Arsenal (a) lost 0-3
2013/14 Everton (a) lost 2-3
2013/14 Manchester City (a) lost 0-4
2012/13 Fulham (a) lost 1-2
2012/13 Everton (a) drew 2-2
2011/12 Arsenal (a) lost 1-2
2011/12 Bolton Wanderers (a) won 2-0

Daryl Murphy netted his sixth United goal of the season, all bar one coming in the Championship.

That goal took us on to 34 scored away from home in the Championship, the same total we managed on the road in both the 2009/10 and 1992/93 promotion seasons.

Toon @ Tractor Boys - last 10:
2016/17 lost 1-3 Murphy
2009/10 won 4-0 Nolan 3, R.Taylor
2004/05 lost 1-2 Robert FR
2001/02 won 1-0 Solano
2000/01 lost 0-1
1994/95 won 2-0 Fox, Kitson
1993/94 drew 1-1 Cole
1991/92 lost 2-3 G.Peacock 2
1990/91 lost 1-2 Quinn
1989/90 lost 1-2 McGhee

This was the first time that Newcastle have conceded three away goals in a league fixture since losing 1-3 at Southampton exactly a year ago in the Premier League. We last let in three on the road in the second tier when losing 0-3 at Derby County in February 2010.


United also lost back to back away games for the first time in the Championship this season - a frankly astonishing statistic for anyone of an age to recall the desolate seasons following our relegation in 1977/78.


They remain rooted on thirteen away wins in the league this season - the joint best total they've ever managed, equal to the achievement of 1992/93.

Waffle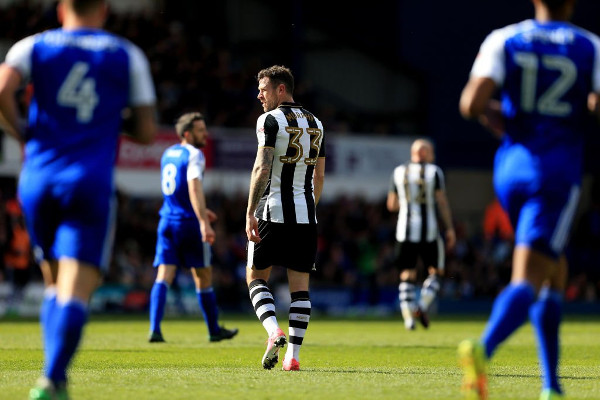 Newcastle's push for automatic promotion was knocked off course by Mick McCarthy's Tractor Boys following an inexplicably awful display at Portman Road on Easter Monday afternoon.

Former Ipswich striker Daryl Murphy had equalised Freddie Sears' first half goal, just after the hour but United then conceded twice more to tumble to their second successive defeat on the road.

And having taken just a single point from nine, the possibility of automatic promotion looked to have receded further on the day that Chris Hughton's Brighton confirmed their Premier League place.

However, a late Derby County goal in the evening game at Pride Park saw them hold Huddersfield Town 1-1 - a small boost for those disconsolate Toon fans trekking back from Suffolk.

Having played some of their best football for several weeks in Friday's draw with Leeds, Rafa Benitez opted to make five changes here - and saw that ploy backfire horribly.

Mo Diame and Murphy replaced Ayoze Perez and Aleksandar Mitrovic, Grant Hanley and DeAndre Yedlin were preferred to Chancel Mbemba and Vurnon Anita while Christian Atsu lined up at the expense of Yoan Gouffran.

The outcome was a breathtakingly poor performance from everyone in clad black and white, Isaac Hayden in particular struggling after giving everything in his comeback game less than 72 hours previously and unable to make any impact before inevitably being hauled off after an hour.

Individual errors prompting all three home goals as Ipswich achieved back-to-back wins for the first time this season and eased some of the terrace pressure on their manager. His side had a 12th minute effort chalked off when Tom Lawrence's free-kick went past Karl Darlow, only for David McGoldrick to be penalised for a foul.

The lack of threat from United saw Ritchie and Atsu switch wings within the opening half hour to find a route forward, but the only moment of danger from the visitors came when Paul Dummett's left wing cross on 41 minutes was headed into the ground by Ritchie and wide of the target.

Sadly the home side had no such problems and within a minute Freddie Sears had struck his fourth goal in as many games. the former West Ham player finding space in the area as we retreated.

McGoldrick then worked an opening before shooting over before the whistle ended what what was comfortably our poorest 45 minutes in the league this season; shapeless, formless and timid. You wouldn't actually suspect that we were challenging for anything from watching this, the admirable intensity of Friday had vanished.

The second half brought little upturn, the lack of understanding between
Murphy and Diame evident when both went for the same ball on 59 minutes. With former Ipswich player Jack Colback on the bench, Rafa opted to withdraw Diame into midfield when he brought off Hayden and introduced Gouffran to the attack moments later.

From what was our one passage of fluent play during the whole game though, we then levelled just seconds after that change. Atsu's quick cross was converted by former Tractor Boy Murphy, whose celebration consisted only of a handshake with Ritchie.

Parity was restored for just seven minutes before another Easter gift was given though. Darlow's mis-kicked clearance wasn't as immediately calamitous as his effort at Norwich, but led to him conceding within seconds, Grant Ward and Sears combining for McGoldrick to finish with ease.

United were readying Chancel Mbemba until Ipswich made a replacement of their own, after which Jesus Gamez was hastily brought on. Mitrovic also appeared in the closing stages but managed just one vaguely threatening run into the area without testing 'keeper Bartosz Bialkowski.

A slightly misleading veneer was then added to the scoreline in the third minute of six added, as Emyr Huws lashed in to complete Newcastle's misery. And with Huddersfield taking an early lead at Derby soon after, the Terriers threatened to close the gap to five points with a game in hand.

Happily the Rams scrambled home an 88th minute equaliser via a fortunate deflection, although that came as little solace to those watching a side whose remarkable away run has hit the buffers since the victory at Huddersfield early last month, and the subsequent loss of Ciaran Clark to injury.

Whether it's a physical or a mental barrier is unclear, a lack of Premier League promotion experience pinpointed by some watchers - although the likes of Diame, Ritchie and Murphy all have that on their CV. Comparing the class of 2017 with that of 2010 though, a lack of onfield leadership in adversity does seem to be apparent.

Despite efforts to make life difficult for ourselves though, our fate is still very much in our own hands: two wins - or a win and two draws - will guarantee promotion regardless of what either Reading or Huddersfield can conjure up.

We continue to make haphazard progress as we stumble towards the finishing line; struggling against ordinary opponents who had nothing at stake and who began the season with Leon Best leading their attack and were fielding Steven Taylor in defence until his recent injury.

Those home fans who taunted us with "Premier League, you're having a laugh" had a point today, or all three to be precise.

If there's a positive, it's that an automatic promotion spot is still ours to claim despite obvious squad shortcomings that were identified before the last transfer window - but overlooked during January.

However, the deficiencies are now so evident that they simply cannot be ignored - showing our true level in recent weeks may actually be a blessing in disguise, if anyone sane is taking notice.


Biffa