Date: Friday 28th April 2017, 7.45pm
Live on Sky Sports

Venue: Cardiff City Stadium

Conditions: good-natured

Admission: £24 (£35 in 2013/14)

Programme: £3

Cardiff City

Newcastle United

0 - 2

Teams
Half time: Bluebirds 0 Magpies 0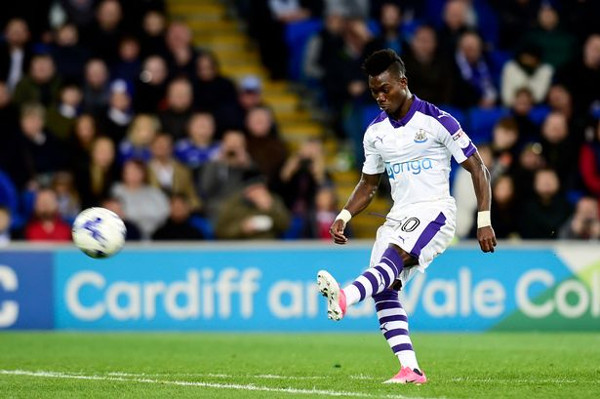 55 mins Daryl Murphy combined with Ayoze Perez to feed Christian Atsu on the edge of the Cardiff box and as he shaped to shoot, Sean Morrison collided with him inside the 'D' at the expense of a free-kick. Atsu took one stride before nonchalantly chipping the ball over the wall and into the top corner past a motionless Allan McGregor 1-0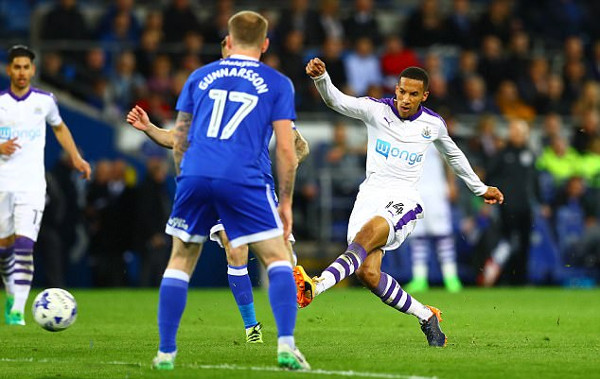 65 mins A patient build-up by United saw DeAndre Yedlin lay the ball to Perez and he in turn fed Isaac Hayden, who had time and space to take a touch before unleashing a low left-footed drive from 25 yards McGregor stood and admired as it arrowed into the corner of his goal.
Following the example of colleague Matt Ritchie, the scorer upended the corner lost with a kung fu kick that dislodged the flag en route to celebrating the goal with the away contingent in that corner of the ground 2-0
Full time: Bluebirds 0 Magpies 2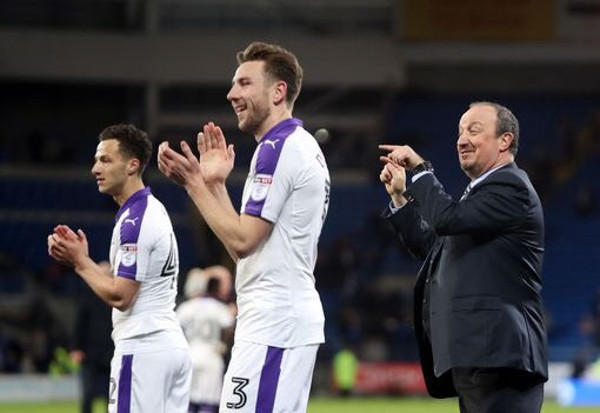 Rafa said:

"Iím really pleased, because I think the players were doing so well all season, especially away, that it was a pity not to have broken the record before.
"To do it today after the promotion and be closer to Brighton is quite positive for everyone.
"After promotion we gave them a day off. During the week they were training well. I think they were quite focused.
You could see, especially in the second half, that we played very good football.

"Something that they (Brighton) have is experience.

"We did our job - weíre happy with that. Also, when you play away, always itís good for your fans if you can win, and especially if itís a long, long trip.

"I think that the fans were delighted and hopefully they can go back even happier."

Colin said:
"It was disappointing end at home for us, but if you don't score your chances. It showed why you pay for quality and why we need to get more goals into the team and that's what we're looking to do in summer.

"I can't fault the effort and they've been brilliant since I've been here and I thought they were a bit unlucky. Sean Morrison's header that was disallowed, it was very soft.

I thought the referee was terrible tonight - the the free-kick for the first goal is a nothing free-kick. We've got to start educating players what to do when you get a referee like that.

I thought Scotty (referee Graham Scott) had a bad game today, I thought he was very, very poor, in general and his positioning and interpretation.

Mitrovic comes on, never looks at the ball and three times it should be a foul on Morrison but he never sees it. Why? Because he's not educated. And it's no wonder if Mike Riley is his tutor.

"I donít think there is a Newcastle or Brighton in the league next year - I think it will be very even.

"Even though weíre not spending a lot of money, I think with what weíve got and four or five additions, I think we can be up there. The bookies will probably put us just below halfway, but you never know in the Championship.

"If you get a team spirit like Brighton... theyíve taken three years. We havenít got three years... well I havenít."


This victory set a new all-time club record of 14 away league victories in a season and set a new points total on the road of 46 points. Tonight's outcome meant that the previous high water mark of 13 wins set by Kevin Keegan's side in 1992/93 was eclipsed (we managed 12 in 2009/10):
1992/93

Derby County 2-1
Bristol Rovers 2-1
Peterborough United 1-0
Brentford 2-1
mackems 2-1
Birmingham City 3-2
Charlton Athletic 3-1
Notts County 2-0
Bristol City 2-1
Tranmere Rovers 3-0
Cambridge United 3-0
Millwall 2-1
Grimsby Town 2-0
2016/17

Bristol City 1-0
Derby County 2-0
QPR 6-0
Rotherham 1-0
Barnsley 2-0
Preston North End 2-1
Leeds United 2-0
Wigan Athletic 2-0
Burton Albion 2-1
Brentford 2-1
Wolves 1-0
Brighton and Hove Albion 2-1
Huddersfield Town 3-1
Cardiff City 2-0
For the clothing fetishists among you, ten of the 14 away victories came in the blue and orange change strip, with the exceptions a trio of successes in the white kit (Burton, Wolves, Cardiff) and one in the home garb (Barnsley).

Away Record - Post-War promotions:
2016/16: Played 23, won 14, drawn 4, lost 5. 36 goals scored, 17 conceded (finished tbc)
2009/10: Played 23, won 12, drawn 7, lost 4. 34 goals scored, 22 conceded (finished first)
1992/93: Played 23, won 13, drawn 3, lost 7. 34 goals scored, 23 conceded (finished first)
1983/84: Played 21, won 8, drawn 6, lost 7. 34 goals scored, 35 conceded (finished third)
1964/65: Played 21, won 8, drawn 5, lost 8. 31 goals scored, 29 conceded (finished first)
1947/48: Played 21, won 6, drawn 7, lost 8. 26 goals scored, 28 conceded (finished second)
That's now 97 goals this in league (82) and cups (15) with one game remaining.

On the road we managed to score 36 times in the Championship and twice in the cups. 36 goals is United's best away tally since they racked up 40 in both 1959/60 and 1958/59 (both 42 game seasons). That in turn had bettered the club record of 37 that had been set back in 1909/10 (38 game season) and then equaled in 1930/31 (42 game season).

The 17 away goals we've conceded in the league this season is an all-time club record, beating the previous meanest performance of 19 during the 1960/70 campaign (42 game season).

Cardiff became the eighth side that we've beaten home and away this season, following Brentford, Brighton, Burton, Derby, Preston, Rotherham and Wigan. Barnsley could be still become the ninth.

Rob Elliot marked his 50th start for the club by wearing the captain's armband.

Christian Atsu scored his fifth goal for the club and found the net in successive games for the first time as a Magpie. He'd also stuck one in against the Bluebirds in the game on Tyneside.

Isaac Hayden meanwhile doubled his tally for the season, having got off the mark during a 4-1 home victory over Reading last August. His memorable strike was the 100th league and cup goal we've scored against Cardiff.

NUFC v Warnock teams on the road:
2016/17 Cardiff City won 2-0
2014/15 Crystal Palace won 3-2 (LC)
2011/12 QPR drew 0-0
2009/10 QPR won 1-0
2009/10 Crystal Palace won 2-0
2006/07 Sheffield United won 2-1
1992/93 Notts County won 2-0
1990/91 Notts County lost 0-3
The season-ending away game hasn't traditionally been a happy hunting ground for us, with maximum points taken just seven times in the last 40 years:

2016/17 Cardiff City (a) won 2-0
2012/13 QPR (a) won 2-1
2009/10 QPR (a) won 1-0
1992/93 Grimsby Town (a) won 2-0
1991/92 Leicester City (a) won 2-1
1987/88 Portsmouth (a) won 2-1
1981/82 Crystal Palace (a) won 2-1

Magpies @ Bluebirds - last 10 (competitive):
2016/17 won 2-0 Atsu, Hayden
2013/14 won 2-1 Remy 2
2009/10 won 1-0 Coloccini
1983/84 won 2-0 Keegan, Beardsley
1981/82 won 4-0 Varadi 3, Davies(pen)
1980/81 lost 0-1
1979/80 drew 1-1 Shinton
1978/79 lost 1-2 Connolly
1964/65 drew 1-1 Cummings
1963/64 drew 2-2 Cummings, McGarry(pen)

Allan McGregor returned between the posts for City - the Scot is currently on loan from Hull City and has now conceded eleven goals in his five competitive games against Newcastle, the trio of away games ending 2-0, 3-0 and 4-1 in our favour (the latter two at Hull).
Waffle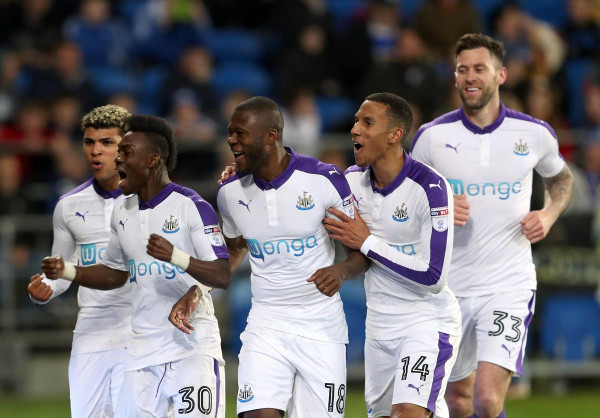 The mileage may not have altered, but watching Newcastle on the road since last August has been an unseasonably pleasant experience for anyone who experienced the bad old days of Second Division football before Kevin Keegan's arrival.

There were reminders a-plenty of successful trips this season on the train journey to South Wales: a clean sweep of venues passing by the window: Leeds, Rotherham, Derby, Burton and Bristol City, with only St.Andrews (a draw) spoiling the view. You can't see Hillsborough on this route.....

That we finished off breaking the all-time record was satisfying enough, with two more goals added to an astonishing total by previous standards (when people talk about such and such a game being the worst ever, we recall 1980/81, a season during which we managed precisely eight away goals).

Setting Brighton the task of needing victory on their own ground to seal the title the following day seemed no more than delaying the inevitable, but for Albion to falter in front of their own fans for another season (having blown the playoffs at the Amex last May) was an unexpected bonus.

As a consequence, our final game of the season against Barnsley acquires a competitive edge; no longer just a kickabout followed by a walkabout, rather an opportunity to collect a meaningless but prized trinket for the sideboard to go alongside the 1993 and 2010 ones.

Back to Cardiff though and fabulous second half strikes from Christian Atsu and Isaac Hayden secured the points after a lethargic first half in which neither side was unduly taxed and levels of commitment from both sides were reminiscent of a pre-season game we played here in 2012.

There could have been more goals for both sides, City wasting some good chances from crosses into the box and United denied two clear penalties in addition to another outbreak of Serbian clumsiness that saw a chance to end his drought spurned. City's Jazz Richards meanwhile was lucky to remain on the pitch after a reckless challenge on Atsu. Warnock doubtless saw nothing wrong with that.

With Matt Ritchie suspended after news of a post-Leeds tunnel spat with match officials, Dwight Gayle, Jamaal Lascelles, Grant Hanley, Vurnon Anita and Jesus Gamez were also deemed to be unavailable for this game.

Over 4,000 away followers turned up in varying degrees of fancy dress and inebriation, gleefully reminding a global TV audience again and again that "sunlun's going down and the Mags are going up" in addition to some old favourites from the Magpie songbook (and a topical rewrite of the Ritchie Hat song incorporating Lee Charnley and this week's fiscal headlines).

The team and manager remained on the field to take the plaudits at the end of the game, Rafa indicating that the players warranted praise when songs were sung in his honour. What a guy.

By the next time we meet again in some far flung (Premier League) field, a different cast of players may be on show. For tonight though, the current crop were fully deserving of the applause that came their way for achieving a record that may well never be matched. Enjoy the moment.

Biffa