Date: Sunday 7th May 2017, Noon

Venue: St. James' Park

Conditions: incredulous






Newcastle United

Barnsley

3 - 0

Teams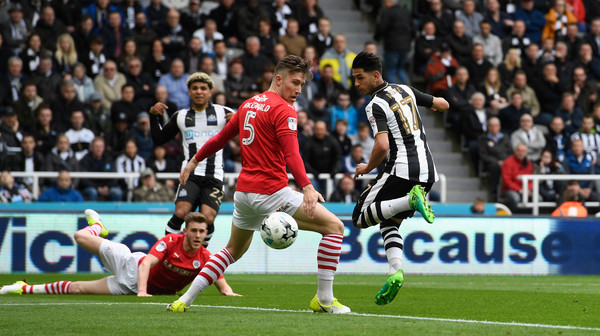 23 mins Aleksandar Mitrovic played the ball inside to Jonjo Shelvey and he swept the ball out first time with his left foot to Christian Atsu down the Newcastle right. The winger came inside before back-heeling the ball to DeAndre Yedlin, who crossed to the near post for Ayoze Perez to supply a fabulous flick that fooled goalkeeper Adam Davies in the Leazes End goal. 1-0

Half time: Toon 1 Tykes 0
59 mins Shelvey's free-kick down the United right was swung into the box and only half-cleared, allowing Jack Colback to pinch the ball and play in Perez. His fierce shot was parried by Davies into the path of Chancel Mbemba who lashed the ball in from eight yards. 2-0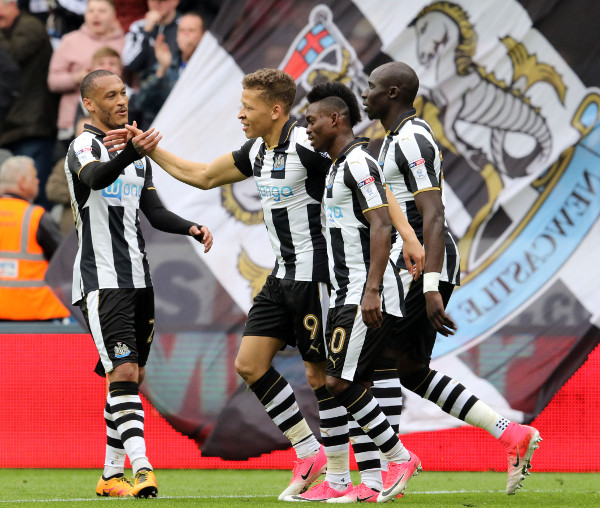 90 mins Rob Elliot launched the ball upfield and after it was allowed to bounce just outside the Tykes box, Mitrovic nodded it forward for substitute Dwight Gayle to tuck home. His celebration echoed the "sunlun' going down, Mags are going up" ditty chanted in the Strawberry corner. 3-0
Full time: Toon 3 Tykes 0
Rafa said: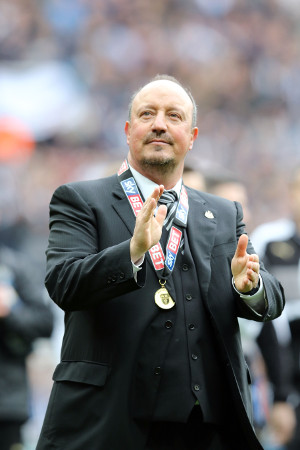 "I would like to dedicate the title to everyone involved Ė the staff, the players, the fans, everyone - thank you to all of them.

"I said before that we had to come with a smile on our faces, and maybe go back home with an even bigger smile.

"I am really proud of these players, everyone. You can see and feel that the fans were very emotional.

"It was the same as the last game of the last season, but in a different way. It was much better.

"At the end, I made sure every player, every staff member had a picture with the trophy. You have to remember these moments, how difficult it was.

"You donít know when the next time will be, but I hope this is only the first trophy I win at Newcastle United.

"Going up as champions does not matter too much, but there are a lot of positives we can take into next season.

"My message from the beginning was that we all had to stick together, and I think the atmosphere means a lot.

"If you want to achieve things in the future, it is really important to have everyone together.

"I donít have the English words to describe what happened.

"We knew that it would depend on us. We had to do our job because we could not have any influence on the other result. When Aston Villa scored, you could hear the fans.

"It was just a question of having to wait. In the end, everything was fine for us, and we were so pleased with that.

On the imminent meeting with Mike Ashley:

"I already have an idea of what a successful club could look like - I think also he has an idea. I think we have to put both ideas together.

"I think it is the right time to talk when everything is fine. We will be in contact to be sure we share the same ambition about how to improve, how to be competitive and to do the right things for everyone.

"I will meet him next week, but itís always important for him, for us, to feel the love of the fans and the passion in the stadium."

2009/10 NUFC Championship winner Chris Hughton:

"Iíd like to congratulate Newcastle on a wonderful season Ė theyíve just beaten us to it. I think the two best teams this season are the two that have gone up automatically.

"For us the season is finished and we have achieved our goal. Weíre playing in a division where there are some very big teams who have spent big money, and we have managed to come in the top two.Ē

Rafa Benitez match programme interview:



He began talking about alterations at Darsley Park in pre-season:

"We changed the colours. In general, thereís more light, with more colours, and more space if we can for people who normally work here.

"We had to give another impression when the players came back from relegation, for them to see something different, more relaxed, with more space, and they would appreciate that it is new and fresher. It was to change the mood, starting with the colours and little things like that.

"We changed the synthetic pitch in the indoor tent, the showers, the dressing room for the staff, some offices. We had to give them, the players, space if they wanted to stay and play ping pong or with the PlayStation. Itís something they will appreciate is different and a little bit better.

"We had a lot of things to do. Weíd just arrived earlier that year, and we had to try to do our best to stay up. We couldnít do it but little by little, we were analysing things.

"This season was more about fixing things and doing things the way we wanted to do it. We had so many things Ė academy, scouting department, players coming, players leaving, the facilities we were trying to improve Ė and I think we did well. Thanks to all the people in charge in each department, we were progressing and improving, and Iím quite happy with what we did."

"Itís not difficult when you have good players and good professionals. The relationship between them was quite good, and because the team was working well and hard, the relationship with the staff was also quite good. Little by little, the bond was improving.

"When the team is winning and you have nice people Ė people who are hungry and want to improve Ė then itís easier. You try to choose the right players, and after, try to talk with them and tell them what you are expecting from each one and from the group.

"I will give credit to the players in this case, because you can try the same with different players, and maybe it doesnít work.

"We have a way to do things. Our methodology is working with the ball all the time, so they enjoy that, and changing the exercises but keeping the same objective Ė things that we have done for so many years. For some players, they are new things.

"We have the analysis department, and then we have clips for every single player, for the team. We try to give them some feedback in terms of what they do. They appreciate that, and are keen to learn and improve, so that, in the end, is what creates a very good atmosphere.

"As a manager, you have ideas, but you need people helping you because if not, you donít have time to do everything. If you have an expert in a specific part of the job then you have to use them. Everyone has their job and everyone is helping me to save some time by doing something specific.

"Everybody has their role in the team, and here they can feel that they are part of the success. I think itís important to realise that a lot of things you have achieved is because of them. People say Ďwell this is just the managerí, but you have a lot of people working very hard every day, and thanks to them, things are going well. Everyone has to do their job, and they have to feel that their job is appreciated.

ďNormally, you realise in pre-season, when you start training with players you can see how they react and how keen they are to spend more time practising, or learning and listening to you. We could see from the beginning that this group was a good group.

"I had confidence in the team, and I was always talking about April as a crucial month. I thought that we could start April even worse (than we did) and after we could react, but we started really well and after we made a couple of mistakes, so it was the opposite.

"Still, I had confidence Ė it would be hard, it would be difficult, but we would do it (win promotion).

ďWe changed half of the squad, sold players, and then we had to rebuild everything.

"To go up, I think it is a real achievement. But I always say, we have to give credit to these players. Itís important to be proud of what we have done in the end. Players, staff and all the people here have been together with the fans behind us. We have had a whole city behind the team, and that is so good and the feeling is so good that itís something we have to build from.

"Every time that I go to a restaurant or something around the city, you have someone telling you how they appreciate what we are doing. We can feel it every day. You can see that, you can feel that.

ďItís always important to feel that the people appreciate what you have done. A lot of times in my career, if (fans) talk about one of my trophies, they say Ďyou gave me the best day of my lifeí. I say itís a pleasure for me, because itís something I wanted to do and I enjoy that.

ďI like to do my job properly and I like to win. Sometimes Iím really, really upset when we cannot. But at least now, experience has given this calm; that you know sometimes you cannot, but still you have to try the next time.

ďWhen I was younger, I was always upset because we were losing or I was very happy because we were winning. Now, you can manage the emotions a little bit more.

"I started my career as a coach in the Real Madrid academy, and we were winning maybe 80% of the games. You didnít used to lose too much, but then when you leave and you realise that the other teams are quite strong and you can lose, thatís when you start learning. Itís quite difficult, but that is the way.

"You have to lose some games to realise how important it is to do things well Ė the little details, the small things that can change a game. You have to have balance.

"If you lose a game, you are disappointed, but at the same time, what the people Ė your players especially, and your staff Ė expect from you is a reaction, a positive reaction, a solution. You have to be calm, keep your composure and then analyse what is going on to give a solution or an idea at least, and they can follow this idea.

"I wave to them (the fans) and I say thank you very much. It is my responsibility to stay focused on my job, but I can be very happy because they are singing my name. Iím really pleased, but at the same time, itís more responsibility for me too, because I want to do well for them.

ďAs a professional, I have always done the same. I was trying to do my best in every single team I was managing. But when you have the love of the fans, then you try even harder, because I think that they deserve that.

"They (the players) were trying to catch me (to spray with champagne) Ė they caught me a little bit, but not as much as they wanted!"

"I have sometimes the feeling that I did my job, and Iím really proud for that, but I am not very emotional externally.

I donít get carried away with the emotions too much, but inside, I am really proud of what we have achieved, so then I try to stay with my staff or my family and friends and enjoy it with them.

"Iím not someone who will be jumping around the streets or whatever, but I will try to enjoy it with my people.

"I think it was a mix of emotions, because everybody was a little bit anxious with the results before and a little bit nervous about what can happen. So there was a little bit of relief, but at the same time, pride, because it was a great achievement. Everybody wasÖ.you could see, playing against Cardiff, the team was playing with more freedom. You could see the real team.

"In terms of the preparation (for the Premier League), itís more or less the same. What you have to be sure now is that you choose the right players and you do the right things, because you have to change things and try to improve. That is my responsibility.

"I think as a manager, when you achieve something and then you start preparing for the next challenge, you have to be excited. Iím thinking about every single detail that I can improve, and then seeing my staff, everyone, and trying to get feedback from them and seeing if we can make less mistakes.

"Itís important for me to be excited and itís important for my staff and the people around us to be excited too. Itís a challenge for everyone. We know that it will not be easy, but at the same time we know we have the ability to change things around and to try to do good things.

"After the Preston game, I said ĎOK, we have achieved what we wantedí. I didnít expect Brighton to lose the other game. Now, we have another opportunity. We were really pleased (after Cardiff), because we won and itís the record (for away wins in a season), but at the same time now we have a chance to fight for the title, and weíll try to do it."

Barnsley boss Paul Heckingbottom said:

"We speak a lot as a group and one thing the players have done is given the staff a big round of applause for the efforts they've put in because you look round at Newcastle's staff and at our staff, we beg, steal and borrow equipment, we work our socks off in terms of time and the effort and support we give the players.
"The players know that so for a group of first team staff, they're overachieving as much as the players and the players wouldn't be able to do it without the staff and that's part of what has been a successful season, not only the boys on the pitch but the people off it as well.
"We have to get everything right to come to Newcastle and win and have to play a perfect game and we didn't.
"You know you weren't going to be coming here at a tougher time because they have to give everything to win, if we had have scored in the first half we'd have been on top and they'd have been fighting tooth and nail to get back on top. No matter how well we played, we were going to have difficult moments in the game.
"We had a really good start, the first 20 minutes were pleasing and during that time I'm thinking we can hurt them with this and that, we were good up until the final third but after the goal, they got on top down the right, that's where all the chances were coming from.
"We still had possession but we didn't cause them any problems, we didn't have enough deliveries into the box, second half they were the better team, the big difference was the quality in the final third, it was immense today, our work rate, organisation and application from the players was good but there was a massive gulf in quality in the final third.
"Having said that, the second and third goals are shocking on our behalf so while you can keep it at 1-0 you're always in with a shout and I said to the players we have to beat teams like this, we can't turn up thinking it's a tough game everyone is expecting us to get beaten and the way to do it is to be tight at one end and clinical at the other.
"It was tough to watch that today and once we fell behind we knew it was going to be difficult. We got into some good positions second half on the counter, the decision of when to pass and quality of the pass was what was missing and towards the end we did get chances and didn't take them.

"At 2-1, you know you can push and we'd have had nothing to lose but they were the better side today. When the fixtures came out, with me living in the area down in Barnsley and speaking to fans, people working for the club, the board, the phrase that kept coming out was, 'I hope we've not got to go to Newcastle and get something to stay up'.

"It never came about - at one point, we were chasing the play-offs.

"Obviously it was tough losing lots of players in January, but we have been competitive ever since as well so it's credit to everyone, all the staff, all the players, how hard everyone has worked.

"On reflection, I have to be really, really pleased, and we have learnt a lot in this season as well."

Final Championship table - top 7:

| | | | | |
| --- | --- | --- | --- | --- |
| P | Team | Pld | Gd | Pts |
| 1 | Newcastle | 46 | +45 | 94 |
| 2 | Brighton | 46 | +34 | 93 |
| 3 | Reading | 46 | +4 | 85 |
| 4 | Sheffield Wed | 46 | +15 | 81 |
| 5 | Huddersfield | 46 | -2 | 81 |
| 6 | Fulham | 46 | +28 | 80 |
| 7 | Leeds | 46 | +14 | 75 |




United collected the second tier title for the fourth time in their history:



1964/65 Division Two:
Manager: Joe Harvey
Captain: Stan Anderson

42 game season: W24, D9, W9
81 goals scored, 45 conceded
57 points, 1st - won after 42 games

Margin: 1 point ahead of Northampton Town

Top scorer: Ron McGarry (16)

Players used: 20

1992/93 Division One:
Manager: Kevin Keegan
Captain: Brian Kilcline

46 game season: W29, D9, L8
92 goals scored, 38 conceded
96 points, 1st - won after 44 games

Margin: 8 points ahead of West Ham

Top scorer: David Kelly (24)

Players used: 25

2009/10 Championship:
Manager: Chris Hughton
Captain: Nicky Butt

46 game season: W30, D12, L4
90 goals scored, 35 conceded
102 points, 1st - won after 44 games

Margin: 11 points ahead of West Brom

Top scorer: Andy Carroll / Kevin Nolan (17)

Players used: 33

2016/17 Championship:
Manager: Rafa Benitez
Captain: Jamaal Lascelles


46 game season: W29, D7, L10
85 goals scored, 40 conceded
94 points, 1st - won after 46 games


Margin: 1 point ahead of Brighton

Top scorer: Dwight Gayle (23)

Players used: 30





Top scorer Dwight Gayle extended his record with a 23rd goal of the season, making him United's highest scorer since Alan Shearer in 2003/04 (28 goals in all competitions).

Gayle's strike was the 85th of our Championship campaign, with four FA Cup goals and 11 League Cup strikes making it a round century for 2016/17. That's one better than the 99 goals scored by United during the 2009/10 season (90 league, nine cup)

The 100 mark was last achieved in 1992/93 when 105 goals were scored: 92 league plus 13 in the domestic cups (those totals exclude another nine netted in the 1992/93 Anglo Italian Cup).

A Ton of Toon 2016/17:

Dwight Gayle 23
Matt Ritchie 16 (12+4)
Ayoze Perez 12 (9+3)
Yoan Gouffran 7 (5+2)
Mohamed Diame 6 (3+3)
Aleksandar Mitrovic 6 (4+2)
Daryl Murphy 6 (5+1)
Christian Atsu 5
Jonjo Shelvey 5
Ciaran Clark 3
Jamaal Lascelles 3
Isaac Hayden 2
Grant Hanley 1
Chancel Mbemba 1
DeAndre Yedlin 1
Own Goals 3

Chancel Mbemba scored his first Newcastle goal on his 48th appearance (although he had already netted in that same Gallowgate End net for Wolves earlier this season...).

Barnsley became the ninth side we've beaten home and away this season, following Brentford, Brighton, Burton, Derby, Barnsley, Rotherham, Wigan & Cardiff.

Paul Dummett was given the captain's armband after Jonjo Shelvey was replaced by Mo Diame - Rob Elliot indicating that it should go to the defender as it was in the process of being passed back to the 'keeper.

There was a Championship debut for Massadio Haidara, playing his first league game since a 6-2 home win over Norwich City in October 2015. The French defender's only previous action this season had come in the FA Cup ties at Birmingham City and Oxford United.

28 of the 30 players used in the Championship remain with the club, the exceptions being Daryl Janmaat (2 starts) and Cheick Tiote (1 as sub), who were transferred during the season.

Barnsley's Tom Bradshaw possibly became the only outfield player ever to wear gloves at SJP in May. Not even Mirandinha did that....It was a bit chilly but not that cold. Former players and pitmen from the Newcastle and Barnsley areas could be heard turning in their graves....

Closing home games - last 25:
2016/17 Barnsley won 3-0
2015/16 Spurs won 5-1
2014/15 West Ham won 2-0
2013/14 Cardiff City won 3-0
2012/13 Arsenal lost 0-1
2011/12 Manchester City lost 0-2
2010/11 West Bromwich Albion drew 3-3
2009/10 Ipswich Town drew 2-2
2008/09 Fulham lost 0-1
2007/08 Chelsea lost 0-2
2006/07 Blackburn Rovers lost 0-2
2005/06 Chelsea won 1-0
2004/05 Chelsea drew 1-1
2003/04 Wolves drew 1-1
2002/03 Birmingham City won 1-0
2001/02 West Ham won 3-1
2000/01 Aston Villa won 3-0
1999/00 Arsenal won 4-2
1998/99 Blackburn Rovers drew 1-1
1997/98 Chelsea won 3-1
1996/97 Nottingham Forest won 5-0
1995/96 Spurs drew 1-1
1994/95 Crystal Palace won 3-2
1993/94 Arsenal won 2-0
1992/93 Leicester City won 7-1
Tykes in Toon - all-time:
2016/17 won 3-0 Perez, Mbemba, Gayle
2009/10 won 6-1 Lovenkrands 2, Guthrie 2, Gutierrez, Nolan
2007/08 won 2-0 Owen, Martins (LC)
1997/98 won 2-1 Andersson, Shearer
1997/98 won 3-1 Ketsbaia, Speed, Batty (FAC)
1994/95 won 2-1 Cole, Fox (LC)
1992/93 won 6-0 Cole 3, Beresford, Clark, Sellars
1991/92 drew 1-1 Kelly
1990/91 drew 0-0
1989/90 won 4-1 Anderson, Scott, Aitken, McGhee
1985/86 drew 0-0
1983/84 won 1-0 Waddle
1982/83 lost 1-2 Varadi
1981/82 won 1-0 Varadi
1947/48 won 1-0 McCall
1946/47 won 4-2 Bentley, Shackleton, Stobbart, Wayman
1945/46 won 4-2 Milburn 2, Hair, Stubbins (FAC)
1945/46 won 1-0 Milburn (War League)
1940/41 won 1-0 Birkett (War League)
1937/38 lost 0-1
1936/37 lost 0-1
1935/36 won 3-0 Cairns 2, Pearson
1934/35 won 4-1 Murray, Boyd, Smith 2

After four seasons despoiling our shirts, this was the final game for sponsors Wonga.

Waffle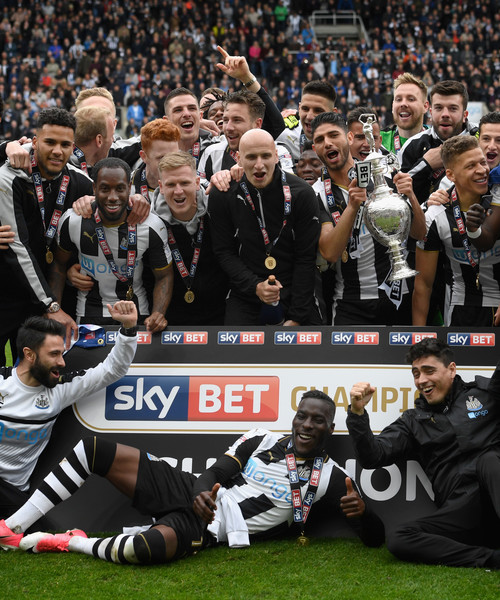 It came via text at 1.55pm; a two word message of earth-shattering importance to those present.

Not War Declared, Everest Conquered or even Last Orders, but a short and sweet Villa Equalise

In a matter of seconds, what had been a slightly downcast finale to Newcastle's promotion season was transformed. A joyous explosion of emotion on the field and in the stands confirmed that the unthinkable was actually happening and we would somehow still finish top of the pile.

If wasn't quite the shot heard 'round the world, then the decibel levels - and heart rates - of anyone with Magpie allegiance were raised sky high thanks to some bloke called Jack Grealish - and then exceeded when confirmation of the final score was forthcoming moments later.

Having taken the fight to the last day thanks to the recent efforts of Norwich City and Bristol City, Rafa's side had done their bit to ensure a finale by winning their game - Ayoze Perez opening the scoring with a neat flick not dissimilar to his effort at West Brom in 2014.

Into the second half and spirits were lifted further as Chancel Mbemba break his duck to make it 2-0 and it remained scoreless at Villa Park. However, news of a converted Brighton penalty and a red carded Villan then appeared to confirm that the title would be heading to the South Coast - casting a shadow over proceedings on Tyneside to such an extent the ground was almost eerily quiet.

Dwight Gayle appeared to pop in a late third that neatly brought up our seasonal century in league and cup games - something that by then seemed to be the limit of our endeavours, along with collecting an unwanted runner's up trinket.

There had been a phantom cheer during the first half that spread round the ground, apparently following a Villa goal disallowed for offside. As the ovation that greeted Gayle's goal began to die down however, fans remained on their feet and a second, much louder roar grew - and grew.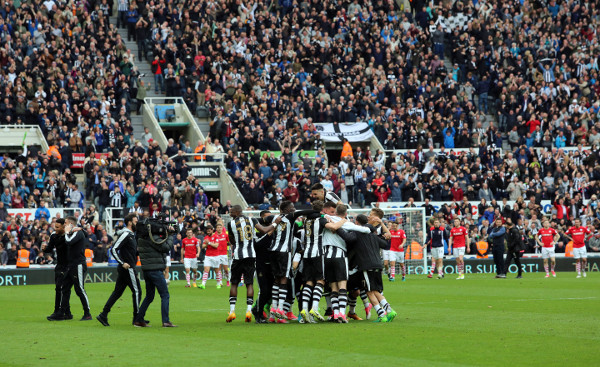 News of the Grealish goal broke, to be met with a mixture of euphoria and disbelief by supporters as the final whistle blew at Gallowgate. And soon after, an incredible realisation that it had finished 1-1 in the West Midlands dawned, leaving players and fans alike jumping for joy.

This was a rare, maybe unprecedented, moment of unbridled ecstasy on a day when everything finally went spectacularly right for us - you know, the sort of stuff that happens to other clubs....

There have been some remarkable last-gasp finishes: the legendary late drama of Feyenoord and Champions League qualification in the 120th minute at Zagreb spring to mind. In terms of home games though, has this ground ever witnessed the like in 125 years?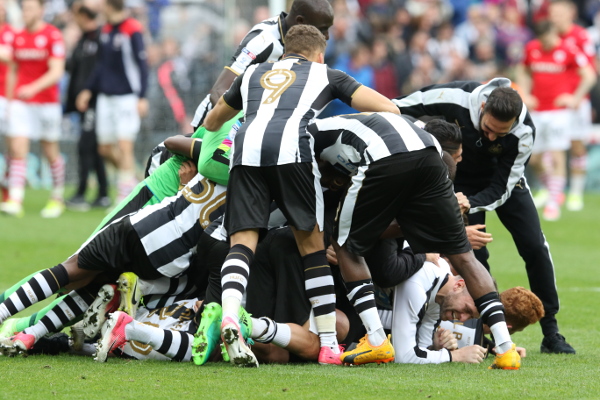 At some point a measure of order was restored, the players picked themselves up from the world's biggest pile-on and the coaching staff congratulated each other and anyone else in the vicinity.

A moment of panic came when the scoreboard displayed Villa 1 Brighton 1 under a heading of latest scores, but the appearance of a stage and signs emblazoned CHAMPIONS 2017 calmed those fears - the runner's up model mercifully remaining hidden from view under the Leazes End.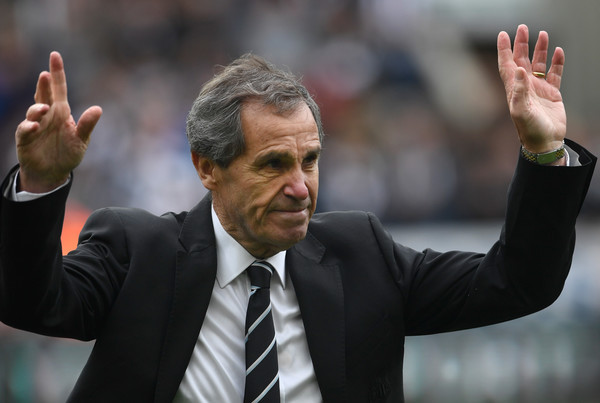 The Championship trophy was brought out by Fairs Cup-winning captain Bob Moncur to great applause and placed on a plinth. A quartet of EFL representatives appeared followed by Rafa Benitez, who was the first to receive a medal.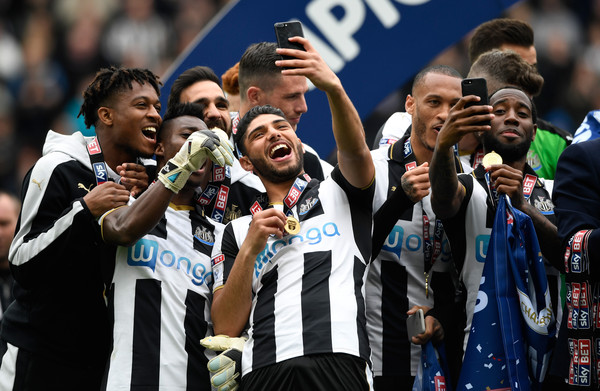 27 players were then called to the field in mostly alphabetical order by MC Justin Lockwood (messrs Aarons, Anita, Atsu, Colback, Clark, Darlow, Diame, Dummett, Elliot, Gamez, Gayle, Gouffran, Hanley, Hayden, Lazaar, Mbemba, Mitrovic, Murphy, Perez, Ritchie, Sels, Shelvey, Yedlin, Lascelles, Haidara, Sterry, Ameobi*) collecting their medals and gathering on the podium - a number of them recording the unfolding events - and each other - on their phones.

(*It's not clear why Adam Armstrong wasn't involved, despite making as many league appearances as Sterry - two substitute outings. His season-long loan at Barnsley had ended a week before as he wasn't eligible to play against his parent club).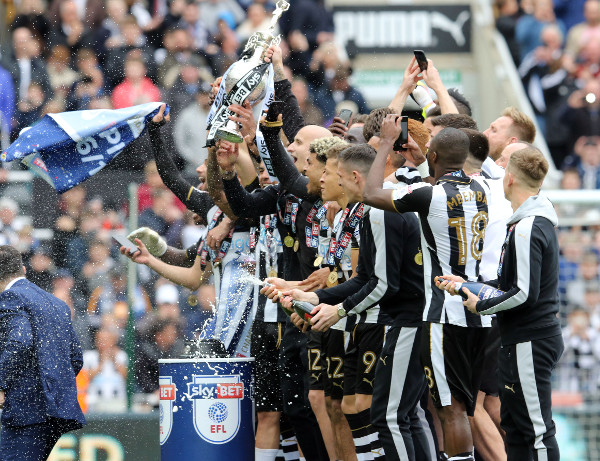 Lascelles then held the trophy aloft to rousing cheers from all four sides of the ground before the inevitable champagne spraying and drenching antics while "We are The Champions" blared out.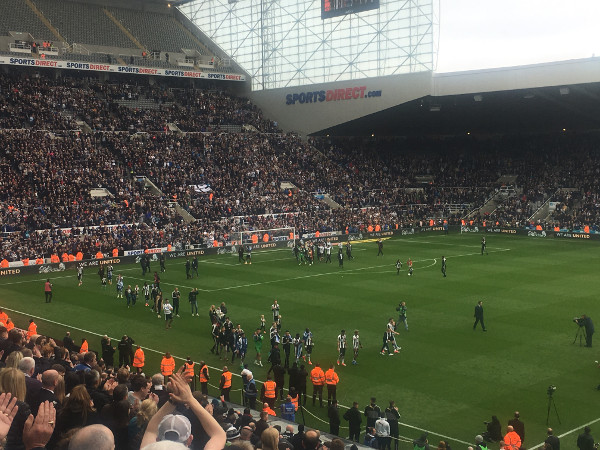 And finally there was a lap of honour with assorted children and hangers-on (but no pitch invaders), Matt Ritchie leaving the field sporting what looked like a top hat - perhaps discarded by Florian Thauvin when he sashayed in that day wearing a tuxedo.....

By then virtually all of the visiting fans in Level 7 had melted away, having had little to cheer other than taking delight in Brighton's goal, setting off a flare and goading home fans.

For Aston Villa to be the side that did us a massive favour just adds to the enjoyment, hopefully sticking in the craw of those fickle Villans who face another season in the Championship.

"Who's your next messiah?" their banner asked in 2010 - well take your choice lads, Grealish or maybe Steve Bruce? The genial Geordie certainly boosted his popularity back on Tyneside, his side making it seven games unbeaten against Brighton thanks a second 1-1 stalemate of the season and still never having lost at home to the Seagulls in all eleven meetings since 1955.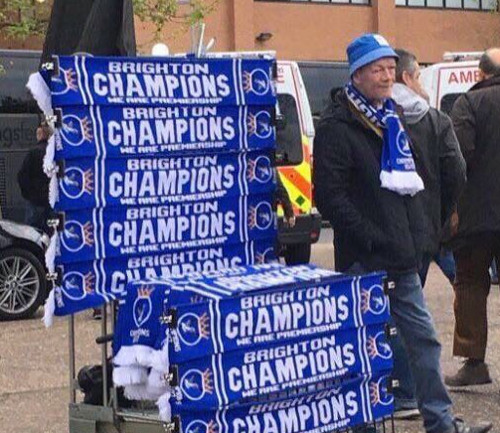 Fake news is everywhere
With the mackems and smoggies kindly vacating the Premier League (and the lingering hope that Allardyce's Palace could yet accompany them), this has been a campaign that few could have envisaged 12 months ago when relegation was the only thing that had been confirmed.

While those of us with a chest full of campaign medals may tick off another promotion, for another generation of followers the outcome and the unfolding wonder of today is of incalculable benefit - consigning yet more folks to a lifetime of frustration in the hope of more magic moments.

Some of those younger fans haven't even had the solace of beating that lot down the road in their supporting lifetime, but like many of the players now have something on their CV - and memories to be recounted in years to come; of the nine man madness of Forest, Perez's winner at Brighton, or even Mitro dancing on the pitch after the Preston cup game. But most of all today.

It has taken a massive effort from everyone involved to get us back where we belong and for the first time in years this club is United. Surely that fact cannot be lost on the owner.

Fans, players and staff are all worthy of praise, but one person has been the inspiration and the uniting force behind all that's good about Newcastle United in 2017. That person is Rafael Benitez - whose place in our history is now assured whatever happens in the future.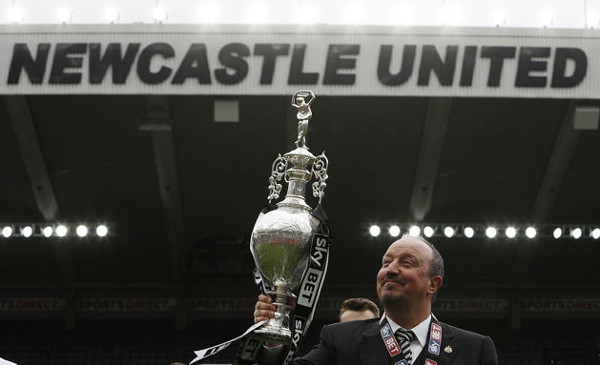 We thank him from the bottom of our hearts, for coming, for staying, for caring - and for restoring some much-needed pride and self-respect to this club.

The next competitive match will be United's 845th in the Premier League, the next goal scored our 1,169th. If Rafa isn't in our dugout for that, then there had better be a bloody good reason.

PS: No season-ending waffle would be complete without acknowledging a debt of gratitude to those who provided us with information, encouragement, assistance and entertainment throughout the season - both on and off the field. Football without fans is nothing - and neither is this website.

Biffa/Niall