Date: Sunday 6th August 2017, 3.00pm

Venue: St. James' Park

Conditions: heavy showers

Admission: £10 adults, £5 concessions
(£20 and £10 on match day)


Newcastle United

Hellas Verona

2 - 0

.

Teams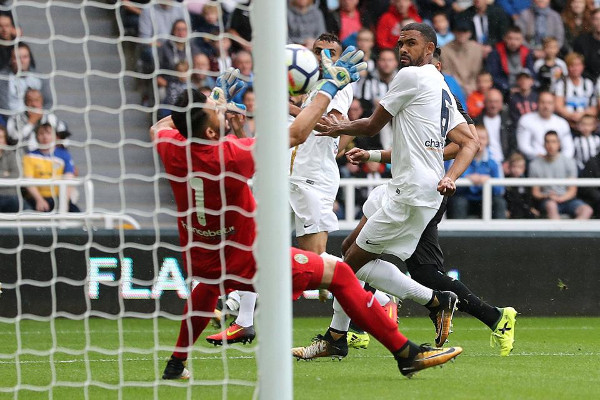 4 mins Jonjo Shelvey's slide rule pass to Javier Manquillo saw him centre from the right for Ayoze Perez to tuck away his cross on the volley at the near post. 1-0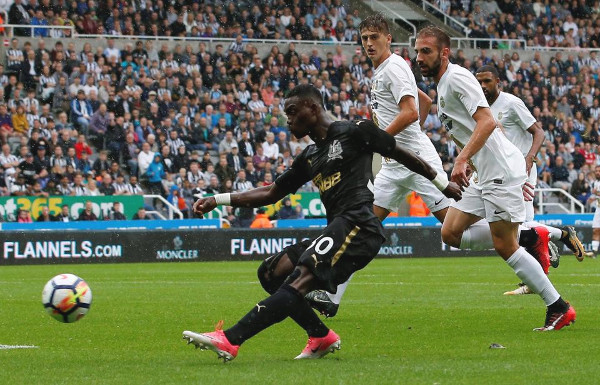 12 mins Shelvey again started the move, his long ball forward to Mitrovic deflecting into the path of Christian Atsu, who smashed the ball between 'keeper and post at the Leazes End. 2-0
Half time: NUFC 2 HV 0

Full time: NUFC 2 HV 0
Rafa Benitez said:

"When I decided to stay, I was expecting another thing (in terms of transfer dealings).
"Now we are where we are. I decided to stay because of a lot of positive things I could see, starting with the fans.
"I will try to do my best to be sure that the team we have will be good enough to compete and stay as high as we can in the Premier League.
"We have to sell – that's obviously necessary – but we can buy. It depends on the conditions. The majority of (those players that are for sale) know directly or through their agents.
"We have a situation where everyone knows.
"For the championship, they are too expensive."

Asked about Dwight Gayle after the game, Rafa replied:

"He's fine. Hopefully, he'll carry on training. If everything's fine, he will be available. It's not his hamstring, it's more the feeling.

"He's not comfortable. We don't want to take any risks and be sure he is fine."


Verona's former Newcastle coach Fabio Pecchia commented:

"We are a bit short in all departments but the club are aware.

"Newcastle is a strong team, and is ready to play at the next match against Tottenham. They are ready.
"Rafa can work with this team from the beginning. The objective is to maintain their status, and Rafa, with this team, can do this.
"I have a strong relationship and a stronger friendship with Rafa - I stayed in Newcastle for three months, but I have a lot of good memories of Newcastle. For me, it was a very good experience and I found a lot of friends."


United debuted their all-black third kit and there were first outings on home soil for Florian Lejeune, Javier Manquillo, Jacob Murphy and Mikel Merino.

NUFC home pre-season friendlies - last decade:

2017/18 Hellas Verona won 2-0 23,906
2016/17 Vitesse Arnhem won 3-2 19,200
2015/16 Monchengladbach lost 0-1 21,088
2014/15 Real Sociedad won 1-0 19,199
2013/14 SC Braga drew 1-1 16,187
2011/12 Fiorentina drew 0-0 12,656*
2010/11 PSV Eindhoven drew 2-2 16,118
2009/10 Leeds United drew 0-0 16,945
2008/09 Valencia won 2-1 31,494
2008/09 PSV Eindhoven drew 2-2 13,477
2007/08 Sampdoria won 1-0 23,078
2007/08 Juventus won 2-0 34,016
2007/08 Celtic won 4-1 30,225

Magpies v Serie A/B sides - PL era*:
In Italy:
1992/93 Lucchese drew 1-1 (Anglo Italian)*
1992/93 AS Bari lost 0-3 (Anglo Italian)*
1997/98 Juventus lost 2-3 (Friendly) Cesena
1999/00 AS Roma lost 0-1 (UEFA Cup)
2002/03 Juventus lost 0-2 (Champs League)
2002/03 Inter Milan drew 2-2 (Champs League)
2006/07 Palermo won 1-0 (UEFA Cup)

Outside Italy:
1992/93 Ascoli lost 0-1 (Anglo Italian) SJP*
1992/93 Cesena drew 2-2 (Anglo Italian) SJP*
1994/95 Sampdoria lost 1-3 (Friendly) Ibrox
1998/99 Juventus won 2-1 (Friendly) SJP
1999/00 AS Roma drew 0-0 (UEFA Cup) SJP
2002/03 Juventus won 1-0 (Champs League) SJP
2002/03 Inter Milan lost 1-4 (Champs League)
2007/08 Juventus won 2-0 (Friendly) SJP
2007/08 Sampdoria won 1-0 (Friendly) SJP
2011/12 Fiorentina drew 0-0 abd (Friendly) SJP
2017/18 Verona won 2-0 (Friendly) SJP

* expanded to include 1992/93 promotion season
Pre-season pitch time:

Lejeune 45+76+61+79+70+65=396
Clark 45+45+77+45+90+65=367
Atsu 45+45+61+30+70+90=341 (2 goals)
Shelvey 45+45+61+30+90+65=336
Dummett 45+45+61+45+70+65=331
Perez 45+45+45+30+70+72=307 (1 goal)
Elliot 63+45+61+0+70+65=304
Mitrovic 45+45+29+60+45+65=289 (3 goals)
Hayden 0+45+77+30+70+65=287
Diame 62+45+45+60+45+25=282
Mbemba 62+90+29+45+20+25=271
De Jong 75+62+29+60+20+18=264
Manquillo 0+14+45+63+70+65=257
Ritchie 0+0+45+45+70+90=250 (1 goal)
Aarons 45+45+29+45+20+25=209
Murphy 0+45+45+60+20+25=195 (2 goals)
Gayle 45+45+61+30+0+0=181 (3 goals)
Gamez 45+0+29+45+20+25=164 (1 goal)
Colback 28+45+13+60+0+0=146
Darlow 0+24+0+60+20+25=129
Yedlin 0+45+45+27+0+0=117
Woodman 27+20+29+30+0+0=106
Lascelles 45+0+0+0+20+25=90
Hanley 28+45+0+0+0+0=73
Haidara 62+0+0+0+0+0=62
Saivet 45+0+13+0+0+0=58
Merino 0+0+0+11+20+25=56
Roberts 0+28+0+0+0+0=28
Armstrong 28+0+0+0+0+0=28
Lazaar 15+0+0+0+0+0=15

Waffle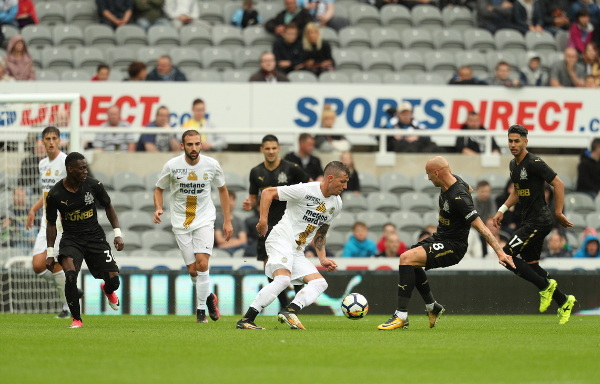 Newcastle concluded preparations for their Premier League return with a routine victory over their docile Italian visitors at a damp Gallowgate on Sunday.

Strikes from Ayoze Perez and Christian Atsu in the opening 12 minutes clinched the win and there were some encouraging displays, as Rafa Benitez's side geared up for the visit of Spurs next week.

A healthy crowd of almost 24,000 - over 5,500 more than for the defeat of Vitesse Arnhem in 2016 - saw United completely dominate a side who return to Serie A competition in a fortnight.

The margin of victory could and should have been greater; an apparently makeshift Verona defence unwilling to physically commit themselves and only a succession of breaks in play for treatment to visiting players preventing United inflicting greater damage.

Perez saw one goalbound effort blocked, Mitrovic had three attempts of varying quality and Shelvey even attempting to lob the goalkeeper from his own half before Neil Swarbrick blew for half time.

The second half was similar: Matt Ritchie's free kick hitting a post, Rolando Aarons heading over and substitute 'keeper Marco Silvestre denying Isaac Hayden, Aarons, Ritchie and Siem De Jong in turn.

However, the lack of threat from a Verona side under the care of ex-United coach Fabio Pecchia meant that this wasn't a particularly taxing end to pre-season and neither Rob Elliot or Karl Darlow had a save to make.

And with Dwight Gayle absent for a second successive game, Ritchie and De Jong became United's two most advanced players once Mitro and Perez had gone off - underlining our concerning lack of forward cover.

Given the freedom of the park, Jonjo Shelvey was a constant threat and enjoyed support from Atsu and Ritchie on the wings - the latter quickly on the same wavelength as right back Javier Manquillo.

The visitors enjoyed some unthreatening possession in the opening exchanges before United scored from their first attack of the game; Shelvey's slide rule pass to Manquillo seeing him centre from the right for Perez to tuck away his cross on the volley at the near post.

Atsu then got his second goal in as many games eight minutes later, Shelvey's long ball forward to Mitrovic deflecting into the path of the Ghanaian, who smashed the ball between 'keeper and post at the Leazes End.

All fairly routine not ideal preparation for the visit of Spurs, but we're now at the end of the phoney war and it's difficult to know just what state we're in. Same as usual, I hear you say....

On the one hand, players whose departure would have emphasised the complete control of Rafa remain here and on the pitch today: Mitrovic, Mbemba and Darlow all evidence of compromises reached, a lowering of expectations, a redrawing of lists.

And while Rafa cannot be blamed for the likes of Saivet and Riviere, the apparent unsuitability of Lazaar, Gamez and Hanley for the league we're about to enter point to a misguided belief by the manager that he'd be able to buy for the short term, gain promotion and promptly trade them in.

Beyond that though, there's quality in the squad and evidence of personal advancement in terms of tactics, fitness and attitude - exactly what you'd expect from a manager of proven quality working with a group of players over a period of time.

Add to that some positive hints from the incoming quartet - albeit assembled according to an Ashley blueprint - and we might not be too far away from something credible and competitive. That's the frustration and the worry - that we're knowingly short-handed and needlessly gambling.

Biffa