Date: Sunday 13th August 2017, 1.30pm
Live on Sky Sports

Venue: St. James' Park

Conditions: Apocalyptic, as usual

Programme: £3


Newcastle United

Tottenham Hotspur

0 - 2

.

Teams
Half time: Magpies 0 Cockerels 0

61 mins Harry Kane and Christan Eriksen swapped passes before the Dane found the advancing Delle Alli, who supplied a perfectly-weighted finish from seven yards. Somewhere on the planet, a Mister G. Carr exclaimed "I told you so!" 0-1
70 mins United were undone again in similar fashion, Alli and Kane combining on the edge of the box before Eriksen checked his run and Davies arrived to guide the ball past Elliot in the Leazes goal 0-2
Full time: Magpies 0 Cockerels 2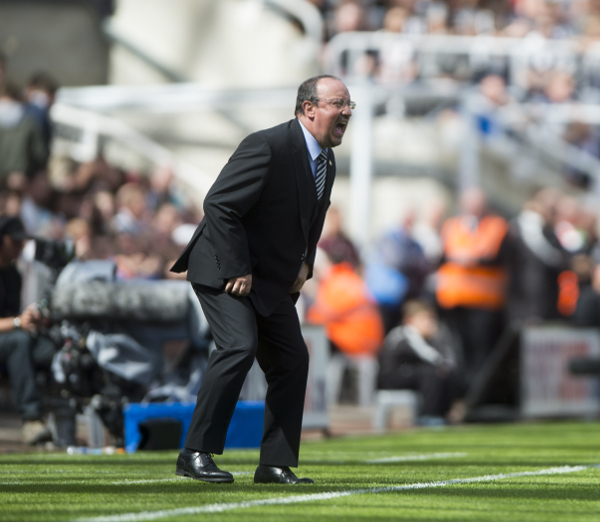 Rafa Benitez:

"I was happy with the effort of the players. There were a lot of positives, but still if you want to win games then we canít lose our focus for one minute. We know now we are in the Premier League, and we have to do everything really well if we want to win games.

"All the effort we put in on the pitch was lost because we did one mistake. There were a lot of positives there for all the players. Iím not happy with the performance, because we have lost, but they put in effort until the end. The players were pushing and trying to our best. Thatís the positive thing."

Asked if he felt let down by Jonjo Shelvey:

"Itís not me, itís everyone. We have talked about that for a while. He knows he has made a mistake and he apologised in the dressing room. But we lost the game."
"I would also like to say that the tackle from behind from Harry Kane (on Florian Lejeune) was worse. The rules are the rules, and we paid for that. We made a mistake.
"We have to analyse everything. We canít change anything now, we move forward and we think about solutions. He apologised to everyone afterwards. He knows he made a mistake."
About Shelvey's suitability as captain:
"We will see in the future. It is too early."
About Kane's challenge on Lejeune:
"I said it was worse because I had to change one player. Watching the replay again from the bench in front of the fourth official, it was a surprise."
"Itís the same situation before. It doesnít change too much. We know what we need and we know what we have to do. I donít know if anything is close."


Talk Talk:

Rafa Benitez and Mike Ashley both gave interviews that were broadcast over the weekend of this game, the manager speaking to Alan Shearer for Saturday's BBC Football Focus and the
owner having his own programme on Sky Sports on Sunday night, "Mike Ashley: Speaks Direct."
Rafa transcript:

Shearer: Rafa, after winning the Championship last season, how proud are you to lead Newcastle United back into the Premier League?
Rafa: "Really pleased. Iím very happy and I have a feeling that the city and the fans are behind the team - behind us. I think it was really important for us to go back up at the first attempt and then now we have to do our best to stay there. We have to do our best for everyone in Newcastle."
"Has it been a good summer for you, or a frustrating summer?
"A little bit frustrating. I donít want to lie, obviously we had some targets that we could not get for different reasons and I was not very happy. But after that, to clear the air as you say in English, I have a responsibility to, and I will do my best to, try and improve the team and the squad and to stay in the Premier League."
By the sounds of it you still feel as though work needs to be done with the squad. Are you confident between now and August you might get some new additions in?
"Yes. We are expecting a very good striker like you at a very good price."
Thereís not many of them around, Rafa!
"Yes, I know. It would be fantastic if you could come back and score some goals for us. But, I will try to be sure that we get the players that we need."
When you mention the words Ďclear the airí, were you ever close to leaving?
"I was a little bit disappointed at some stages of the summer. When I decided to go to the Championship it was because I wanted to stay and because I wanted to be at a top side that I believed could compete. I will try to do my best.
"I could go to China. People say ĎWhy is Rafa not leaving?í, but it is because I want to stay here. I want to stay in England and in the Premier League for my family, and at a team where the fans will love when we do well."
Having worked at Liverpool and now Newcastle, how would you compare the Scousers to the Geordies - with the passion and the love that they have for football?
"In terms of understanding the Scousers and the Geordies it is the same problem for me! It is quite difficult, but in terms of the fans, they are amazing. The Liverpool fans were amazing, the Newcastle fans amazing, supporting the team at home and away. They are very similar.

"My idea is to try and explain to the fans every day - even when we lose - that we must stick together.
Realistically, what are your targets this year for Newcastle?
"Some fans will say if we avoid relegation it is enough, whereas some fans will say top ten. So I think that we have to find the balance between that. Priority is obviously to avoid relegation, but after, if we can do well, you start thinking about as high as you can."
And youíre confident that the St Jamesí Park crowd will enjoy watching the Newcastle and the new players this season?
"I hope so. As a manager you want to win and you want to play well, We try to play football and what I say to people is football is not just tiki-taka or long balls, it is about having a team that know what they have to do in every game to compete and to win.

"I think we have everything ready - the fans are ready, the stadium and the city is ready. So we have to make sure that from the off we are going and if everything is right it will be easier, but if it goes wrong, we stick together and carry on."
So, there wonít be too many moans from myself on Match of the Day then, is that right?
"Hopefully after every game you can be positive because the team has done well. But if you have to criticise something then obviously you have to do it, but in the most positive way you can, because I know this team is also in your heart."

PS: Rafa's comments from the Premier League launch earlier in the week are also worth noting:

"The story is as I said before we missed some targets at the beginning (of pre-season) and now we are trying to do our best with whatís available.
"I can read our fans saying ĎListen, now will sign a £25million strikerí. We cannot. Sometimes they are not available, but if they are available the price is not £20million, the wages are not the same, and the commission of the agents is huge. I think we will try to do our best in the conditions that we are (in).
"I am not happy. I am not happy with it but at the same time for me, itís a challenge and I will try to do my best. If I decide to stay, itís for the city, the fans, the stature of the club, to stay in England and in the Premier League. So I want to do my best but obviously every manager wants to improve.
"Iím happy with the players I have. The team spirit is quite good and hopefully we replicate that this season.
Asked to clarify the "if I decide to stay" comment:
"I decided to stay.....because for me itís a challenge......Iím not totally happy with what we did but I will try to do my best, working very hard with people at the club to try and improve what we have at the moment.
"Itís very difficult (for me to leave). My Chinese is not good enough (!). No I try to do my best now. It has to be something you cannot control. At the moment I am fully committed to do the best that I can do now.
"Our idea has to be one game at a time. To avoid relegation is a priority and after that to go as high as we can."
Ashley transcript:

Sky: I'd like to start by asking you where Mike Ashley's interest came in football? What's your earliest footballing memory?
Ashley: "The school I went to was only famous for one thing... Peter Osgood went to that particular school. That's probably my earliest memory of the importance of football."
Did you ever think growing up you may own a football club?
"No, never. Not growing up. It never occurred to me."
When it came to making that decision, what can you remember about the time you decided to purchase Newcastle United?
"It was an odd situation. I was in Barbados at the time having floated Sports Direct, having a reasonably good life, shall I put it that way. A colleague of mine said: 'I don't think you're going to believe this, but I think Newcastle United are available.' I said: 'Don't be silly, of course they're not available, that has been rumoured for years. They don't really want to sell. They're a public company, etcetera, etcetera.'

"But he came back in the afternoon and said: 'I am telling you that Newcastle United is available.' So I said: 'Well if that's the case, we'll make a phone call, see if it's true.' I deposited the money, spoke to Sir John Hall, and the deal was done very quickly. The rest was history."
What was the first thing you thought you had to do when you bought a football club, what was your thought process?
"I think you always have the ambition to turn something into more than it was. So you think maybe I can make just that little bit of difference. In my case, it was to think in a different time frame, maybe if we didn't live for every Saturday and for that game, maybe if we had a three-year plan, a five-year plan, a seven-year plan, we could actually build on something at Newcastle United.

"You must remember at the time that Manchester City didn't have the owners they have now, and if you look back 10 years, Newcastle United could have easily been the fourth club in [English] football. Easily, and that's what I believed at that time."
Very little, if anything, was known about you when you joined Newcastle United, you were very private. How did you feel being catapulted being into the public eye and the focus that Newcastle brought on you and your family.
"Once I'd gone public I knew that media attention would come anyway because of Sports Direct. But I can tell you the early days at Newcastle were some of the best, fun days any male adult can have, in the crowd, going mad, it's a dream. You can't play but you end up owning something like Newcastle United. You can't make it up really."
You really captivated the Newcastle support, you travelled on the buses to games, you were in the crowd, wearing your shirt. Just how much did you enjoy that? Was that better than being sat in the boardroom?
"It's a totally different experience. It's probably a hundred times, a thousand times more fun than being in the director's box. You can't describe it. It's a very, very special experience."
How accepted did you feel by the Newcastle public when you were doing that?
"Totally, they were great. They weren't actually great when we went 1-0 down! But up to that point they generally were great, because they thought we were going to win 3-1!

"At 1-0 down they might get a bit unfriendly, saying: 'What are you going to do?! This isn't good enough! You've got to do something,' but that's the whole ecstasy, from extreme joy to extreme pain, that's football, that's what makes it so exciting."
You mention the word pain thereÖ there were obviously times during your 10 years where you and the Newcastle fans had different opinions. Twice you said you were putting the club up for sale because you felt they perhaps didn't appreciate what you do. What was your thought process there? Did it hurt you personally that you were perhaps being driven out of the club?
"It's not that we didn't share the same beliefs for the club, what we wanted for the club. But at that point, with the media and everything else, I just felt it was more negative for the football club if I was there. So the best thing for the football club was for me to stand aside.

"If I'd come along and done my best, in my opinion it might be my best, but in reality if that's not good enough, and it hurts the football club, then it's best that you stand aside. I actually understand how cross the fans were.

"If I was a fan, would I have been as upset as they were? I would probably have been worse! It wasn't acceptable what happened at Newcastle United Football Club, but of course I never did it on purpose. There was no gain for me at all to get certain things wrong that I did in those times."
On reflection, what advice would you give to yourself 10 years on?
"I probably rushed in too early. The first thing, when we let Sam Allardyce go, I was probably too keen to get going and make a difference, and I was a bit naÔve about how football worked, I thought football was better regulated than it was. I was a little bit shocked at quite how football was more like the wild west.

"I could never imagine the money that people like Sky would pay for football. I still can't believe the sums that are paid. I thought the difference would be to get the academy right, the training ground, the fans' prices, the new generation of fans coming through, and building the football club from the ground up.

"That was where I thought I could make a difference, because I thought I could put in the time and the money. But now, let me think of an analogy; let's say football was a bicycle back then, it's now a Formula 1 car going along in the outside lane. It's so different from when I bought the club."
How do you feel about the way you've been portrayed, do you think that's fair, or unfair?
"Criticism is a funny thing, because I think if you want to be something, create something or make a difference in any walk of life you have to be hugely self-critical. There's a reality. I think the majority of criticism I deserved, because I did really get some serious decisions wrong, albeit not deliberately, but that's a fact of life, because I get the time-frame wrong.

"People ask me what I'd do differently in football, I'd actually think more short term. I wouldn't try building something for five, 10 years' time, when in actual fact the landscape has completely changed. Therefore your medium or long term views never come into play because it has changed too much by the time you get there."
Outside the money aspect, the short-termism of football, what have been the biggest challenges inside football, not only with Newcastle?
"I suppose trying to get your head round the fact on a Monday morning you are in a totally different business world, where normally you have checks and balances, football literally doesn't have any. It is almost like, right, say a player comes up for £15m and we want him, it will be OK, because they say this player will supposedly 'come and embrace the club, and leave everything out there on the pitch'.

"But actually that isn't the case, you can get a lot more out of a trainee, or, for example, a young Andy Carroll, because they've got so much passion and want to get that place in the team, and in fact they do leave everything out on the pitch. So football is a very, very strange industry to get your head around."
What type of owner would you describe yourself as, at the beginning, the middle and now in this tenth year?
"Very naÔve in the beginning. In the middle I thought I was just about beginning to get my arms around it a little bit, we had a manager on an eight-year contract [Alan Pardew], had the finance right, we were talking about investing in the training ground and the academy, we had a strategy, buying the better young talent that's available and developing.

"That was around 2013, 2014, I thought we were going along quite well, and then within 18 months the wheels have come off, like a game of snakes and ladders, and we went from square 98 all the way down to about square 92!"
From what we do know about you, you're a man that is driven by success. When you don't get it right in football, how much does it eat away and make you want to succeed more?
"The first thing you feel is stupidity, because as soon as you know the hindsight of something, you know that was actually the wrong thing you were doing. For example, I thought it was the right thing to do to generate as much money as possible for Newcastle, so when people say to me: 'Whatever you do, in interviews do not talk about changing the name of St James' Park!' Well I'm me, and I'm going to talk about making an error, and I should not have changed the name of St James' Park. I should not have done that.

"Football is not all about making money and reinvesting it into football clubs, it has a very strange balance to it. I wanted to get naming rights, get money in and invest it into the club. The reality is, the vast majority of the Geordie fans would rather have the name of St James' Park and finish maybe one or two places lower in the table, because they want to keep it special. You begin to learn that the special side of Newcastle maybe means a little bit more than the ultimate end performance on the pitch."
You inherited Sam Allardyce, there have been several managers since. How much input have you had on that process?
"It depends which manager. With Sam, I apologise to him, I was too hasty. Probably a little bit too eager to get started myself. With some of the others I did have a big input as to who we brought in.

"With Alan Pardew, I didn't actually know him before football at all, and I thought he ended up being very good. I thought I was very unfair to Chris Hughton, who got us promoted, I don't think I gave him enough time. And then of course you've got the Joe Kinnear era, Kevin Keegan, Alan Shearer."
Two of the names that stand out there are two club legends in terms of playing career, Shearer and Keegan. Was it the right thing to do to appoint them, in terms of the dream, but in reality the expectation was too great?
"Personally I don't think for either of those individuals it was too much for them. Alan Shearer came in at the time when he was probably the only person on this planet who could keep Newcastle up.

"He did an absolutely fantastic job in everything else but the odd result not going his way. It was a hair's breadth, or a bad refereeing decision away. I genuinely thought that was the right thing to do for the football club.

"In a way, I would have done my job at Newcastle if we'd got one of the club legends in place, staying up, going forward and rolling on that strategy. Everybody else blames everybody else, but I totally agree with the appointment, and I was probably the man who said let's go for the safer pair of hands in the Championship with Chris Hughton.

"I think Kevin Keegan is an outstanding individual, and also did his best at the club. It wasn't always easy for Kevin at the football club, we didn't have that structure around that we should have had to support him, with the signings and everything else, and I will take responsibility for that. So Kevin, I apologise for that."
To the outside, people who read about you, those who have met you, you are a successful wealthy man. Do people overestimate your wealth, when they read how much you are worth?
"It's very, very difficult to get the scale in football. You can say to me I'm wealthy, in theory I'm a billionaire or a multi-billionaire, but in reality my wealth is in Sports Direct shares, which are the same as wallpaper, I don't have that cash in the bank, so I don't have that ability to write a cheque for £200m, I don't have that, it's very simple, it's not there. I would have to sell the Sports Direct shares to fund that.

"So people outside of football looking in sometimes think that's how much you have in the bank, I must make it crystal clear that I am not wealthy enough in football now to compete with the likes of Man City etcetera, not just Man City. It's basically a wealthy individual taking on the equivalent of a country. I cannot, and will not. That's why, if someone would like to come along, take this seat and fund Newcastle with a nought on the end with more wealth than me, I will not stand in Newcastle's way.

"One of the reasons I am doing this interview is because I don't think you'll find many people out there who will actually stand up and do it. So I think myself and the Newcastle fans are going to be together for a good while longer!

"We've got the man himself at the moment in Rafa, and let's hope we can generate some funds, and give Rafa some chance to get some chance to get some building blocks going over the coming years."
You've mentioned you can't take on a country like that, I don't want to ask you how much money you're giving Rafa BenitezÖ
"Not enough. Sorry to interrupt, but it's not enough. Very simple. It's not enough. And Rafa knows that, it's not enough, it's not a secret. Every penny the club generates he can have, but it doesn't generate enough. It's Newcastle United, it doesn't have a £40m a year stadium naming rights deal, it doesn't. I don't want the fans to watch this interview and think: 'Great, Rafa's getting £150m in the morning.' He's not.

"With Lee Charnley's help, and Lee answers to Rafa by the way, not the other way around, let's be crystal clear, Rafa makes all the final decisions on players out, players in, but he has to do it with the money the club have. I have put my £250m in the football club, guys, that's it, there is no more from me, now the club has to generate its own money."
You've made a conscious decision in recent years to stand back, has that helped you to enjoy it a bit more again?
"Not really, if I'm totally honest. I actually loved being totally involved in it. There was this absolute high point under Alan Pardew in the last game of the 2011/12 season when we could have finished third. We could then be in the Champions League, then have the money, start investing, and we would be rolling.

"Now I feel more like the passenger on the top floor of the bus, sitting at the front looking out of the window. I really have plus/minus negligible effect on what happens at the club regarding the football side."
Twice you've been relegated, twice you've come back as champions. How important for you was coming back at the first attempt?
"You've got to do everything you can to come back at the first attempt. Football is a momentum game, and if that momentum starts to go against you, it actually feeds on itself. You must, must, must not get into that in the Championship. Otherwise you can actually go from the Premier League, to the Championship, and end up in an almighty mess. Chris Hughton, it was absolutely amazing what he did with the players, we kept the team and nobody left who didn't want to leave.

"Last season, we actually improved the team to make sure that we came straight back up. So on both occasions, slightly different ways of doing it. And please, God, do I not have to do it again. I know the Newcastle fans won't want to hear it, but just for this season I'd like to be mid-table, safe, back on that path of growing this football club."
Did what Leicester did justify what you were trying to do, and give you hope for the future?
"Leicester, to me, is something that couldn't happen. It was like watching a science fiction movie. I still don't understand it, I still don't believe it actually happened! I was absolutely certain I would have never seen it in my lifetime, and it did happen, but I'm absolutely certain it won't ever happen again in my lifetime. It is impossible."
You mentioned you and the Newcastle fans might be together for a while yet. What do you think can happen in that time, and what do you think you can make happen?
"My dream is from the bottom up. I want to start with the academy, I want to be able to produce Andy Carrolls. I look at Southampton and their academy, and that I think could be done. Not like Leicester, as I said I don't believe that could happen again. But Southampton, the academy, bringing them through and making it a priority for the football club.

"This would be my dream, to say to people, we always put in an academy player, a mantra for the club, that we give the academy players the first opportunity to get in."
What would it mean to win a trophy? Can you put it into words?
"Maybe this year we could look for mid-table this season, and maybe make the cups a priority this season. Get ourselves safe and then go for a cup. Either cup. And the dream would always be qualifying for the Champions League, that's what it is for me, simple."

Mauricio Pochettino commented:

"Itís a massive three points for us and we change emotions here - if you remember, one year ago, a little more, we were really upset here Well, we changed that in a very difficult stadium. Itís important to start with three points.

"It was all under control. The pitch was so dry, so to move the ball around quickly was difficult.

"They also played deep and looked to play on the counter-attack and itís so difficult to find a way to penetrate that and create chances. We played better in the second half. Itís true the sending off helped a little but okay, weíre happy and now we move on and prepare for a massive game against Chelsea next week.

"It was not easy to find the space and create chances. It's important to improve. In a stadium that doesn't have good memories for us, it was important to win. It was a clear red card.

"If Harry Kane had scored to make it 3-0 at the end, that would have been a bit more fair."


Doing the double over them in 2015/16, this was United's first defeat by them since a 1-3 reverse on Tyneside in April 2015. Only Ayoze Perez survived to feature today from our XI that day.

This was our 845th Premier League game, the 844th saw Spurs beaten 5-1 at SJP in May 2016.

From that game, only Paul Dummett appeared in both starting XIs, while Chancel Mbemba and Jonjo Shelvey featured at some point in both games. Karl Darlow, Rolando Aarons and Ayoze Perez were in the matchday squad for both....while Moussa Sissoko swapped sides.

Having won three games and drawn the other two following his arrival meanwhile, Rafa Benitez saw his Newcastle side beaten at SJP in the Premier League for the first time. Our last top-flight home reverse was the 1-3 loss to Bournemouth in March that did for poor old Steve McClaren.

Dele Alli's goal was the 250th that we've conceded to Spurs in league and cup (excluding the Charity Shield).

There were competitive debuts for Javier Manquillo, Florian Lejeune and Mikel Merino, while Christian Atsu, Ciaran Clark, Dwight Gayle, Isaac Hayden and Matt Ritchie all made their top-flight bows for United. Jacob Murphy was a non-playing substitute.

All of that means that 215 players have represented the club in the Premier League since we kicked off against Spurs here in August 1993.

United's 23rd Premier League season began with a ninth opening day loss, Rafa's side unable to boost the total of seven victories or seven draws:

1993/94 Spurs (h) lost 0-1
1994/95 Leicester City (a) won 3-1
1995/96 Coventry City (h) won 3-0
1996/97 Everton (a) lost 0-2
1997/98 Sheffield Wednesday (h) won 2-1
1998/99 Charlton Athletic (h) drew 0-0
1999/00 Aston Villa (h) lost 0-1
2000/01 Manchester United (a) lost 0-2
2001/02 Chelsea (a) drew 1-1
2002/03 West Ham (h) won 4-0
2003/04 Leeds United (a) drew 2-2
2004/05 smoggies (a) drew 2-2
2005/06 Arsenal (a) lost 0-2
2006/07 Wigan Athletic (h) won 2-1
2007/08 Bolton Wanderers (a) won 3-1
2008/09 Manchester United (a) drew 1-1
2010/11 Manchester United (a) lost 0-3
2011/12 Arsenal (h) drew 0-0
2012/13 Spurs (h) won 2-1
2013/14 Manchester City (a) lost 0-4
2014/15 Manchester City (a) lost 0-2
2015/16 Southampton (h) drew 2-2
2017/18 Spurs (h) lost 0-2

This was the fifth occasion that we've ended a PL season-opener a man short:

1994/95 Pavel Srnicek
1999/00 Alan Shearer
2005/06 Jermaine Jenas (subsequently downgraded to a booking)
2013/14 Steven Taylor
2017/18 Jonjo Shelvey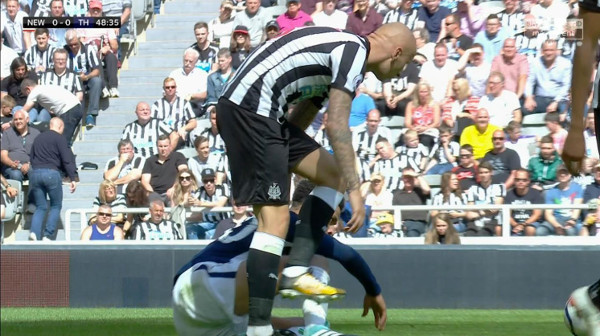 Stamp duty

Glad to be back?

NUFC first post-promotion league game:

1898/99 Wolves (h) lost 2-4
1947/48 Everton (a) drew 3-3
1965/66 Nottingham Forest (h) drew 2-2
1984/85 Leicester City (a) won 3-2
1993/94 Spurs (h) lost 0-1
2010/11 Manchester United (a) lost 0-3
2017/18 Spurs (h) lost 0-2
NUFC first post-promotion home league game:

1898/99 Wolves (h) lost 2-4
1947/48 Chelsea (h) drew 2-2
1965/66 Nottingham Forest (h) drew 2-2
1984/85 Sheffield Wednesday (h) won 2-1
1993/94 Spurs (h) lost 0-1
2010/11 Aston Villa (h) won 6-0
2017/18 Spurs (h) lost 0-2

Home comforts? First PL home game results:
1993/94 Spurs lost 0-1
1994/95 Coventry City won 4-0
1995/96 Coventry City won 3-0
1996/97 Wimbledon won 2-0
1997/98 Sheffield Wednesday won 2-1
1998/99 Charlton Athletic drew 0-0
1999/00 Aston Villa lost 0-1
2000/01 Derby County won 3-2
2001/02 mackems drew 1-1
2002/03 West Ham won 4-0
2003/04 Manchester United lost 1-2
2004/05 Spurs lost 0-1
2005/06 West Ham drew 0-0
2006/07 Wigan Athletic won 2-1
2007/08 Aston Villa drew 0-0
2008/09 Bolton Wanderers won 1-0
2010/11 Aston Villa won 6-0
2011/12 Arsenal drew 0-0
2012/13 Spurs won 2-1
2013/14 West Ham drew 0-0
2014/15 Manchester City lost 0-2
2015/16 Southampton drew 2-2
2017/18 Spurs (h) lost 0-2
Spurs in Toon: Premier League era:
2017/18 lost 0-2
2015/16 won 5-1 Wijnaldum 2, Mitrovic, Janmaat, Aarons
2014/15 lost 1-3 Colback
2013/14 lost 0-4
2012/13 won 2-1 Ba, Ben Arfa
2011/12 drew 2-2 Ba, Sh.Ameobi
2010/11 drew 1-1 Coloccini
2008/09 won 2-1 N'Zogbia, Duff
2008/09 lost 1-2 Owen (LC)
2007/08 won 3-1 Martins, Cacapa, Milner
2006/07 won 3-1 Dyer, Martins, Parker
2005/06 won 3-1 Bowyer, Sh.Ameobi, Shearer
2004/05 won 1-0 Kluivert (FAC)
2004/05 lost 0-1
2003/04 won 4-0 Shearer 2, Robert 2
2002/03 won 2-1 Speed, Shearer
2001/02 lost 0-2
2000/01 won 2-0 Speed, Cordone
1999/00 won 6-1 Shearer 2, Speed, Dabizas, Ferguson, Dyer (FAC)
1999/00 won 2-1 Glass, Dabizas
1998/99 drew 1-1 Ketsbaia
1997/98 won 1-0 Barton
1996/97 won 7-1 Shearer 2, Ferdinand 2, Lee 2, Albert
1995/96 drew 1-1 Ferdinand
1994/95 drew 3-3 D.Peacock, Gillespie, Beardsley
1993/94 lost 0-1

(The 1994, 2005, 2013 and 2018 meetings all came on the opening weekend of the season)
Full record v Spurs:

| | | | | | | |
| --- | --- | --- | --- | --- | --- | --- |
| | P | W | D | L | F | A |
| SJP | 72 | 29 | 19 | 24 | 125 | 106 |
| WHL | 71 | 23 | 11 | 37 | 82 | 131 |
| League | 143 | 52 | 30 | 61 | 207 | 237 |
| SJP(FA) | 4 | 4 | 0 | 0 | 13 | 1 |
| WHL/OT | 5 | 1 | 2 | 2 | 5 | 5 |
| SJP(LC) | 2 | 1 | 0 | 1 | 4 | 3 |
| WHL | 2 | 0 | 0 | 2 | 0 | 5 |
| Cup | 13 | 6 | 2 | 5 | 22 | 14 |
| CS | 1 | 0 | 0 | 1 | 1 | 2 |
| Tot | 156 | 58 | 32 | 66 | 229 | 251 |
Waffle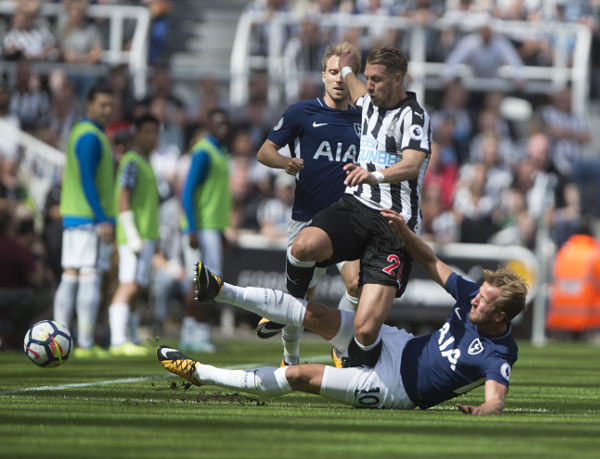 As if the Championship had never happened, Newcastle resumed Premier League duty against Spurs on a sunny Sunday at a raucous and sold-out St. James' Park. So far, so good.

Unlike the last meeting of these two sides on Tyneside though, a needless red card for the hosts proved to be an insurmountable hurdle - not helped by two enforced first half substitutions that resulted in defensive reshuffles and greatly reduced the possibilities available from the bench.

The full time whistle brought no great outpouring of emotion from the stands - some sympathetic applause from home fans - but in other respects there were echoes of May 2016: Lee Charnley, Mike Ashley and Keith Bishop looking on from the Directors Box once more as Rafa Benitez took his leave.

Given the published quotes from both sides this week, it's impossible to know what the true state of play on Barrack Road is - the owner even contriving to contradict himself between his High Court stand-up routine and Sky TV showreel, let alone previous utterances wearing his NUFC hat.

That there's friction between the manager and club though is now evident to even the most optimistic supporter or journalist - comments made at a club talk-in and after the Verona game missed by many but helpfully reprised by Rafa this week to remove any doubts.

And while Sky were only too willing to provide Ashley with a platform to peddle his tripe - if not his club - the same channel had broadcast quotes from Benitez at the Premier League launch that were rather harder than the matey BBC version.

Celebrating a decade of taking advice from unqualified sycophants to our detriment, it appears that Ashley mistakenly believes managerial and fan discontent stems from his inability to provide a "war chest" of Manchester City proportions. In reality, matching a club like Watford is more accurate.

The irony of the owner offering belated apologies to previous managers on camera while leaving the ground without speaking to the current incumbent is a sizeable one - on that basis Rafa can expect an expression of regret some time in 2025....

Surely the fawning towards Kevin Keegan was insincere though, what with the court case and compensation, not to mention his timeless "you'll never go anywhere with him" comment. And in the case of Allardyce, Ashley's previous version of the truth was to blame those who convinced him to give big Sham a shot at the job, when his instinct was move him on without managing a game.

Of course none of this should be about the owner or the manager and both should be eclipsed by events on the field - the stuff that you pay for and that gets you off your seat, hopefully.

On that basis, today was short on thrills but despite losing Paul Dummett and then Florian Lejeune to injury in the first half, at eleven against eleven a disciplined Newcastle side had realistic notions that a point could be secured. Until the sending off, neither 'keeper had been tested.

Anything more than that looked unlikely, with what were barely half chances and only occasional scampering from Gayle and the hard-working Christian Atsu to quicken the pulse.

And then Jonjo intervened, earning a straight red card after slowly but deliberately standing on Alli after the grounded player held onto the ball. Alli was in petulant mood following an earlier clash with Lascelles and a free-kick award against him, but Shelvey's actions were completely avoidable.

Had he been penalised for a full-blooded challenge to save a goal aka taking one for the team, then there could have been some justification. Instead though, an inept attempt at being sneaky in the full gaze of the referee left Shelvey to admire his trim torso in the dressing room mirror for the remainder of the second half, while his colleagues attempted a salvage mission. Some captain.

If Marriner had a decision to make about the colour of the card that "England's" Harry Kane received for the scissors tackle that curtailed Lejeune's debut, then this was a no brainer - a bit like Jonjo. This may just have been the most embarrassing episode on this ground since Dyer v Bowyer.

It subsequently emerged that Shelvey had been receiving professional help for anger management issues since his misdemeanours last season. Might that be upgraded to a lobotomy now?

From then on there was little more than defiance - and the inevitable Spurs goals.

Thankfully the unresolved issues with the visiting squad that saw Sissoko appear also meant that the visitors were unable to punish us to a greater margin. Don't forget that Pochettino's side ended last season by scoring six at Leicester and seven at Hull.

With thoughts already turning towards future weeks, Dwight Gayle was withdrawn and Mikel Merino introduced in a central midfield role that he looks destined to fill at Huddersfield on Sunday.

One down then and 37 to go. And despite doing the double over this lot during our most recent Premier League campaign, our eventual fate will rest on taking points off teams rather less proficient than last season's runner's up.

We'll end by plagiarising our last Premier League match report, on the basis that nothing much seems to have altered in the intervening 15 months since there were real doubts over Rafa's future:

Getting this wrong and ending up with another journeyman puppet on the payroll instead will bring back all of the negativity - and those in charge will deserve every last banner and insult.
For the dream to become a reality requires the owner and his cohorts to alter the mindset that saw Kevin Keegan and Alan Shearer leave in disgust - backed in the stands but undermined in the boardroom.
Biffa