Date: Saturday 16th September 2017, 3.00pm

Venue: St. James' Park

Conditions: Uplifting







Newcastle

Stoke City

2 - 1

Teams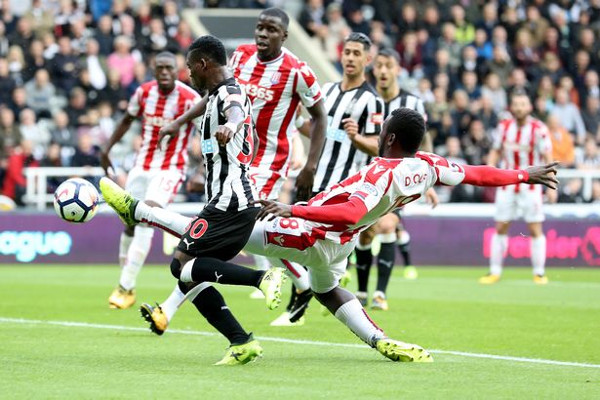 19 mins Christian Atsu's first-ever Premier League goal was a close range volley at the Leazes End, after Isaac Hayden teed up Matt Ritchie to put over a perfect cross from the right flank. 1-0

Half time: Magpies 1 Potters 0
57 mins Chief threat for City - when he stayed on his feet - was Xherdan Shaqiri and he was allowed space to run along the edge of the box, pick his spot and fire a low effort home. 1-1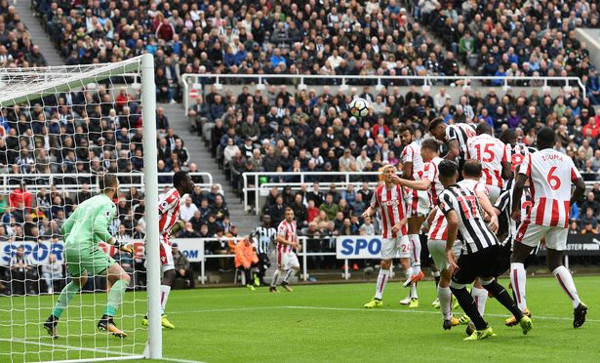 68 mins Jamaal Lascelles latched on to Matt Ritchie's corner and powered a header in off the bar that bounced down over the line and up into the back of the net. Fan footage taken from the South West Corner subsequently appeared online, showing that Ritchie's follow through from the corner ended with a little jump and header - as if willing Lascelles on to do his bit. It worked. 2-1
Full time: Magpies 2 Potters 1
Rafa Benitez:

"I cannot shout too much at the moment, so I was passing my messages on to Paco. There were times when I wanted to shout, but I couldn't.

"It is just a bit of pain now, every day I am taking less tablets. I am feeling better.

"What is important for us was to start winning and now it is to keep the momentum. We have to keep working hard and we know what we have in the team and the squad. Maybe we can lose games, but we have to believe we can win.
"At the end, we were suffering a little bit because we didn't take the chances we had. We had enough chances to manage the game better.
"Normally I am a little bit more agitated, but today I have to be careful, it will take some time to heal, but at least winning is always easier.
"This group of players works very hard. Sometimes we have some problems, but with the chances we can create we know they can give us the points.
"The fans, when you win so many games in a row, they are excited and thinking about Europe - for me it is one game at a time. It is a very competitive league and we are learning from that.

"It's really important that players want to stay, want to fight, want to defend their black and white shirt - they're doing that.

"The main thing for me is to see the team working as hard as they were working. There were a lot of positives. The team is believing in themselves, but there are still a lot of things to improve.
"If we play against a top side and make the kind of mistakes we did here, we will pay for that. You have to believe that you can win against certain teams.
"The players are trying to understand the way we have to play our game. We have to play with our own style of play. We are not a team that have a lot of possession, so we have to play to our strengths and we are doing that now.

"They are showing the fans that they care. When I pick players, I need to be sure I am choosing players who really want it and are not always making excuses when they make mistakes.

"I want players who will make sure they react in the right way."

Jamaal Lascelles:

"There's a real passion about the lads, there's a great intensity.

"The atmosphere in the ground was electric. The goal was similar to last week - they were ball watching. I don't think I've scored two so early on, but Matt Ritchie's delivery is just so good.

"In the Premier League, it's a little bit different because in the Championships it's more of a wrestling match in the box.

"We've got such a young team, I think it gives us a big advantage in terms of our energy, which really counts when we play against teams a little bit older. Our average age is only about 25.

Quizzed about Joselu thanking him for scoring after the striker missed three good chances:

"That's what team-mates do. If it was down the other end and I'd let a goal in and he went down the other end and scored, I'd have gone up to him and said the same. He knows himself he should have scored a couple of goals today, but good team-mates get each other out of the shit.

"He's done a great job for us today. He held the ball up well, he kept finding himself in dangerous areas and he's been a real threat for defences in other games as well, so it's certainly not one of them when I'm going to have a go at him.

"It's not like it was (when Newcastle were relegated in 2016). We're completely different players with a different mentality and we keep fighting until the whistle goes."

Jill Lascelles (Jamaal's mam) via twitter:

"(It's) Costing me a fortune , from his academy days at Forest, it's always been a fiver a goal."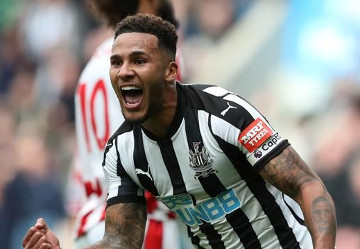 That's why they got him to negotiate the bonus

Horrible Mark Hughes (who sadly was never quite riled enough today to repeat his coat-throwing antics of a few years ago) said:

"We didn't play particularly well today. I didn't think we were poor, just not as good as in recent weeks. That's the disappointment. I think we were a little loose in our general play.

"We had more possession and they looked to counter-attack and it was a different test, one we had to cope with better.

"We will find teams like Newcastle who will show respect and sit back and invite us on and so we've got to be more accurate in our work and our passing. We maybe needed a different mindset of what's required.

"I thought we were better second half and once we were on level terms we had a real opportunity to take the game away from them.

"But we made a mistake on the corner to allow them to get back into the lead, but even so we had two or three opportunities that on another day we would take.

"I don't think there was too much between both teams."


The Magpies ended a five game winless sequence at home and away against the Potters, since beating them 5-1 at Gallowgate on Boxing Day 2013.

DeAndre Yedlin became the 220th player to appear for us in the Premier League, while Christian Atsu is the 128th Magpie to net for us in the competition.

Jamaal Lascelles netted his seventh goal for Newcastle - and fourth in the Premier League:
2015/16 Watford (a) lost 1-2 header from corner
2015/16 Swansea (h) won 3-0 header from corner
2016/17 Brighton (h) won 2-0 header from free kick
2016/17 Norwich (a) drew 2-2 shot from cross
2016/17 Leeds (h) drew 1-1 header from cross
2017/18 Swansea (a) won 1-0 header from corner
2017/18 Stoke (h) won 2-1 header from corner

Christian Atsu made it six goals in our colours, including five on loan last season:

2016/17 Rotherham (a) won 1-0
2016/17 Cardiff (h) won 2-1
2016/17 Wigan (a) won 2-0
2016/17 Preston (h) won 4-1
2016/17 Cardiff (a) won 2-0
2017/18 Stoke (h) won 2-1
His first Premier League goal for United was also a maiden top flight strike*, having failed to get off the mark for Everton in five appearances (he never played in the PL for Chelsea or Bournemouth).

* we mean Premier League: he did net in the domestic top division in Portugal, Holland and Spain.

Newcastle have now scored six goals in the Premier League this season - and four of them came via assists from Matt Ritchie (including the last three).

You have to go back to November 2014 to find the last time that United won three successive top flight games - Leicester City (h) 1-0, Spurs (a) 2-1 and Liverpool (h) 1-0.

That run continued with a 2-0 win at West Bromwich Albion and a 1-0 home victory over QPR before it was sixth time unlucky with a 0-1 loss at West Ham.

United's current lofty position of fourth is the highest they've been in the Premier League since a season opening 2-1 home win over Spurs in August 2012.

Since then, their highest position has been fifth - in both November 2013 and November 2014.

Nine points from five games represents Newcastle's best start to a top flight season since 2011/12 - when they emulated that points tally.

It took Steve McClaren's side an agonising 12 games to reach that total in the 2015/16 season.

Potters on Tyne - last ten:
2017/18 won 2-1 Atsu, Lascelles
2015/16 drew 0-0
2014/15 drew 1-1 Colback
2013/14 won 5-1 Remy 2, Gouffran, Cabaye, Cisse
2012/13 won 2-1 Cabaye, Cisse
2011/12 won 3-0 Cabaye 2, Cisse
2010/11 lost 1-2 Nolan
2008/09 drew 2-2 Owen 2
2007/08 won 4-1 Owen, Cacapa, Milner, Duff (FAC)
1989/90 won 3-0 Kristensen 2, Quinn


Total record against Stoke:
P

W

D

L

F

A

SJP

41

28

9

4

98

34

VG/BS

40

8

10

22

33

62

League

81

36

19

26

131

96

SJP

(TM)

1

1

0

0

2

1

VG

(TM)

1

0

0

1

0

1

SJP

(FA)

4

4

0

0

11

4

VG/BS

3

1

2

0

5

3

SJP

(LC)

1

1

0

0

3

0

VG

1

1

0

0

4

0

Cup/TM

11

8

2

1

25

9

Tot

92

44

21

27

1

56
105
Waffle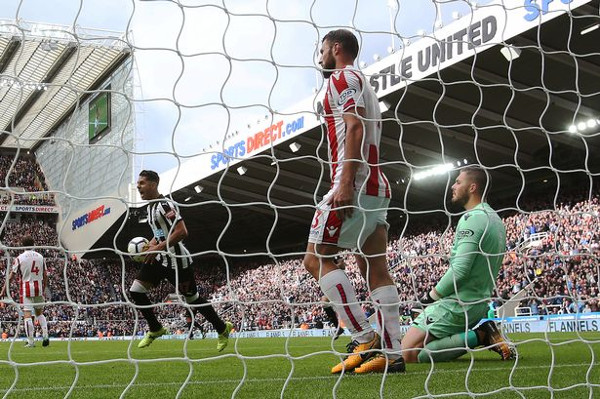 Rafa Benitez may a restrained touchline observer today, but his team did the talking on the field for their recuperating manager, soaring to fourth in the table after their third successive victory.

And for the second successive weekend, Captain Jamaal Lascelles headed home a corner to earn another three points - the manner of the goal as pleasing as the outcome, for a side who until recently had gone through full seasons without scoring from flag kicks.

A squally Saturday at St. James' Park saw United go ahead through Christian Atsu from their first real chance of the game, only to then miss a series of chances to extend that lead - most notably through former Potters forward Joselu, who contrived to squander a hat-trick of opportunities.

Volleying wide when unmarked and then prodded a shot at Jack Butland when it looked harder to miss, the most inviting opportunity of them all came 15 seconds into the second half. City were caught cold by Atsu's pass, but Joselu lifted his shot over the crossbar with the goal gaping.

The old adage about trying too hard against his old club was aired by some, but the fact that he was alert and committed enough to get into those positions to miss brought some comfort - in addition to the fact he didn't try to decapitate any opponent who strayed into his path....

City were reeling against the ropes at 1-0, but did enough in the closing stages of the first half to suggest that the game wasn't quite over.

Newcastle were pegged back just before the hour mark when Xherdan Shaqiri was allowed space to pick his spot and fire home. Parity lasted for just over ten minutes though, before Lascelles latched on to Ritchie's corner and powered a header in off the underside of the Gallowgate End crossbar.

Just seconds earlier, he'd been arguing with referee Stuart Atwell over his refusal to award a penalty - and that anger energised Lascelles to make sure he was first to the ball from the resumption.

The relief was palpable after it had threatened to be "one of those days", Atwell seemingly intent on giving the visitors every chance to steal a point or even three, despite many of their side looking rather less than bothered about the outcome.

Fielding DeAndre Yedlin and Chancel Mbemba at right and left back respectively, Jesus Gamez dropped out of the squad entirely while Javier Manquillo was benched.

Jacob Murphy was also rotated out of the starting lineup in favour of Atsu - and he soon repaid that decision by putting the black and whites ahead with his first-ever Premier League goal.

While Lascelles will again hog the headlines for his heading prowess as United won three top-flight matches in a row for the first time since 2014, he'll doubtless acknowledge Rob Elliot's contribution.

The goalkeeper was powerless to prevent the irritating Shaqiri from levelling, but pulled off a superb one-handed stop from a Mame Diouf header soon after.

United responded almost immediately at the other end, Perez finding the net but clearly offside.

Then came the Atsu incident, when he looked to have been tripped as he charged through on goal. Atwell waved away penalty appeals, although Atsu should have shot before the challenge came in.

Jonjo Shelvey was stripped and waiting to come on when Lascelles made it 2-1 and the midfielder still appeared in place of Isaac Hayden - who had again been hampered by an early booking and required some treatment on the field after taking a whack.

Shelvey and Mikel Merino attempted to retain the ball in midfield, while Dwight Gayle replaced Joselu to give United an out ball as Stoke resorted to the expected aerial bombardment, veteran nuisance Peter Crouch appearing from the bench.

Inevitably there were scares in the closing stages, particularly when DeAndre Yedlin needlessly lost possession (and was bollocked by Lascelles for doing so). And when Diouf met a left wing cross to head a whisker wide in added time, St James' breathed a collective sigh of relief.

The mood is good, fans rightly responding to a Newcastle side who currently embody the cliche of playing for the shirt. But when hard times do inevitably follow, hopefully people will recall that before they boo at half time if we're not winning or flounce out if they go two down.

In terms of recruitment, we're making the best of what we've got but if the manager felt his side were short-handed on August 31st then who are we to argue? Mbemba at full back is one of the more unlikely placements of recent seasons and aside from Freddie Woodman, there's nothing in reserve. On that basis, it's a good job we'll be naming a full-strength side for the FA Cup.....

The presence of previous transfer target Saido Berahino on the City bench meanwhile is a timely reminder that a price tag doesn't guarantee a dividend. Our lot may not be world beaters but at least they can manage to keep fit. Attitude is as important as aptitude - Ayoze Perez contributing more and perhaps benefiting more than anyone from the French enclave turning Spanish.

Exactly how far organisation, collective spirit and Mike's "treat 'em mean, keep 'em keen" outlook will take us is anyone's guess, but we at least finished the weekend in the top four, a side unproven in the top flight outwitting a more established one. That's good.

Biffa