Date: Sunday 24th September 2017, 4.00pm
Live on Sky Sports

Venue: Amex Stadium

Conditions: Dispiriting

Programme: £3.50


Brighton

Newcastle United

1 - 0

Teams
Half time: Seagulls 0 Magpies 0
50 mins Jamaal Lascelles gave away a needless free-kick with a challenge from behind. The free kick was taken by Pascal Gross towards the left side of the United box and nodded through Ciaran Clark's legs, into the ground and back across goal by Dale Stephens, who had peeled away into space as the kick came over.

The ball fell to Israeli International Tomer Hemed to hook home via his right shin from around five yards out at the North End of the ground, Rob Elliott having absolutely no time to react. A shove on Chancel Mbemba by Bruno as the set piece was taken was ignored by the referee. 0-1
Full time: Seagulls 1 Magpies 0
Rafa Benitez:

"We did some good things. We gave them some chances, and we had some chances of our own as well. We finished the game very strongly, creating a lot of chances.

"We had chances but didnít take them. There was a chance for Joselu in the first half, and then in the second half we had three or four good positions where we should have done better.

"We have to learn from this defeat. In the Premier League, you have to take your chances when they come along.

"You have to take your chances, and you also have to be stronger in defence if you want to make sure that you will have a clean sheet.

"Iím disappointed because the goal is a clear foul. We didnít defend it well, I will admit that, but at the same time, there was a player who was making a clear movement with a clear push. It wasnít a block, it was a foul.

"Thatís it, and the referee had a really good position. I havenít spoken to the referee about it, but it is very clear, you can see from the replay. Itís not a player standing still, blocking. Itís a player in movement, pushing. Itís a very clear foul. Still, though, we did not defend it well.

"We have to be stronger, I donít disagree with that. But it is still a clear foul."

DeAndre Yedlin about Hemed's stamp:

"I felt something on my calf. I didnít see anything. I was in the mix of things. I donít know, itís not really important. Itís important we learn from our mistakes and move on.

"I donít know. Like I said, I didnít see anything. I was on the ground. Whether it was accidental or not, it doesnít really matter now, but Iím sure whoever is on the committee that punishes that sort of thing will figure it out."

Chris Hughton:

"Iím delighted with the win but also very pleased with the manner of it. Once we got the goal it was very difficult because you either press for the ball and leave space or you stay compact and they get a lot of the ball.

ďWe had to defend well to win this game and I thought we did - it was a hard fought victory.

"There weren't masses between the two teams but when you are the home team you sometimes get a little bit more in your favour. But the one opportunity we had we took in what was a tight game. We had to dig deep at times.

"We felt the way the game was going there wasn't going to be a lot of chances. We had to makes sure we kept a clean sheet against a good Newcastle side. We then just had to look for those moments, either a bit of brilliance or a bit of fortune.

"We've learnt a lot in these seven games - the points we've got is a decent return.

"Theyíre quite similar in the way they play, a 4Ė4Ė1Ė1, though they probably have a bit more pace off the front than we have. It was nice to win but theyíd look at the fact theyíre still two points ahead of us in the table. Weíve watched their last three games and they deserved to win them.

"At home, you always want to start the game well and we did, but they were very dangerous on the counter attack. I thought it was a good overall performance.

On the goalscorer:

"Tomer Hemed came back in very good shape, he benefitted from not being involved with the national team at the end of last season, which meant he had a good summer off.
"For the goal, we managed to get a header back across, but it still needs to be finished, and he did that, it was a really good finish and we deserved it.
"If Tomer had to be taken off today, the only option (in the absence of injured Glenn Murray) would have been Izzy Brown, who is really a number ten.

On the Yedlin incident:

"My first impression is that there was no intent. There's no doubting the contact but knowing the individual (Hemed) there would also be no intent."


Brighton and Hove Albion became the 48th different club that United have faced in the PL, while The Amex Stadium is the 55th different venue. The club count will be unchanged at the end of the season, but visits to the London Stadium and Wembley will increase the ground count to 57.

Newcastle have now conceded five goals in six league games - and they've all come within a 21 minute period of the second half. Never mind just before half time, this is our new danger zone:

50 Huddersfield
51 Brighton
57 Stoke
61 Spurs
70 Spurs

Four NUFC visits here now - all on TV, all at daft times:

2017/18 Sunday 4pm
2016/17 Tuesday 7.45pm
2012/13 Saturday 12.30pm
2011/12 Saturday 5.15pm

A first victory for Chris Hughton over his former club finally arrived at the seventh attempt:

2012/13 Newcastle 1 Norwich 0
2012/13 Norwich 0 Newcastle 0
2013/14 Newcastle 2 Norwich 1
2013/14 Norwich 0 Newcastle 0
2016/17 Newcastle 2 Brighton 1
2016/17 Brighton 1 Newcastle 2
2017/18 Brighton 1 Newcastle 0

Competitive visits to the Seagulls - all time:
2017/18 lost 0-1
2016/17 won 2-1 Diame, Perez
2012/13 lost 0-2 (FAC)
2011/12 lost 0-1 (FAC)
1991/92 drew 2-2 G.Peacock, Kelly
1990/91 lost 2-4 Quinn, Brock
1989/90 won 3-0 Quinn 3
1983/84 won 1-0 Waddle
1982/83 drew 1-1 McDermott (FAC)
1978/79 lost 0-2
1961/62 won 4-0 Allchurch, Thomas, Kerray, Suddick

(At the Goldstone Ground up to and including 1991/92)
Total record against Brighton:
P

W

D

L

F

A

SJP

7

4

1

2

13

5

GG/AS

8

4

1

3

14

10

League

15

8

2

5

27

15

SJP

(FA)

3

1

0

2

3

3

GG/AS

3

0

1

2

1

4

SJP

(LC)

0

0

0

0

0

0

GG

0

0

0

0

0

0

Cup

6

1

1

4

4

7

Tot

21

9

3

9

31

22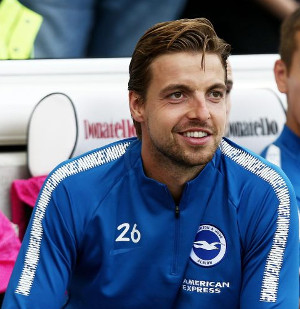 Tim Krul was an unused substitute for Brighton, after completing a permanent transfer from United.

Initially joining on a season-long loan (after which he'd have become a free agent), Krul debuted in a midweek League Cup loss at Bournemouth and was named on the bench in the PL for the first time by his new club. Had that loan deal not become a permanent one, regulations would have precluded him from appearing against his parent club.

Comments ahead of this game suggest the switch to a permanent deal was made some time earlier but not publicised until now at Brighton's insistence.

As for the little matter of the transfer window, we assume that Krul negotiated his release from the rest of his United deal to become a free agent before signing his one season contract with Albion.

Waffle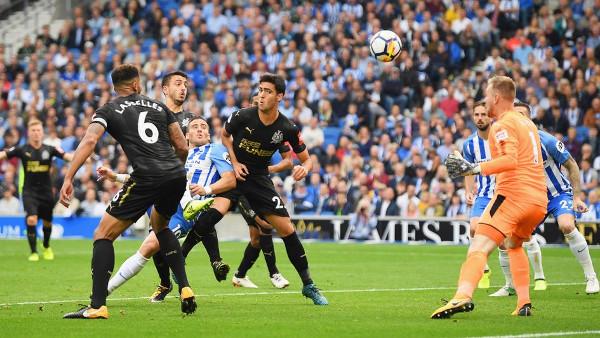 Newcastle's three-game winning run was halted at the Amex Stadium, as a set-piece goal ultimately undid Rafa Benitez's side in the Sunday afternoon live TV game.

United's second away defeat of the season bore striking similarities to the first, at Huddersfield: a Sunday TV slot, the same scoreline against another promoted team clad in blue and white stripes - and the nagging fear that our attacking threat was insufficient to claim a point, let alone three.

A tight game was forecast and that proved to be the case, Brighton prevented from going ahead by one of their own players when Anthony Knockaert blocked a goalbound shot from Pascal Gross.

At the other end meanwhile, Mikel Merino went close with a volley from a corner while Joselu should have netted when the ball fell to him six yards out, only to poke his effort narrowly wide.

The black-clad visitors enjoyed an extended period of possession towards the end of the opening half, but without truly hurting Albion - whose goalkeeper could well have slipped away for an early interval cuppa without fear of his absence being noted.

Almost inevitably, those misses and that period of unthreatening dominance came back to bite us on the backside, a 51st minute opener for Brighton arriving via a free kick and only an excellent save with his right foot from Rob Elliot preventing a second home goal that would have finished us off.

Content to remain as we were at 0-0, going behind belatedly saw the introduction of Jonjo Shelvey - who promptly and intentionally whipped a low corner into the near post and almost embarrassed home custodian Matt Ryan.

Sadly that was as good as it got, a poor day ending with fellow substitute Dwight Gayle shooting at the 'keeper in added time. Albion ran the clock down in the same slightly ham-fisted manner that we did at Swansea, Ryan similarly sailing close to the wind with the ref in fiddling about as per Elliot.

The old cliches about taking chances and turning possession into something more solid applied here, but there's also some sense of this being a levelling out exercise, following the outrageous fortune of Diame's equaliser here in February. Euphoria that night, frustration today. Swings. Roundabouts.

Nine points from six games is a reasonable return but losing to rivals such as Brighton will cause some concern for Benitez, especially with his old side Liverpool up next.

In mitigation, it's still relatively early in the season for a lineup who are inexperienced in playing together at any level, never mind the top flight. Be it Yedlin feeling his way back in, perming two from the Hayden/Shelvey/Merino trio, or even finding a role for Jacob Murphy (see also Mo Diame), there are a host of variables to be worked on.

The striking situation also remains fluid: three options now available to Benitez, but the only certainty being that only one of Joselu, Aleksandar Mitrovic or Dwight Gayle will start on Sunday.

For a team that don't do draws in a league where they are currently out of fashion, this would have been a good away point for United - not least because it deprived Chris Hughton's side of three.

In terms of our remaining 16 away games, there will be plenty of days like these against mediocre sides with no bigger aspirations than ourselves.

One goal in three "winnable" away games - scored by a defender from a set piece - is a statistic that needs to be improved if we're not to put all our eggs in the "Fortress St. James'" basket.

Days like today will ultimately determine our fate.

Biffa