Date: Saturday 13th January 2018, 3.00pm

Venue: St. James' Park

Conditions: Fraught







Newcastle

Swansea City

1 - 1

Teams
Half time: Magpies 0 Swans 0
60 mins A cross from the Swansea right by Mike Van de Hoorn picked out an unmarked Jordan Ayew in front of goal, Karl Darlow making a great one-handed stop to block his header. However the City striker reacted first to nod the rebound beyond the goalkeeper's second dive. 0-1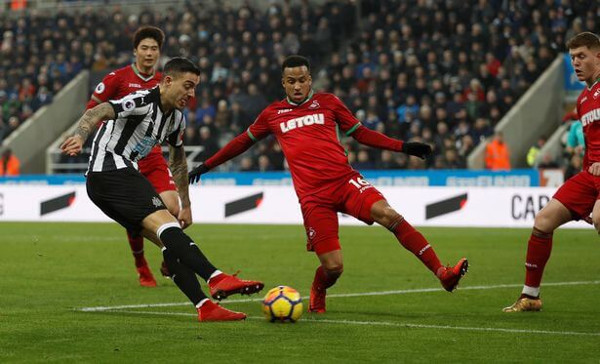 68 mins An excellent ball forward by Jonjo Shelvey found Ayoze Perez in space down the left but his cross was blocked. The deflection reached Joselu but when he elected not to swivel and hit it first time, it looked like the chance had gone. Somehow though, he squeezed the ball between two defenders and inside the far post of the Gallowgate goal. 1-1

Full time: Magpies 1 Swans 1
Rafa Benitez:

"I liked the team in the first half, and the chances that we created. I was disappointed, because we didnít take the chances, and also to concede a goal in the way that we conceded the goal.

"But I was quite happy with the reaction of the team. We were very positive, and had a real intensity and determination to try to score.

"We were trying to win the game, but I didnít like the last five minutes when we were making some wrong decisions and giving them the chance to get a counter-attack.

"There were a lot of positives, and some negatives that we have to correct as soon as possible.

"After we conceded, the reaction of the team was positive, and we pushed until the end - although they could have scored on the counter-attack.
"It's more or less what has happened during the season. The team has to take their chances, not just the strikers.

"If we create, it doesn't matter if it's a winger or a midfielder, we have to be more clinical in front of goal.

"It could be worse if we were not creating chances. The way we were working and the chances we were creating, means we can do it.

"But I was happy with the reaction after conceding. We were very positive and had a real intensity and determination to score.
"It's always good to have strikers scoring goals, because it boosts their confidence, so it's good for him and good for the team, to see that we can have a bad situation and react the way that we did.
"It's something we have to take as a positive for the rest of the season."

On Shelvey:

When you are not winning a game like this one, so important, any player has to be disappointed if they do not continue playing.

"But we have to make the substitutions, and that's it - I didnít have any problems with what he did."

On naming a starting XI composed of players at the club in the Championship (although it never actually started a game):

"Carvalhal told me that before the game ...
"It tells everybody where we are. I have been saying it all season. Some people say: ĎAh, but you have to do this, you have to do that.í But that is the reality.
"We are in the Premier League and we have a lot of players giving everything but still sometimes it is not enough. That is the amazing thing and the positive thing, that they are working so hard.
"You could see in the first half that we had chances. We conceded the goal, and after that we were reacting, and we were pushing, and we were working even harder.
ďWhen we scored our goal we were on top of them and were pushing all the time. That is the positive that we can take from this game.
Asked if he had anticipated fielding such a line-up in the Premier League when his side were promoted last season:

"No.
"Itís not easy. When you can see all the games together, sometimes you know that there are things you can improve and things you cannot.
"But the only thing and the main thing and the positive thing is the attitude of the players, even in training sessions, trying to improve. Thatís quite good.
"Even when they come from the bench the majority of them give everything. Thatís what youíre expecting from your squad.

"We could have avoided some of the goals weíve conceded and we could have taken some of our chances, but we are in a position which is not easy and which we maybe deserve to be in because of the quality of the teams around us too."
On transfers:

"Now it is the transfer window, the next question is always, 'Do you need help?' The answer is yes, we do need help. We will try to do our best.

"We are not close to anyone at the moment. The players that are already playing, all of them will be here. The players that are not playing, it depends on each one, but if we cannot bring players, then maybe we will not move players.

"At the moment, apart from (Jamie) Sterry and (Jack) Colback, the others are players that maybe we will need.
"I think he (Mike Ashley) already knows (what is required in this window). We have been really clear and I think they understand the situation. Now, it is just a case of doing what we have to do.

"I said yesterday (Friday) in the press conference, we are not closer to anyone at the moment, and the players who are already playing, the majority of them Ė if I can say all of them Ė they will be here.
"Players who are not playing, it depends on each one, but if we cannot bring in players, maybe we will not move players.
"I have the feeling that we will do something but, still, we have to see if we can do it.Ē

Carlos Carvalhal said:

"After the game I donít know if we have achieved one point or lost two, especially when you arrive in the dressing room after the game and my players are really upset because there was a feeling that we could have won.
"I arrived two weeks ago. We have moved things around and changed the formation.
"Against Tottenham they scored an invalid goal and we had three or four clear chances, so we could easily have got something, but we have a point at Newcastle so we have four points from two away games and not a bad performance against Tottenham.

"If we continue like that, maybe we can achieve something and jump some positions in the table. I think we deserve this interpretation.
"Newcastle have a very good team. Our strategy was to keep the ball and then try to create spaces going forward. We did well for part of the first half, but the chances Newcastle created were from our mistakes.
"In the second half we corrected things and started to control the midfield. We had 57% of possession, had more shots on target and played with a better dynamic than in the past.

"We scored a goal. They didnít create many chances in the second half but scored when we had four players on one. We fought again and in the last minute we had the most clear chance of the game. We could have won."
About the penalty claim:

"I canít say I saw it at the time, but within a minute my assistant told me it was a clear penalty and a red card.

"The referee didnít see it. This is the job of the officials, they are there to try to see these things. I think this referee is a good referee, but in the last games the decisions have not been good for us.
"It's impossible from what I saw on the bench. I would not be honest if I said I saw from the bench. But of course, you know the technology these days, our assistant said it was a clear penalty.

"When I saw in the video, it was a clear penalty because the ball went towards the goal and he opened his arm, in my opinion, the arm is not in a natural position.

"When he opened the arm, it's a clear penalty and red card also. We are unlucky."


A seventh successive failure to win at home in the PL is our worst run since 2008/09, when we endured eight winless outings at Gallowgate between December 2008 and April 2009.

Conversely, Magpies made it four games unbeaten in all competitions for the first time this season.

Joselu scored his fourth goal of the season - all of which have come during Premier League home games. The striker struck to end a 355 minute wait at SJP for a Toon goal, since Dwight Gayle's effort here versus Leicester City.

12 Premier League home games so far this season have brought just 10 goals for Newcastle, a total that is superior only to Swansea (six goals) and Burnley (eight).

The smallest home goal total in any PL season by Newcastle is 22, in both 1997/98 and 2006/07.

Three of those ten were scored by substitutes: Aleksandar Mitrovic v West Ham (on the field for 14 minutes), Mikel Merino v Crystal Palace (30 minutes) and Joselu v Swansea City (four minutes).

This was the first time in either league or cup games this season that Rafa didn't use all of his permitted substitutes. Previous to this game, the most recent time he failed to do that was at home to Burton Albion in the Championship during April 2017.

Swans @ SJP - Premier League era:
2017/18 drew 1-1 Joselu
2015/16 won 3-0 Lascelles, Sissoko, Townsend
2014/15 lost 2-3 Perez, de Jong
2013/14 lost 1-2 Sh.Ameobi
2012/13 lost 1-2 Ba
2011/12 drew 0-0
2009/10 won 3-0 Harewood 2, Lovenkrands
1994/95 won 3-0 Kitson 3 (FAC)

Portuguese-born manager Carlos Carvalhal lost his 100% record against us from his time in charge of Sheffield Wednesday but remains unbeaten (three wins, one draw).
Waffle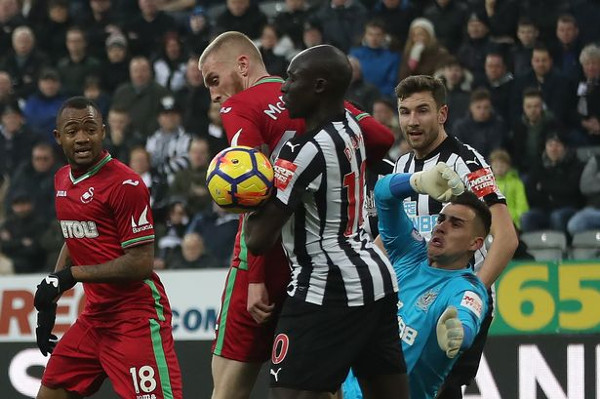 Substitute Joselu's equaliser at St.James' Park turned a disaster into a disappointment, but results elsewhere meant that failing to take three points off bottom club Swansea was a rotten result.

A catalogue of missed chances before the break seemed even more costly when Jordan Ayew's 60th minute header gave City an undeserved advantage - the second member of his family to score against us in as many months, following on from elder brother Andre for West Ham.

But thankfully Joselu replaced the limping Dwight Gayle and soon sent a shot squirming into the far corner of the Gallowgate goal to the relief of an increasingly frustrated home support.

There were chances to go on and win the game but an out-of-sorts Matt Ritchie failed to supply the killer delivery from two free-kicks and a corner that should have given Jamaal Lascelles the chance to reprise his winner at the Liberty Stadium earlier in the season

Gayle and Christian Atsu who were culpable in missing first half chances while Ayoze Perez had a massive opportunity to find the net for the third successive game, only to meekly direct his shot straight at Lukasz Fabianski.

Jonjo Shelvey fired a free-kick well over as United failed to convert their dominance into goals - Gayle finally netting on 38 minutes from a corner, flicked on by Lascelles only to be flagged offside.

TV footage revealed what visiting players had been appealing for seconds earlier - Mo Diame blocking a goalbound effort in his own box by with an arm. Had video technology (or more observant officials) been deployed, he would surely have been red-carded and Swansea given a penalty.

The second half was less productive, Gayle scuffed a shot wide when he should have done better but a worrying lack of urgency and momentum from the home as the stalemate lengthened. As we concluded after the Brighton home game though, that cannot be laid at the manager's door.

Then came the City goal and a lead that thankfully only lasted eight minutes before Joselu registered his fourth goal in our colours, after the opportunity had seemingly gone.

With over 20 minutes remaining, that should have been the platform to turn one point into three but United's late onslaught never materialised and some excellent set-piece opportunities went begging - the latter keeping us afloat earlier in the season but now declining to a lamentable standard.

And City almost snatched an unlikely winner in the last seconds, after Darlow came well out but could only half-block a shot, DeAndre Yedlin hacking substitute Wilfried Bony's effort off the line.

The entire starting XI had played in the Championship last season, and there was nothing new to learn from a side that is still in need of strengthening in almost every area - and which in Jonjo Shelvey has one of stupidest footballers to play for this club in recent memory.

Making minimal impact against his former employers, the midfielder again managed to get involved in a verbal exchange with an opponent that brought speculation over exactly what had been said.

Restarting play after a visiting player went off injured, Shelvey deliberately booted the ball into the furthest corner away from the visitor's goal - giving a City side who had just taken the lead an opportunity to waste more time.

Jonjo then concluded his afternoon by snubbing an offer of a handshake from Benitez following his substitution - something he later apologised for.

By contrast, Paul Dummett (preferred to Javier Manquillo at left back) had a fine game with some excellent passing, crosses, timely blocks and forward runs. The local lad also came close to getting on the scoresheet with a snapshot that whistled just over. While Lascelles has rightly taken the plaudits for the defensive solidity that followed his return, Dummy's comeback is also a positive.

Another point nearer to safety then and one defeat in five PL games (and that by one goal to the champions elect). On the face of it that's progress, but even accentuating the positives as the manager is obligated to do, failing to take maximum points from teams around us is damaging.

This team performance undoubtedly gave Benitez more ammunition in his quest for funds in the transfer window, but less than a week before his own deadline passes pleas are still being ignored.

The squad would benefit from strengthening in all areas, but to continue without signing a goalscorer looks like a deliberate act to lessen our chances of survival.

That lack of investment is completely inexplicable; the owner now apparently bored with his casino games and instead opting to play Russian roulette with the status - and value - of this football club.

It's also a big finger to Rafa. No, make that a colossal one.

Results elsewhere went against Newcastle, but they remained fourteenth until Bournemouth's first ever victory over Arsenal on Sunday dropped them a place.

Monday then brought news that fellow strugglers Stoke City had turned to Paul Lambert for salvation, his fourth club in as many years - and none of them enhanced by his presence.

Added to the appointments of Roy Hodgson and good old Pards earlier in the season, it really does beg the question of just who will be dragged in off the street when the inevitable parting of the ways with Rafa comes. Something has to change - and it doesn't look like being the owner.

Biffa