Date: Saturday 20th January 2018, 5.30pm
Live on BT Sports

Venue: Etihad Stadium

Conditions: unrelenting

Admission: £30

Programme: £3


Manchester City

Newcastle United

3 - 1

.

Teams
34 mins: Kevin De Bruyne's right wing cross made minimal contact with Sergio Aguero's header en route past Karl Darlow. Ciaran Clark's marking wasn't great and as usual, Javier Manquillo's attempt to block the cross was non-existent. Asked afterwards, City's number 10 said, "Of course it was my goal - I think it touched my hair." 0-1
Half time: Citizens 1 Magpies 0
63 mins: Manquillo put his hand on Raheem Sterling who had outpaced the full-back inside the box and over he went, theatrically, to earn Aguero the chance to score from the spot. Darlow got fingers to the kick but couldn't keep it out. 0-2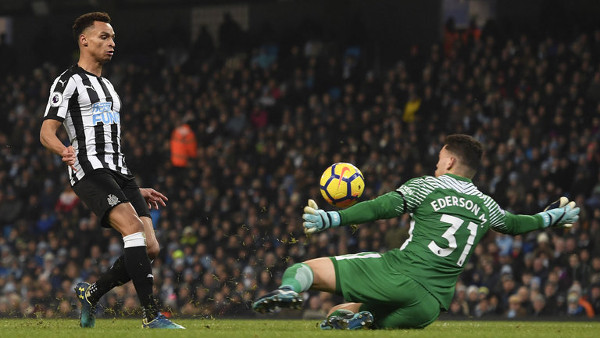 67 mins: Clark took advantage of another mis-control from Joselu and sent Jacob Murphy through on goal. His chip over Ederson was sublime as he found the back of the net retrieving the ball and briefly acknowledging the celebrating away fans as headed back to the halfway line. 1-2
83 mins: Leroy Sane's mazy run down the City left bamboozled substitute DeAndre Yedlin and Mo Diame, before picking out Aguero to fire through Paul Dummett's legs and past Darlow. 1-3
Full time: Citizens 3 Magpies 1

Rafa:

"We wanted to stay in the game and we did it, the penalty was a bit soft and it changed everything. After we scored we had a couple of chances. They are a very good team, our reaction was quite good.

"We changed at the end and played with four at the back, the idea was to stay solid and try to regain and play counter-attack. At the beginning we were giving the ball away easily. To find the balance between defending and attacking is what we were trying to do.

"I have been praising the players the whole season in terms of effort, sometimes it's a bit of luck. If you have a little bit of luck you can be ahead in some games."

About transfer activity:
"It's the Premier League and everyone is spending a lot of money - that is why we expect something in this window. Hopefully we can see some new faces before the end of this window.

"Itís going to be a very important week for us. Weíve been working very hard to make sure we have the names who can help the team to stay up.

"We have the names. We gave a list to the owner - now, itís just a case of waiting to see if we can do what we have to do.

"They know the names. They know what they have to do, and it doesnít matter if itís loans or permanent signings, we need the bodies to give the team the ability to manage.

"This team was in the Championship and got promoted, and we donít have much experience of the Premier League.

"We need players with quality who can give us something different or experience. Weíll see how many we can get.

"I expect someone, but we will see. I donít know how many we can get. Itís a little bit late now.

"If they have experience in the Premier League, itíll be easier for us. But, if not, they have to have different characteristics and give us something that we donít have at the moment.Ē


Pep Guardiola commented:

"When we dropped two points against Crystal Palace, the reaction was amazing. I don't know what is going to happen (at the end of the season) but I don't have to be convinced of the incredible players we have.
"When we lost 4-1 against Liverpool, we congratulated Jurgen Klopp and his team and moved forward. The way we fight and the way we try to play when they defend with ten or 11 players in the box is so good.
"Mathematically, we need ten victories to be champions and we are going to take things game by game. The players reacted really well with huge personality. We created chances, we scored goals and we conceded few (chances). We avoided two bad results in a row.
"It was an outstanding performance, often against 11 players behind the ball (but) we were patient, and we found the space really well. They crossed the halfway just once and scored, but we're so happy.

"We reacted really well after dropping points before. It's not how many goals you score, it's how many chances you create, it's how many chances your keeper has to save. It was important how we reacted at 2-1 - we didn't panic.

"I said we are not going to buy a striker because we have Sergio and in two or three weeks, we will have Gabriel Jesus. We are so happy for him. He barely touched the ball in the first half and he scored. We need a guy who scores the goals. We are so happy."

Since a 1-0 home win in September 2005, Newcastle have failed to beat City in all 21 Premier League meetings: losing 18 and drawing the other three.

A defeat hasn't quite ended our title hopes but we're 42 points behind City with 14 games remaining and a goal difference deficit of 64....

Sergio Aguero became the first opposing player to net a hat-trick against Newcastle since.... Sergio Aguero, who hit five in our 1-6 loss here in October 2015. The Argentinean has now registered 14 goals against the Magpies in 12 appearances. Wayne Rooney has 15.

Aguero also became only the second player to register a two hat tricks against us in the Premier League after a certain Michael Owen.

Magpies @ Etihad:
2017/18 Lost 1-3 Murphy
2015/16 Lost 1-6 Mitrovic
2014/15 Lost 0-5
2014/15 Won 2-0 Aarons, Sissoko (LC)
2013/14 Lost 0-4
2012/13 Lost 0-4
2011/12 Lost 1-3 Gosling
2010/11 Lost 1-2 Gutierrez
2008/09 Lost 1-2 Carroll
2007/08 Lost 1-3 Martins
2006/07 Drew 0-0
2005/06 Lost 0-3
2004/05 Drew 1-1 Shearer
2003/04 Lost 0-1

Jacob Murphy's first goal made him the 134th Newcastle player to net for the club in Premier League games. His debut top-flight strike was also the first away goal he's managed since scoring for Norwich City against Newcastle at Gallowgate in September 2016.

Murphy's goal was the 12th we've scored on the road in as many games, level with the total we managed away from home in the whole of the 2015/16 season - our lowest-ever PL total.

This was game number 177 against City, leaving them just two behind our most faced opponents in league and cup, Arsenal. Also up there are Liverpool (172), Everton (169), Aston Villa (163) and Manchester United (162).

Murphy's goal against the PL leaders was our 253rd against City, taking them level with Aston Villa as the team we've netted against most often. Next up are Everton (247), Arsenal (240) and Manchester United (232).

Only three teams have found the back of our net more times than the 262 hit by the Citizens; Manchester United (314), Liverpool (298) and Arsenal (265). Close behind are Everton (254) and Spurs (251).


Waffle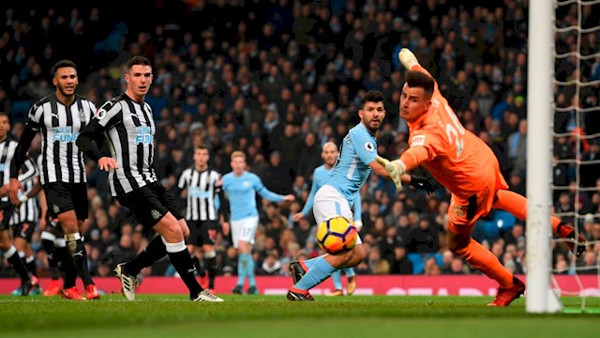 Although resisting the temptation to repost the match report from the last meeting 25 days earlier, it's fair to say that we didn't exactly have a spring in our step walking up the road to the Etihad Stadium for this Saturday teatime kickoff.

An unbeaten four game run since that single goal defeat at Gallowgate was always going to be tested beyond breaking point by a side with a rare free week in which to recover from their first defeat in 31 Premier League games.

Having gone through the whole of 2017 without losing on home soil, Pep Guardiola's side were the strongest of favourites to record their eleventh league victory here in 12 attempts this season.

What would have been Newcastle's third successive away win was rated at 22/1 by the bookies, while managing a clean sheet and snatching a 1-0 win weighed in at a colossal 50/1.

As was the case on Tyneside, the opening half hour was negotiated safely, albeit with a couple of scares, the biggest of which was a linesman's flag denying Raheem Sterling an opening goal by the slimmest of margins - one in the plus column when calculating a "level out over a season" stat....

In the event though we held out for only three minutes longer this time round before Karl Darlow picked the ball out of his net and Sergio Aguero wheeled away to celebrate a goal that multiple replays on the stadium screens failed to confirm that he'd actually scored.

It remained at 1-0 for almost another 30 minutes of play, Darlow preventing both Sterling and Kevin De Bruyne from netting despite City monopolising play (82%/18% was beamed across the stadium advertising screens, United in danger of spending less time in possession than the ballboys - who actually know what they're doing here, unlike the sponsors bairns that we routinely indulge).

The apparently decisive second goal failed to appear though until a debatable penalty decision gave Aguero ample opportunity to double his tally - Ayoze Perez stripped and ready to come on before referee Paul Tierney penalised Manquillo for making contact with Sterling.

With nothing to lose except goal difference, Newcastle then promptly got on the scoresheet themselves as Jacob Murphy showed pace and composure to score a goal to hopefully boost his confidence and standing going forward - and threaten to make a game of it here.

For quarter of an hour the roars coming from the away section were of encouragement rather than defiance, as the visitors enjoyed their best spell of the game and Darlow brought off another great fingertip block to deny De Bruyne.

Mo Diame came close to an unthinkable equaliser when his shot and follow-up were both blocked by Ederson, with Perez having another effort blocked by a defender in between. Hopefully that brief exchange did enough to register on the statistical scale and spare us from another week of ridicule for not being willing lambs to a City slaughter and ruining this televisual feast.

Dwight Gayle was brought on but by the time his golden chance to score came, Sergio Aguero had added to his incredible scoring record against United with a "perfect" hat-trick, adding a left footed shot to his header and right footer after some dazzling trickery from Leroy Sane.

Rather more away fans that witnessed the closing stages of our last game here remained to applaud their side at full time; defeated but certainly not disgraced and having avoided significant damage to what could be the vital factor of goal difference.

Results elsewhere were rather more positive than the previous weekend, meaning that we held on to fifteenth, three points off the top half and a single point above the relegation places. It remains incredibly tight down there with ten teams facing the genuine threat of demotion.

As far as we're aware though, none of those rivals have takeovers or bullying allegations clogging up their in-tray as they try to conclude their deals. And while some have been engaged in managerial negotiations, they've been of the hiring and firing variety, rather than thrashing out new deals.

Today - January 20th - was the optimistic deadline Rafa had set to have his transfer business for the month concluded. That it passed by without even getting Curtis Good off the payroll comes as little surprise to Toon watchers though: our previous experiences prompting cynicism rather than optimism over his chances of anything more than a partial success (Seydou Doumbia anyone?)

Putting Sunday's FA Cup interlude aside, we return to Premier League action against Burnley on the final day of January, which is also transfer deadline day. By then we may have a greater level of visibility - but it remains to be seen whether the view is any more enjoyable.

Biffa