Date: Saturday 7th April 2018, 3.00pm

Venue: King Power Stadium

Conditions: Life-affirming

Admission: £30 (£35 in 2015/16)

Programme: £3.50


Leicester City

Newcastle United

1 - 2

.

Teams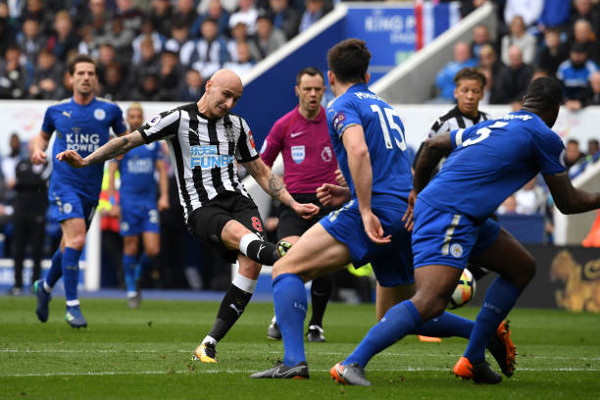 18 mins: Ayoze Perez was sent away down the left and although it looked like he'd held onto the ball for too long, played it back to Jonjo Shelvey in space on the edge of the box. Jonjo shaped to shoot but dummied two defenders before picking his spot and side-footing in from 20 yards, a slight deflection of Chirlwell's arm helping the ball to evade Schmeichel's dive.

The player later explained his spectacular celebration, saying that "It's because my whole family wear glasses. I am the only one who doesn't. It is a bit of banter between the family. I'd like to bring it out a lot more often than I do." 1-0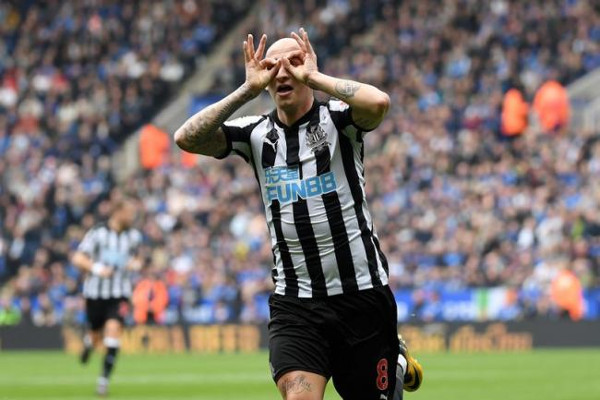 Half time: Foxes 0 Magpies 1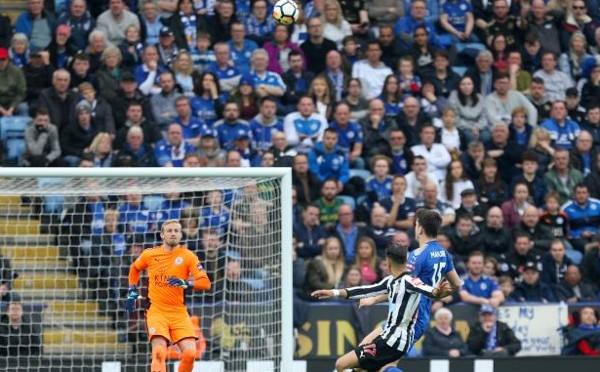 75 mins: Florian Lejeune hesitated to meet a loose ball but when the City midfield did the same, helobbed it forward over halfway towards Ayoze Perez. Defensive pair Harry Maguire and Wes Morgan left it for each other and Perez took advantage to perfectly clip the ball over Schmeichel with the outside of his foot, the ball bouncing on the goal line and into the back of the net.

The identity of the goalkeeper drew comparisons with the famous Philippe Albert lob over Kasper's old man Peter Schmeichel at SJP in October 1996, but the 2018 was a bit further out. Both were celebrated wildly by people old enough to know better 2-0.
83 mins: Some ball juggling on the left hand side of the United area by substitute Demerai Gray allowed him to lift a simple cross to the far post. Shinji Okazaki got between Lejeune and Christian Atsu and his header back across goal beat Martin Dubravka's dive. Jamie Vardy helped the ball over the line from a yard out. 2-1
Full time: Foxes 1 Magpies 2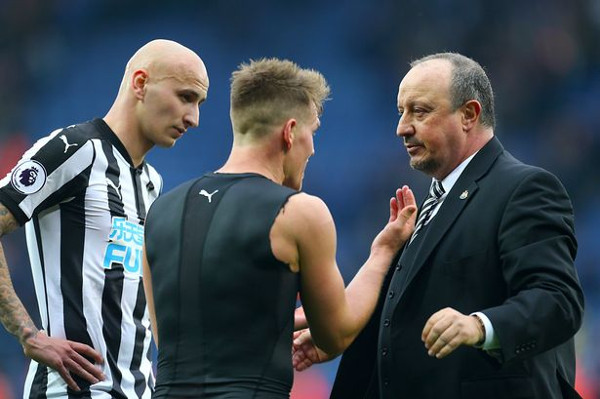 RB: always working - and conducting a post-match bebrief on the field
Rafa:

"I am really pleased. The players worked really hard, fighting for every single ball. Every single player was trying their best and that is what you need to do if you want to stay up.
"Obviously you always have a game plan, but it is down to the players - and they executed it very well. We managed a team with very good players really well.
"It was amazing, the effort of the players, the way they were working, creating chances and the connection with the fans, who were amazing too.

"Leicester are always dangerous, they have the players who can hurt you, but we had three or four counter attacks where we could have done better. You cannot complain. We are closer (to safety) but we have to carry on. Nearly, but we have to carry on.

"Yes, we're nearly there, but we have to carry on and get to the 40-point mark.

"Now, it depends on other teams and what they will do. So you've got 38, but with goal difference it could be 39. It's still difficult, but we have to try and get the 40-point mark.

"We are very close, but still need two more points Obviously we are closer than three hours ago. We will see next week."

On the seven 50/50 challenges his side won in quick succession:

"That's English football. Everyone was so pleased. I'm sure the TV will show that, because it's quite special. Maybe not for English football, but you don't see that in Spain, Italy or other countries.

"That shows the commitment of our players - no-one can say they weren't trying. They were trying really hard and their players were as well. We were stopping them, and, at the same time, we had some chances.

"The final pass let us down on occasions, but, overall, it was a great performance."

"I'm a teacher. I'm a PE teacher, so when you're teaching your pupils, your students, and then you're teaching players, coaching players, and they're getting better, it's the best feeling that you can have."

On whether Harry Maguire should have been sent off:

"I have had players sent off just for touching the face of a player. I cannot argue too much. And the main thing for us was the performance of the team, we deserved to win."


Claude Puel commented:

"It was not enough today. We wasted a fantastic opportunity for this team to believe in themselves. It was not enough in the first half, it was better in the second half with our reaction, but it's a shame. We will discuss together.

"We know when we play sometimes like today against a team with a strong defensive unit, we have to play quickly and with quality. It was too slow. We believe in ourselves to come back with a good mentality, hard work in training and prepare for our next game with a good feeling."

On Dummett's challenge on Mahrez:
"Yeah, he touched his foot, for me it is a penalty."

Newcastle recorded a first-ever victory at this venue and ended a run of five successive defeats to the Foxes in all competitions since a 1-0 win at Gallowgate back in October 2014.

Magpies @ Walkers / King Power Stadium:

2017/18 won 2-1 Shelvey, Perez
2015/16 lost 0-1
2014/15 lost 0-3
2014/15 lost 0-1 (FAC)
2009/10 drew 0-0
2003/04 drew 1-1 Ambrose

The Magpies won their fourth away game of the season in the Premier League, following on from successes at Swansea City (1-0), West Ham (3-2) and Stoke City (1-0).

With visits to Goodison Park (Everton), Vicarage Road (Watford) and Wembley Stadium (Spurs) yet to come, that's already better than the total managed on eight previous occasions in our PL history and equal to another four full campaigns:
9: 1993/94*, 2001/02
8: 2011/12
7: 1995/96, 2013/14
6: 1994/95*, 1996/97, 2002/03, 2005/06
5: 2010/11
4: 1998/99, 1999/00, 2000/01, 2006/07, 2017/18
3: 1997/98, 2004/05, 2007/08, 2014/15
2: 2003/04, 2008/09, 2012/13, 2015/16
(19 games in all seasons except *21 games)

Jonjo Shelvey scored his first Premier League goal for United, the 137th different Newcastle player to do so. His last PL goal was for previous club Swansea City during a 2-2 home draw against Bournemouth in November 2015.

Ayoze Perez scored his 17th Premier League goal for United and now goes level with Yohan Cabaye as our sixteenth highest scorer in that competition. The Spaniard's next target is Laurent Robert's tally of 22, then Kieron Dyer's 23.

The three points gained took Newcastle on to 444 away from home in the Premier League, added to the 777 at SJP. It's a good job that this isn't cricket, we'd be having to perform all sorts of one-legged gymnastics....

NUFC after 32 games - last eight PL seasons:
2008/09: 30 points, 18th (scored 37, conceded 52) (finished 18th)
2010/11: 39 points, 9th (scored 49, conceded 46) (finished 10th)
2011/12: 56 points, 5th (scored 48, conceded 42) (finished 5th)
2012/13: 36 points, 13th (scored 33, conceded 47) (finished 16th)
2013/14: 46 points, 9th (scored 38, conceded 47) (finished 10th)
2014/15: 35 points, 13th (scored 33, conceded 51) (finished 15th)
2015/16: 25 points, 19th (scored 32, conceded 61) (finished 18th)
2017/18: 38 points, 10th (scored 33, conceded 41) (finished ??)

Comparing this season to date with our three relegations from a 20 team top flight:

1988/89: W7, D10, L21. 20th, 31 points
2008/09: W7, D13, L18. 18th, 34 points
2015/16: W9, D10, L19. 18th, 37 points

2018/19: W10, D8, L14. 10th, 38 points to date
Waffle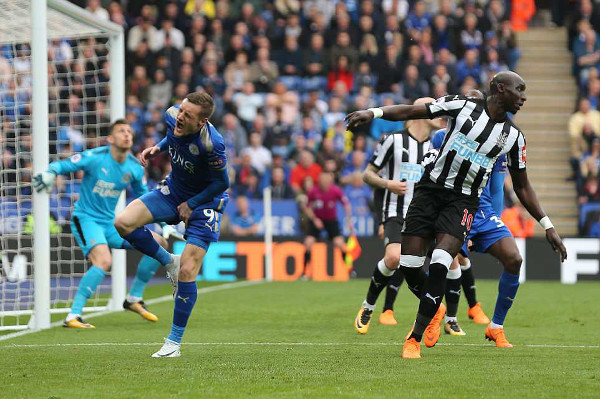 Jonjo Shelvey and Ayoze Perez scored the goals to all but secure Newcastle's top-flight status for another season on a memorable Saturday afternoon at the King Power Stadium.

Shelvey's first Premier League goal for the club gave United a thoroughly deserved half-time lead and just when the Foxes were pressing for an equaliser, Perez's superb lob over Kasper Schmeichel made it 2-0 with 15 minutes left.

Jamie Vardy gave the Foxes hope with an 83rd minute tap-in but United's resolute defence held firm from that point and after four minutes of added time referee Stuart Attwell's whistle sparked mass celebrations on and off the pitch.

Joined by Rafa Benitez, the players gathered in front of the away corner (as miserable groundstaff attempted to mow the pitch round them) and shirts were thrown into the crowd. Rafa's magic number of 40 points hasn't yet been reached, but to all intents and purposes the deed is done.

Meanwhile, home followers sloped off with their cardboard clappers folded away, the free beer distributed pre-game in celebration of their chairman's birthday having well and truly gone flat.

In stark contrast to previous visits here, United took the game to the hosts from the off and forced a series of corners that culminated in Perez testing the goalkeeper with a near post header. This Leicester side have now won none of their last four home games: we did our homework, chose our battles and profited handsomely: confidence and competence.

Our success came despite the sub-standard contribution of the referee (although one of his key decisions went in our favour). Not for the first time, Attwell was unable to make any meaningful decisions, including a certain red card for home defender Harry Maguire and what looked very much like a penalty for Paul Dummett's second half challenge on City's Riyad Mahrez.

Maguire clearly pushed Dwight Gayle in the face after our number nine had grappled with him, but as had been the case at St. James' Park last October when only booking ex-Magpie Yohan Cabaye Attwell bottled it again and showed yellow.

Remarkably, he also cautioned Jamaal Lascelles for his coming together with Maguire in the melee that followed - but avoided showing another yellow to the City man who had an equal part in it.

Those inconsistencies were then amplified 24 hours later, when Andre Marriner brandished his red card twice to punish what looked like less extreme examples of confrontation and contact. Had he been in charge here today, then it wouldn't have ended eleven against eleven.

Gayle was also flagged in the first half despite looking well onside when a fine Perez pass put him through on goal and after the break, an excellent free-kick from Gayle had Schmeichel scrambling but it narrowly flew over.

There were fine performances from the black and whites across the field - the three substitutes also contributing to the win as some of our passing verged on the miraculous.

Captain Jamaal Lascelles marshalling the back four superbly, once again Dummett played out of his skin and Martin Dubravka benefited from excellent cover in front of him. Once again, the goalkeeper commanded his area well and confidently claimed everything that came across his box, aside from the goal - his going to ground in possession of the ball a calming feature of the closing stages.

Shelvey was outstanding in midfield and Kenedy looked a class act with his pace and skill, but there wasn't a United player that didn't give their all. It's faintly ridiculous to recall that this team that went nine games without a single victory - they've barely looked back since winning at West Ham.

A great day then, and not just for finally beating this lot. Never mind wrecking our 125th anniversary celebrations at Gallowgate a few months back; our loathing of Leicester goes back to the bad old days of Filbert Street and remains undimmed by the passage of time. This was also memorable for those of us who remained unmoved when these plucky East Midland minnows won the title.

To hell with them though; there's clear evidence of progression in our side: of effort expended on the training ground and of lessons learned. That could be seen today when comparing the measured calm in the closing stages with the panic that saw us turn three points into one at Bournemouth.

If there was one passage of play that epitomised the competitiveness and commitment of this side, it came midway through the second half as a sequence of seven successive whole-hearted and successful challenges by Toon players drew ever-louder roars of approval from the away section.

That neatly encapsulated all that is currently positive about this club - fittingly coming at the same venue where the infamous "we don't demand a team that wins, we demand a club that tries" banner was displayed by malcontented Magpies back in 2015. The reaction at full time said it all.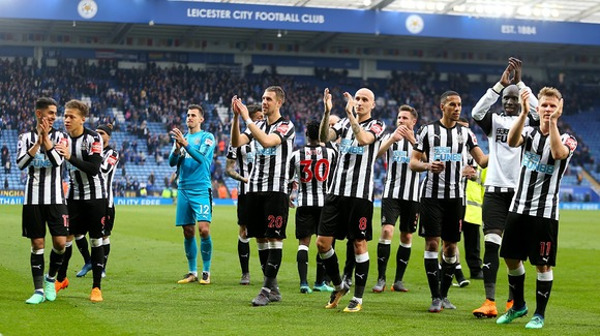 The likely lads

Biffa