Date: Saturday 11th August 2018, 12.30pm
Live on Sky Sports

Venue: St. James' Park

Conditions: Bright and sunny

Programme: £3






Newcastle United

Tottenham Hotspur

1 - 2

.

Teams
8 mins "Hawkeye" aka goal line technology confirmed that Christian Eriksen's flag kick from the South West corner that Davison Sanchez headed goalwards and Jan Vertonghen nodded on at the back post was just over the line as it hit Martin Dubravka's arm. The 'keeper had needlessly pushed a shot that was going well wide to concede the corner. 0-1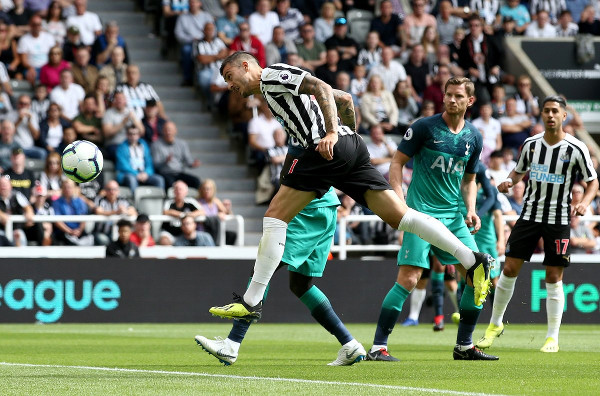 11 mins A speedy response came as Joselu met Matt Ritchie's superb right wing centre with a glancing header from close range at the Leazes End. 1-1

18 mins Serge Aurier received the ball and without further ado delivered an excellent right wing cross that Dele Alli headed in at the back post, Yedlin and Ritchie failing to track his run. 1-2

Half time: Magpies 1 Cockerels 2

Full time: Magpies 1 Cockerels 2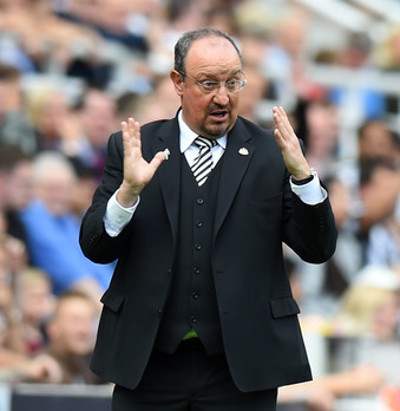 Rafa Benitez:
"I think we deserved more.

"The team worked hard against a very good side. We conceded and reacted well, and then went a goal behind again and showed good fight.
"We had to give something to the players that have been training for one month so it was the right thing to do. Now we have more time, and everybody has to fight for their place.

"You cannot complain about Joselu's work rate, and he got a goal which helped the team.
"We tried to change something and then we had a chance when (Salomon) Rondon hit the crossbar, but you can see the new players will need some time to settle and understand their team-mates.

"We were pushing them all the way. We were fighting until the end and we had some chances, especially in the second half against a good team.
"You could feel the fans had the belief that we could do something, so it was a pity.
"It's always important for the strikers to score. When you bring in new players it increases the competition, which was the idea.
"Also you can see the new players will need some time to understand their team-mates and what we want them to do but at least we have the competition.

"The difference in quality is what makes the difference. But my team didn't give up and that's a positive thing for the future.

"We made mistakes against very good players and it is difficult to stop them because of the way they pass the ball and move around the pitch.

"It is not easy when that have that quality, but we had chances to draw."
About Yedlin's injury:

"I don't really know. We'll have to wait and the doctor has to assess the injury. We will need some time to know exactly.

"We have our squad and if we do not have injuries we can manage. To lose Lejeune was not ideal and we will have to see what happens with DeAndre.
"Positions we were looking at in defence were the centre-back and the left full-back. But we couldn't find the left full-back we were looking for.
"Of course, Javier Manquillo can play on either side but he is a right footer so we wanted to sign someone with experience in the Premier League. Is it ideal? No."

About Ritchie's petulant reaction to being withdrawn:

"It is important to try to change things when you are not winning.
"I thought we needed a little bit of good movement between the lines and maybe someone who could make the right passes to get us into one-v-one situations.
"I thought Atsu might give us some pace. It was not the right thing in the end because we didn't get a goal, but you have to be able to compete. If the reaction is to work harder, that is perfect."

NUFC statement, Friday: co-signed by Lee Charnley, Rafa Benitez and Jamaal Lascelles:

Dear supporters,
As the transfer window closes and attentions turn to the start of the season, we wanted to make this joint statement, on behalf of everyone at the club.
Doing good business in a transfer window is about ending the window clearly stronger than when you started and we believe we have done this. The view we all share is that we have a better squad now than the one that finished tenth last season and all involved have worked tirelessly to make this happen.
Collectively, we must extend praise to Steve Nickson and his recruitment team. Their operations are year-round, but they have worked day and night in recent months to support efforts to enhance the squad.
We are all excited about the seven players who have joined us this summer. Their combined experience in the Premier League and at an international level – with three of them appearing at this summer's World Cup for their respective countries – cannot fail to strengthen us.
Martin Dúbravka and Kenedy have already proven themselves to be fantastic players here and we are confident that Ki Sung-yueng, Fabian Schär, Yoshinori Muto, Salomón Rondón and Federico Fernandez will be excellent additions to the dressing room.
Given our finishing position last season, we already had a team of players who were more than capable of performing well in the Premier League. They have shown heart, guts and determination and the inference that they are 'Championship' players and not good enough is unfair and untrue. The players all believe in themselves and in the quality of the squad, and we all believe in the players.
Now, it's about all of us pulling in the same direction, for the good of the club. This came through strongly in a recent positive call between our owner and senior members of the squad, who agreed that better dialogue going forward will benefit all parties and is in the best interests of the club.
With the transfer window now closed, the focus should be on unity and getting behind the efforts on the pitch.
We know our supporters are incredibly passionate and we know that passion will be channeled into supporting the players we have in black and white on Saturday, and every matchday thereafter home or away.
Lee Charnley, Managing Director
Rafa Benítez, Manager
Jamaal Lascelles, Captain

Asked about that club statement after the game, Rafa responded:

"I was trying to be positive to make sure that everybody sticks together. If you read what we said, it is not something different to what I was saying (to the press earlier the same day).
"We have finished the transfer window, we have to concentrate on doing the right things for the club and the team."
Pressed on whether the squad is 'without doubt' stronger after this transfer window:
"I want to say that the players we have brought in are good players. That is my thought.
"I want to support my players and give them the confidence and the belief that they can do it."

Mauricio Pochettino said:

"I'm so proud. I think the performance, under all the circumstances, was fantastic.

"It was a brilliant effort. We played against a very good team, who created chances to score more than one. But sometimes in football you need some luck.

"With the circumstances of preparing for this game we can only say it's a brilliant effort. We can do better of course. We need to play better, be more consistent and not allow the opponent to create chances, however, it was so difficult.

"It was a massive challenge to connect everything and work like a team in only a few days.

"It's not because they were at the World Cup, they are sure to play in the team. That is the most important thing: If we want to win something, if we want to challenge for big things, we all need to put our minds and energy into the collective and understand that the collective is the most important thing.

"If individual goals and targets are the priority for them, it's sure that they are not going to help the team and that is why they are going to be out of the squad."

About Harry Kane:

"For me, he is in his best form whether he scores or doesn't score.

"But he can't score three goals in every game."

There were debuts for Venezuelan Salomon Rondon and Japanese-born Yoshinori Muto, who became the 224th and 225th players to represent the club in the Premier League.

That 225 comprises of no less than 51 different nationalities, which will become 52 when South Korean Ki Sung-yeung makes his bow (NB: the following is calculated by birth country not international team represented).

England 87
France 30
Scotland 8
Spain 8
Ireland 6
Netherlands 6
Senegal 5
Argentina 4
Northern Ireland 4
Switzerland 4
USA 4
Wales 4
Brazil 3
DR Congo 3
Germany 3
Nigeria 3
Australia 2
Cameroon 2
Czech Republic 2
Denmark 2
Greece 2
Italy 2
Ivory Coast 2
Jamaica 2
Algeria 1
Angola 1
Belgium 1
Burundi 1
Canada 1
Central African Republic 1
Chile 1
Colombia 1
Croatia 1
Cyprus 1
Georgia 1
Ghana 1
Japan 1
Kosovo 1
Norway 1
Paraguay 1
Peru 1
Portugal 1
Serbia 1
Slovakia 1
Slovenia 1
South Africa 1
Sweden 1
Trinidad & Tobago 1
Turkey 1
Uruguay 1
Venezuela 1
Ending a barren run of 11 games, Joselu scored his fifth competitive Newcastle goal - all of which have come at St. James' Park in the Premier League. His 11th minute effort was the earliest that we've netted in a season since Charles N'Zogbia's 11th minute opener at Bolton back in 2007.

Seven of the 14 players in action against Spurs here a year ago featured again today - Clark, Dummett, Shelvey, Ritchie, Perez, Lascelles and Atsu. Elliot, Lejeune, Manquillo, Hayden, Gayle, Mbemba and Merino dropped out.

Nine of the 14 players who faced Chelsea here back in May saw service here - Dubravka, Yedlin, Lascelles, Dummett, Ritchie, Diame, Shelvey, Perez and Joselu. Lejeune, Murphy, Gayle, Hayden and
Haidara werent' involved.

Spurs in Toon: Premier League era:

2018/19 lost 1-2 Joselu
2017/18 lost 0-2
2015/16 won 5-1 Wijnaldum 2, Mitrovic, Janmaat, Aarons
2014/15 lost 1-3 Colback
2013/14 lost 0-4
2012/13 won 2-1 Ba, Ben Arfa
2011/12 drew 2-2 Ba, Sh.Ameobi
2010/11 drew 1-1 Coloccini
2008/09 won 2-1 N'Zogbia, Duff
2008/09 lost 1-2 Owen (LC)
2007/08 won 3-1 Martins, Cacapa, Milner
2006/07 won 3-1 Dyer, Martins, Parker
2005/06 won 3-1 Bowyer, Sh.Ameobi, Shearer
2004/05 won 1-0 Kluivert (FAC)
2004/05 lost 0-1
2003/04 won 4-0 Shearer 2, Robert 2
2002/03 won 2-1 Speed, Shearer
2001/02 lost 0-2
2000/01 won 2-0 Speed, Cordone
1999/00 won 6-1 Shearer 2, Speed, Dabizas, Ferguson, Dyer (FAC)
1999/00 won 2-1 Glass, Dabizas
1998/99 drew 1-1 Ketsbaia
1997/98 won 1-0 Barton
1996/97 won 7-1 Shearer 2, Ferdinand 2, Lee 2, Albert
1995/96 drew 1-1 Ferdinand
1994/95 drew 3-3 D.Peacock, Gillespie, Beardsley
1993/94 lost 0-1


Newcastle's 2
4th
Premier League season
commenced with a
tenth
opening day loss
, Rafa's side unable to boost the

club's
total of seven victories or seven draws:

1993/94 Spurs (h) lost 0-1
1994/95 Leicester City (a) won 3-1
1995/96 Coventry City (h) won 3-0
1996/97 Everton (a) lost 0-2
1997/98 Sheffield Wednesday (h) won 2-1
1998/99 Charlton Athletic (h) drew 0-0
1999/00 Aston Villa (h) lost 0-1
2000/01 Manchester United (a) lost 0-2
2001/02 Chelsea (a) drew 1-1
2002/03 West Ham (h) won 4-0
2003/04 Leeds United (a) drew 2-2
2004/05 smoggies (a) drew 2-2
2005/06 Arsenal (a) lost 0-2
2006/07 Wigan Athletic (h) won 2-1
2007/08 Bolton Wanderers (a) won 3-1
2008/09 Manchester United (a) drew 1-1
2010/11 Manchester United (a) lost 0-3
2011/12 Arsenal (h) drew 0-0
2012/13 Spurs (h) won 2-1
2013/14 Manchester City (a) lost 0-4
2014/15 Manchester City (a) lost 0-2
2015/16 Southampton (h) drew 2-2
2017/18 Spurs (h) lost 0-2
2018/19 Spurs (h) lost 1-2
Home comforts? First PL home game results:
1993/94 Spurs lost 0-1
1994/95 Coventry City won 4-0
1995/96 Coventry City won 3-0
1996/97 Wimbledon won 2-0
1997/98 Sheffield Wednesday won 2-1
1998/99 Charlton Athletic drew 0-0
1999/00 Aston Villa lost 0-1
2000/01 Derby County won 3-2
2001/02 mackems drew 1-1
2002/03 West Ham won 4-0
2003/04 Manchester United lost 1-2
2004/05 Spurs lost 0-1
2005/06 West Ham drew 0-0
2006/07 Wigan Athletic won 2-1
2007/08 Aston Villa drew 0-0
2008/09 Bolton Wanderers won 1-0
2010/11 Aston Villa won 6-0
2011/12 Arsenal drew 0-0
2012/13 Spurs won 2-1
2013/14 West Ham drew 0-0
2014/15 Manchester City lost 0-2
2015/16 Southampton drew 2-2
2017/18 Spurs (h) lost 0-2

2018/19 Spurs (h) lost 1-2
Waffle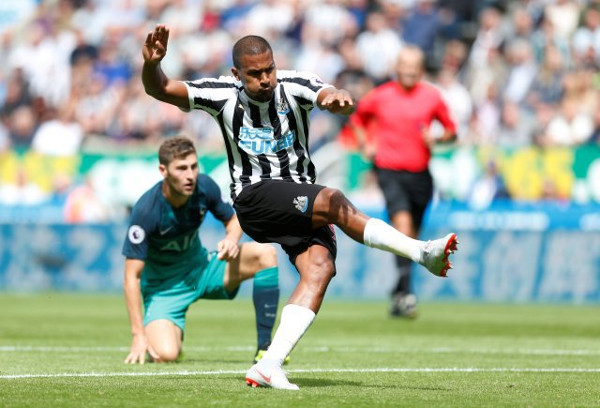 The outcome may have been the same as a year ago, but this year's clash of the Magpies and Cockerels on Tyneside was somewhat less calamitous than in 2017.

Rafa Benitez may have begun another season with a defeat, if nothing else though had the solace of his side score a goal and avoiding red cards this time. However, they failed to end the match with a full complement of players, a knee injury forcing DeAndre Yedlin off with all three substitutes used.

Two of those replacements were debutants; Salomon Rondon and Yoshinori Muto making their bow as Rafa rang the changes, having named a starting selection entirely composed of players who were at the club last season.

Blue skies greeted the green-clad visitors and they soon went ahead, goal line technology confirming that Jan Vertonghen's eighth minute header had crossed the line at the Gallowgate End.
From their first meaningful attack though Newcastle drew level, Joselu meeting Matt Ritchie's right wing centre with a glancing header from close range.

The third headed effort of the afternoon proved to be the most significant though, Dele Alli getting on the end of Serge Aurier's superb right wing cross on 18 minutes.

United struggled to regain parity again during the rest of the first half but then came mighty close thanks to an improved showing after the break - Mo Diame rattling a post and Kenedy foiled by Hugo Lloris when clean through after a splendid defence-splitting pass from Joselu.

Home goalkeeper Martin Dubravka wasn't to blame for either Spurs goal, but by his standards had an average game and struggled with his distribution. There was nothing wrong with his reflexes though on 56 minutes, making an instinctive block to deny old boy Moussa Sissoko from close range.

At the other end, Lloris similarly excelled when blocking an Ayoze Perez shot at the near post after a corner kick caused momentary confusion in the box.

United continued to look for what would have been a deserved equaliser in the closing stages, but aside from Rondon's 85th minute shot deflecting off Vertonghen and then the crossbar, they failed to seriously trouble the World Cup-winning custodian during the final quarter.

Playing against his former side, Yedlin went to ground chasing a through ball and the lull for him to have treatment on his knee as added time began saw our forward momentum ebb away.

Sadly, that injury provided an all-too instant reminder that hoping to survive a season without adequate cover is beyond optimistic - especially when they play in black and white stripes (with unlucky white socks).

This was a familiar outcome for United, who now haven't taken maximum points from any opening day fixture since beating Spurs here back in 2012.

With three of the seven summer signings yet to kick a ball competitively though and the two who featured today at less than full pace, there's scope for improvement and an expectation that we will be rather more incisive going forward.

We'd ventured the theory that this was perhaps a good time to play Spurs after their squad's mass participation in the latter stages of the World Cup and there was a suggestion that they were running out of steam in the closing stages. And although no equaliser arrived, we managed to give a side not dissimilar from that which finished third in the table last season something to ponder.

The importance of clinching signings earlier in the window though is underlined by our "work in progress" status and the fact that pre-season manoeuvres didn't allow players to work on forming new partnerships. Five nights in Portugal were great, dunno what the team got out of it....

The minutiae of our finances will continue to exercise many, as will a lack of clarity over what exactly what the infamous "every penny generated" sound bite amounts to in cash terms.

That is compounded by our declared fiscal policy of achieving best value by paying up front - a stance that looks to have resulted in cash-strapped Swansea City taking the £6m for Federico Fernandez rather than a higher figure on the never never.

Conversely, that arrangement isn't adhered to for player sales, meaning that only a down payment of £8-£10m on the Mitrovic sale has arrived so far, with the balance to follow in instalments. That was also the case for today's pantomime villain Moussa Sissoko though, so some money should be arriving in our bank account any time now from Spurs.

As ever, we don't help ourselves - be it allowing the manager to bellyache to his heart's content in pre-season or issuing self-congratulatory statements before a ball is kicked. That the sentiments expressed therein were already stated in harsher terms by the owner in his spat with a certain MP further diluted whatever notional benefit was meant to have been gained.

That there's under-investment in both squad and facilities is beyond doubt - at least when viewed through the prism of other clubs with a smaller profile regularly eclipsing our record transfer fee and committing serious finance to off-field projects.
The contractual stand-off is one thing, but whoever Rafa Benitez is replaced by next year will still benefit from better training facilities and an academy that's fit for purpose.

Finance remains seemingly but the deals have to be "right" - the business case for Jacob Murphy (England U21 international whose colleagues values were increasing) powerful enough to see funds released (We may find out next week however whether we signed the right brother.....)

Compare that to the club's reluctance to bet the farm on a permanent deal for Salomon Rondon, 29 in a month's time and supposedly only willing to leave West Brom permanently in return for signing a four year contract. And as for a wheelbarrow load of money to re-sign a Crystal Palace winger who had it away on his toes within seconds of our last relegation? No thanks.

Getting Rondon in on loan looks like a shrewd move and if he scores his quota then we've got a tricky decision in 2019, but maybe a younger player with some level of resale value would have been the right combination to open the Shirebrook safe? It didn't work with Kenedy admittedly, but his rumoured £30m sale price seems way beyond our wildest dreams - quite literally fantasy league.

The source of discontent remains not that the owner isn't pouring his own wonga into the club or siphoning cash directly from the coffers, but that we're prevented from maximising our revenues by the debt we're artificially saddled with as a division of Sports Direct - and commercially hamstrung for the same reason.

Add in people who should know better trying to score cheap points by linking Ashley's £90m deal for House of Fraser with our transfer surplus and the tiresome attempts of the "I like Mike" brigade on Sky and TalkSport to tell us that black is (Jim) white and the endless space-filling noise ultimately brings on madness.

Nonetheless, it's good to be back in the thick of it, and with a squad that is certainly no worse than last season - although a golden chance has been missed to break with a decade of tradition and actually try and progress to the point of achieving something more than staying up.

And if nothing else, our personal window wish list was granted - having stated in May that our three biggest transfer deals would be keeping hold of messrs Lascelles, Ritchie and Shelvey, it's a relief to see them all still here.

Regardless of who else did or didn't come, their form and influence will once again be pivotal.
Biffa