Date: Saturday 15th September 2018, 3.00pm

Venue: St. James' Park

Conditions: Mournful






Newcastle United

Arsenal

1 - 2

Teams
Half time: Magpies 0 Gunners 0

49 mins Alexandre Lacazette cleverly won a free-kick in a central spot 25 yards away from the Leazes goal but Federico Fernandez should have been wiser by not conceding in that position.

From first glance it appeared that Xhaka's left-footed dead ball effort was perfectly placed, but TV footage later suggested that Martin Dubravka would be disappointed not to have kept it out as he leapt to his left in vain 0-1

58 mins Xhaka found space down the Arsenal left and his pull back into the area teed up Lacazette, whose low first time effort was charged down by Fernandez. The rebound fell into the path of Mesut Ozil and he marked his first visit to SJP by passing it first time into the net.

The shot didn't look too powerful and was fairly central but the Magpies custodian may have been unsighted by a trio of his colleagues who were in his line of vision 0-2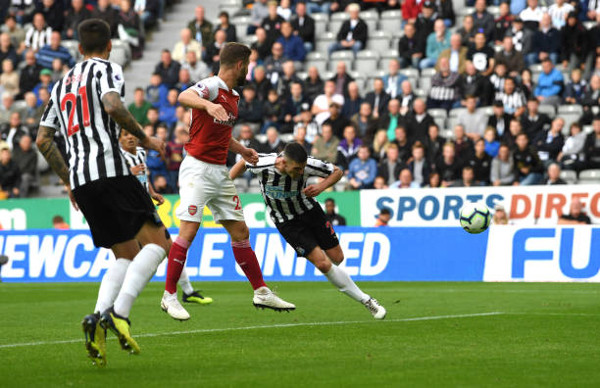 90+1 mins A pinpoint cross from Fernandez down the right found Clark's head and the power of the effort from the far corner of the six yard box meant that Cech could only help it into the net. 1-2
Full time: Magpies 1 Gunners 2
Rafa Benitez:
"Obviously we are disappointed because in the first half we did really well and deserved more. We were very close so the team is doing well in terms of organisation and in terms of work rate.
"We were much better on the ball, especially in the first half but still we have to improve that and keep the spirit.

"That is the key because we had this situation last year where we are losing games in a row and we finished tenth.
"That message has to be very clear for everyone. I have confidence in this group of players and hopefully we can start winning games soon.

"It's a pity after all these good things in the first half you concede two goals early in the second half, two moments of quality that make the difference.
"It was very difficult for us to react after this and when we scored the goal it was too late. When you play against a good side they have quality, they have pace and as soon as you make mistakes you pay for that.

"They told me they had two shots on target and they scored two goals. These things can happen when you have a good team in front of you.
"We have to realise that any team in the Premier League is very difficult for us. You can say these five teams at the top of the table were very dangerous but Crystal Palace, Leicester and Manchester United will be dangerous too.

"We will try to do things in the way that we did in the first half and we will have chances if we do that."
"To lose against the top sides and to lose by this margin is something that everybody could have expected. But still we are not happy with that, for sure.
"Itís something that we have to manage now and be sure that we keep the confidence and we keep working like we did in the first half.
"I will not talk about just possession because itís not an issue. For us, itís to be sure that you can be there, you can create chances and if you miss the last pass in the final third or this kind of situation, fine, but at least you are there and we were there.

"That is the main thing for me and the positive for the future, to try to manage the games and approach the games like we did in the first half.
"The second half, like I have said so many times, as soon as you make mistakes against the top sides, if you are a little bit wide, they can kill you on the counter attack.Ē

On Jamaal Lascelles:

"He twisted his ankle in the warm-up. Weíll see Ė the doctor said to check in a couple of days.

"He said he was fine but afterwards it was a problem for us because we were making one substitution already.
"In the second half when you concede two goals you need to change something but we were a little short of options. As soon as you have made one substitution already you can't react too much.
"We had five decisions to take: (Matt) Ritchie was fine, Jonjo (Shelvey) was not fully fit and Kenedy was not fully fit either.
"(Salomon) Rondon and (DeAndre) Yedlin came back late and we didnít want to take the risk with both of them.
"Joselu was doing well in the week so we thought it would be fine. (Isaac) Hayden, coming back with energy and desire, we thought he would be fine.Ē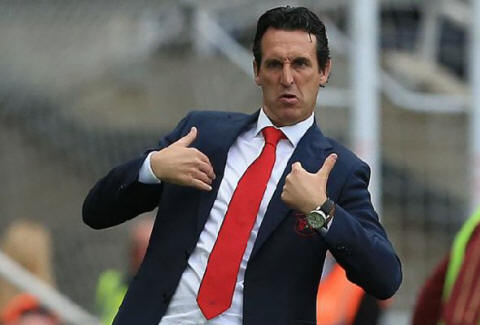 Knees-up madre Marrůn. Emery has turned into a proppa geezer already....

Unai Emery said:

"In the first half we didnít control the match like we wanted to. Also, we needed that control to input our ideas. We conceded a lot of chances for transitions and counter-attacks, but not giving away major chances. They had a lot of corners and a lot of possibilities to arrive in our box.

"In the second half, the balance on the pitch was better - our positioning and when we were attacking we didnít make the transition easy for us. I think the key is the first goal.

"This goal gave us the confidence to continue to improve in the match. We finished the match with the result.

"We need to improve and score more individually, we need we work every player, not only the attacking players the midfielders and centre backs from set pieces. We want to give them all a chance to score but normally all the attacking players will do more.

"Itís normal, I want the players I change or donít start to be angry, they have ambition to help the team.

About Ozil:

"For me I see the players are the same, each have quality. His [Ozilís] quality helps the team, it is important he scored.

"I want not only for him to assist we need him to go in the box and score like today. I will work with every player and continue our process to create the team as we want."

Newcastle have won just one of their last 10 Premier League fixtures (five last season, five this season) and have now lost three successive home games. Their worst losing run at SJP in the PL era came last season when they were beaten five times on the bounce in November/December.

One point from a possible 15 is United's worst opening to a Premier League season since Ruud Gullit's side began 1999/00 with the same return of four losses and one draw.

The Magpies have now started a PL campaign with three successive home defeats for the first time (Spurs 1-2, Chelsea 1-2, Arsenal 1-2). They last suffered that fate in the old First Division back in 1987/88 (Nottingham Forest 0-1, Wimbledon 1-2, Liverpool 1-4).

Four goals from the opening five PL games is the poorest scoring return since 2015/16 when Steve McClaren's mob managed two. Both of those figures were an improvement on the 2005/06 season under pundit par excellence Graeme Souness - one solitary goal. The 1993/94, 2008/09 and 2011/12 seasons also saw United score four times in the first five PL fixtures.

Ciaran Clark scored his sixth goal for Newcastle - and a third in the Premier League. He finished on the losing side for the first time in any of those games though.

Clark's late effort meant that Newcastle have netted in each of their opening three home PL games, something they haven't managed since 2012. And a fat lot of good it's done them.

Gunners @ SJP - Premier League era:

2018/19: Lost 1-2 Clark
2017/18: Won 2-1 Perez, Ritchie
2015/16: Lost 0-1
2014/15: Lost 1-2 Sissoko
2013/14: Lost 0-1
2012/13: Lost 0-1
2011/12: Drew 0-0
2010/11: Drew 4-4 Barton 2, Best, Tiote
2010/11: Lost 0-4 (LC)
2008/09: Lost 1-3 Martins
2007/08: Drew 1-1 S.Taylor
2006/07: Drew 0-0
2005/06: Won 1-0 Solano
2004/05: Lost 0-1
2003/04: Drew 0-0
2002/03: Drew 1-1 Robert
2001/02: Drew 1-1 Robert (FAC)
2001/02: Lost 0-2
2000/01: Drew 0-0
1999/00: Won 4-2 Speed 2, Shearer, Griffin
1998/99: Drew 1-1 Hamann
1997/98: Lost 0-1
1996/97: Lost 1-2 Shearer
1995/96: Won 2-0 Ginola, Ferdinand
1994/95: Won 1-0 Beardsley
1993/94: Won 2-0 Cole, Beardsley

Full record against Arsenal:
P

W

D

L

F

A

SJP

84

41

19

24

146

97

H/Em

83

22

17

44

86

143

League

167

63

36

68

232

240

SJP

(FA)

2

0

2

0

4

4

H/Em/W/VG

8

4

0

4

7

12

SJP

(LC)

1

0

0

1

0

4

H/Em

3

0

0

3

0

8

Cup

14

4

2

8

11

28

Tot

181

67

38

76

243

268
Waffle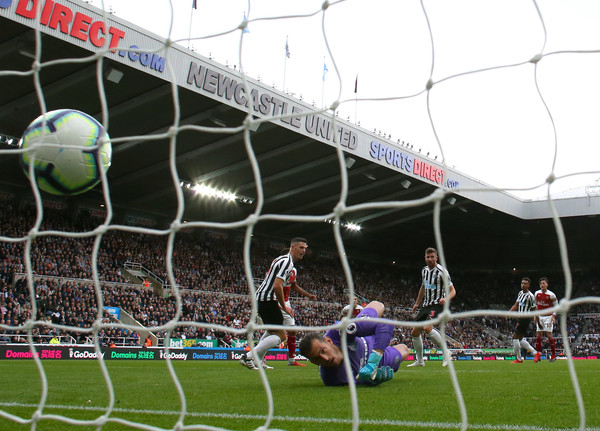 It's Geordie Groundhog Day again.

The days and the kick-off times may change, but the scoreline keeps repeating itself: losing at home to a London team by the odd goal in three.

Today's 1-2 defeat differed from those suffered here at the hands of Spurs and Chelsea this season, in that once we'd conceded the game was over - no equaliser here, no false hopes raised only to be dashed, all that was lacking was a white flag on a stick.

Bemused at conceding, Newcastle's collective haze hadn't cleared nine minutes later when the visitors scored again. What followed was far too little, far too late to dislodge a more expensive yet less impressive Arsenal side than usually seen round these parts. They looked there to be beaten.

Our best period today was an opening 45 minutes in which we followed the stay in the game mantra but also remembered to attack, pressing to a level that caused the visitors visible discomfort. Sadly and significantly though, our reward was nothing more than an abundance of wasted corners.

The loss of Jamaal Lascelles at that point with an ankle problem sustained in the warm up was to be a mortal blow, his absence felt not just in terms of defensive work and organisation but in his very presence on the field. Without him we just seemed to throw the towel in.

That apparent indifference to our fate among the players was mirrored in the stands, with not a shred of fight or defiance to be found. Squeezed out of the body, leaving just a corpse - dressed with Sports Direct branding and ever-more distracting adverts flashing round the playing surface.

St. James' Park was hardly rocking during the Spurs and Chelsea games, but the atmosphere was one hell of a lot better than this moribund apology for a football crowd. Even chants against the owner that occasionally punctured the virtual silence quickly withered and died in the second half.
Mutterings of discontent had begun pre-game with the announcement of a starting lineup that yet again didn't include Salomon Rondon - recently returned from playing meaningless friendlies for Venezuela in Miami and Panama and deemed not to be in good enough condition as a consequence.

The number 9 was on the bench but didn't get to add to his 84 minutes in our colours to date, in part due to the forced replacement of Lascelles by Ciaran Clark. That left us with just two swaps to play with and there were many candidates for the hook - including the entire midfield.
0-2 down and worryingly ragged, the arrival of Kenedy for Murphy and Yoshinori Muto for Ritchie (who had been angling to come off for some time) did nowt to suggest there was any way back - the Brazilian especially wayward, prompting more attacks for the visitors than his current side.

Further Arsenal goals that had seemed inevitable failed to arrive, but still a half-hearted Newcastle failed to make any impression until the final moments of play. Cech's save from Joselu was then followed by Clark's fine header from an excellent centre by fellow defender Fernandez.

And even then, Arsenal were able to see out the final few seconds - aided by our embarrassing inability to get the ball into the opposition half. Urgency clearly isn't in our collective vocabulary.

Almost inevitably, the Arsenal 4-4 game in 2011 was mentioned during a lively post-match inquest (brought to you by our sponsors Brinkburn Street Brewery), recalling the never-say-die spirit that made the unlikeliest of fight backs possible and gave the crowd something to cling on to and cheer.

What was absent from the current crop today though was the sort of belligerence that won two penalties and had a visiting player heading for an early bath. Getting into the opposition area might also have helped....

Memories of times past extended to another 1-2 reverse here, almost ten years to the day, when the latest post-Kevin Keegan era began with defeat to Hull City. That took place amid a poisonous atmosphere outside the ground and one devoid of anything inside. Not far off today then really.

The wasted decade between brought us to where we are now, once again a club at war - something that has a bit of a track record of ending badly. 1988/89, 2008/09.....

And when it's wrong here, it's knacked good and proper: if there's something to cheer on the field, that's often enough to gloss over our many other shortcomings. If not, then everything is wrong. Be it the temperature of the pies, subliminal messages in the SJP DJs set list or the colour of the netty walls, it's all a disgrace.

There's a current social media trend of highlighting the crumbling facilities in SJP, but had twitter been around in the 1980s, the state of Gallowgate bogs would have had Mťdecins Sans FrontiŤres treating people for trench foot. Not that those who inhabited them were particularly bothered if Peter Beardsley or Chris Waddle were on form.

People are now noticing that roofs are leaking and seats are broken partly because they spend so much time slumped in them - with nothing happening on the pitch to bring them to their feet.

It's difficult to argue against the size of the task that the fixture list presented us with this time round - except when looking back at where we actually got our points from last season. On that basis, the apparently "easier" games that now await us are nothing of the sort.

Similarly, the first-choice XI (if it exists) is yet to start a match, but receiving weekly regular reminders that what lies beneath it is as uninspiring as was feared does little to lift spirits.

If another week of rest results in Shelvey pinging balls in for Rondon to batter the Crystal Palace defence on Saturday then rest assured they'll all be toasted in London Pride.

If not though, it's rather easier to bemoan the lack of instinctive movement and the inability to complete simple passes by their understudies - and a succession of mediocre signings unsurprisingly giving mediocre performances.

This latest loss isn't a disaster, but one point from the first 15 available tells a story of time rapidly running out. The sequence may be seen as a triumph for our goal difference in time - but only if we have enough points for that to count at the business end of the season.

We go to Selhurst Park separated from the bottom of the table by goal difference, desperately in need of points and also a demonstration that there's stomach for the fight and enough talent and application to trade blows meaningfully.

Judged by the second half capitulation today, there's genuine doubt it exists.

Biffa/Niall