Date: Tuesday 15th January 2019, 7.45pm
Live on BT Sport

Venue: Ewood Park

Conditions: Elongated

Admission: £10 (£20 on matchday)

Programme: £3






Blackburn Rovers

Newcastle United

2 - 4
(aet)

.

Teams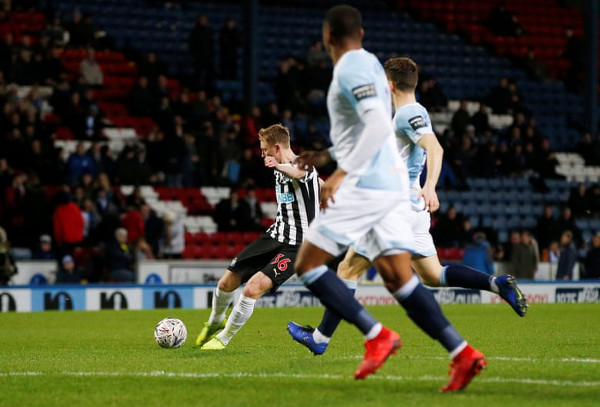 56 seconds Joselu laid the ball back to Sean Longstaff who was in space approaching the box. Without further ado, the midfielder hit a powerful shot that was on target but took a significant deflection off a home player, ending up in the net with David Raya Martin helpless. 1-0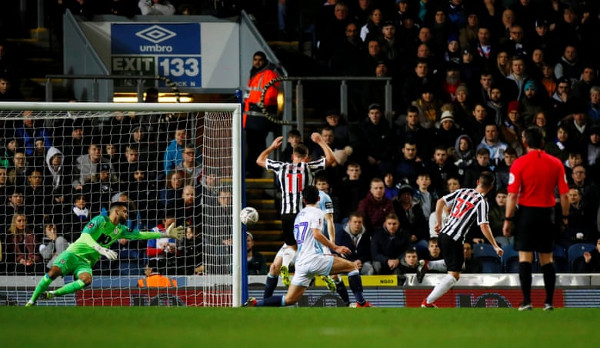 22 mins Freddie Woodman's long clearance downfield was flicked on over halfway by Joselu, who just got ahead of Amari Bell to set Jacob Murphy away down the right. His initial shot was parried, but he collected the ball again, turned inside towards the byline and crossed to the near post for Callum Roberts to guide a volley into the net from around eight yards. 2-0

33 mins Jeered for his mackem "previous", Danny Graham brought down a long diagonal ball on the edge of the box before playing in Adam Armstrong. The former Magpie steered the ball under Freddie Woodman - who got a touch - and inside the far post. Turning away from the visiting fans, Arma briefly celebrated before running back into his own half 2-1

45+1 mins Harrison Reed's corner from the right found the head of Darragh Lenihan who had timed his run and nodded firmly past Woodman. His challenge on Longstaff could have been a foul but from behind, referee Lee Probert saw no infringement. 2-2

Half time: Rovers 2 Magpies 2
Full time: Rovers 2 Magpies 2

Extra-time: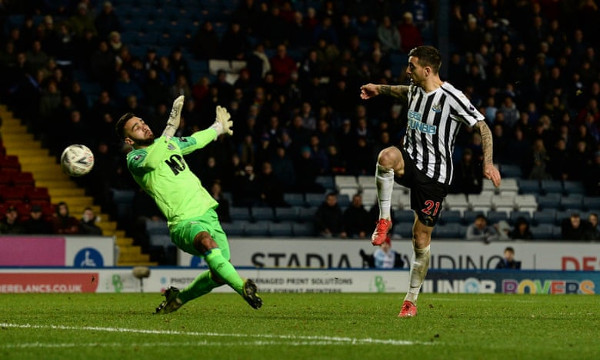 105+3 mins Schar's long shot was only parried by Raya into the path of Joselu who tucked the ball home from a central position around ten yards out. Video replays showed the Spaniard to be offside when the first shot was hit. 3-2

Half time: Rovers 2 Magpies 3

Half time of extra time: Rovers 2 Magpies 3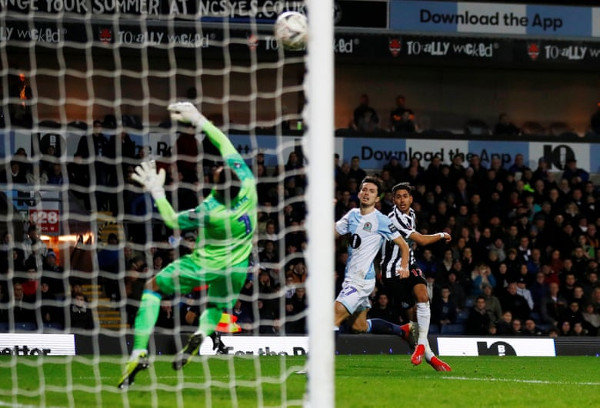 107 mins United broke forward down their right, Matt Ritchie and Joselu exchanging passes before the former found Ayoze Perez galloping forward. Continuing his run into the Rovers area, he then
humped the ball high into the Darwen End net before celebrating with his fingers in his ears again, quickly breaking into a grin and then saluting the away fans by punching the air. 4-2

Full time: Rovers 2 Magpies 4

Full time of extra time: Rovers 2 Magpies 4
Rafa Benitez:

"We went 2-0 up and then Blackburn did well, but we reacted so I'm pleased with the effort and the commitment of the players.
"The young players did well, and the main thing was that everybody was giving 100% for each other and that is what we did.
"The commitment and the team effort is there and you have to be pleased and carry confidence forward when you score four goals. The main thing is to get three points against Cardiff (at SJP on Saturday).

"I think it's important to win, to score four goals and to go through. So I'm really pleased with that.

"At the same time you have some problems and maybe you will lose some players – hopefully not, we will see in a couple of days how they are.

"But OK, we won, and everybody has to be happy now and hopefully also it will help for the confidence of the players.

"After conceding and reacting like we did, as a manager I have to be really pleased with them.

"You wanted to win, you needed to win and to do it with the character they showed, with the reaction, and four goals
: young players scoring goals, Joselu and Ayoze scoring goals, players who needed to score – that has to be good for the confidence of the team."


Was Joselu scoring despite being offside lucky?:


"No, I don't think that was luck.
"I think the second goal before was a foul against one of our players, and a free kick, and then they score.

"These things can happen; in this case we scored the third goal.

"You can complain if you want, but I think overall we scored four goals, so it's difficult to complain about that."
On debut scorers Sean Longstaff and Callum Roberts:

"We know the two of them who scored quite well so it's really important to see young players coming through from the academy doing a good job. It's not easy, you have to invest and produce and improve. I feel like we are doing that.
"I'm sure the staff who have worked with them for a long time will be pleased for them. It's not just the commitment they had in the game, they both played well too and looked good on the ball.

"I think everyone when you score you have to be happy but when it's a young player you are happier. That's how we are all feeling after seeing them score at Blackburn."
On Ciaran Clark:

"I don't think it is very serious. It was a kick to his knee, an inflammation, but we will see in a couple of days."

On Jamaal Lascelles:
"We have to wait and it is too early. It is a hamstring and you never know."
On Kenedy:
"He had a problem with his nail and the reality is he cannot put boots on - as soon as he puts the boots on, he is feeling pain. He is getting better and I think in one or two days he will be OK."

On the prospect of an FA Cup run:

"Before this game, with the team selection, we have a squad that are trying to get through, and if we can do it the same way in the next round we will be pleased with that."

Tony Mowbray:

"The third goal was clearly offside and it's unfortunate that the officials didn't get that right.
"It's strange that within the same tie, a home and away game, you can have VAR in one and not in the other
I would have to suggest that if it's two teams who aren't Premier League teams then you don't use VAR in the first one. It's almost creates an advantage.
VAR here would obviously have chalked that third goal off. I don't want to make a big thing of it, but it was a big thing because it's a goal that meant we had to go chasing a game that we otherwise wouldn't.
"The last 15 minutes we went chasing the game and left ourselves a bit exposed.
"Generally it was a good effort from our team, one that was hugely changed. It wasn't until this afternoon that we knew about Jack Rodwell.
"I spoke to Paul Downing on the phone, he wasn't ready for Saturday when we sent him on and he felt washed out, as you do when you have the illness he's had, no energy.
"With Charlie (Mulgrew) and Derrick (Williams) not available, that's four centre halves unavailable.

"So we went with a back three that we hadn't been playing or done any work on. We hadn't shown them about defending certain ways and it was frustrating that we were playing a new formation and 2-0 down so early on.
"We acclimatised and as you might suspect, with the spirit of this team, got back in the game.
"To lose it in the way we did was frustrating for us.
"I look at the small details of how the goals went in and we have to be better.
"The third goal is offside, but there's things we have to work on. You can't concede four goals at home and expect to win football matches.
"Yet it was a totally new formation thrown at us through necessity.
"Joe Grayson played 90 minutes for the U23s against Derby the night before, Dan Butterworth has been with us while he's been suspended for the U23s.

"We're a bit stretched with illness and injuries.

Bradley (Dack) sat on the bench because he wasn't well this morning. Yet I don't like to only use six substitutes so we went with some young boys and Bradley who was a bit ill."

On Adam Armstrong:

"I'm delighted for Adam. He's had a good week.

"He puts in a lot of hard work and was so threatening down that left flank. We didn't necessarily play him on the wing, but he puts a shift in most weeks, puts in a lot of work for little reward. He doesn't have the goals of (Danny) Graham or (Bradley) Dack.

"I'm pleased to see him get the rewards this week. His pace can take him past defences and get him into areas. He gets into that assist zone in and around the penalty area, creating chances and causing problems."

Adam Armstrong:

"It's a disappointing dressing room but I think the lads gave it everything we've got against a Premier League club. It was a dodgy start, the first goal took a massive deflection.
"Everyone put in the effort and the lads played a lot of minutes. Going to extra time isn't nice, but we switched off, and they punished us.
"The performance showed how far we've come. Last season we got promoted from League One and now we taking a Premier League team all the way. We know we need to kick on.
"We now just need to put it behind us and get three points on Saturday."
On the applause from the away end when he was replaced:

"That's Newcastle fans through and through. I am one myself, and it was a nice feeling to score.

"It was a goal to get us back in the game so I tried to get the ball as quickly as possible and go again, but we have to put the game behind us and move on."

Rafa's side won for the first time in seven attempts.

This was only United's sixth victory in 21 FA Cup games since Mike Ashley took over. Victory over Watford at SJP on Saturday week would see United feature in the Fifth Round for the first time since 2006.

Newcastle won away from home for the first time in this competition since their 2-0 Fourth Round success at Cheltenham Town back in January 2006.

Some reference points from that day: Graeme Souness was in charge, Michael Chopra and Scott Parker were both on target and Alan Shearer played. Tonight's first goalscorer Sean Longstaff was eight years old....

This Ewood win halted a run of 15 winless ties on opposition soil since that day at Whaddon Road:

2018/19 R3 Blackburn Rovers won 4-2
2017/18 R4 Chelsea lost 0-3
2016/17 R4 Oxford United lost 0-3
2016/17 R3 Birmingham City drew 1-1
2015/16 R3 Watford lost 0-1
2014/15 R3 Leicester City lost 0-1
2012/13 R3 Brighton and Hove Albion lost 0-2
2011/12 R4 Brighton and Hove Albion lost 0-1
2010/11 R3 Stevenage lost 1-3
2009/10 R3 Plymouth Argyle drew 0-0
2009/10 R4 West Bromwich Albion lost 2-4
2008/09 R3 Hull City drew 0-0
2007/08 R3 Stoke City drew 0-0
2007/08 R4 Arsenal lost 0-3
2006/07 R3 Birmingham City drew 2-2
2005/06 R6 Chelsea lost 0-1
2005/06 R4 Cheltenham Town won 2-0

Newcastle scored four times in an FA Cup tie for the first time since recording a 4-1 Third Round replay victory against Stoke City in January 2008. And like this game, we had four different goalscorers that night (messrs Owen, Cacapa, Milner and Duff).

The last time they managed bag four goals away from home in this competition tie was during a Fourth Round tie at Peterborough United in January 2002.

This was United's first victory in extra time since the Semi-Final success against Spurs at Old Trafford in April 1999 - Alan Shearer's 109th minute penalty and 118th minute strike handing his side a 2-0 win.

The Magpies hit more than two goals for the first time this season and matched their combined output in their most recent seven league and cup outings.

Callum Roberts marked his first competitive start for Newcastle with a debut strike - his first in senior football*. The 21 year-old's only other competitive game for United was from the bench in an FA Cup Third Round loss at Leicester City back in January 2015.

Sean Longstaff scored his first senior competitive goal for United on what was his fifth Magpies appearance. That was his first in the FA Cup and the twelfth in his career (including three on loan at Kilmarnock and eight on loan at Blackpool*).

* not including Checkatrade Trophy goals.

Longstaff's opener was timed at 56 seconds, making it the quickest NUFC senior goal in all competitions since Ayoze Perez took 23 seconds to register at Norwich City in the Championship in February 2017.

In terms of the FA Cup, the last one we can find that was possibly even more rapid came courtesy Wyn Davies in the opening minute of a 4-3 Third Round victory over Coventry City at Highfield Road back in January 1967.

Between that one and Longstaff's effort, our quickest FA Cup goals were by Paul Goddard at home to Northampton Town in January 1987 and Alan Shearer at Stevenage Borough in January 1998 - both timed at three minutes.

Ayoze Perez collected his third FA Cup goal, extending his club tally in all competitions to 38.

Joselu scored his first goal in this competition, taking his career total at the club to seven - the other six all coming in the Premier League. His most recent goal was at home to Chelsea in August 2018 - tonight's ending a barren run of 13 games. It was also first goal away from SJP.

The introduction of Christian Atsu made him the first Magpie to appear in the FA Cup as a fourth substitute, thanks to a rule change in this competition allowing an additional replacement once 90 minutes of a replay has elapsed and the tie has proceeded to extra time.

The same rule meant that Joselu came off the bench as a fourth substitute in the League Cup at home to Nottingham Forest last season.

Magpies @ Ewood - last 10:

2018/19 Won 4-2 (aet) Longstaff, Roberts, Joselu, Perez (FAC)
2016/17 Lost 0-1
2011/12 Won 2-0 OG, Obertan
2011/12 Lost 3-4 Guthrie, Cabaye, Lovenkrands (LC)
2010/11 Drew 0-0
2008/09 Lost 0-3
2007/08 Lost 1-3 Martins
2006/07 Won 3-1 Martins 2, S.Taylor
2005/06 Won 3-0 Shearer, Owen, N'Zogbia
2004/05 Drew 2-2 Dyer, Robert

NUFC v BR - FAC all-time:

2018/19 FAC3 drew 1-1 (h) won replay 4-2 (aet) (a)
2011/12 FAC3 won 2-1 (h)
1999/00 FAC5 won 2-1 (a)
1998/99 FAC5 drew 0-0 (h) won replay 1-0 (a)
1994/95 FAC3 drew 1-1 (h) won replay 2-1 (a)
1992/93 FAC5 lost 0-1 (a)
1951/52 SF drew 0-0 (n) won replay 2-1 (n)
1927/28 R3 lost 1-4 (a)
1909/10 R3 won 3-1 (h)

NUFC last 10 FAC3 replays:

2018/19 Blackburn Rovers (a) won 4-2 (aet)
2016/17 Birmingham City (h) won 3-1
2009/10 Plymouth Argyle (h) won 3-0
2008/09 Hull City (h) lost 0-1
2007/08 Stoke City (h) won 4-1
2006/07 Birmingham City (h) lost 1-5
2000/01 Aston Villa (a) lost 0-1
1999/00 Spurs (h) won 6-1
1996/97 Charlton Athletic (h) won 2-1
1995/96 Chelsea (h) drew 2-2 (lost 2-4 pens)



Waffle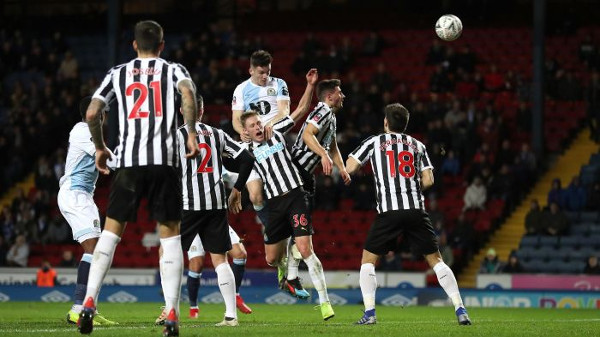 A game that nobody wanted turned out to be rather more enjoyable than anticipated - and a significant improvement on our 0-1 loss here in the Championship just over two years ago.

Although exiting the FA Cup would probably be both logical and advisable given our current league plight, defeat to lower league opposition would have further darkened the mood around the club.

An abundance of spare places in the away section and limited take up of supporter buses underlined that attending tonight came into the contractual obligation category - something that BT's decision to televise the replay live did nothing to improve.

Nobody of sound mind in the Darwen End could have travelled in expectation of an away victory; a trail of broken dreams stretching from Brighton to Tyneside via Oxford, Stevenage and other locations too awful to recall since our last FA Cup away win a mere thirteen years ago.

That embarrassing record was banished tonight, victory lining up a Fourth Round home tie with Watford and the opportunity to ascend to the dizzy heights of the Fifth Round for the first time since Freddy Shepherd was in the boardroom and Alan Shearer was leading the forward line.

Recollections of previous Geordie invasions at this venue when the Darwen End was bursting at the seams were strong; Messrs Saha, Clark, Hottiger and Wor Al exuberantly celebrated. Given the frequency that goals came along tonight though, our 3-4 League Cup loss in 2011 came to mind, penalties seemingly inevitable until Rovers won that one in the final seconds of extra time.

The opening stages of the game seemed to hark back to a previous age also; Newcastle quickly netting twice; locally-born Shaun Longstaff's shot taking a significant deflection before fellow U23 graduate Callum Roberts - deployed in a central midfield role - took his chance well from closer in.

The hosts replied through fellow Newcastle Academy product Adam Armstrong, who took a pass from Tynesider Danny Graham and prodded the ball beyond former reserve colleague Freddie Woodman.

United's lead was wiped out in first half added time when Darragh Lenihan headed in from a corner and United were forced into a half time substitution after Clark reported a knee problem, having just returned from ankle trouble at the weekend.

His replacement Lascelles then pulled up with a hamstring tweak while chasing an over-hit pass out of play, bemusingly hobbling around for almost ten minutes before Isaac Hayden replaced him. The body language between manager and captain as the latter limped off was concerning - all is not well with our skipper, physically or emotionally, this season.

Makeshift midfielder Fabian Schar reverted back to the centre of defence with Federico Fernandez as both sides struggled to find a winner in the remainder of normal time.

Having put his side ahead at Gallowgate, Bradley Dack (unwell rather than rested tonight) came off the bench to side foot wide when presented with a gilt-edged chance. His day to forget would worsen further post-match, thieves making off with two cars from outside his house in Salford.

The unwanted 30 minutes of extra-time duly arrived, Newcastle's side increasingly composed of walking wounded and the merely knackered (not including human dynamo Matt Ritchie).

Into the mix came Ayoze Perez but it was his fellow countryman Joselu who restored our advantage - having endured a second roughing-up from those nasty Rovers boys. The former Stoke player was on hand to tuck home a rebound in the third added minute of the first period though (two were signalled) when Raya blocked Schar's fierce shot. TV confirmed he was offside, but unlike the first game at SJP, VAR wasn't operational for the replay and we benefited accordingly.

Perez secured the victory in the 107th minute, lashing home a shot from a tight angle in front of the travelling support in the Darwen End, a goal that ended the tie as a meaningful contest - United subsequently making and missing a handful of opportunities to increase their goal tally further.

We've frequently suffered post cup tie hangovers in the form of needless suspensions but tonight's custard pie was an expansion to an injury list that was already giving cause for concern.

Rather than being rotated, Paul Dummett, Jonjo Shelvey, Kenedy and Mo Diame were all genuinely unavailable and by the end of 120 minutes had been joined by Jamaal Lascelles and Ciaran Clark - with another three others looking to have played on despite picking up strains and knocks.

Despite the welcome victory, shortcomings in personnel ramp the pressure up on Benitez, who is also without Ki and Muto due to Asian Cup duty. In fairness though, we've hardly covered ourselves in glory this season despite having a smaller proportion of the squad in the treatment room than usual.

For once we also enjoyed some overdue good fortune in addition to the deflected opener and absence of VAR or an eagle-eyed linesman for the third goal. Charlie Mulgrew wasn't fit enough to play and the delivery into the box from our nemesis in the previous two meetings was missed.

Freddie Woodman, Jamie Sterry, Sean Longstaff and Callum Roberts all started while a number of regular league bench-warmers were also included. None could be faulted for their effort, and in Longstaff there's genuine hope for the future if properly handled. In the case of Jacob Murphy, the additional time he had on the ball compared to in the top-flight merely amplified his shortcomings.

The long-held shortcomings of our development systems haven't suddenly been solved. This isn't the class of '19 regardless of how much fans (and the club bean counters) desire it and an upturn in fortunes for the U23s this season has to be viewed in the context of arresting a steady decline.

Safely out of this competition at the first time of asking and with a free week to prepare for their visit to Tyneside on Saturday, Neil Warnock's Cardiff City no doubt took great delight in seeing this replay extend to 120 minute as players started to drop like flies.

Regardless of medical concerns though, this outcome has to be seen as a success - boosting morale on and off the field and giving a pertinent reminder of the benefits of actually having a shot.

Scoring four goals is rare enough for United - bagging any from open play uncommon, all four almost unheard of. Until Longstaff's opener, none of our 18 goals had come from outside the area and we then did it again: Schar shooting from similar distance to prompt Joselu's goal. Tickets, lottery.

Similarly, our tally of 22 shots (10 on target) compares favourably to the 0-0 PL home draw against Fulham a month earlier, when United managed just nine shots and none on target.

Tonight was a fleeting relief from the ongoing slog of the league and ongoing off-field miserablism.

Whatever hope, confidence or optimism that can be extracted is important, but in no way any replacement for the necessary investment in first team players or the development squad.

Although played as an FA Cup tie, this was a Championship fixture in everything but name - and a glimpse of an unpalatable future if we're not careful. Our last two relegations may have been followed by immediate returns, but that's certainly not a given, as tonight's hosts can testify.


Biffa