Date: Tuesday 29th January 2019, 8.00pm
Live on BT Sports

Venue: St. James' Park

Conditions: Incredulous







Newcastle United

Manchester City

2 - 1

.

Teams
24 secs Newcastle got the game underway attacking the Leazes End and had plenty of men going forward when a long punt upfield from DeAndre Yedlin came straight back via a neat exchange between Sergio Aguero and David Silva in the centre circle.

Raheem Sterling took possession towards the right of the Newcastle box and before sending over a diagonal ball to Silva, sliding in towards the far post. He got there ahead of Martin Dubravka, sending him flying as the ball was headed back across goal for Sergio Aguero to volley in from six yards. 0-1
Half time: Magpies 0 Citizens 1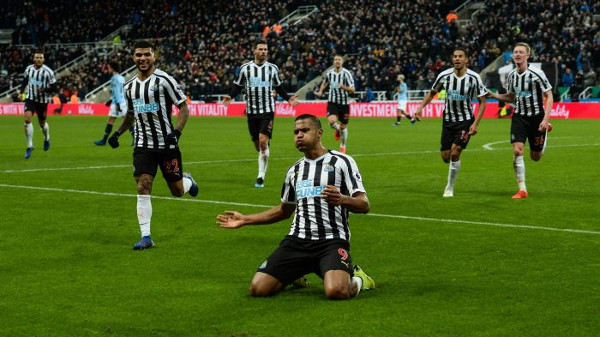 Ron, Geordie, Ron
66 mins Matt Ritchie broke upfield on the left and his centre was headed out by Fernandinho but only to Isaac Hayden, who returned it goalwards for both Salomon Rondon and Christian Atsu to pursue it through a crowd of defenders.

The Venezuelan forward got to it first and steered the ball into the ground from just outside the six yard box, seeing his effort bounce up and eluded goalkeeper Ederson. 1-1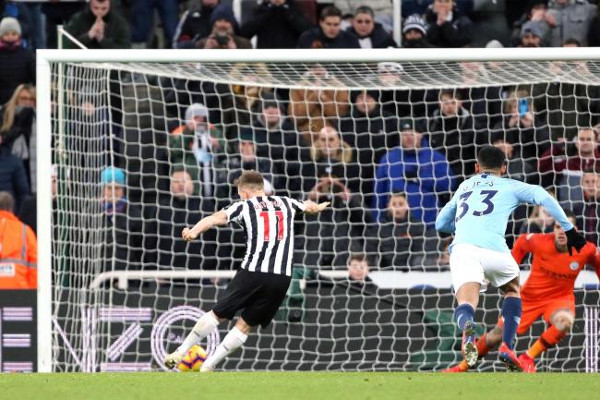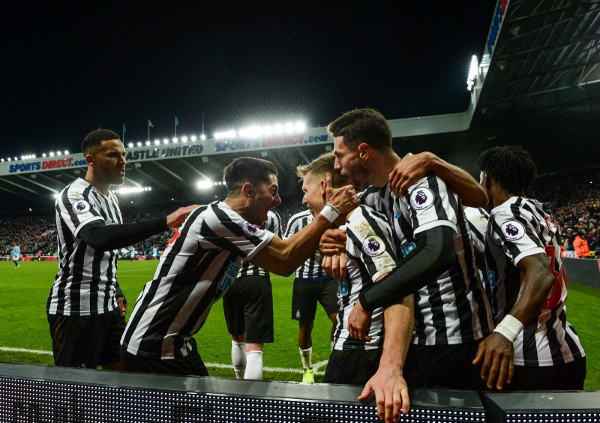 "Pressure is for tyres" (Alan Shearer watching this on TV)
80 mins A Newcastle attack looked to have petered out when Yedlin was beaten to the ball by Aymeric Laporte. He turned away from goal and played a pass out to Danilo on the left wing, but the Brazilan's return to fellow countryman Fernandinho left him wrong-footed and facing his own goal.

With Rondon and the outstanding Sean Longstaff converging from either side, Fernandinho turned into the latter and barged him over, referee Tierney pointing to the penalty spot as Rondon played on and slammed his shot into the body of the advancing goalkeeper. There were no protests.

The agony was prolonged for over two minutes while Ederson received treatment by two physios for an imaginary ailment, but Matt Ritchie held his nerve and rattled a spot kick into the Gallowgate net before demolishing the corner flag in glee as SJP absolutely erupted. 2-1

Full time: Magpies 2 Citizens 1
Just over 24 hours after a concerning pre-game press conference when he seemed to have the weight of the world on his shoulders, a much happier Rafa faced reporters to say:

"We had a game plan - it was not to concede a goal in the first minute. The reaction of the players was important.

"We said at half-time to stay in the game. The fans appreciate how we played and the way we won against a very good team. We stuck with our game plan.
"We were good enough to score two and lucky enough not to concede. Overall we needed to win one of these games.

"I think they were surprised they scored so early and maybe they had more confidence they could win. Thereís pressure and I think that was another factor - a draw wasnít enough for them.

"I think they were defending in a way that wasnít easy for them. We were trying to manage the situation. Give credit to the players.
"It was a great effort from everyone and to win against a team as good as Manchester City... they have everything.
"They are so good so when you get three points against them you know the players have done really well.
"Everyone was fighting for each other. We had a couple of situations where they were dangerous on the counter-attack but on the whole we defended well. We scored two goals and kept pushing until the end so you have to be very proud of the players.

"You can see that these players fight for each other. Some of the foreign players donít read the press or watch the TV. The players normally are more focused on football than anything else.
"Now you can see why we did things the way we did on Saturday. Doing things this way you can win against anyone.
"One of the keys for me is when you have a special situation you have to keep calm and keep going. The main thing is to keep trying to do the right thing."
On the previous day's press call:

"What I was trying to say is that you never know what can happen. But, I never said I will leave. And I never said that if they don't sign any players that I will leave. I didn't say that.

"I said I am a professional and I have my principles and I will do my job until the last minute."

On transfers:

"Obviously, I cannot talk about the transfer window. Yesterday, I didnít know where we were.

"Today, they told me they were progressing with some names. We have to see if we can finalise everything. Before (kick-off) I knew that we were closer. Hopefully, we will have some good news tomorrow.

"It will be positive for the rest of the season. If we have some good news, it will be positive. Itís not just the (transfer) record. To do the right things you have to be stronger.Ē
Pep Guardiola had nothing to celebrate as he reached a century of PL games as City manager.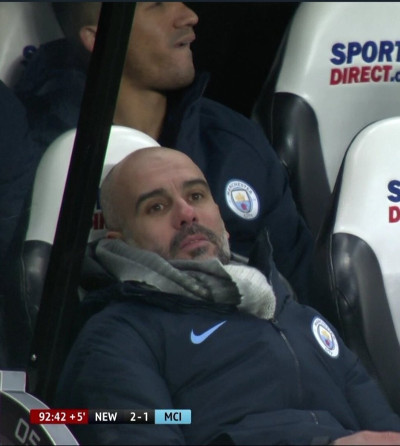 99
and a half won't do....
"We could not deal with Newcastleís holding midfielders. We started with the goal but we didn't have the rhythm we need to impose our game. We didn't take the rhythm of the game, it was slow and we weren't aggressive enough.

"We never underestimate any team. We never underestimated Newcastle. Sometimes we donít play the level we want to play. They played good. Defensively we know Rafa is a very good manager and congratulations to them.

"Itís difficult. But we have to continue. In football many things can happen. The table is not important.

"Next week will be tough with Arsenal, Everton and Chelsea. If we want to go up as a club we have to accept that challenge. There are a lot of titles and points to play for.

"I love these players. They gave me all the prestige I have in England. I will try to be here to help them. I know how they feel right now and I am beside them, close to them. It is an incredible group of players, group of guys.

"Sometimes things go your way and sometimes they don't - we had won eight games in a row and scored 30 goals without reply.

"Our game was slow, we didn't commit. They shoot for the first time and it's a goal, the second was a penalty. But congratulations to Newcastle.

"It was not our best night. We lost second balls, we were not aggressive enough, that's why we could not win.

"Scoring so early sometimes helps, sometimes itís not good. It didnít help us in the way we played. The reaction at 1-0 wasnít good on this occasion.
"Two zero would be better. But maybe the ref said donít take a free-kick until I give permission, so I donít know. We have to improve in the next games."

Since a 1-0 home win in September 2005, United had failed to beat City in all 22 Premier League meetings, losing 19 and drawing the other three. Until tonight that is.
United v City @ SJP - PL record:

2018/19 Won 2-1 Rondon, Ritchie (pen)
2017/18 Lost 0-1
2015/16 Drew 1-1 Anita
2014/15 Lost 0-2
2013/14 Lost 0-2
2013/14 Lost 0-2 (LC)
2012/13 Lost 1-3 Ba
2011/12 Lost 0-2
2010/11 Lost 1-3 Carroll
2008/09 Drew 2-2 Ameobi, og(Dunne)
2007/08 Lost 0-2
2006/07 Lost 0-1
2005/06 Won 1-0 Owen
2004/05 Won 4-3 Robert, Shearer, Elliott, Bellamy
2003/04 Won 3-0 Shearer 2, Ameobi
2002/03 Won 2-0 Shearer, Bellamy
2001/02 Won 1-0 Solano (FAC)
2000/01 Lost 0-1
1995/96 Won 3-1 Ferdinand 2, Beardsley
1994/95 Drew 0-0
1994/95 Won 3-1 Gillespie 2, Beresford (FAC)
1994/95 Lost 0-2 (LC)
1993/94 Won 2-0 Cole 2

Newcastle came from behind to win in the Premier League for the first time this season, having last achieved that feat against Arsenal at SJP in April 2018.

United last trailed at half time before recovering to win at home in the PL in December 2006, when they turned a 1-2 interval deficit into a 3-2 home success against Reading.

Salomon Rondon scored his sixth PL goal of the season and seventh in all competitions. Just two of those were at home before tonight and that brace against Bournemouth came in front of the Leazes, End meaning tonight was his first strike for the club at the Gallowgate End.

Matt Ritchie doubled his goal tally for the season after netting a spot kick at the same end against Blackburn Rovers in the FA Cup. His last PL goal was against Arsenal in April 2018, also at the Gallowgate End, completing a 2-1 win but unlike today coming from open play.

NUFC after 24 games - selected seasons:
2008/09: 24 points, 15th, scored 30, goal difference of -10
2014/15: 31 points, 11th, scored 30, goal difference of -6
2015/16: 21 points, 18th, scored 25, goal difference of -19
2017/18: 23 points, 15th, scored 22, goal difference of -12
2018/19: 24 points, 14th, scored 21, goal difference of -11
City's 24 second opener is the quickest goal in the PL so far this season and the most rapid at SJP since Alan Shearer netted against the same side in January 2003.

The visitors lost their fourth league game of the season and saw their eight game winning run in all competitions ended - those eight games seeing them score 33 times and concede just two.

On the road in the PL this season, City have won seven, drawn two and lost three - those defeats coming at Chelsea (0-2), Leicester City (1-2) and Newcastle (1-2).

That's already more points dropped than in their title winning 2018/19 campaign, when their away record was 16 wins, two draws and one loss.
Waffle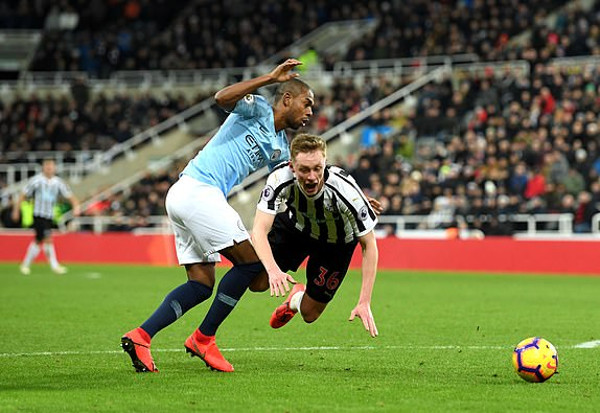 Amid scenes of great joy on Tyneside, Michael Owen's record as the last Newcastle player to score a league winner against Manchester City was ended on Tuesday evening.

And to the consternation of Magpies fans everywhere, his claim to fame as our costliest-ever signing also seems set to be finally consigned to the dustbin of club history.

It's hard to say what looked the more unlikely before kick-off; taking three points from the defending champions after 22 unsuccessful attempts in a decade and a half, or spending £20m+ on a player.

Almiron - who is definitely a footballer, not a troubled High Street brand - is expected in the North East on Wednesday and may be followed by other loan signings to strengthen our squad.

Reinforcements are on the way, but in keeping with the perpetual madness of this football club, the beleaguered garrison in this shabby fortress set their sights on goal for once - and hit the target.

Twice.

Pre-match talk and leaflets were of various protests against the owner (who wasn't present) taking place and the songs of rancour were quickly audible - especially when the visitors scored just 24 seconds after Newcastle had got the game underway.

If our plan was to park the bus, then it must have been that knackered old one that Cliff Richard ended up driving in Summer Holiday....

A cross by Raheem Sterling found David Silva sliding in towards the far post to beat Martin Dubravka to the ball (and at first glance fouling the goalkeeper), guiding his header back across goal for Sergio Aguero to get ahead of Fabian Schar and expand his vast scoring total against us still further.

The same player had the ball in the net soon after, only for Kevin De Bruyne to be booked after taking the free kick too quickly and allowing Aguero to volley in.

Newcastle's response consisted of shots by Ayoze Perez and Christian Atsu in quick succession, while the Citizens seemed to be firmly in their comfort zone - although Silva was denied either side of half time, firstly by Florian Lejeune's vital block and then an excellent parry by Dubravka.

With an hour gone and United still very much in the game, referee Paul Tierney incurred the wrath of home fans by neglecting to show De Bruyne a second yellow for a challenge on Matt Ritchie that certainly warranted a booking - and therefore would have seen the City sent off.

With Rafa doing his nut on the sidelines, the home side shared that sense of injustice and their attacks had what turned out to be a vital extra yard of pace. Ritchie found space to push forward on the left and his centre was headed out by Fernandinho but only to Isaac Hayden, who returned it goalwards for both Rondon and Atsu to pursue it through a crowd of defenders.

The Venezuelan forward got to it first and his toe poke into the ground from just outside the six yard box bounced up and eluded goalkeeper Ederson.

Even better was to come with 10 minutes of normal time remaining, when the outstanding Sean Longstaff was barged over in the area by Fernandinho and Tierney pointed to the penalty spot.

The agony was prolonged while Ederson received treatment by two physios for an imaginary ailment, but Matt Ritchie held his nerve and rattled a spot kick into the Gallowgate net before demolishing the corner flag in glee as SJP absolutely erupted.

The remaining ten minutes and then over five minutes of additional time passed with relatively few moments of unease before an almighty roar signified the referee's final whistle.

You just couldn't write this. Incredible. Unbelievable. Typical.

Four days after our FA Cup exit, St. James' Park witnessed what can only be described as a giant-killing - even though the two teams are in the same division.

It's easy to reflect on what's gone wrong here since the day that Owen beat City goalkeeper David James and celebrated with team mates like Alan Shearer.

The two clubs have gone in radically different directions since the visitors became the de facto national side of a nation, but part of the disparity is in attitude and the willingness to invest in facilities and development as well as players.

There is a middle ground between City's vast training and academy complexes and our lot cooling off in a blow-up Asda paddling pool. We can't aspire to be City, but Bournemouth seems unrealistic.

Given our inability to amass a squad capable of competing in the cups though, the occasional one-off freakish result in our favour is the limit of our ambition - the very notion of a cup run enough to put a manager's job in jeopardy (just ask Pards during that Europa League campaign).

He may have not had that much time on the ball, but Rondon made the difference tonight. That we remain one injury to a loan striker from a meltdown is a gamble that threatens to undermine anything else that we do.

It's no shock that people are voting with their feet and packing in their season tickets, sick of what they've been served up year after year. We may well break our transfer record in the hours following this wonderful night, but unless that's the start of a new direction for this club it's no more than a slight rebalancing of the debt supporters are owed for tolerating this owner and his methods.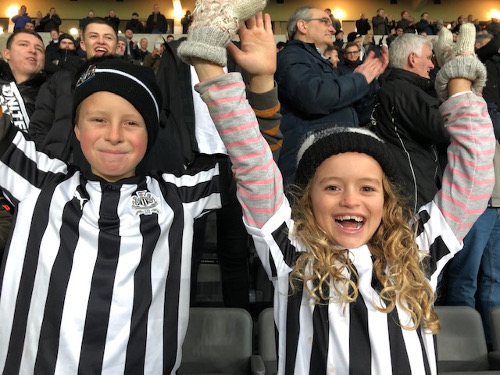 There was a winning SJP debut for 8 year-old Oscar Tait and seven year-old sister Sophia.

Along with their family, the pair travelled from Australia following the
recent death of their grandfather, ex-Magpie striker Alex Tait.

One of his goals for the club helped United to a memorable 5-4 victory over City back in 1957.

Tonight also marked the first anniversary of Vic Keeble's passing, the Newcastle forward on target in the 1955 FA Cup Final win v City.

Biffa