Date: Saturday 23rd February 2019, 3.00pm

Venue: St. James' Park

Conditions: Adulatory






Newcastle United

Huddersfield Town

2 - 0

.

Teams
Half time: Magpies 0 Terriers 0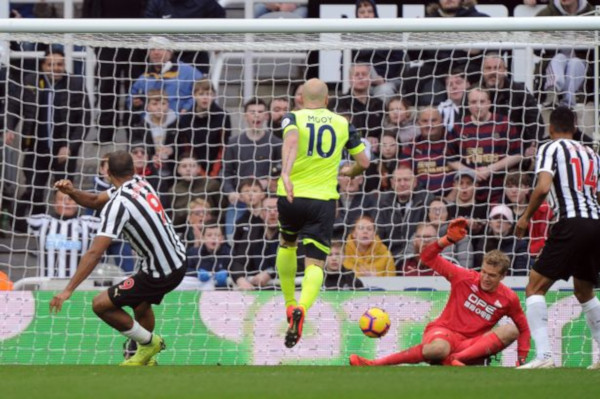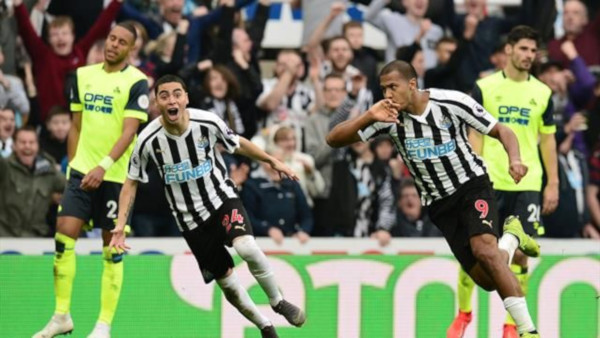 46 mins Florian Lejeune found DeAndre Yedlin to the right of the box with a crossfield pass from just inside his own half and he supplied a cushioned pass towards Isaac Hayden in the Town area.

He and Ayoze Perez both then appeared to go for the ball, the Spaniard taking two quick touches and playing it back into the path of Hayden. He got a slightly clumsy touch on it to give Salomon Rondon the opportunity to swivel and smash it low past Jonas Lossl into the Leazes net from just outside the six yard box. 1-0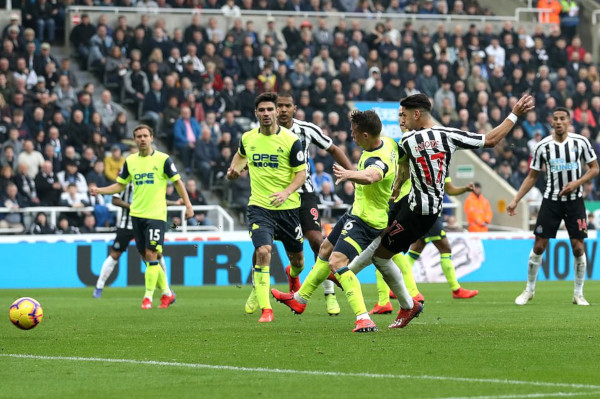 52 mins Another move that began with Lejeune's forward pass from inside his own half; this one a lofted effort down the left channel that set debutant Miguel Almiron away.

Without any premble he hooked the ball to the far post where Yedlin nodded it back across the area. Rondon flicked it on with his foot to Ayoze Perez who beat Jonathan Hogg to the bounce and steered his shot into the bottom corner of the goal from just in front of the penalty spot . 2-0

Full time: Magpies 2 Terriers 0
Rafa:


"I think another three more wins should be enough. Initially, it was 40 points for safety, but I think 37 or 38 now will be fine.

"

It was really important to win.
It was a pity to go in at half time without scoring but we were doing well. The sending off was a big problem for them but we carried on, kept pushing, and started the second half well.

"Itís difficult to understand how, after 29 attempts - so clear - that we can only score two goals. But, credit to their Ďkeeper.

"I was really pleased with the performance of the players. Obviously it was more difficult for them with ten players, but they still had chances at the beginning.
"We created a lot of chances - I think we hit the crossbar or the post four times. We needed to win, and we won well.
"It does not matter for me whether we pick up three points at home or away, but as we play Burnley next at home, hopefully we can carry our good home run.

"After three wins in a row at home, I am confident we can do it (avoid relegation).

"But, Burnley will be a very difficult game. If we can get three points there, we will be closer, but we have to keep going until the end."
On
Miguel Almiron:


"It was a great day for him and the fans.
"
Heís very dynamic and he has good movement behind the defenders and between the lines. Itís now important to settle down in the Premier League and understand the mentality of the PL.

"
If he can stay at the same level and score a goal, it will be better

.


"
The crowd could see he was a player with energy, and dynamic. If he continues to play at this level they will enjoy his football. We know what he can do.
He did well. He is a different kind of option. He has been really positive and it was a pity for him that he didnít score.

"

Almiron is a different kind of player, with the pace and the movements we were looking for.
He was doing what we were expecting. He has energy, he is running all over the pitch. He is trying to link with other players. I think it was a great game for him and the fans to enjoy."
On
Sean

Longstaff:


"He is doing well and has the support of the players around him. He is quite focused, is a good lad and a good professional. He is trying to learn and is doing well.

"Hopefully he can do well for a while."

Jan Siewert said:

"The red card broke us today. Before we had plenty of possession, plenty of chances, but the red card broke us. I have not seen it again, and will need to see it again to make an opinion.

"It was a diagonal ball (that led to opener), and it is very hard to defend a diagonal ball when you have one man less, because the opponent has more width. The ball landed in the box and they scored. It is not easy with one man less.

"We spoke about the game in the dressing room. We know the situation can change again, and we will go on. One big result will make a big difference. The team has not won since November which is a really long period."
Newcastle won

a
third successive home game in the Premier League, the first time they've done so since reeling four off in a row between February and April 2018 (Manchester United, Southampton, Huddersfield Town and Arsenal).

That run of form at SJP has improved our home record, which now reads won 5, drawn 1, lost 8.


This v

ictory over the Terriers saw United match their previous lowest number of PL home wins (5 in 2008/09).
Our highest number of PL home losses in a season is 9 (2012/13) while the all-time highest number of home league losses is 11 (1957/58 and 1977/78).

We have five home games left: Burnley, Everton, Crystal Palace, Southampton and Liverpool.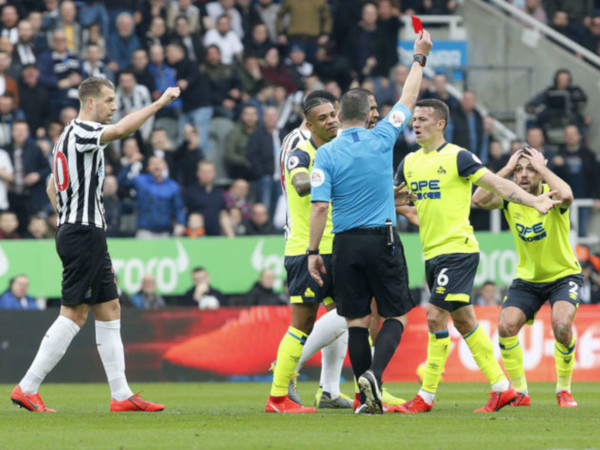 The dismissal of Huddersfield captain Tommy Smith meant that the Magpies enjoyed an all-too rare numerical advantage on the field against their opponents in Premier League fixtures.

It was in January 2014 that Bradley Johnson of Norwich City was red-carded during our game at Carrow Road - the Canary followed Loic Remy down the tunnel, meaning that it was 10 v 10.

To find that numerical advantage requires one to go back to Boxing Day 2013, when Stoke City had two players sent off during the first half at Gallowgate.

That situation today helped Newcastle to have 29 shots on goal, their highest number in a PL game since the visit of Swansea City to SJP in November 2012, 32 efforts in a game we lost 1-2.

Following a 1-0 victory in Yorkshire last December, United completed their first league double over Town since the 1964/65 season - and 1951/52 in the top flight. It was also Newcastle's first PL double this season - something they managed twice in 2017/18 (v Stoke City and West Ham).

Salomon Rondon netted his eighth goal for Newcastle and seventh in the PL. The Venezuelan now has 31 PL goals, having managed nine, eight and seven in three seasons at West Bromwich Albion.

Ayoze Perez made it five for the season, four of which have come in the PL - and all of those at SJP (the fifth was away at Blackburn Rovers in the FA Cup). The Spaniard now has 40 to his name in all competitions for United, including 25 in the PL - a tally that leaves him fourteenth in our all-time scorers list for that competition, one behind Michael Owen and two off Craig Bellamy.

NUFC after 27 games - selected PL seasons:
2008/09 28 points, 15th, goal difference -10
2015/16 24 points, 19th, goal difference -23
2017/18 28 points, 13th, goal difference -11
2018/19 28 points, 15th, goal difference -10

Terriers in Toon - last ten:
2018/19 won 2-0 Rondon, Perez
2017/18 won 1-0 Perez
2016/17 lost 1-2 Gayle
2009/10 won 4-3 Guthrie, Geremi, Ameobi, Nolan (LC)
1983/84 won 5-2 Waddle 2, McDermott, Keegan, Beardsley
1971/72 drew 0-0
1970/71 won 2-0 Dyson, Robson
1964/65 won 2-1 McGarry 2
1963/64 won 2-0 Thomas, Hilley
1963/64 won 5-1 Taylor 3, Hilley, McGarry (FR)
1962/63 drew 1-1 McGarry

Waffle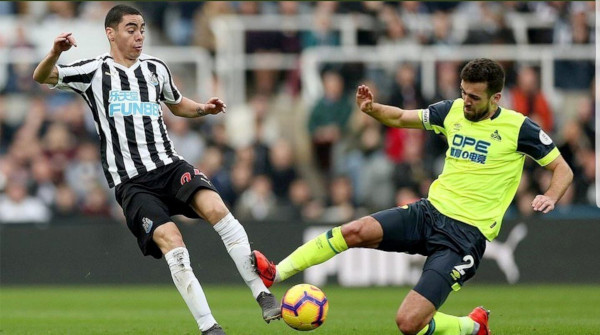 The first signs that something was stirring came in the pub pre-game, where home shirts branded "Almiron 24" were evident both with and without the accent over the "o" - whether the club shop had run out of them as they did the letter "e" when Alan Shearer arrived in 1996 isn't known....

Our new Paraguayan provided a hint of his talent when introduced from the bench at Wolves and also shown himself able to withstand a potentially lethal tackle - something that he encountered after 20 minutes of his home debut, felled by a tackle from Huddersfield's Tommy Smith that his Anfield namesake would have been proud of.

That rightly resulted in the dismissal of the Terriers captain but while the numerical superiority stacked the odds strongly in our favour, the Spanish-speaking trio of Almiron, Rondon and Perez showed enough to suggest that our defensive austerity can be married to a genuine threat. It probably also justified the decision to indulge in warm weather training, if not the FA Cup exit.

"Miggy" had the Gallowgate crowd on their feet before the red card incident; Town's early pressure relieved in the 13th minute when a neat move out of defence consisting of seven passes sent the record(ish) signing through on goal. And although his clever chip beat the goalkeeper, it bounced off the post before Rondon smashed the rebound off the same upright at the Gallowgate End.

After a similar break by Almiron was halted soon after, it was a question of how long the visitors would be able to hold out. Jonas Lossl blocked goalbound efforts from each of the front trio; the Paraguayan seeing one saved as he shot rather than feeding the overlapping Matt Ritchie then coming close to sneaking one through the goalkeeper's legs.

But when Sean Longstaff's fine cross from the right was headed wide by Rondon at the end of the first half, an afternoon of frustration threatened. Thankfully any notion that Newcastle would come to rue all of those missed chances was dispelled inside a minute of the second period, the number nine with plenty of time to fire past Lossl, amid general relief.

And with corporate gorgers still returning to their seats, the ball was soon in the back of the Leazes End net again courtesy of Perez, whose finish at the same end against Huddersfield last March made sure of the points that ultimately confirmed our place in the Premier League.

More goals could and should have followed; Perez flicking wide when it looked easier to score and substitute Kenedy smashed a volley off the crossbar. For all the wonderment of Almiron though, it's Sean Longstaff who would really have brought the house down, had his outstanding effort from the edge of the area not pinged off the angle of post and bar with the 'keeper nowhere.

Livewire Almiron's brand of perpetual motion thrilled the crowd in a manner perhaps not seen since Hatem Ben Arfa and the standing ovation he received when brought off was thoroughly deserved. No doubt the name of Tony Green was also mentioned in a city centre watering hole on Saturday night.

Florian Lejeune also warrants a mention for combining his defensive duties with some outstanding long passing, but the side collectively did well on what could have been a difficult day.

Martin Dubravka also received some excellent backing from the Gallowgate End late on as he homed in on the easiest clean sheet he may ever achieve - visibly appreciating that show of support following some unwanted attention following the Wolves and Spurs games.

The win took Rafa's side one place up to sixteenth in the table, four points clear of third-bottom side Southampton and with an identical points tally after the same number of games last season.

More than the race for survival and respectability though, the importance of today's victory was as a reminder that club and fans can aspire to and expect more bang for their buck. Artists and artisans need to be wearing this shirt: providing a semblance of that today was instantly appreciated.

Solid foundations and "stay in the game" logic are all very worthy, but that tingle of excitement needs to be there, to capture the imagination, make those ridiculous journeys for sadistic TV imposed kickoffs - and sell shirts. The ambition of fans, the players and manager has no limit - stifling growth makes absolutely no sense.

Why that concept is so difficult for the owner to understand when it comes to investing in the "product" remains the great unanswered question. But while the Almiron boost is the dividend of spending more than the bare minimum for once, Longstaff's emergence destroys the myth that there's no local talent to be found and nurtured. Who knows what an expanded and improved academy could produce?

Niall/Biffa